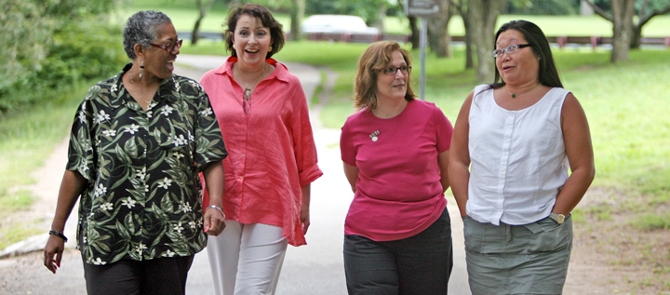 Cancer is the second leading cause of death in women in the United States. It was responsible for 22% of deaths among women in 2010, according to the U.S. Centers for Disease Control and Prevention. That's just behind the 23.5% of deaths attributable to the number one killer, heart disease.
The cancer death rate among women, though, is on the decline. The death rates for all cancers combined decreased an average of 1.4% per year among women from 2001 through 2010.
Women can do a lot to help reduce their risk of developing cancer. For example, eating healthy and leading an active lifestyle are two important tips the U.S. Department of Health and Human Services is encouraging women to follow as part of National Women's Health Week, observed May 11-17 this year. To help lower their cancer risk, women can also stick to a maximum of one alcoholic drink per day and maintain a healthy weight.
To monitor how women are doing in terms of cancer, American Cancer Society researchers continuously analyze key cancer data, including cancer occurrence, death, and survival rates. They publish their findings in an ongoing series of reports, titled Cancer Facts & Figures.
Below are 10 key facts about cancer in women from the Cancer Facts & Figures 2014 report. All figures are for the U.S.
810,320: Number of women expected to be diagnosed with cancer in 2014.
275,710: Number of women expected to die of cancer in 2014.
232,670: Number of women expected to be diagnosed with breast cancer in 2014. Breast cancer is the leading cancer in women. Lung cancer is the second most common among women.
72,330: Number of women expected to die in 2014 from lung cancer. Lung cancer is the leading cause of cancer death in women.
2003: The year in which lung cancer death rates began declining in women. Rates have continued to decline since then, decreasing 1.4% per year from 2006 to 2010.
18: Too much weight gain after this age is associated with increased breast cancer risk. American Cancer Society studies have found that women who gain more than 70 pounds in adulthood double their risk.
79%: The 5-year breast cancer survival rate for African American women; this compares to 90% among white women.
3%: The annual decline from 2006 to 2010 in colon cancer death rates among women. The decrease in recent years is largely due to past improvement in early detection and treatment. However, colon cancer is still the third most common cause of cancer death among women.
50: The age at which women who are at average risk for developing colon cancer should start getting the recommended screenings.
5%: The percentage of cancer deaths among women due to ovarian cancer, which causes more deaths than any other cancer of the female reproductive system. However, the ovarian cancer death rate is declining.
Source link