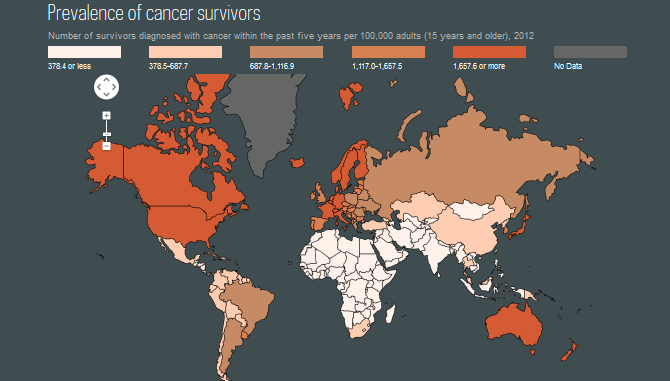 The newly-released Cancer Atlas synthesizes cancer data from 184 countries. The authors of the publication – created by the American Cancer Society, the International Agency for Research on Cancer (IARC), and the Union for International Cancer Control (UICC) – analyzed all of this data to provide insights into cancer risk factors, the global burden of cancer, and the best opportunities for nations to take action against cancer.
Below are 10 of the key facts presented in the Cancer Atlas.
1: The rank of breast cancer among leading causes of cancer death in women worldwide.
21,400: The number of lung cancer deaths worldwide caused by secondhand smoke each year.
2 million: The annual number of new cancer cases worldwide due to infection. Helicobacter pylori, human papillomavirus (HPV), and hepatitis B and C viruses are the cause of most infection-related cancers.
20%: The percentage of all global cancer deaths due to smoking.
At least 16: The number of cancer types that smoking can cause.
32 million: The total number of cancer survivors worldwide in 2012.
1/3 to 1/2: The fraction of cancer cases that can be prevented based on what is already known.
36: The number of countries that have large-scale colorectal cancer screening programs – 148 countries do not have such programs. Colon cancer screening tests can help reduce deaths from colon cancer by catching it earlier and sometimes even preventing it.
700,000: The estimated number of HBV-related deaths averted due to hepatitis B vaccination, for every vaccinated birth cohort globally. The hepatitis B virus (HBV) infection is responsible for more than 750,000 deaths worldwide each year, including 340,000 cases of hepatocellular carcinoma (HCC) – the most common type of liver cancer. According to the Cancer Atlas, "HCC results from chronic HBV infection, and the risk of chronic infection is greatest if transmission occurs during birth and early childhood."
120,000: The estimated number of future cervical cancer deaths in India that could be prevented if 70% of 9-year-old girls were vaccinated against the human papilloma virus (HPV) in one year. Almost all cervical cancer cases are caused by HPV.
Explore these statistics and more in the Cancer Atlas.
 
Source link