Posted on March 6, 2019

We love a reason to celebrate around here… sometimes we go all out,
sometimes we do one special detail. There's seasons for both as mamas!
If you're looking for something (or all the things!) to
do this St Patrick's Day…here's a round up of fun RAINBOW themed ideas!
Your little ones will go gaga over these colorful treats, activities or decorations.
Maybe you are coming out of the winter blah too (our kids have legit been sick for months-
the rain is finally leaving us…and we are just thankful March is here!)
Want something FUN and cheerful to do with or for your people?
These are great ideas to add some festive fun to your life.
So many inspiring rainbow details all linked below!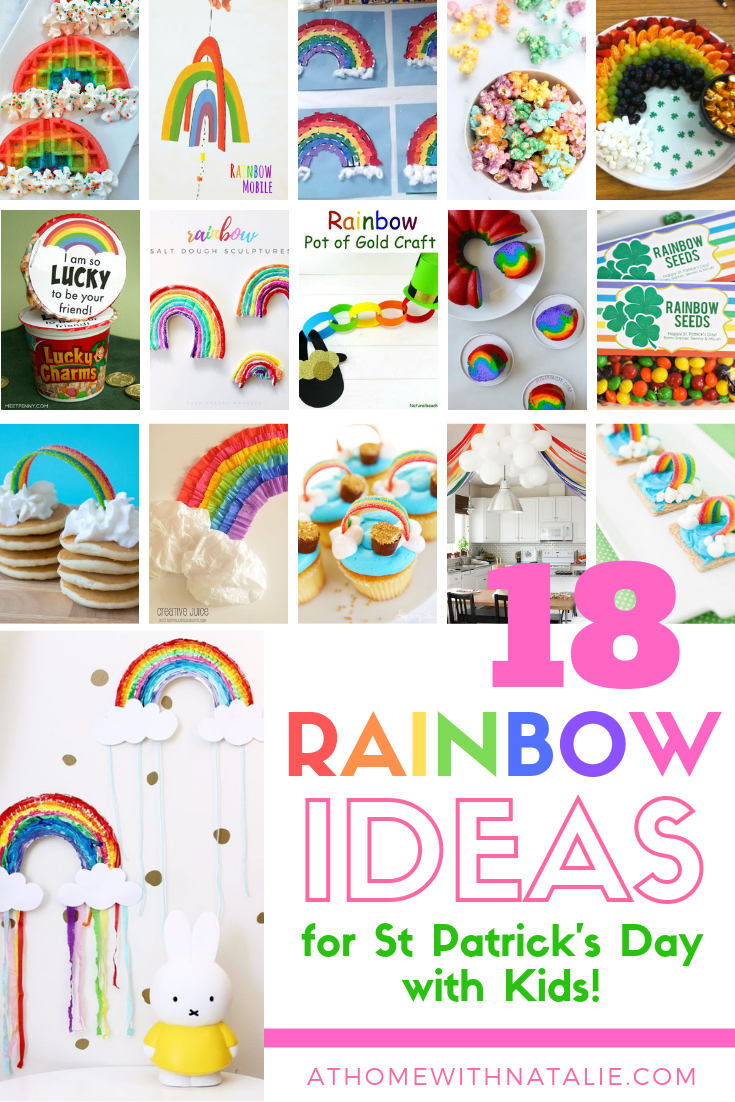 These cookies look so fun to make!
My kids would LOVE seeing the process unfold of pouring in all the different
colors of batter and ending up with the rainbow cake!
Check out the video by Kelly of Just a Taste.







We love popcorn in our house! When the kids go to bed..
it's Hulu and popcorn for mom and dad. haha.
ALSO, love it for parties because it's such an easy salty
treat you can jazz up for different themes.
This rainbow theme is too pretty by The Decorated Cookie!





These would be SO FUN to make – or have ben make. haha.
He's the breakfast guy around here. Even the kids know it.
I can handle cereal but I'm legit not a morning person… I'm a mid morning person.
These rainbow waffles by Mommy's Fabulous Finds are perfect for St. Patrick's Day!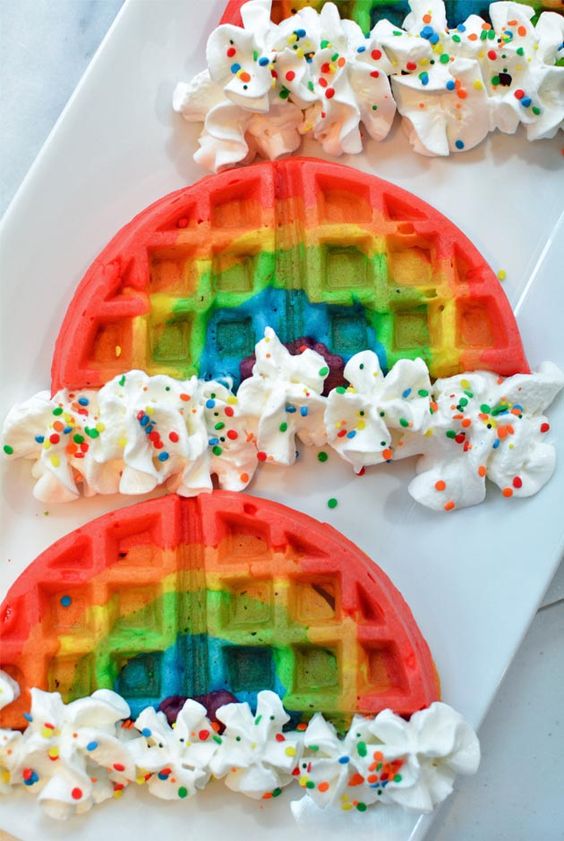 Wouldn't this be such a fun way to celebrate in your own home with your kids or for a party??
I love the cluster of white balloons with the rainbow streamers. So fun!
Delia Creates threw her daughter a lovely rainbow themed birthday party
and you could for sure use this idea for a special St. Patrick's Day detail!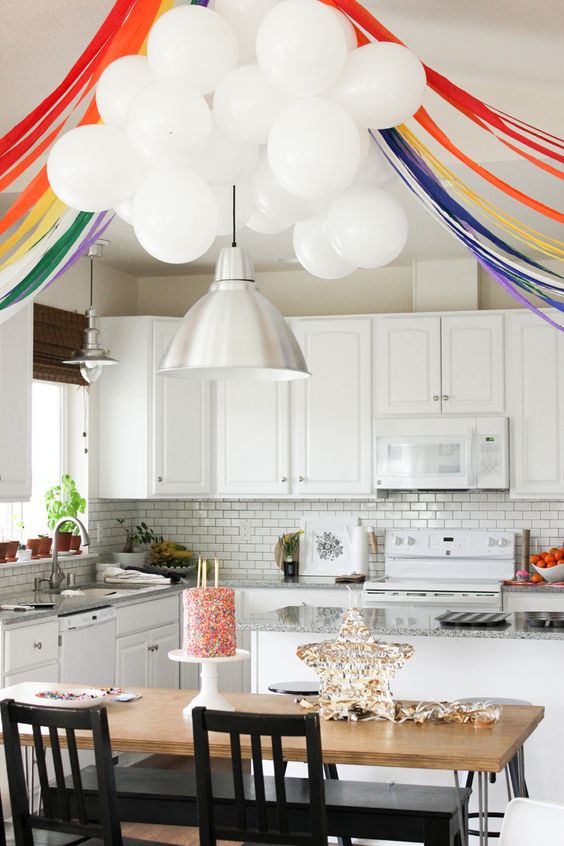 The pot of gold at the end of the rainbow is so cute!!
Love these Rainbow Cupcakes by Skip to My Lou!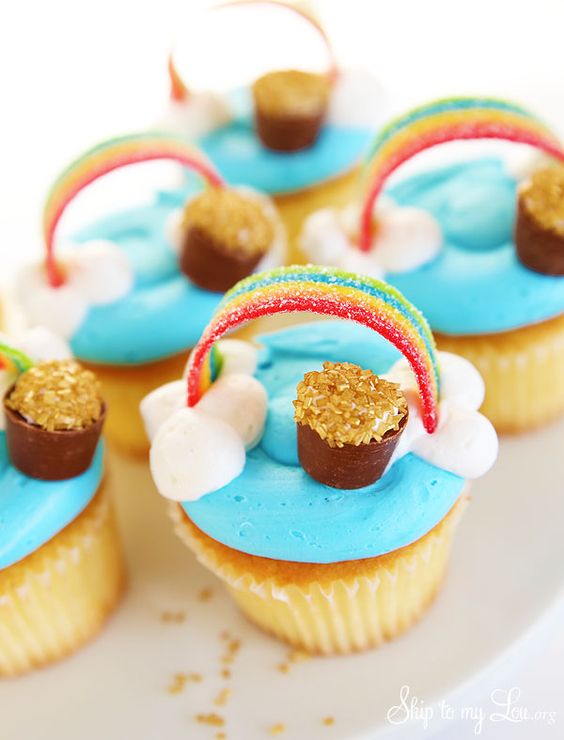 This is such a favorite memory!
Back when the girls were little I made up a little DIY rainbow/cloud backdrop. They thought it was magical!
I also created a printable and still sell it in my Etsy Shop for a fun Rainbow Seeds treat bag!
We have made these year after year for gifting on St. Patrick's Day.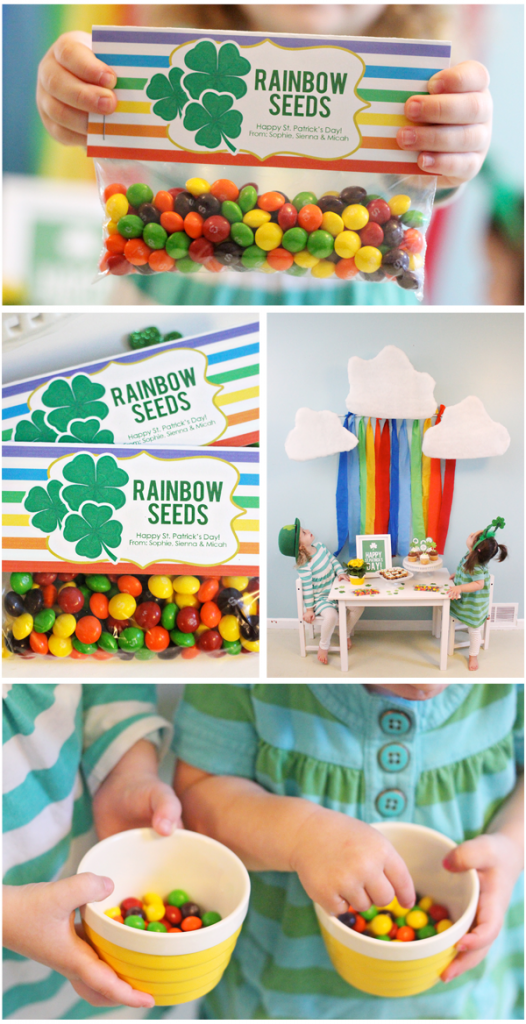 My kids ALWAYS want these little cereal containers! I don't blame them…
I remember thinking they were so fun as kids.
I'm thinking this year, I might set a little breakfast table with these and
do a little label on them that says mom instead of friend.
This is a cute idea from Meet Penny!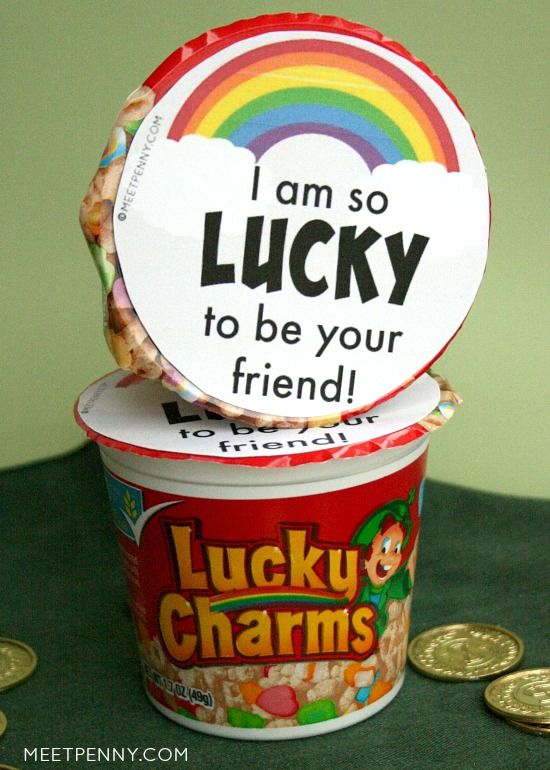 how adorable is this rainbow mobile by Pink Stripey Socks??
I love how she uses basic material to create something so whimsical.
My big girls would be all about his project!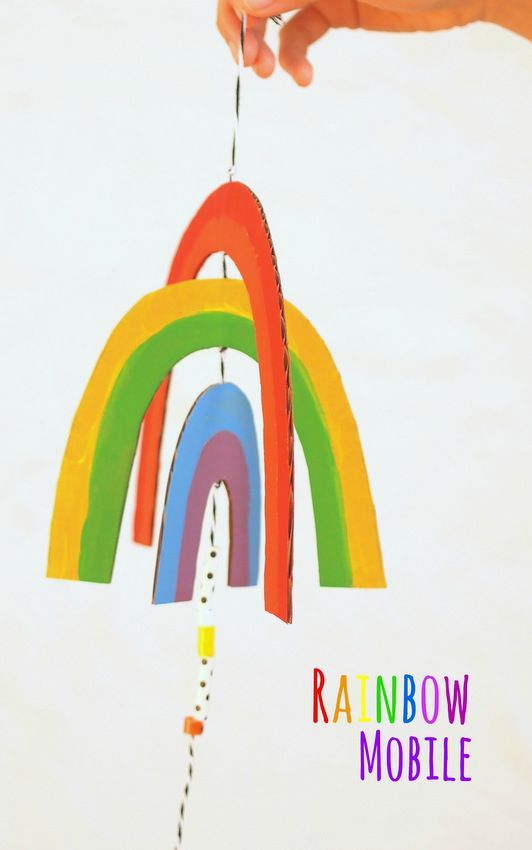 Sophia saw this Pot of Gold Rainbow Cake from over my shoulder and freaked out! It's just too cool!
Now, I don't think I'll be whipping this baby up anytime soon.. BUT, I loveeee it and know some of
you guys out there might have the perfect reason to make this!
Throw a St. Patrick's Day party?? This would be so cute on the dessert table!
This lovely cake was bye Queenslee Appetit.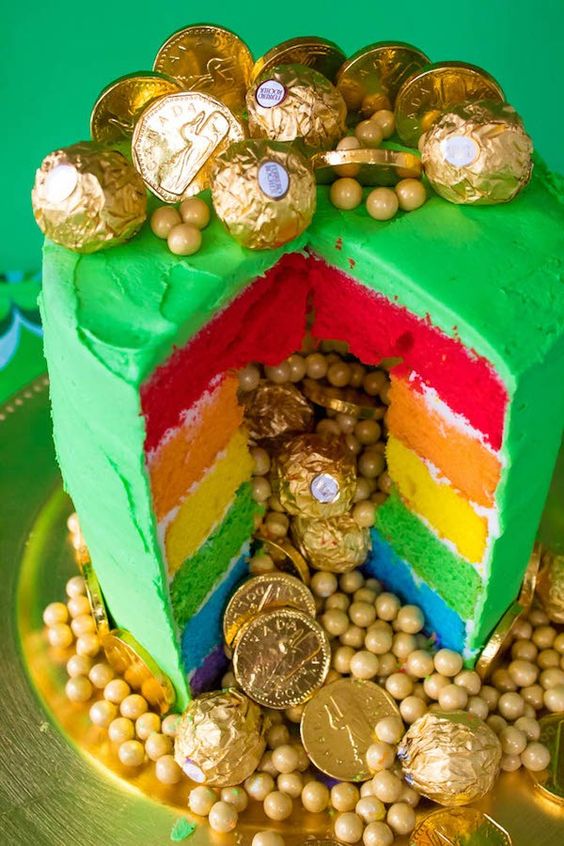 This was one of the first rainbow ideas I saw and LOVED it!!
I can picture my kids making these and hanging them in our playroom or in their rooms.
They love to paint and I have all of the supplies for this craft already- my kinda craft!
You can see the full paper plate rainbow tutorial over on Four cheeky monkeys.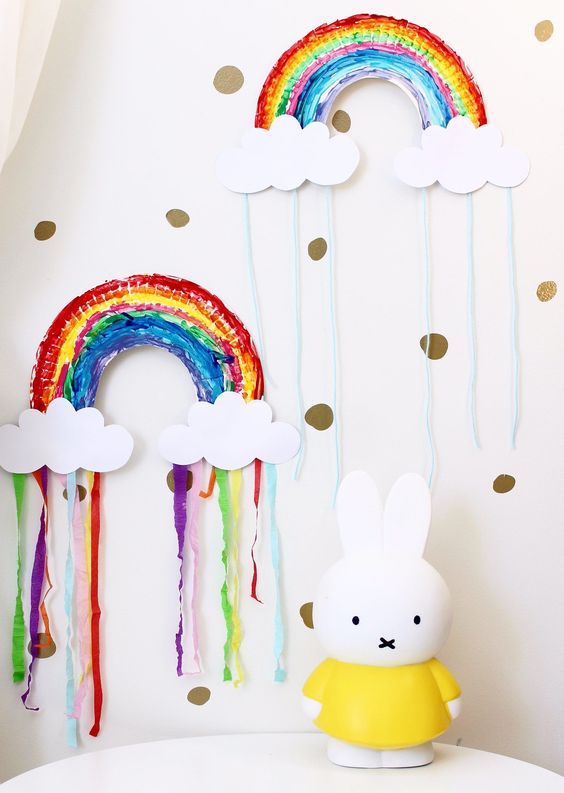 I love this classic rainbow candy look but on graham crackers instead of a cupcake!
My kids honestly don't really like cupcakes. (I know. crazy talk.)
But I'm sure they would be all about these little squares of happiness!
Fun snack shared over on Crafting Chicks.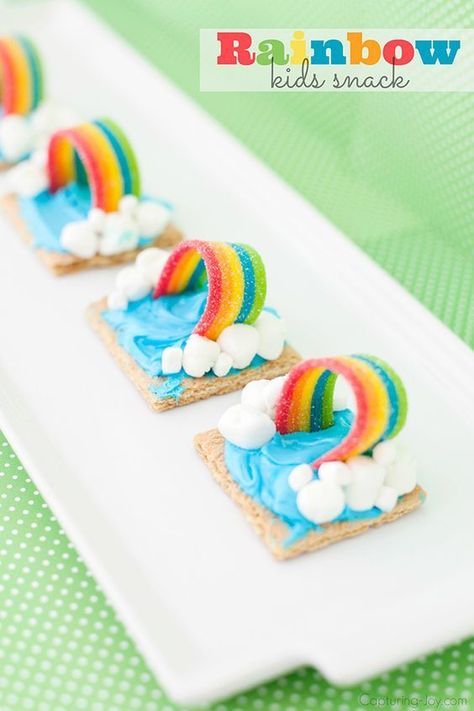 This is another fun Rainbow themed craft where you most likely already have the supplies needed!
I love this simple project and how it would keep my kids busy for a long time..haha.
Also they love using glue or glue sticks!! Found this image via Pinterest.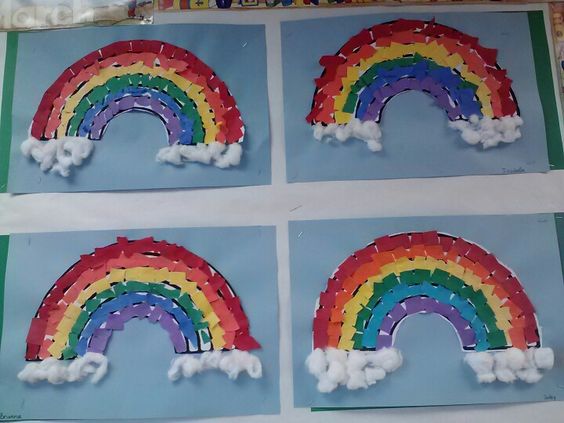 How lovely are these Salt Dough Rainbows??
I just discovered Four Cheeky monkeys and I'm loving the projects she does with her crew.
My Asher would be all about rolling the dough into the "little snakes" making them each longer and longer.
They baked them and then spray painted them white for a base.. then had the kids use chalk markers to add the colors.
I love how this basic idea could really spark some creativity with the kids!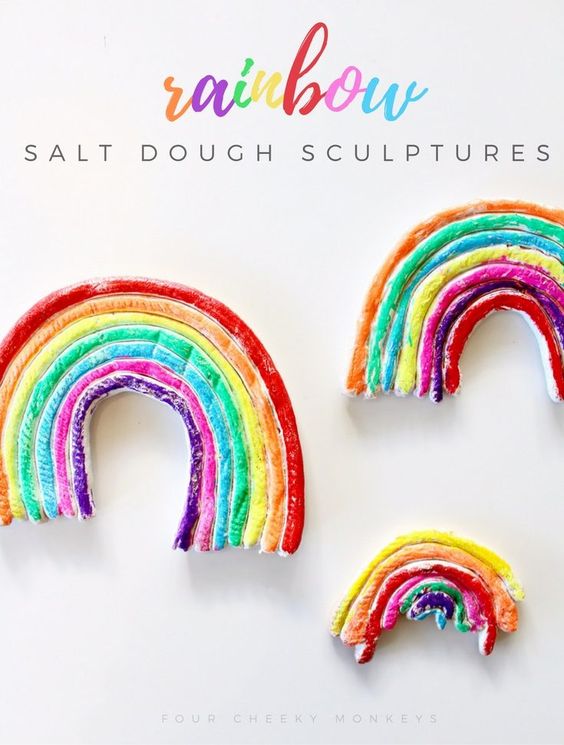 My kids would devour this whole fruit rainbow on their own. 😉
We love fruit in our house! Put it in the shape of a rainbow with marshmallow clouds and chocolate gold at the end??
Sold. This is such a cute idea I've seen for years…we might need to give it a go this year!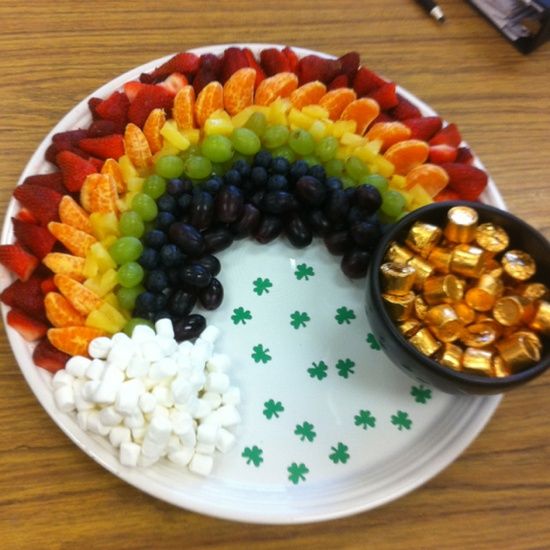 My kids love paper chains! And this is such a fun use of them!
Throw a stapler in there and my Sienna is on cloud nine.
(She loves using my PINK stapler. I should the gotten an uglier one…….)
Full Rainbow Pot of Gold Craft tutorial over on Natural Beach Living!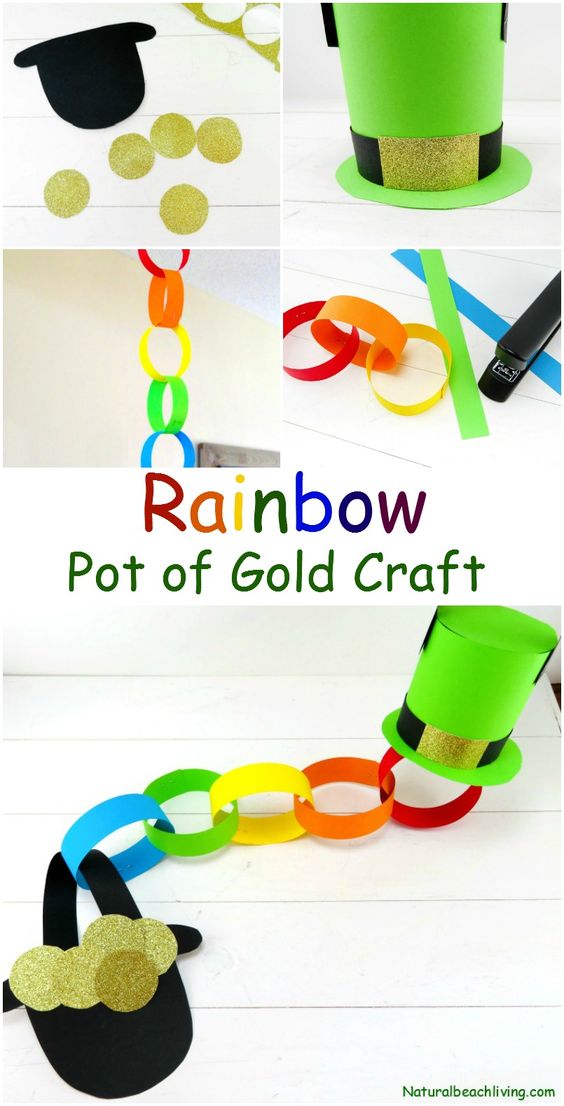 My girls saw this and said we need to make these. 😉
Why not top pancakes with some whip cream and candy? Live it up on St. Patrick's Day!
Best part about this photo… it's using the ready made pancakes from De Wafelbakkers.
Found this via Pinterest and I'm thinking this is a mom hack I can get behind. 😉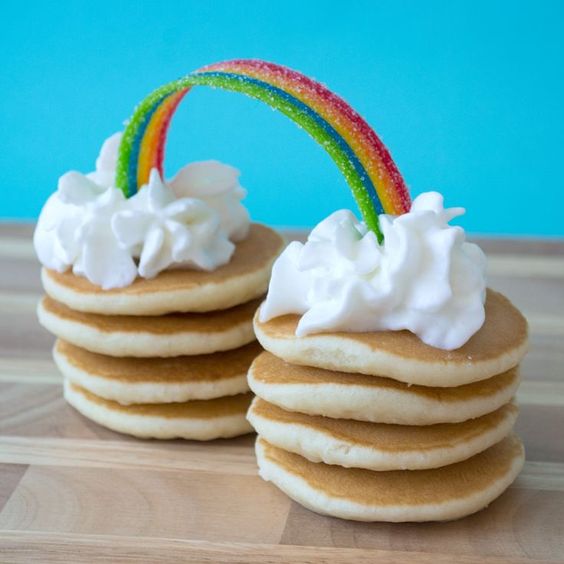 How lovely is this? I just love using streamers for parties and this technique is so pretty!
Finished off with the tissue paper clouds? Perfect!
The full Rainbow Party Streamer Backdrop tutorial is over on Creative Juice!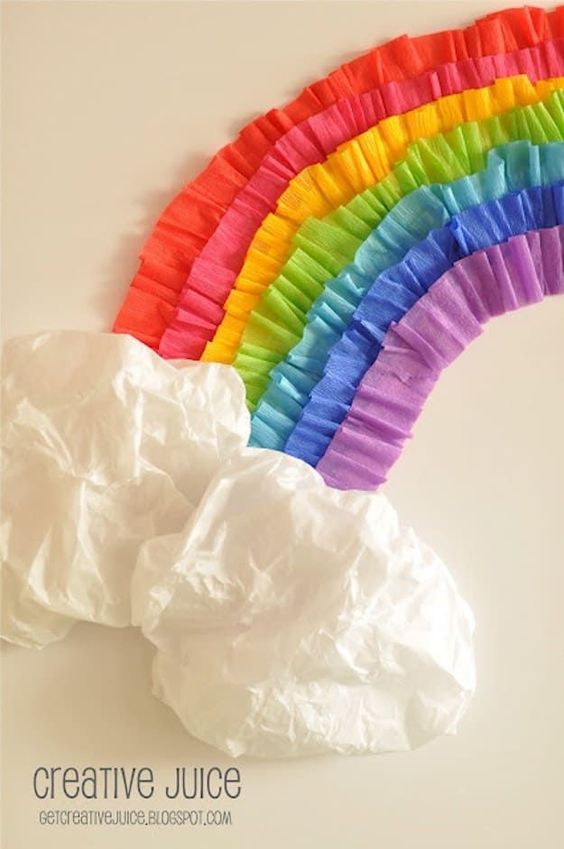 I love these colorful little rainbows!! I can see all of my kids loving
this activity and each working up very different designs!
My big kids would probably be very specific in the color placement, while my little
ones would throw all the colorful crap on there and be so pleased with themselves. haha.
See all the cardboard rainbow collage details over on  ARTBAR!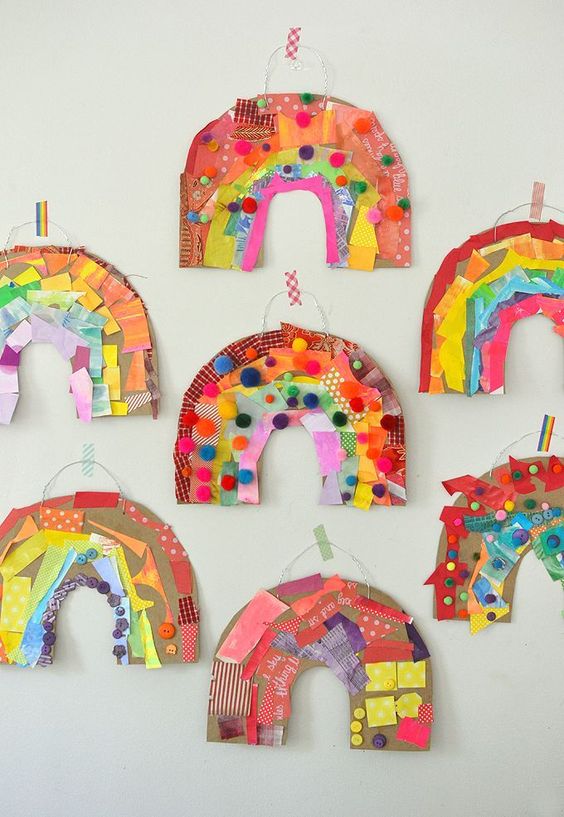 I hope you enjoyed today's colorful blog post of all things rainbow!!
If you have any fun rainbow crafting or treat making you've done, let me know!!
Are you going to try any of these this year??
I have my eye on a couple of these fun details.
Sometimes I just need something more fun to do than laundry. 😉
Source link