I thought it would be fun to share some of my recent favorites and why I love them.
Funny enough, they are all from Target. 😉
No affiliate links or sponsored content here…
I just LOVE these things and wanted to share the goodness with you guys.
Maybe you'll want to add them to your next target run list.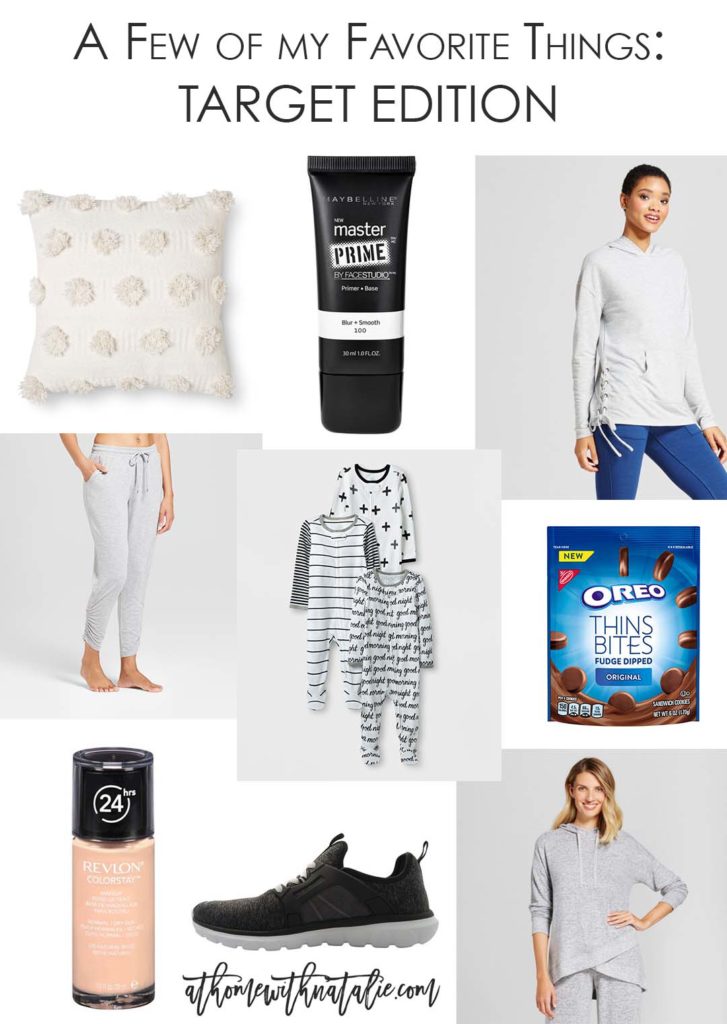 Women's Ruched Pajama Pants – Gilligan & O'Malley
I live in these pants. They are so comfortable. I love how they are soft and baggy
but the ruched details at the ankles keeps them from feeling bulky!
LIVE in these around the house.
Revlon ColorStay Makeup Normal/Dry Skin Light Shades-  220 Natural Beige
I wanted to find a drugstore foundation that I would like better than the pricier one I was using… this was went above and beyond!
It lasts through the day and I found myself not touching up my makeup like I did with the more expensive product I was using.
It gives great coverage and lasts long. I'll never switch.
Gilligan & O'Malley Cozy Hooded Pullover
I love cozy tops these days… baggy and soft but not feeling like a total couch potato!
It fits the bill with being cute but comfortable.
I packed this in my hospital bag and have another size in black now too because I love it so much.
Nate Berkus- Cream Pom Dot Square Throw Pillow
I really wanted to add some pillows to our sofas for the Christmas season… but wanted them to be neutral colored so I could keep them up all the time.
Mainly because I don't have a budget for "holiday themed" pillows… lol. Our pillows gotta hang out all year long!
So these were perfect and they are on sale right now too!
I was worried the kids would mess with the pom dots but they are made really
well and not very high so the kids don't pick at them. When they first arrived (I ordered 2 online)
they were VERY puffy… too puffy for my taste, but I'm glad they were
because after some usage they ended up being a good amount of puff. I kind of want to get 2 more. 😉
Baby 3pk Sleep N'Play Set Cloud Island – Black/White
I needed to get some sleepers that were 3 months and not fleece. (Our hand me downs from the boys were off a bit month/weather wise.)
I grabbed these because the pattern was cute but then I discovered something even better.. they zip from the bottom up!
So when you are changing diapers at night or out and about baby doesn't have to be totally unzipped.
Love that feature. 
Maybelline Face Studio Master Prime – I use 100 Blur + Smooth.
I used to use a more expensive primer (like the foundation I mentioned above) and I wanted to find a dupe for it.
Found it! It doesn't do exactly the same thing.. (I feel like the other one made my pores go away more-smashbox brand) but this one definitely helps make
it more matte and I think is a big part of why my foundation stays on so well. I barely do touch ups! 
(This was amazing at Disney World because I didn't want to look a total hot mess but stopping to fix up makeup wasn't an option. 😉
I peed while wearing a baby in a wrap.. that's how it went lol. sorry TMI. but you get what I'm sayin mamas!
Oreo Thin Bites Fudge Dipped Sandwich Cookies
I'm sorry, I'm not sorry. to quote Demi.
You are going to LOVE THESE. They were the best impulse buy ever.
And helped me get through some sick kid/snow days. 😉
Mossimo Side Lace Up Hoodie
Another comfy but cute hoodie. Love the lace up detail and how soft it is!
It has a good length to it too so that if you want to wear it with leggings it covers your bum a bit.
Women's Poise Performance Athletic Shoes – C9 Champion
I needed some sneakers for Disney World and these were great! Don't tie them up too tight or you'll get a blister…but other than that they feel AMAZING.
Like you are walking on air! They have this soft foam inside. They were great for all the walking/standing we did on our trip.
They are my go-to lately when it comes to shoes. I love how they look with my BLANQI leggings.

---
I hope you had fun checking out my recent favorites.
I'm thinking about doing an updated makeup post if enough of you are interested in it!
And as if you NEEDED a reason to go to target… all of these items can be found there!
Out of all the random blog reader interactions…I usually run into blog friends there…
it's our place. 😉
Hope you have a wonderful week!
Source link