Colorectal cancer incidence and death rates in the United States have declined significantly in recent decades. But not every part of the country has benefitted equally.
Two recent studies led by American Cancer Society researchers have found that certain counties and states are lagging behind and represent major areas of opportunity for applying the best-known strategies for reducing the colorectal cancer burden.
There are three distinct "hot spots" where death rates from colorectal cancer remain higher compared with the rest of the U.S. – the lower Mississippi Delta, west central Appalachia, and eastern Virginia/North Carolina, according to the study published online July 8 in the journal Cancer Epidemiology, Biomarkers, & Prevention.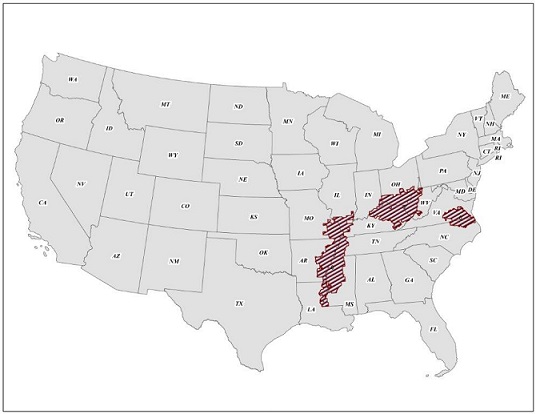 (Map: Highlighted areas have significantly higher colorectal cancer death rates (data from 2000-2009) compared with the rest of the U.S.)
The second study was published online July 6 in the journal Cancer. It looked at what would happen to colorectal cancer incidence and mortality rates in Louisiana, one of the states struggling most with colorectal cancer, if its prevention, early detection, and treatment tactics were the same as in New Jersey, a star state when it comes to reducing colorectal cancer. Specifically, if Louisiana reduced its smoking and obesity rates and increased its colorectal cancer screening rates to match New Jersey, Louisiana would be much better off. Screening, though, would have the biggest impact, according to the study.
In this interview, two of the authors on these studies, Rebecca Siegel, MPH, director of surveillance information at the American Cancer Society and Ahmedin Jemal, D.V.M., Ph.D., vice president of the Surveillance and Health Services Research Program at the American Cancer Society, give insights into their findings and how the geographies that are lagging behind can catch up to the rest of the country.
Q. You found that although there have been large declines in colorectal cancer death rates in the United States since the 1970s, certain areas of the country are lagging behind. These include Appalachia and the rural South. Why have colorectal cancer deaths rates in these places remained much higher than elsewhere in the country?
Siegel: These areas are characterized by high poverty, which is associated with higher colorectal cancer incidence and death rates. Improvements in the early detection and treatment of cancer disseminate much more slowly in underserved populations. For example, in the U.S., 68% of college graduates were current for colorectal cancer screening in 2013, compared to 43% of those without a high school diploma and only 22% of people who were uninsured. Screening is particularly important for colorectal cancer because in addition to detecting cancer early, when treatment is more successful, it can actually prevent cancer altogether.
Q. Even though these areas are lagging behind the rest of the U.S., colorectal cancer death rates are now dropping in these locales as well, correct? Why are the rates now declining?
Siegel: Rates are indeed dropping in these areas, except for among black men in the lower Mississippi Delta. These declining trends are attributed primarily to the uptake of screening, but also to reductions in risk factors, such as smoking, and improvements in treatment, which reach these populations at a slower pace. That is why colorectal cancer death rates started declining much later in some of these areas of the country.
Q. What else can leaders, as well as individuals who live in these colorectal cancer "hot spots" do to continue to help fewer people die from colorectal cancer?
Siegel: Interventions are most effective when they are targeted at specific populations. These areas are low-hanging fruit for community-based colorectal cancer education and screening programs. For example, a comprehensive screening and treatment program implemented in Delaware effectively eliminated racial disparities in colorectal cancer in less than a decade. The hot spots we identified could similarly benefit from such a program.
Q. In a separate study, you specifically looked at how Louisiana, a state with some of the highest colorectal cancer incidence and death rates in the country, could improve if it looked more like New Jersey, a state that is doing much better in terms of reducing colorectal cancer. What did you find?
Jemal: We found that removing the differences in smoking and obesity prevalence and in colorectal screening uptake and stage-specific relative colorectal cancer survival rates (a proxy for differences in treatment) between Louisiana and New Jersey not only eliminates the disparity in colorectal cancer rates, but also results in lower colorectal cancer rates in Louisiana. Stage-specific survival rates and screening rates (which are more likely to be affected by access to care) are more impactful than risk factors (smoking and obesity prevalence) when it comes to reducing colorectal cancer deaths.
Q. What is New Jersey doing right that states like Louisiana can learn from?
Jemal: Tobacco use is a risk factor for colorectal cancer and many other cancer types, and increasing excise tax on tobacco products is known to be the most effective measure to promote cessation among adults and discourage initiation among adolescents. Louisiana can and should raise its low excise tax on cigarettes (currently $0.36 per pack of cigarettes, the second lowest rate nationwide) to that of New Jersey (currently $2.70 per pack) or even better, to match New York (currently $4.35 per pack). This would help promote smoking cessation and reduce mortality and morbidity from colorectal cancer and other smoking-related diseases.
Similar to New Jersey, Louisiana can and should also extend its statewide smoke-free laws from workplaces and restaurants to bars. Another important area that Louisiana can learn from New Jersey is use of federally available resources to improve access to care for the uninsured and underinsured population in the state. For example, the Patient Protection and Affordable Care Act (ACA) aims to improve access to quality health care for all Americans though expansion of the Medicaid program and subsidies for purchasing insurance to low income persons. While New Jersey and over two dozen states are participating in expansion of the Medicaid program, Louisiana has yet to participate in the program.
 
Source link