I wanted to create some fun learning activities to use with my Asher (3) and share it with  all of you!
You can download the free printables and start having fun with your little ones!
All you need for these activities is to print them on regular or card stock paper…
and some sort of small candy or cereal etc for place marking!
The toddler years are full of development and growth!
And I love making these moments of learning FUN!
These are great activities to help your child with color matching, counting, direction
following, patience, focus, will power (Asher wanted to eat ALL the candy at first haha…)
problem solving, fine motor practice and so much more!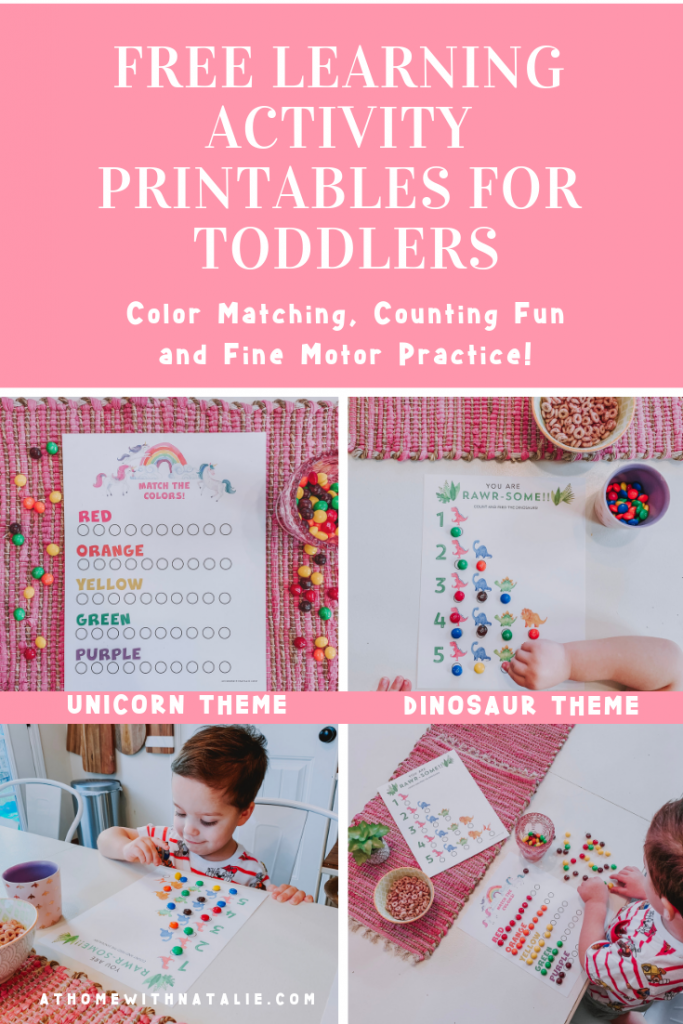 PS. I have some REALLY REALLY FUN Valentine printables you can PAIR with these
learning activities just in time for Valentine's Day!
Scroll to bottom to check those out!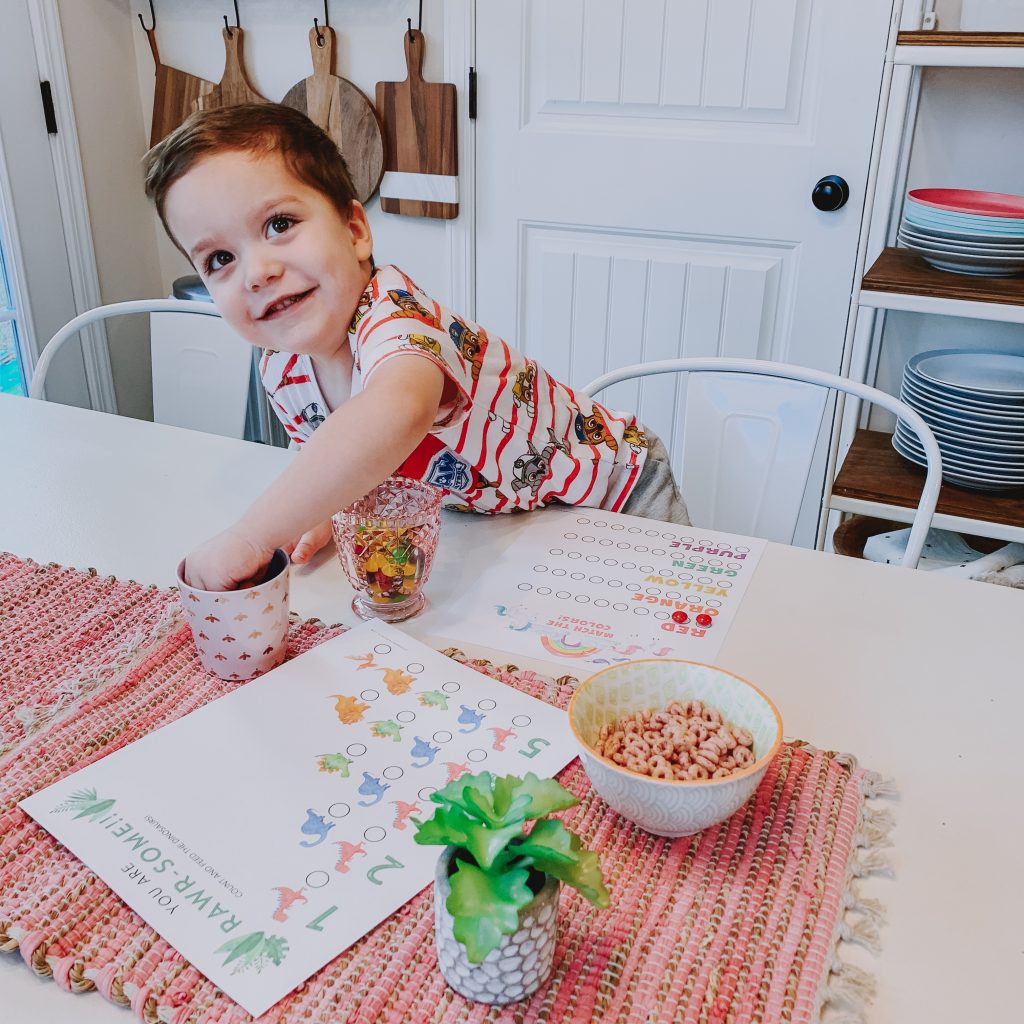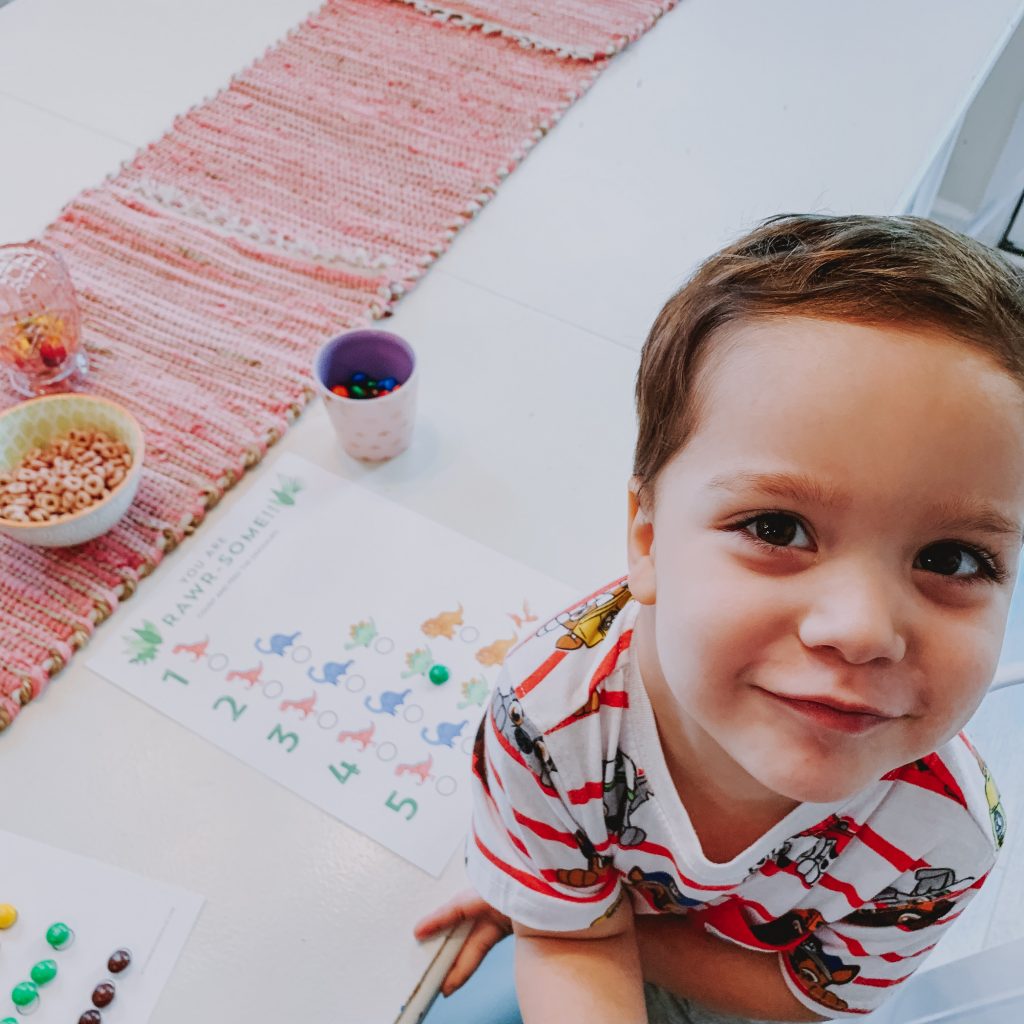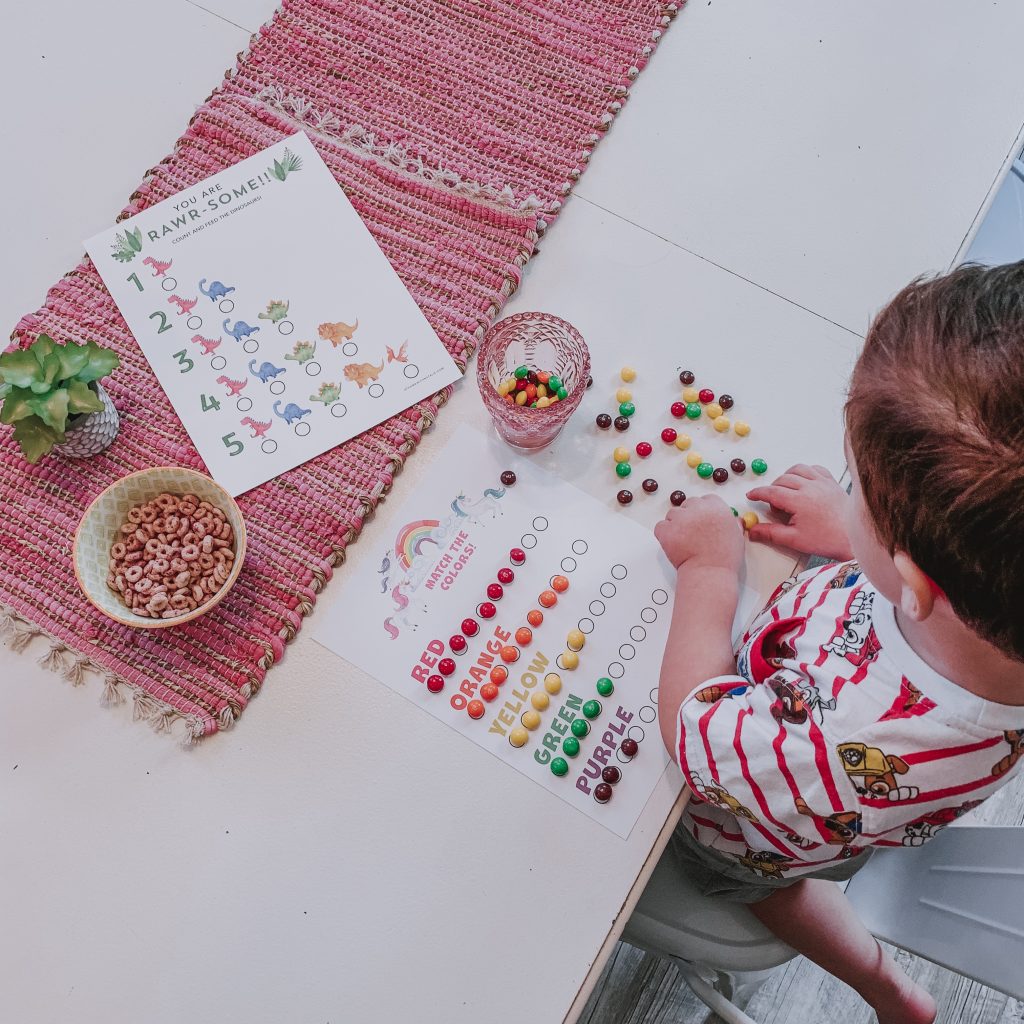 COUNTING ACTIVITY!
First UP! Counting Fun and Fine Motor Practice with our Dinosaurs!
My boys love Dinos. we are in a serious rawr-ing phase.
like. deep in it.
SO why not embrace the crazy that's my motto! haha.
I made up a little dinosaur "game" where Asher could "feed" the
dinosaurs and count them as he goes.
DOWNLOAD NATALIE'S COUNTING FUN ACTIVITY PRINTABLE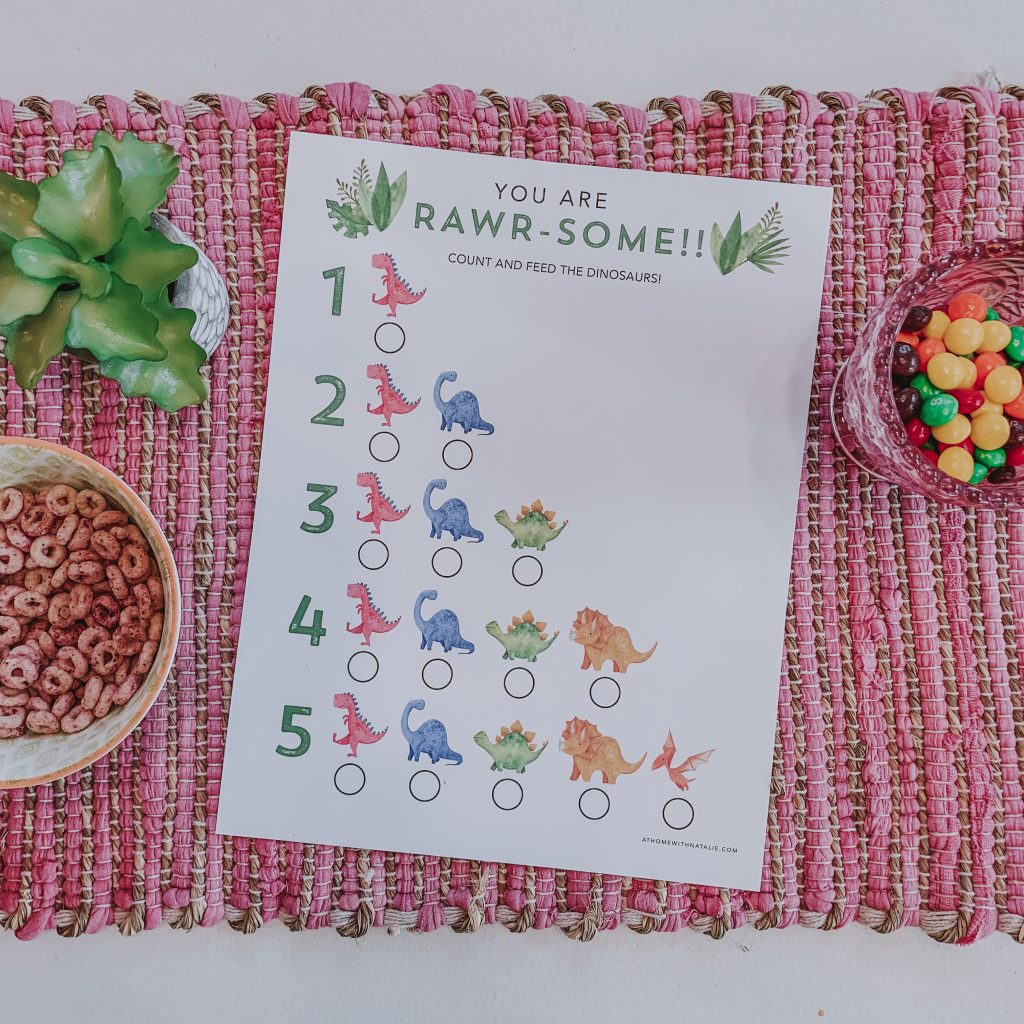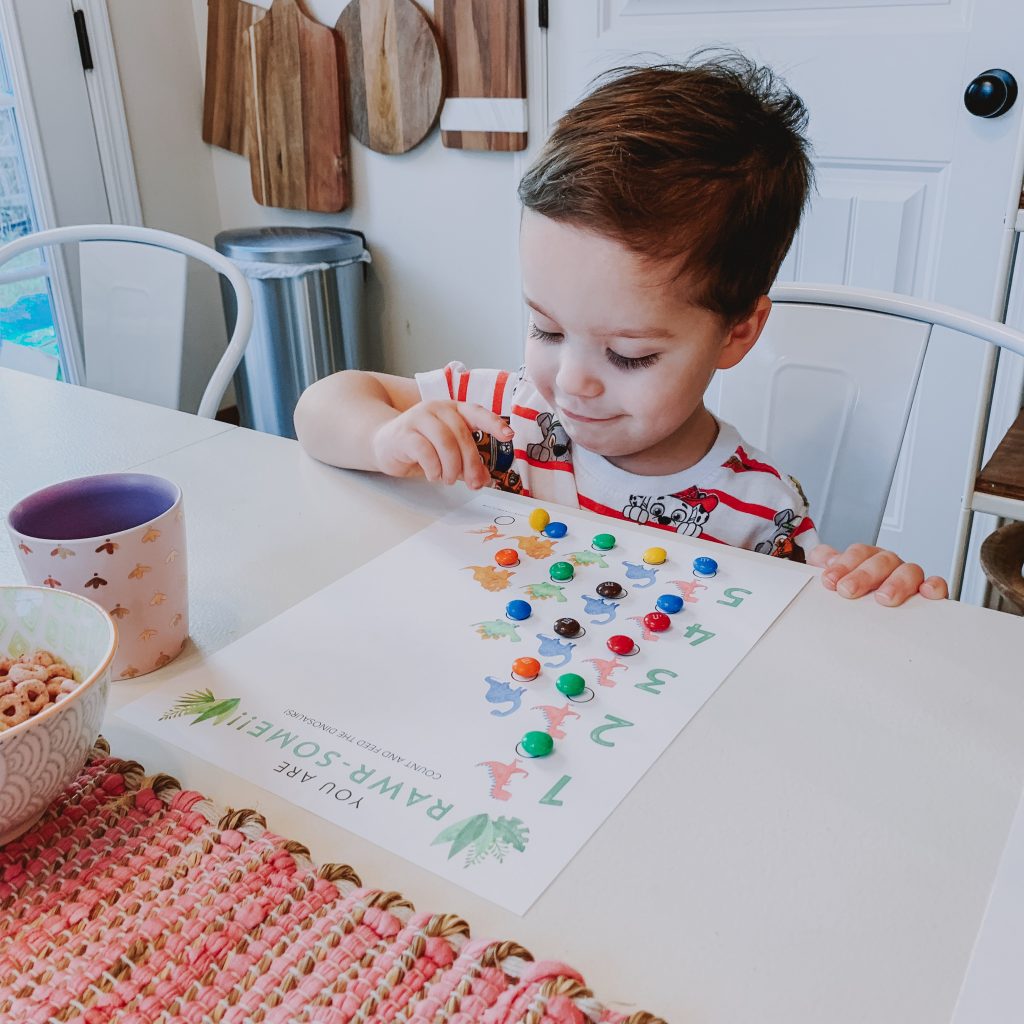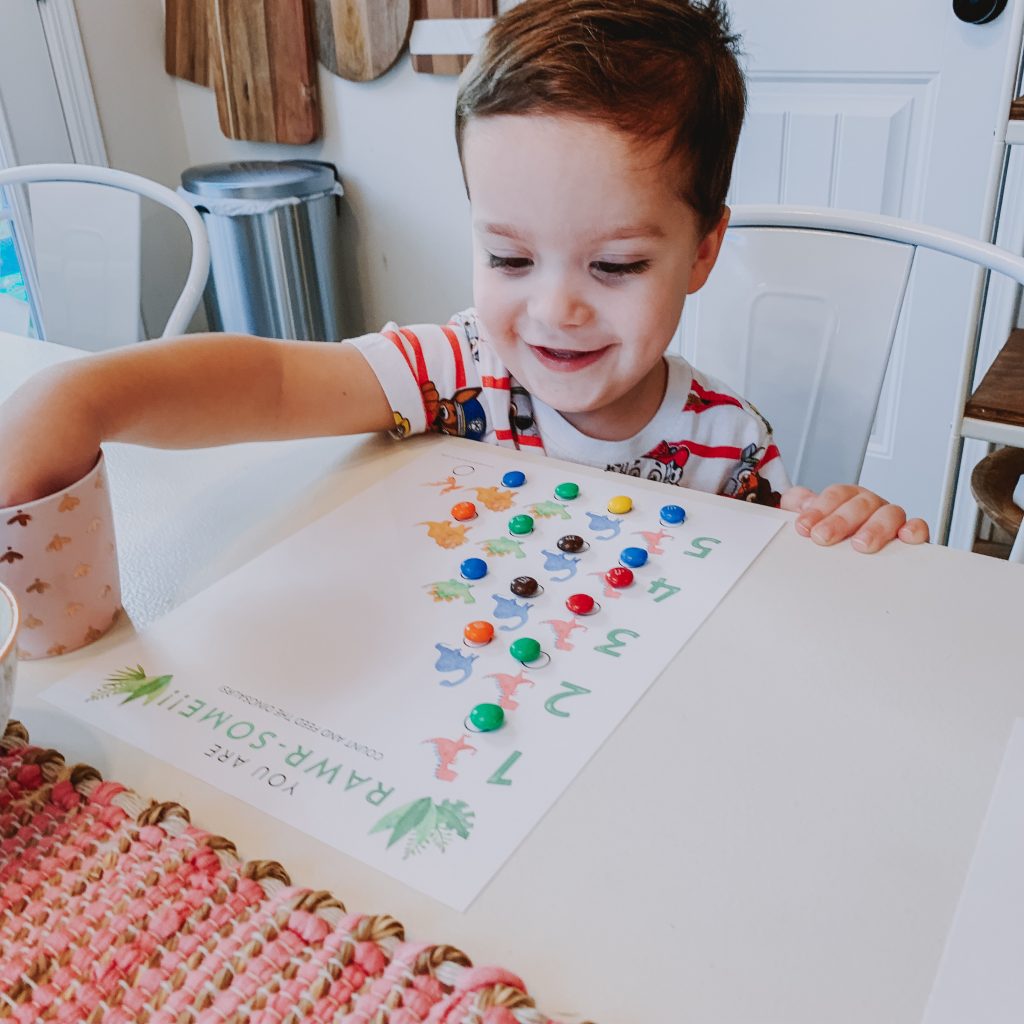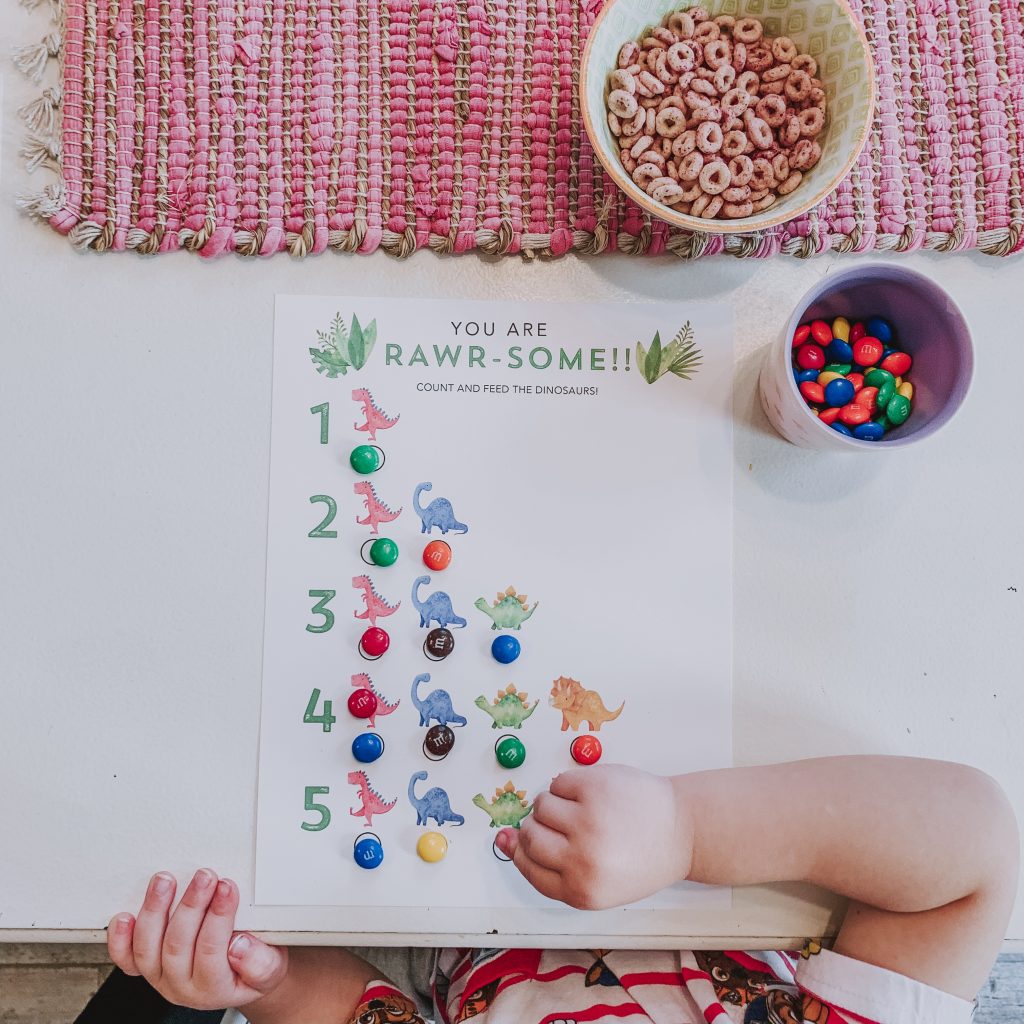 These are the books I pulled off our shelves to keep the counting learning fun going!
And of course we can't talk about dinosaurs without peeking into our favorite Dino books.
I seriously needed to UP my Dino name game, so these came in handy. 😉
Lift-the-Flap Numbers
Lift-the-Flap First Math
Big Book of Numbers
Count to 100
My Very First Dinosaurs Book
Slide and See Dinosaurs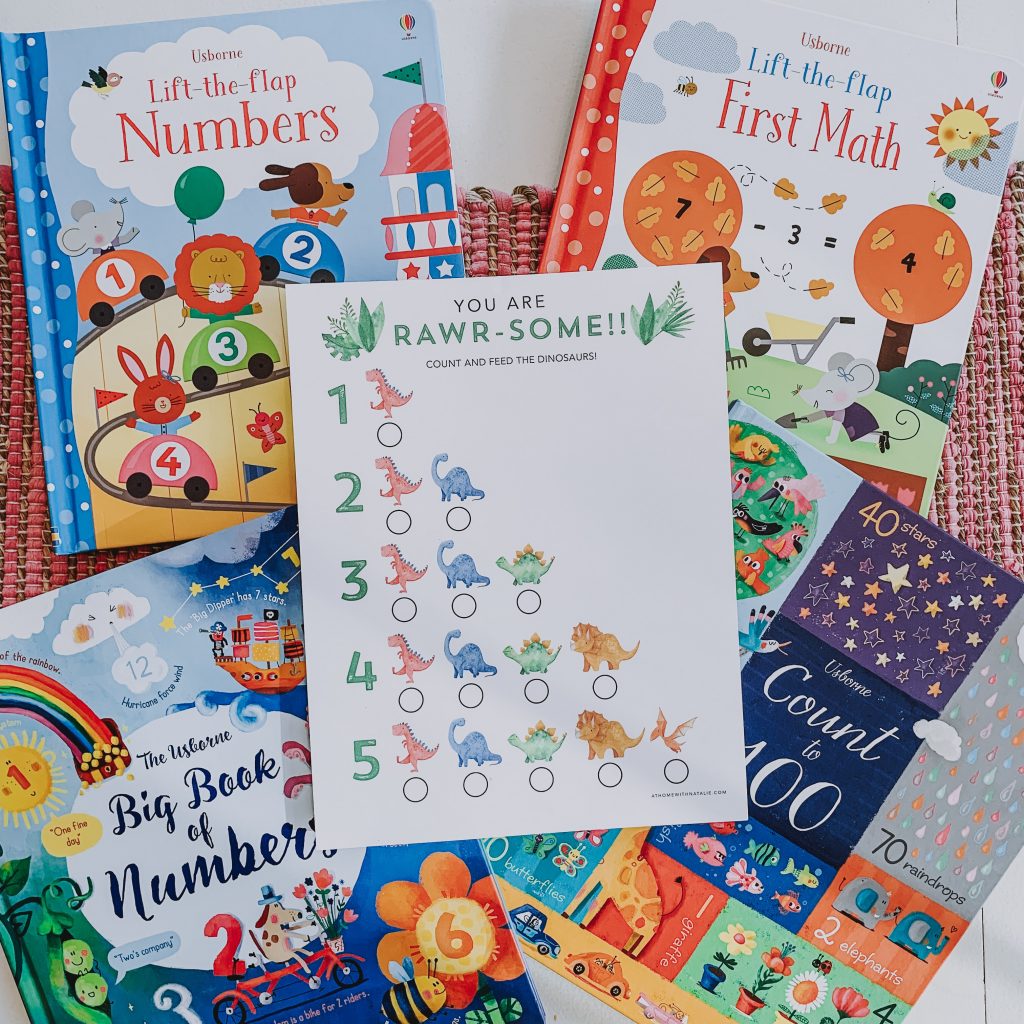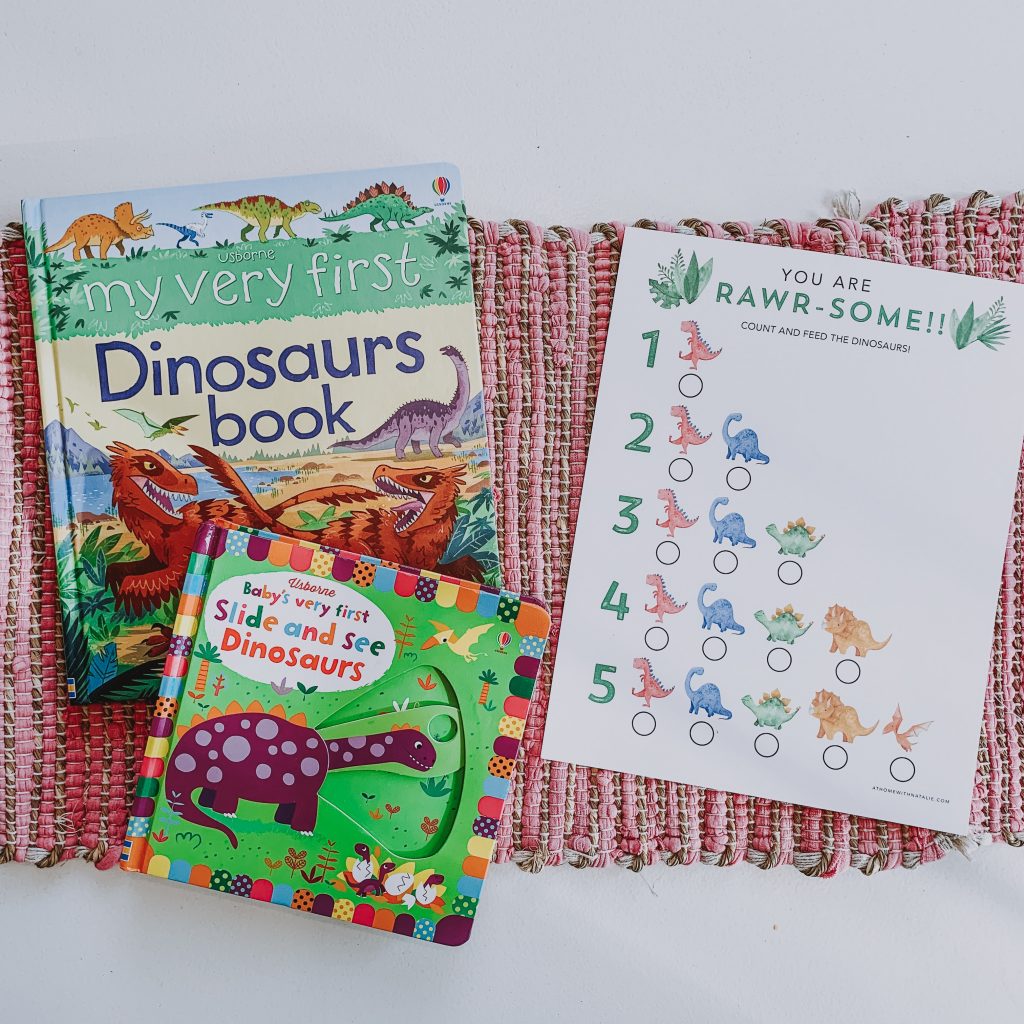 Before you think I'm Mom of the year over here……..
Here's the fifth child eating lucky charms.
I'm all about balance in how awesome I am as a mom.
Hunter was pleased though.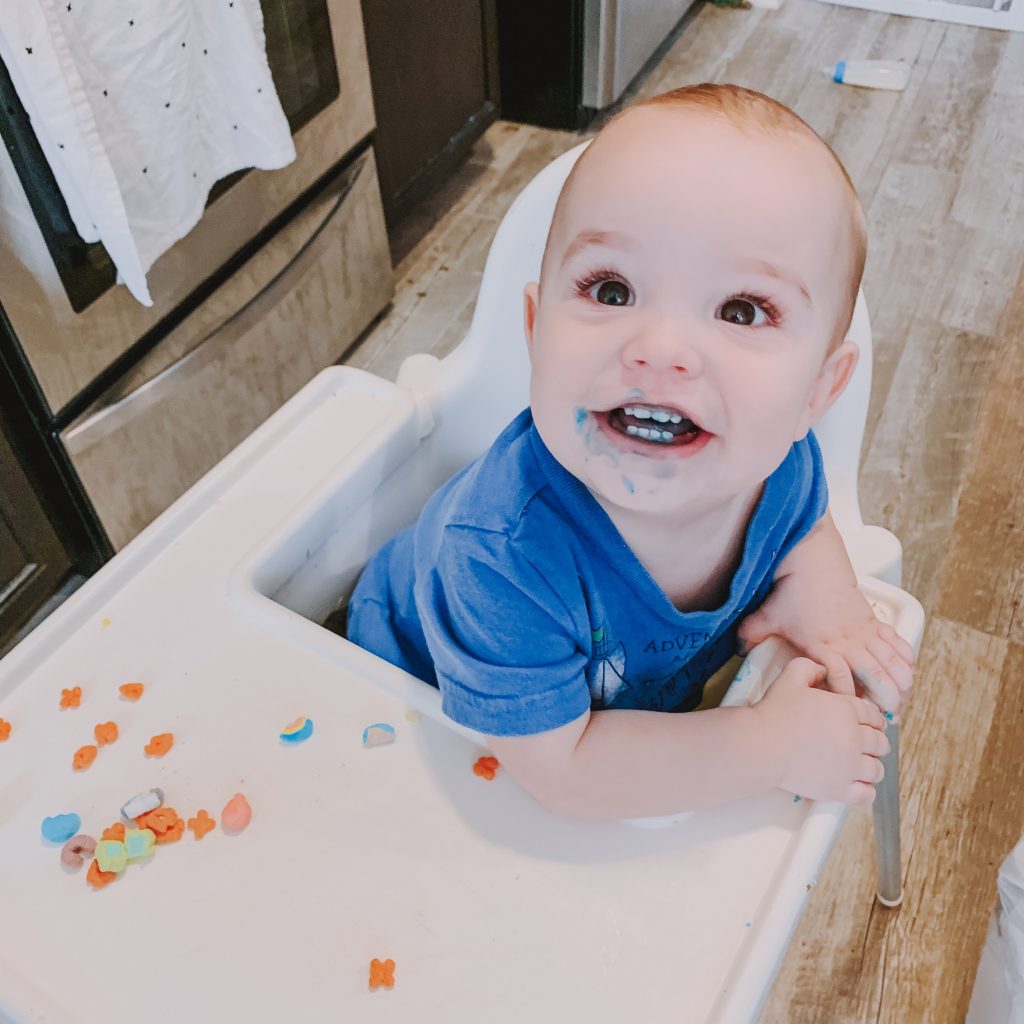 COLOR ACTIVITY
So I knew that I needed to create something with Unicorns. It was just a must.
I love this activity for Color Matching and Fine Motor practice!
We used skittles for this rainbow activity.
But if you wanted a non candy option fruit loops would be perfect!
DOWNLOAD NATALIE'S COLOR MATCHING ACTIVITY PRINTABLE
(Right click and save)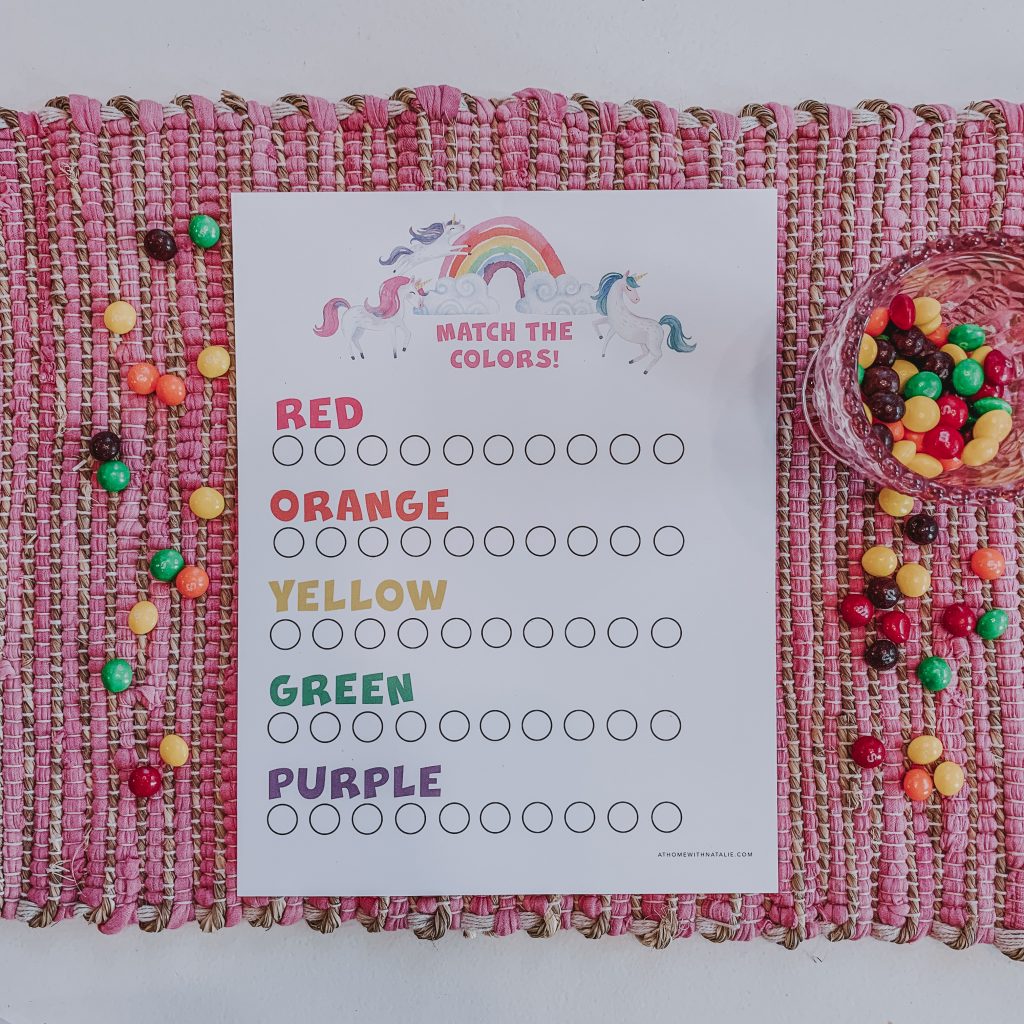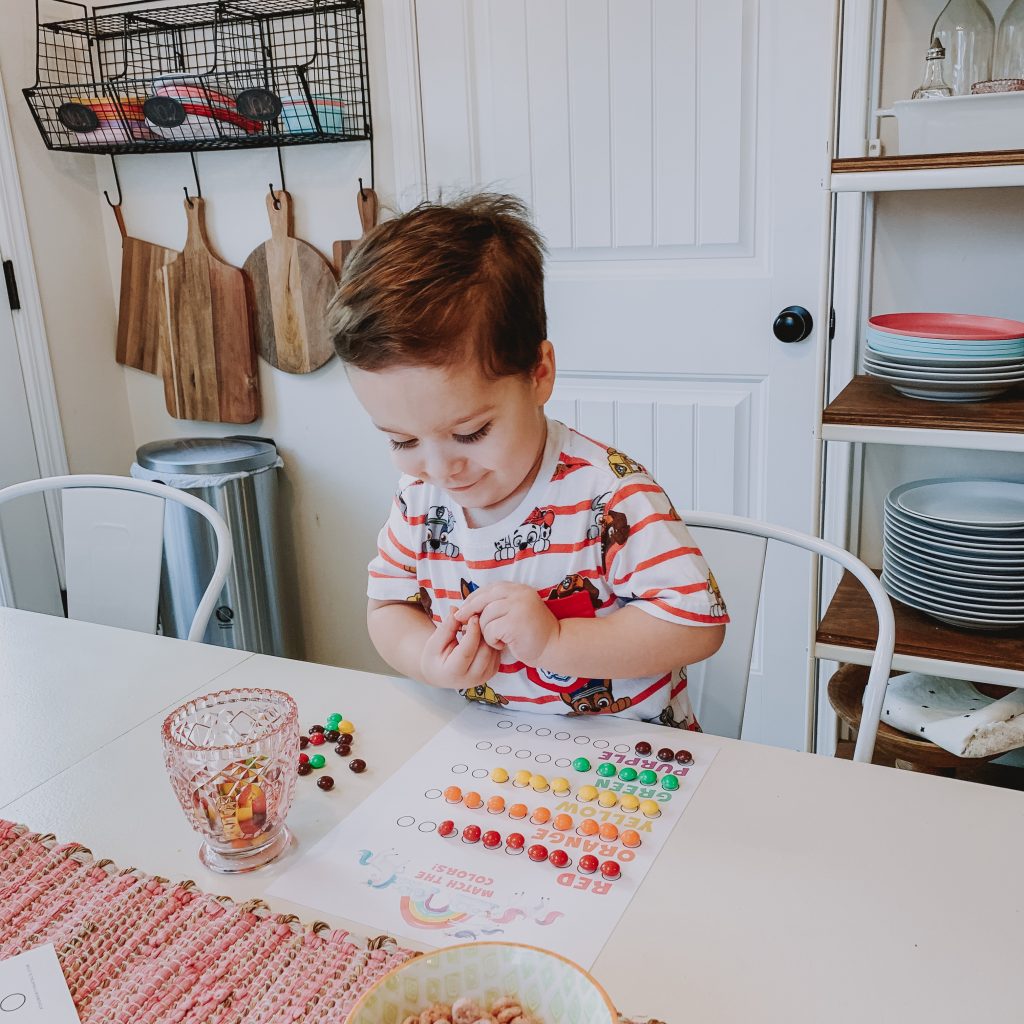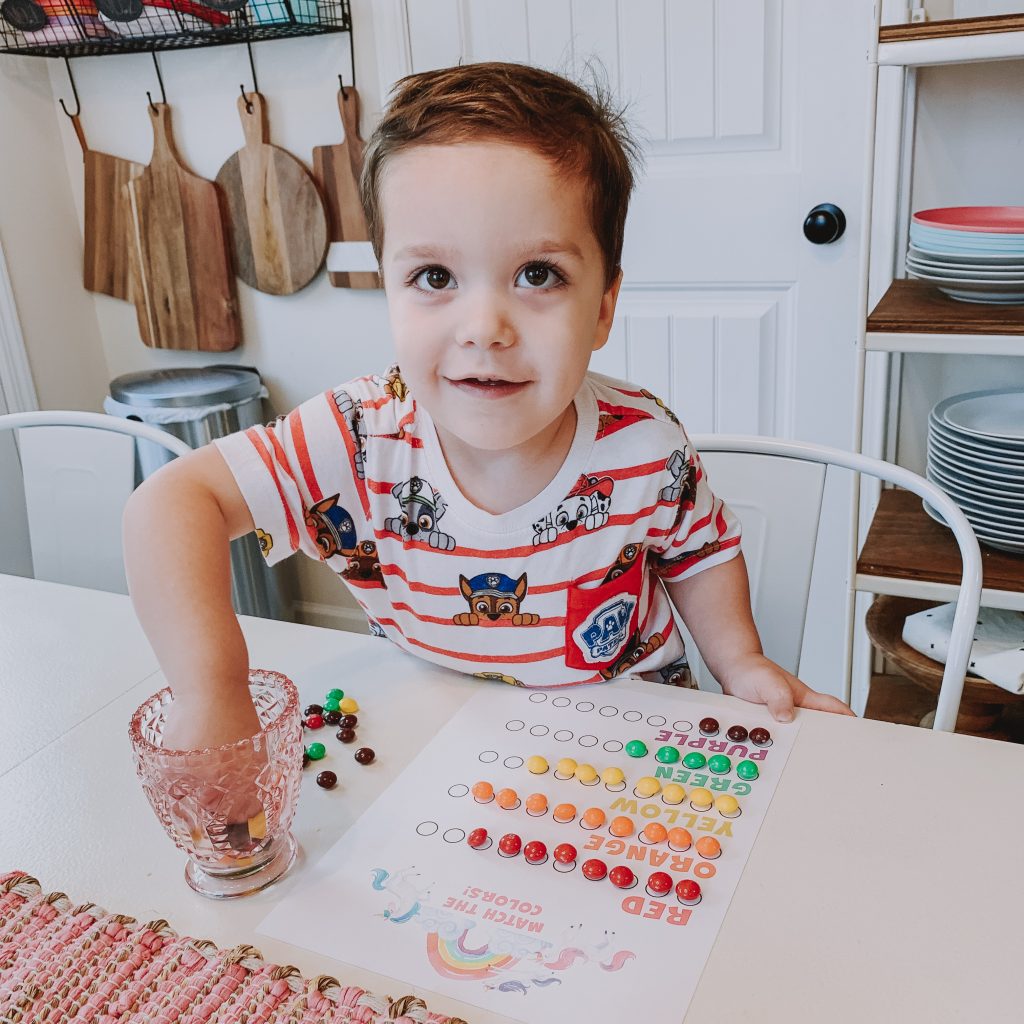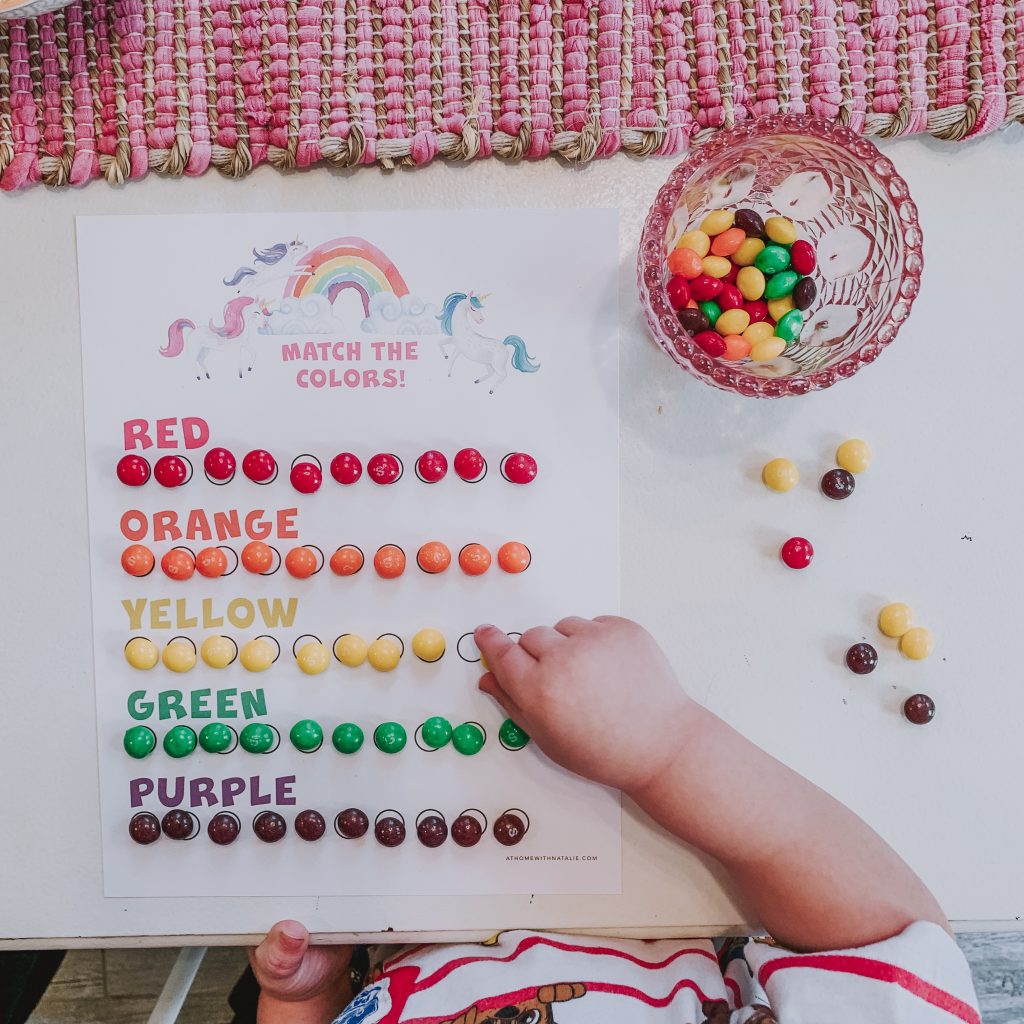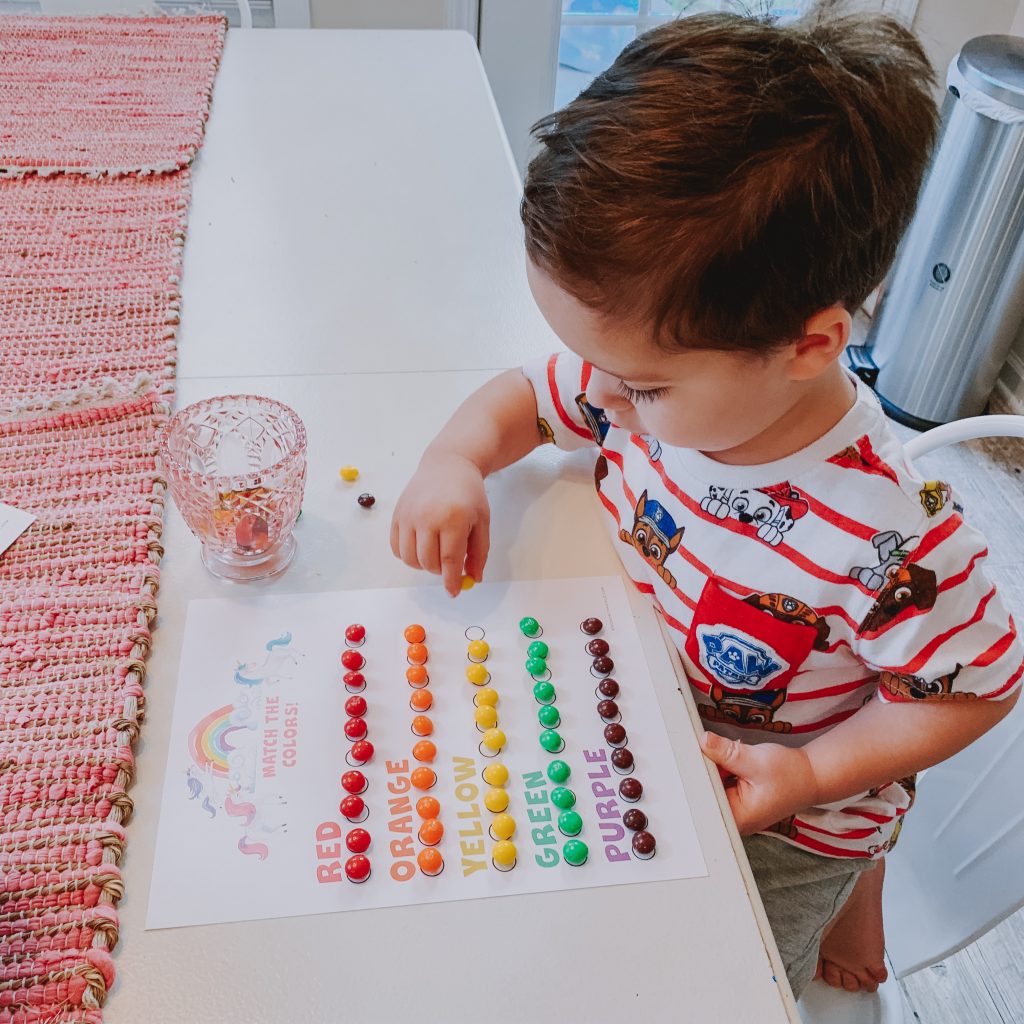 He was so proud of himself when he completed the task!!
This was such a great activity to keep my little
busy bee occupied, happy and learning!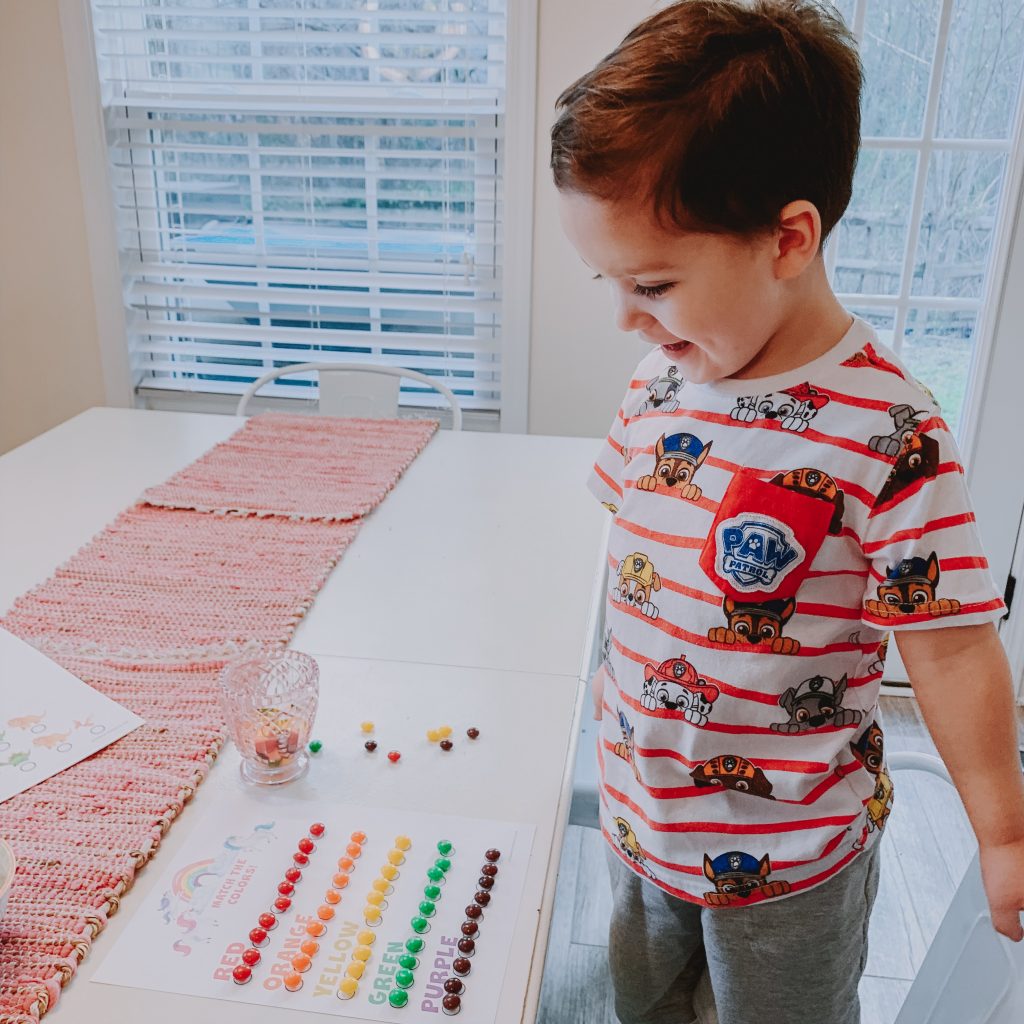 These are the Color themed books that I pulled of our
home library shelves so we could dive into more color identification!
Lift-the-flap Colors
Baby's very first touchy-feely Colors Play book
Very First Words Colors
Fold-out books Colors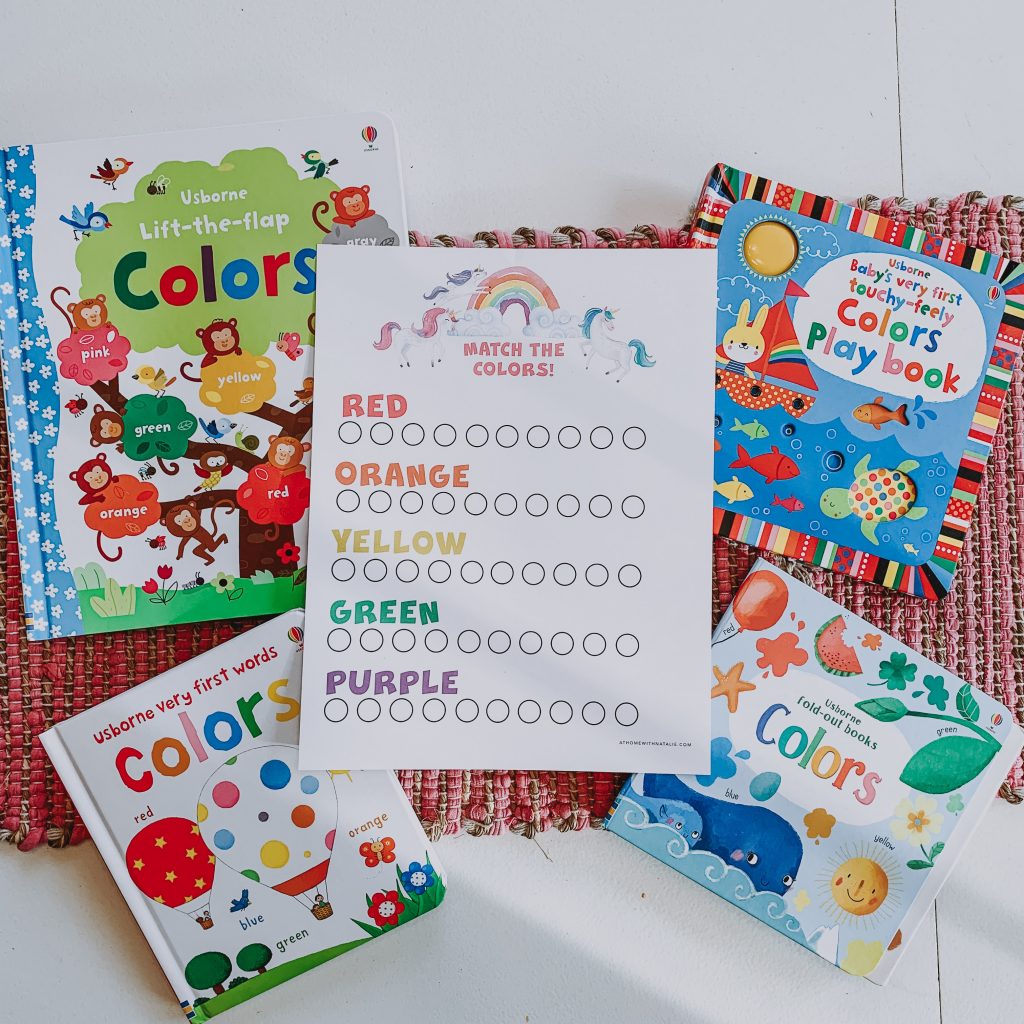 Are you going to try these out? Let me know if you do and tag me on Instagram if you share a
photo of you guys having some learning fun with the free printables!
INSTAGRAM: @athomewithnatalie
It would make my day!!!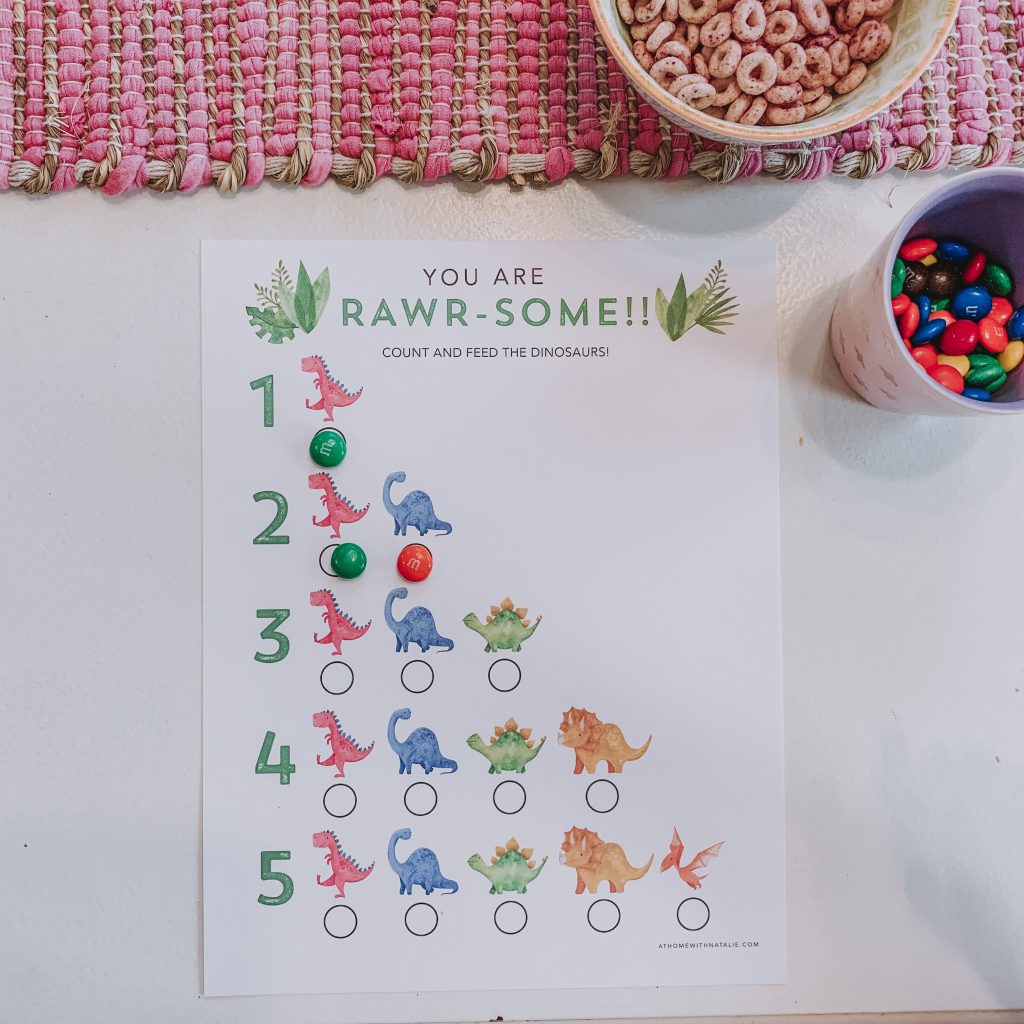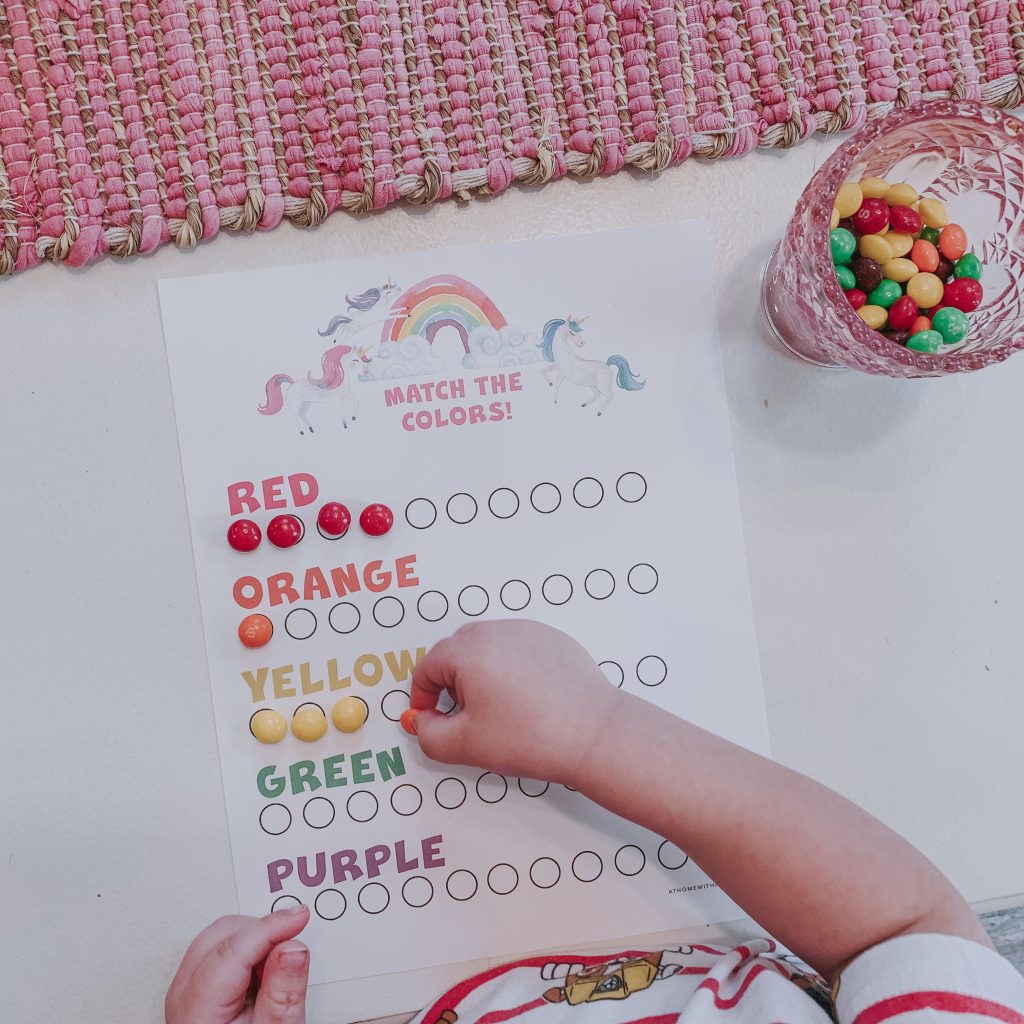 ---
OK! Remember those fun Valentine's Day Printables
I mentioned at the start of this post?? That coordinate with these activities??
Well here they are!
I created matching Valentine's Day treat bags for my kids with the same themes.
Unicorn Valentines and Dinosaur Valentines.
I have a bunch of Valentine Printables in my Etsy Shop and
they are ALL HALF OFF till February 10th!
These are both $4.00 and give you endless Valentines!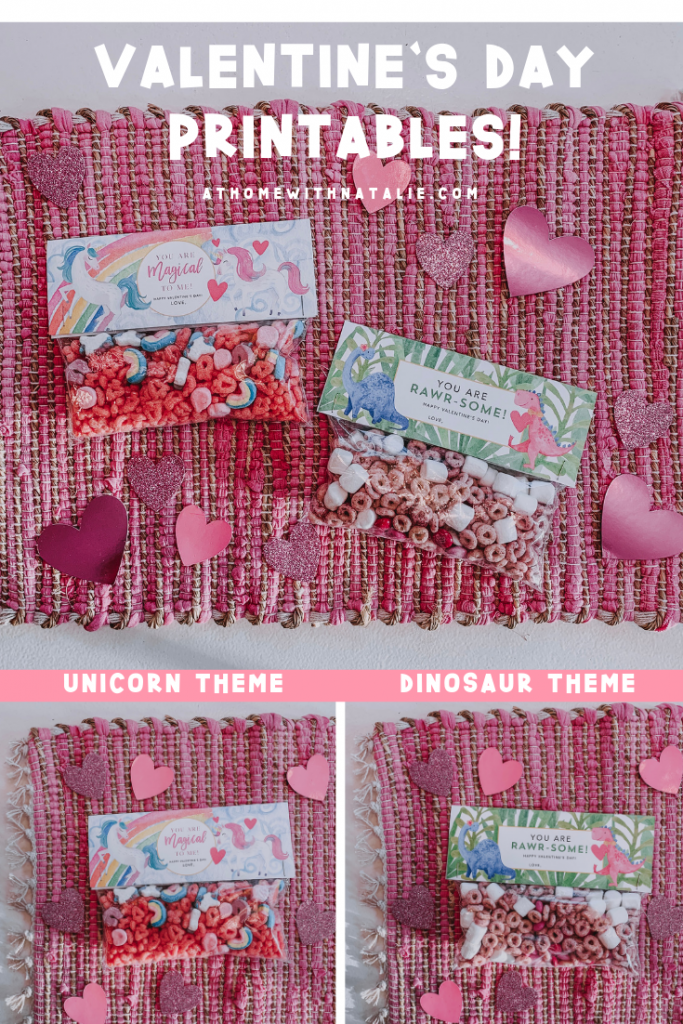 I've always love giving these easy but special DIY valentines because
1. They are a great bang for your buck.
You download the printable and can print as many as you want need/forever.
And you can get a bulk snack/treat and break it up into the baggies!
2. They just feel special to me-you can customize what you fill the
treat bags up with and my kids love to sign their names on them!
and I like to get creative! My littles are always so proud to bring these in to pass out!
You can pair the treat bags with the free learning printables above
and have fun with our valentines this year!
All you need for this fun DIY are:
Card stock paper (I use this for all my printables so they are sturdy for the kids!)
Snack Size Ziplock bags
Stapler
Scissors
Treat/Snack of your choice!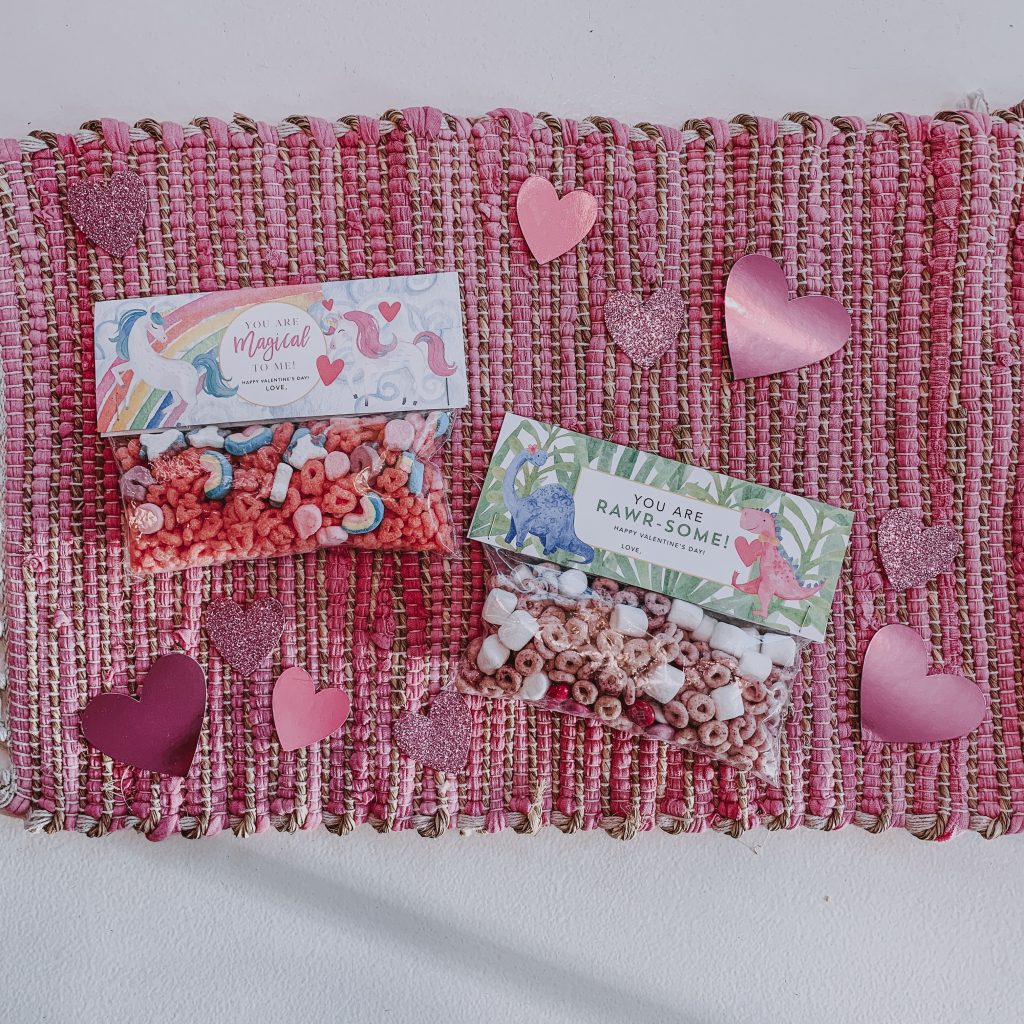 We used the Fruity Lucky Charms for our Unicorn Valentine's Day Treat Bags!
I picked out the green hats because… too soon.
Don't they look so fun? There are so many unicorn themed things out
there so you could easily fill these with non edible things too!
I'm kind of a sucker for all things Unicorns. I love the cute rainbows and pink cereal for this.
My kids get their love of eating dry cereal from me. 😉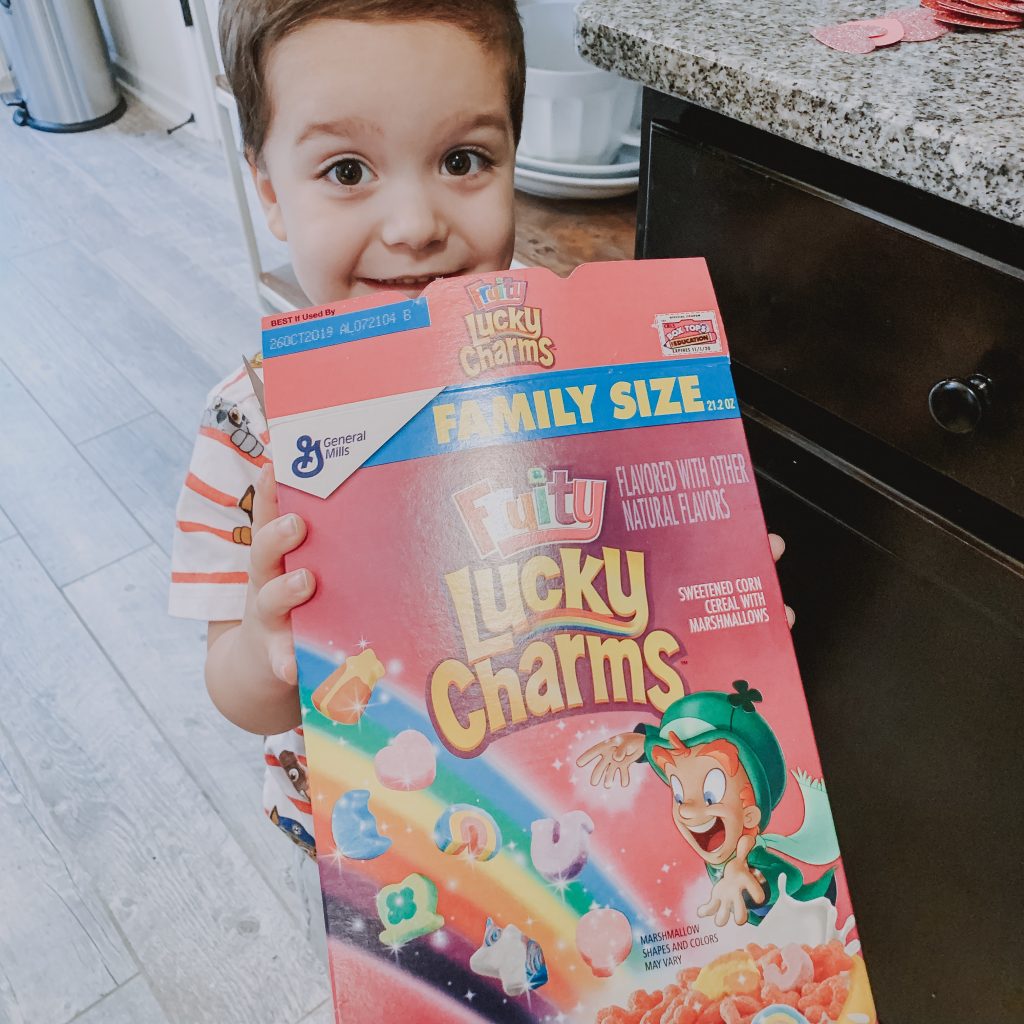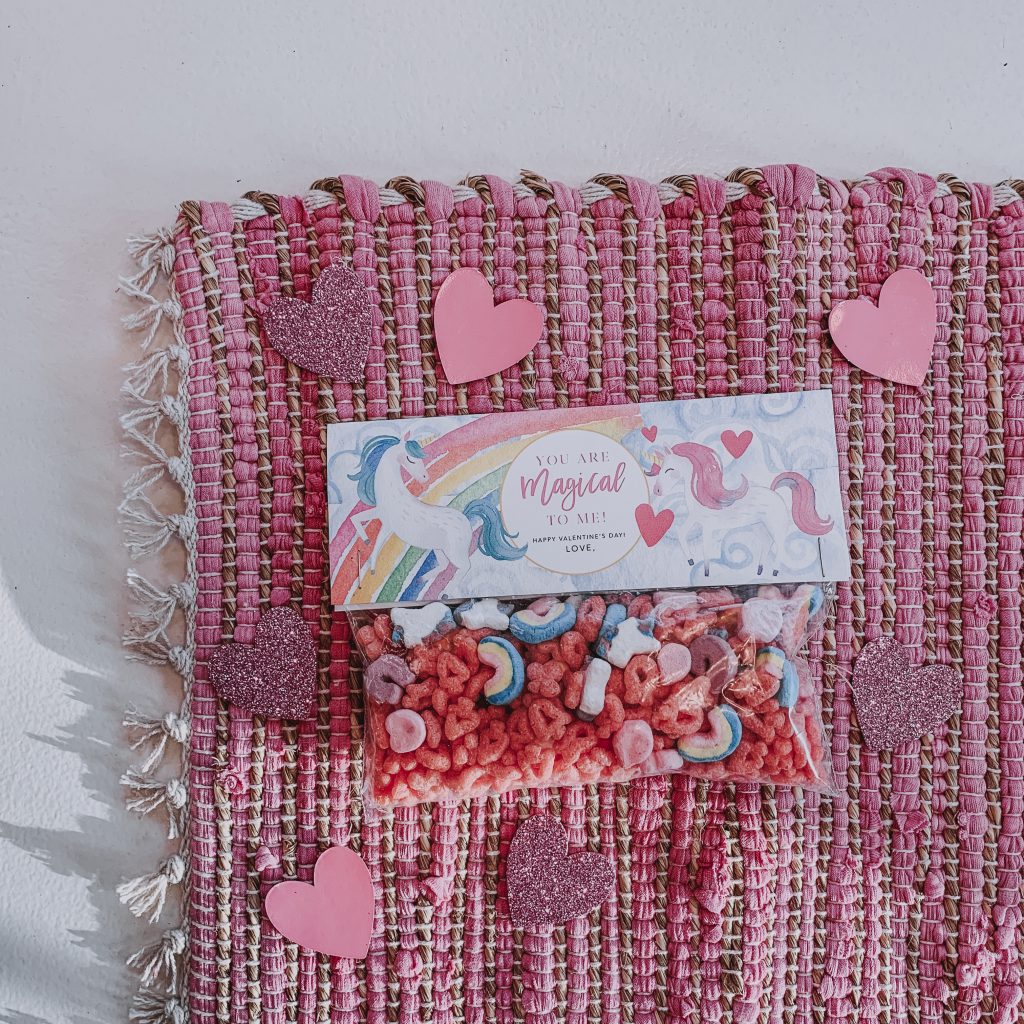 For the Dinosaur Valentine's Day Treat Bags we made up a fun toddler friendly snack mix!
We used berry Cheerios, mini marshmallows and holiday M&M's.
My kids love snack mixes like this!
I think if you wanted a non card option…. a fun trail mix would be cute with these!
(Raisins, pretzels and peanuts-if you can.)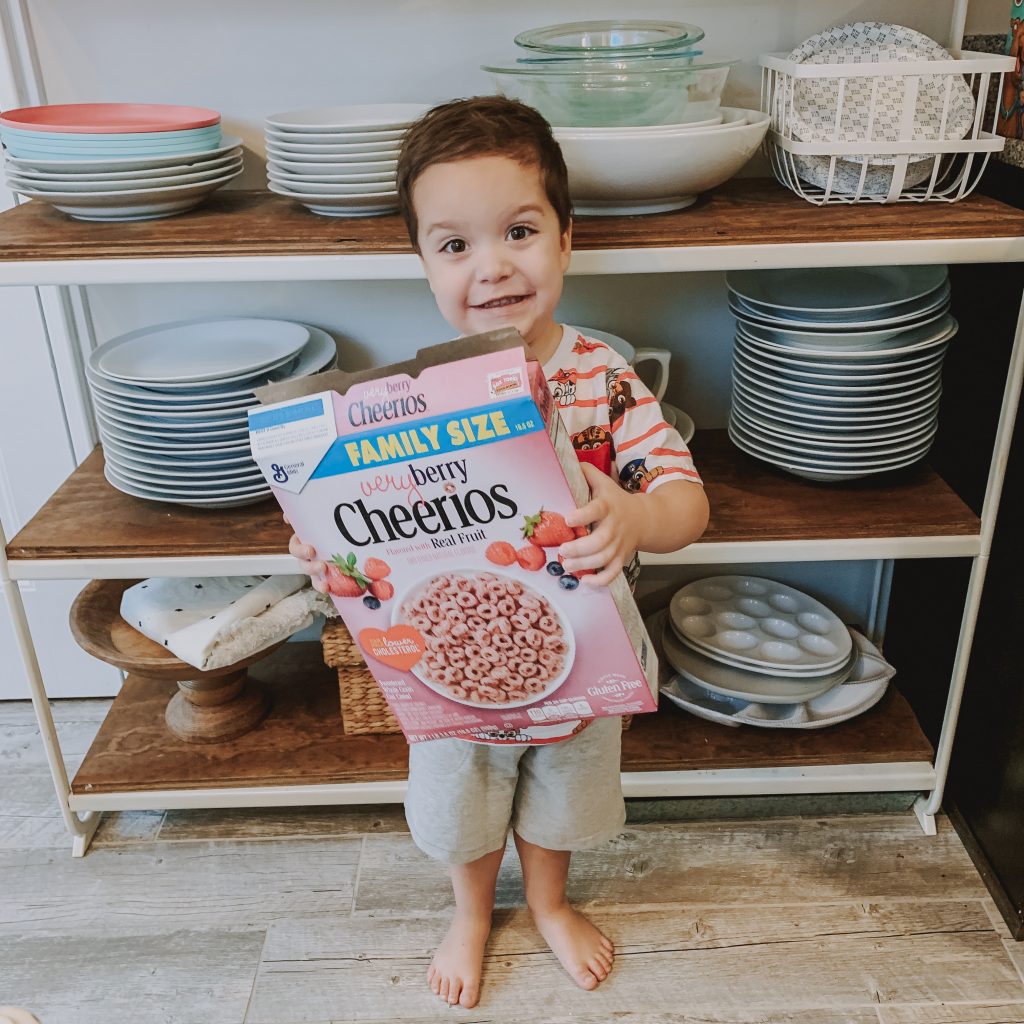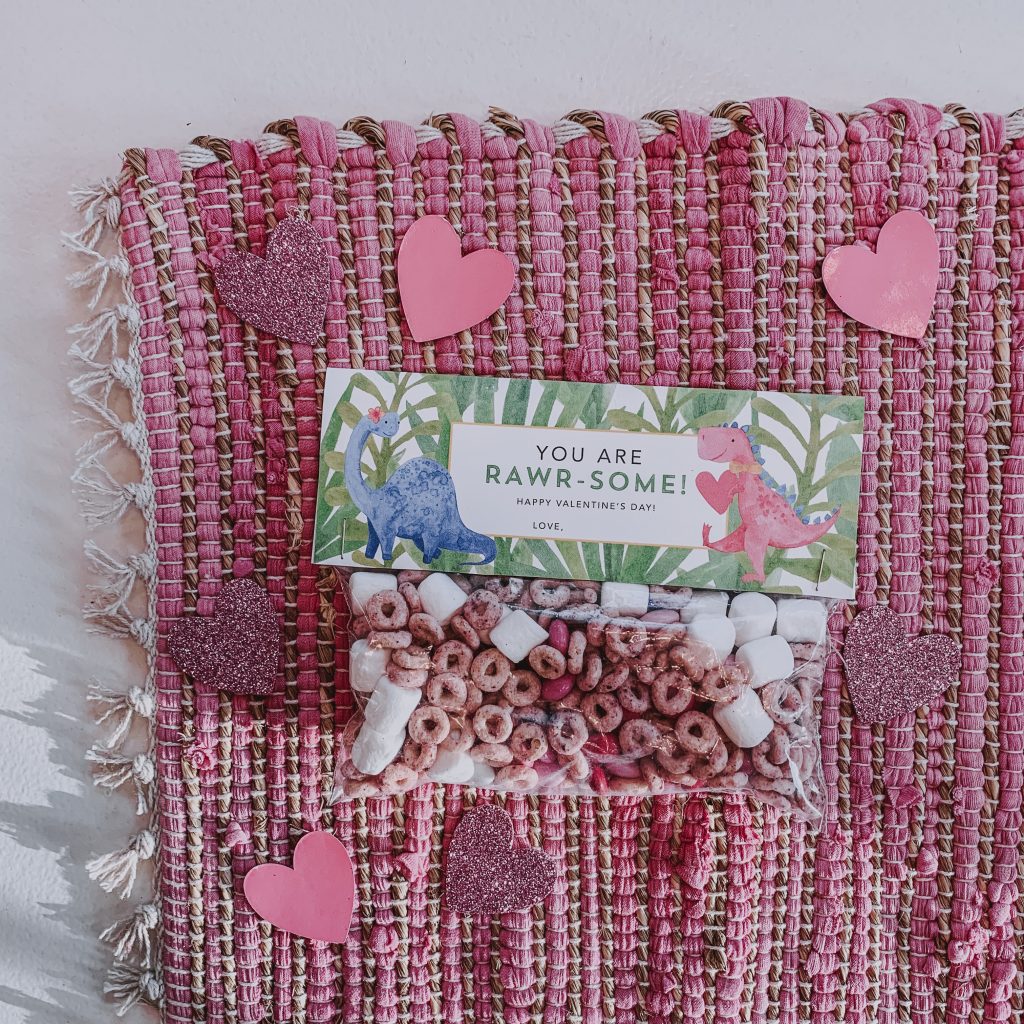 Which Valentine is your favorite??
I hope you snag some while they are HALF OFF (till Saturday!)
And as always thanks for the love! ENJOY!!!!!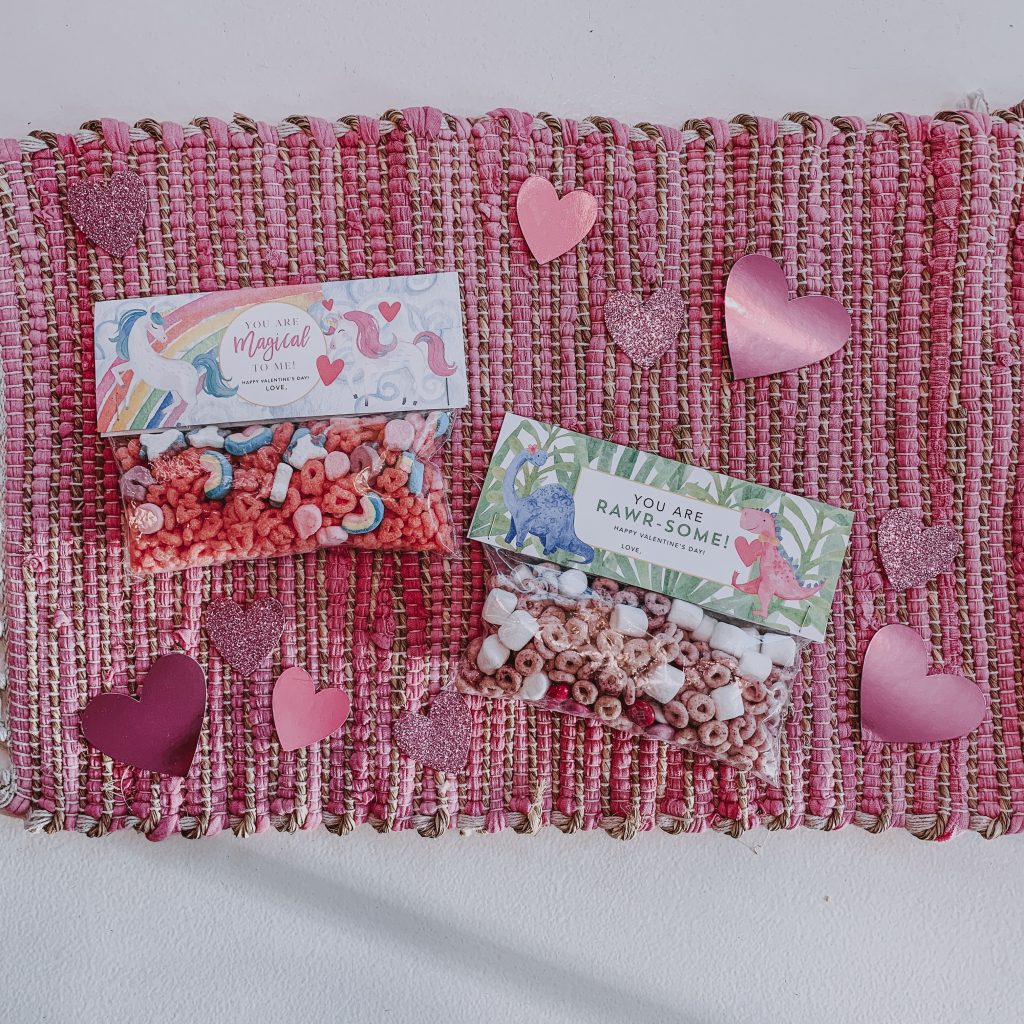 Source link