I've been making this Easy Chicken Pot Pie Recipe
for over 10 years and it's a reader favorite!
At least once a week someone is tagging me on instagram stories
showing it as their family's new favorite weeknight meal!
(It's always fun seeing everyone's cookware…haha.)
All that to say… you need this recipe in your meal planning – it's SO GOOD.
Passed down recipe that is husband and kid and everyone approved.
Comfort food but with the ease and quickness that a school night calls for!
ENJOY!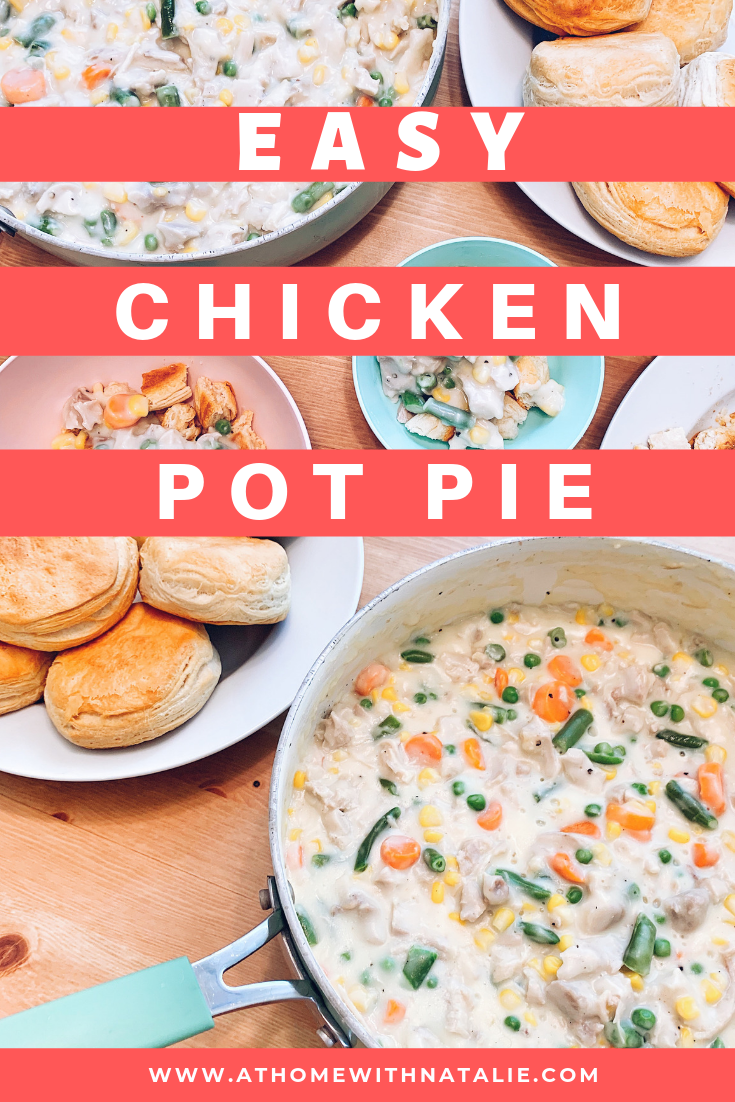 Ingredients
2 Cups boiled chicken (we prefer thighs.)
1/2 cup milk
1/3 cup butter
1/3 cup diced onions (optional)
1 bag of frozen veggies.
1/3 cup all-purpose flour
salt and pepper to taste
14 oz chicken broth (also optional!…plenty of times I just use milk!)
Can of biscuits (Our family uses 2 with leftovers.
You can also do from scratch but this makes it even easier!)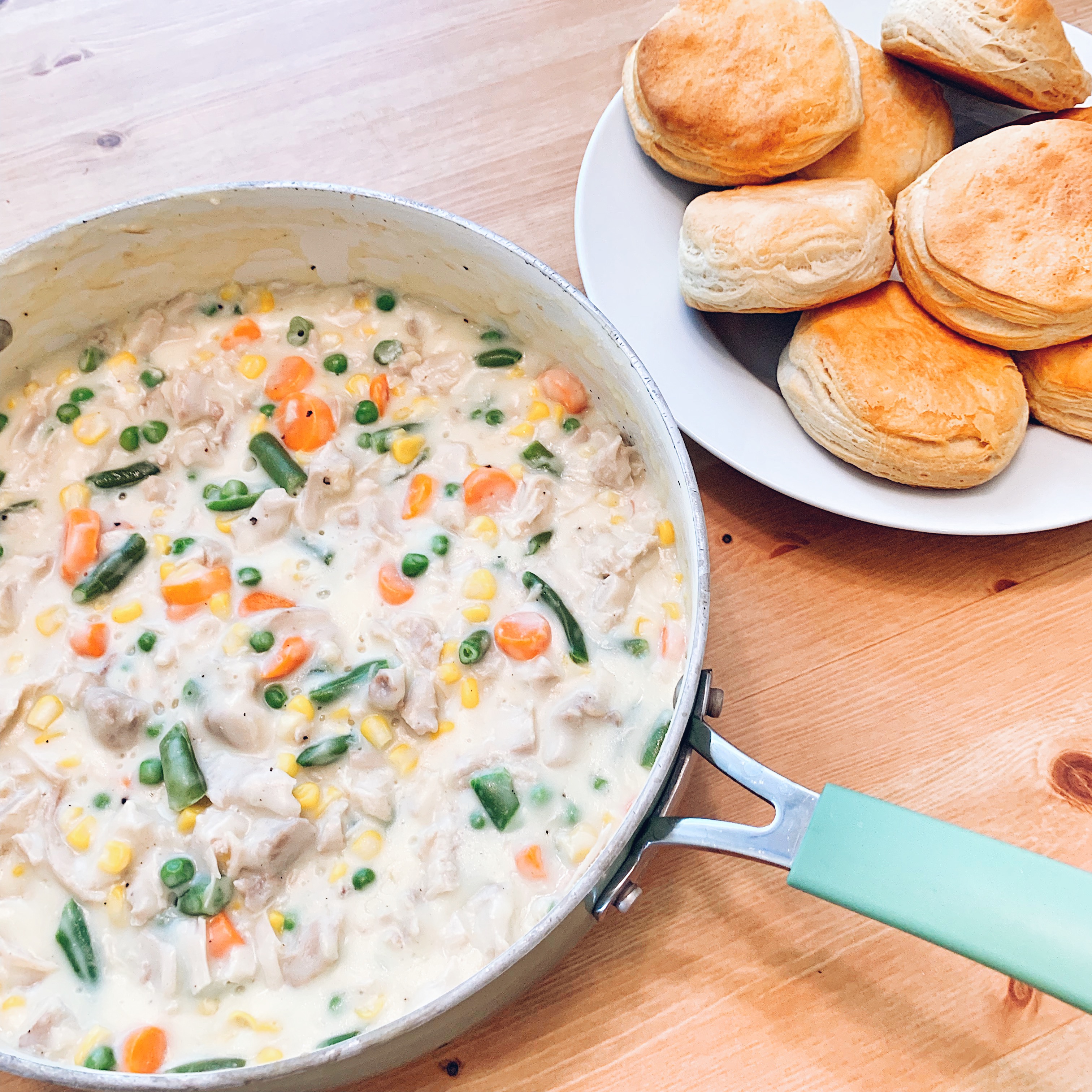 STEP 1
First things first…boil the chicken.
It's fast and easy and I usually do a whole pack of chicken thighs
and use some for this meal and some for chicken salad the next day!
We prefer dark meat for this recipe, but you could do breasts. Whatever you prefer.
Preheat oven for biscuits.
STEP 2
Time to make up the deliciousness.
Once I take the chicken out of the water..I know it's time to whip up the gravy and veggies!
I throw the frozen veggies in the microwave.
In my pan I melt the butter at medium heat. (add onions now if you want…
I skip this step plenty when needing it to be even quicker.)
Sauté onions two minutes until tender.
Stir in flour and Mix for a minute.
(Don't let it burn-keep stirring- but you want to cook off some of the flour taste.)
Gradually stir in broth and milk, cooking and stirring until bubbly and thickened.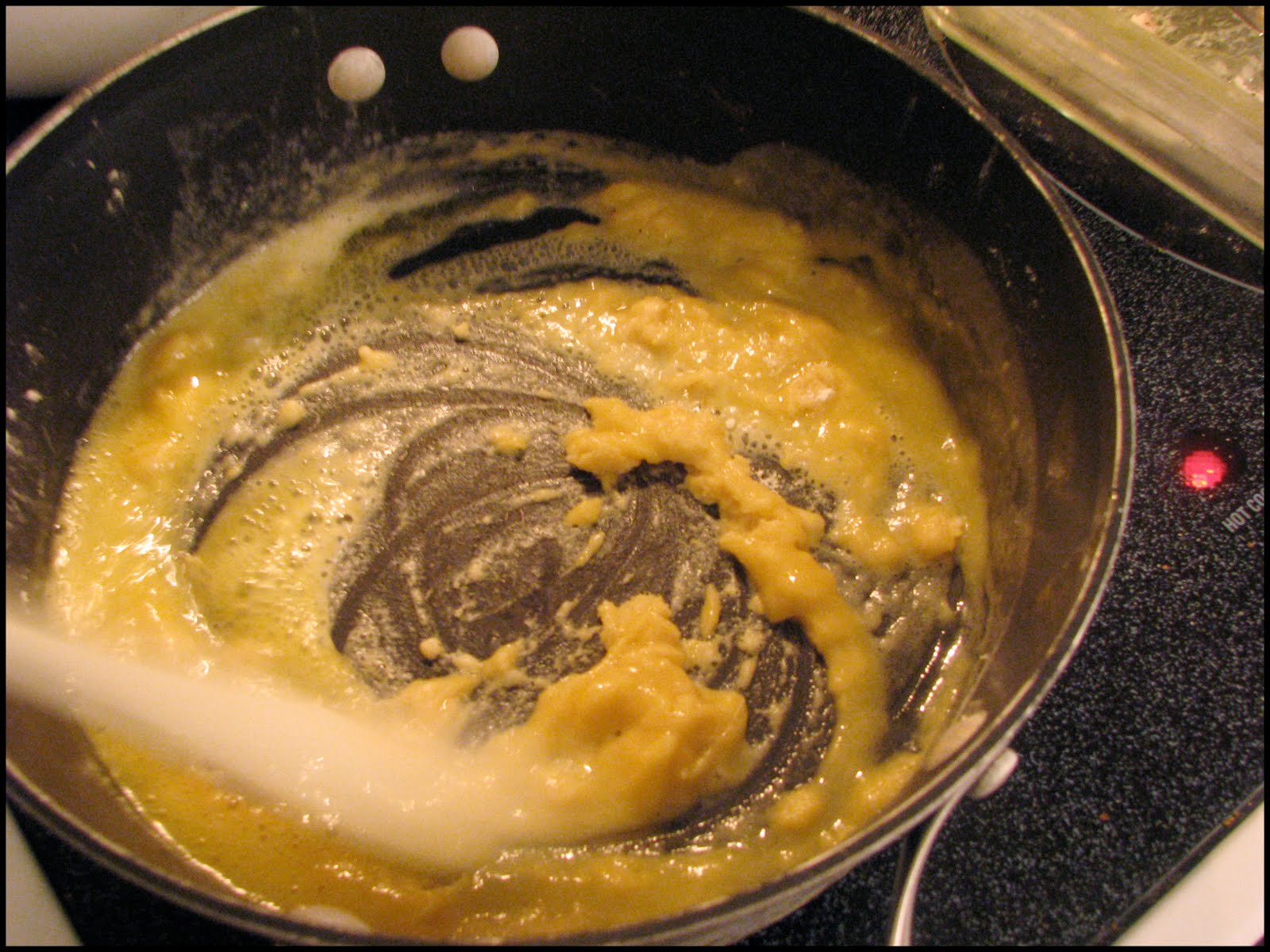 STEP 3.
Pop Biscuits into the oven!
This is the part that makes this version of chicken pot pie so easy!
You can of course whip up a homemade batch of biscuits…but you just can't beat the
flaky canned biscuit deliciousness and how fast you can add them to the table.
STEP 4.
Add the vegetables into your gravy and reduce heat.
While it's thickening, in between stirring- I am pulling apart chicken and tossing it in the gravy.
Salt and Pepper to Taste. (The broth can be salty so keep that in mind…
I usually taste test and always end up with a child offering to help sample. 😉
STEP 5.
For our kids we cube up the biscuits and pour mixture on top!
They gobble it up!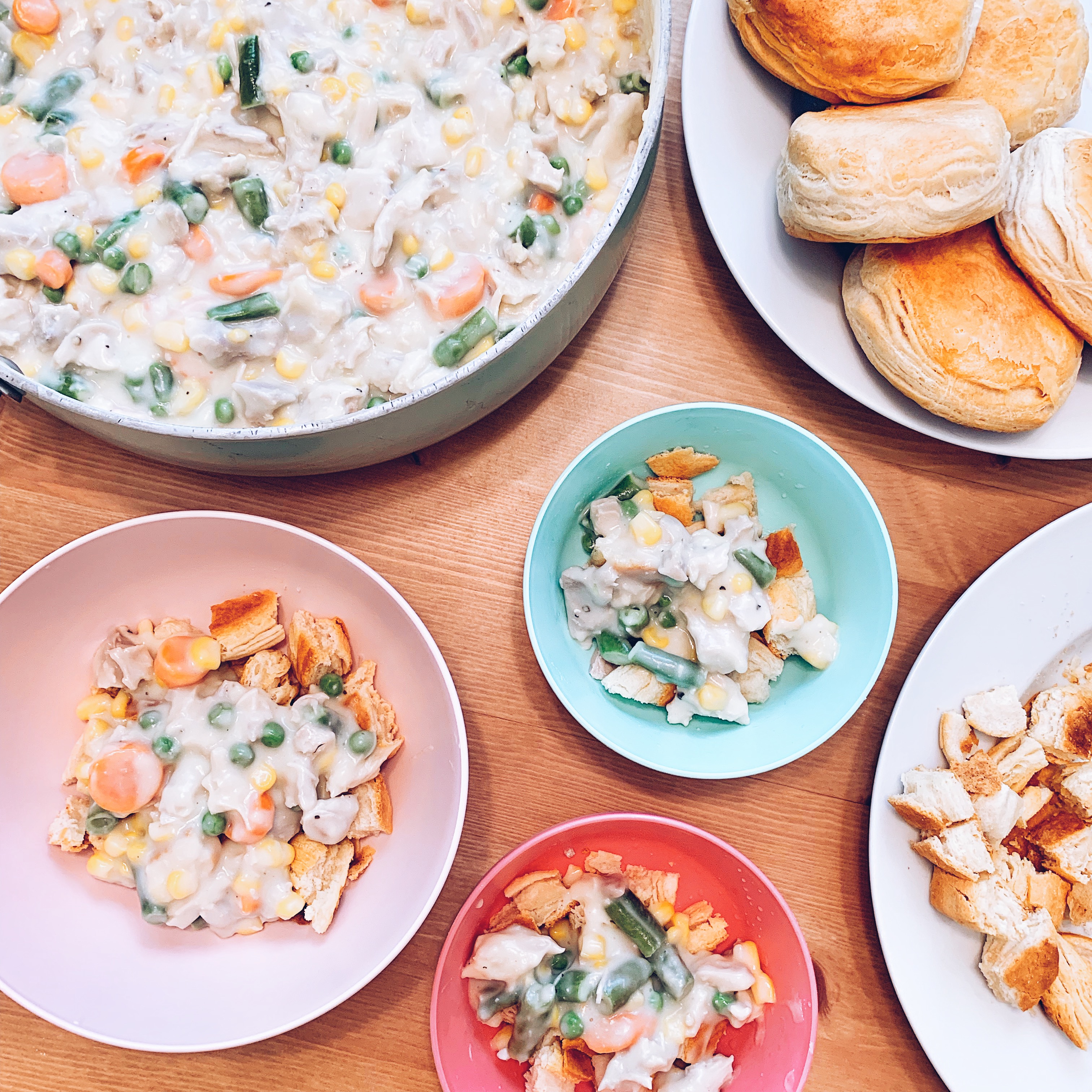 This meal is so easy, super fast and tastes like classic home cookin'.
You are going to LOVE IT!
Tag me on insta if you try it and it's a hit with your crew!
@athomewithnatalie
Source link