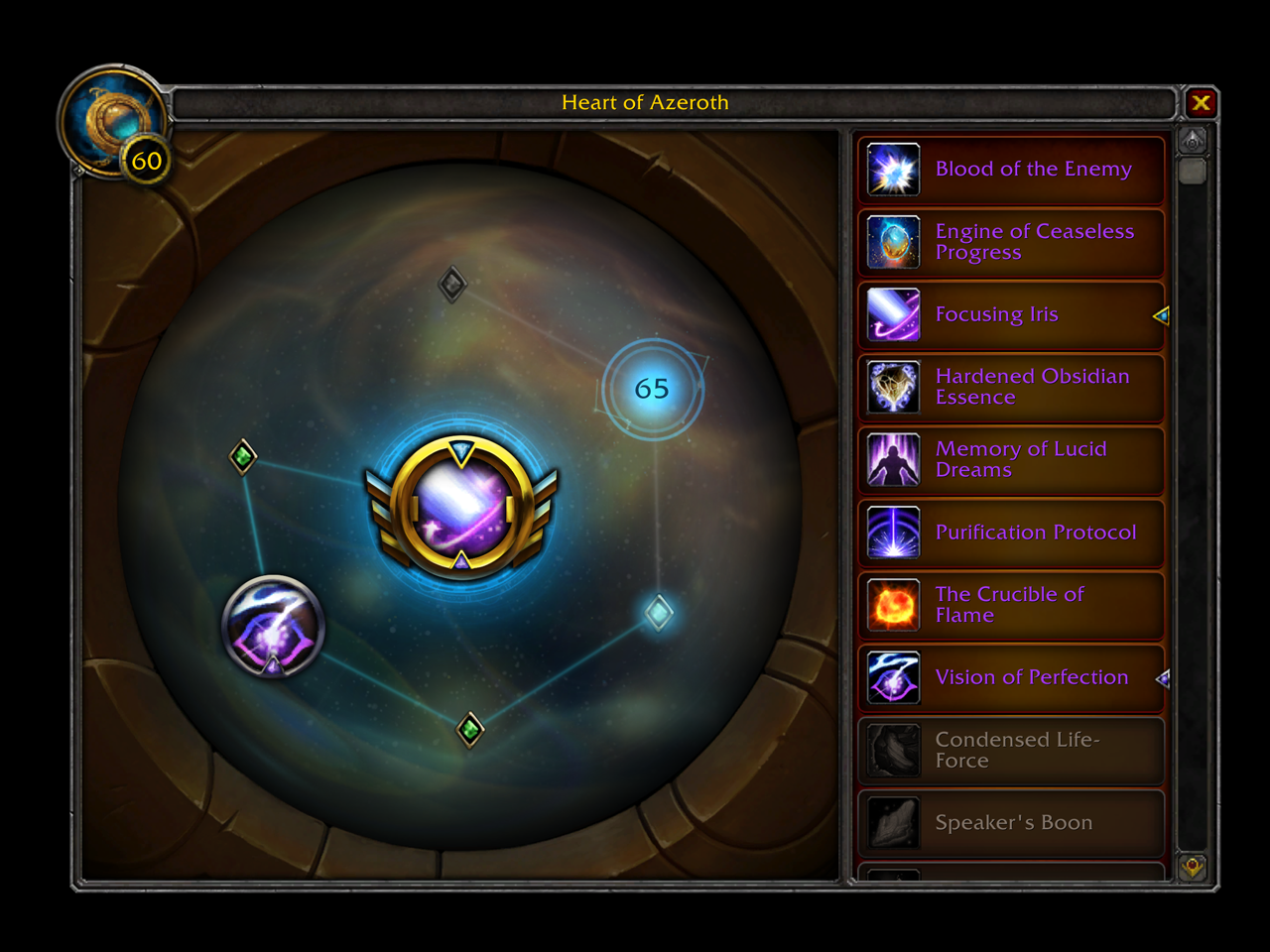 Comment by spmurcs
on 2019-11-03T02:44:29-06:00
Booo
Comment by TehLucario
on 2019-11-03T02:45:07-06:00
eh, something. But I think a better choice is to make ranks 2 and 3 BoA. You get rank 1 from the source and you automatically get rank 2 or 3 if you had it on another character.
Comment by Nomatter1289
on 2019-11-03T02:45:35-06:00
Na, i have no fun at this Relics. . . :/
Comment by Zygos
on 2019-11-03T02:46:33-06:00
Jesus… the grind sucks as it is for alts. But my main is rank 3 in all of them. They should have just unlocked rank 2 for all alts if you obtain rank 3 on one toon, and unlock rank 3 for all alts if you unlock rank 4 on one toon.
Comment by Triet
on 2019-11-03T02:47:13-06:00
I'm more concerned about the essences that come from The Eternal Palace after it ceases to be relevant.
Comment by knish
on 2019-11-03T02:47:28-06:00
No please, make it account wide! :))
Comment by Rankeli
on 2019-11-03T02:48:29-06:00
If they make it more easy to get them I am satisfied.
Comment by Dizella
on 2019-11-03T02:48:33-06:00
Wish they'd take the pvp island off the pvp one.r
I have no interest in doing that sort of thing, so none of my toons have even the base level of that one.
Comment by thejaykay
on 2019-11-03T02:48:35-06:00
I guess player agency doesn't apply to 8.3.
Comment by pabasa
on 2019-11-03T02:49:10-06:00
L-A-M-E. r
r
Having to farm essences for my alt is the biggest reason I gave up playing any of my alts. Every time I fire up my alts to do some M+, I thought no, they still don't even have that rank 3 iris, so I just log off and get back on my main to do the dungeon instead.
Comment by Hexelyion
on 2019-11-03T02:49:34-06:00
After you get rank 3 they shouldu2019ve been account wide. r
r
Is this easier? Yes. r
Does it solve the mindless grind of outdated content? No.r
Will people start playing their alts more? To be seen.
Comment by ShiladityaCT
on 2019-11-03T02:50:37-06:00
Would have been nice if it were account-wide, my alts only have Rank 1 Concentrated Flame. *sighs*r
No money to sub to WoW and even when I am able to the time I can make out of rl to play is too less.
Comment by pheonixxfoxx
on 2019-11-03T02:53:08-06:00
You have got to be kidding me. The essence grind is why my alts are being neglected.
Comment by Jadeikins
on 2019-11-03T02:56:52-06:00
my alts are neglected because getting some of the right essences is a complete pain even though I already have r3/4 of them on my main. I know a few people who are considering main swaps in 8.3 that are dreading getting the essences they need again on alts, the essence acquirement system is so heavily alt unfriendly that it borders on ridiculous
Comment by Spunkii12
on 2019-11-03T02:58:29-06:00
Account wide please! This is the whole reason I dont play my alts anymore – they all have rank 1 Concentrated flames and it sucks.
Comment by Crump53
on 2019-11-03T02:58:30-06:00
Please nerf blood of the enemy, way too much grind for something I don't like to do for a BiS essence.
Comment by Bluenemesis
on 2019-11-03T02:58:46-06:00
FeelsBadMan rip my alts
Comment by gangrelpup
on 2019-11-03T02:59:32-06:00
Nice
Comment by Wedge187
on 2019-11-03T02:59:35-06:00
Everyone disliked that.
Comment by Shriekmaw
on 2019-11-03T02:01:00-06:00
Account wide is best but this is a start.
Source link