A Farm theme is so classic for kids!
I've seen so many cute birthday parties and crafts with this theme.
Today I'm sharing with you guys Hunter's FAVORITE Farm toy and books!
The three big kids are off at school during the day and I'm home with Asher(3) and Hunter(1).
Sometimes the days are jam packed with bustling around but plenty of days we are
bumming around the house playing….mixed in with the chores and work tasks of the day.
It all mushes together and plenty of times the boys find their own fun at my feet.
Sometimes though I like to be intentional with our play time and set up something fun for us to do together.
This day was all farm themed! We pulled out the farm toy that is always on the lower shelf in our family room…
We gathered up all the farm little people in the playroom's toy bin…
and I picked some of our farm themed books off our shelves!
If you're feeling really super mom you could plan some cute farm themed craft for your play time too!
We once made these cute lamb masks using cotton balls and paper plates.
But for this day… we focused on pretend play and reading!
Here's a run down on the toy and titles we used.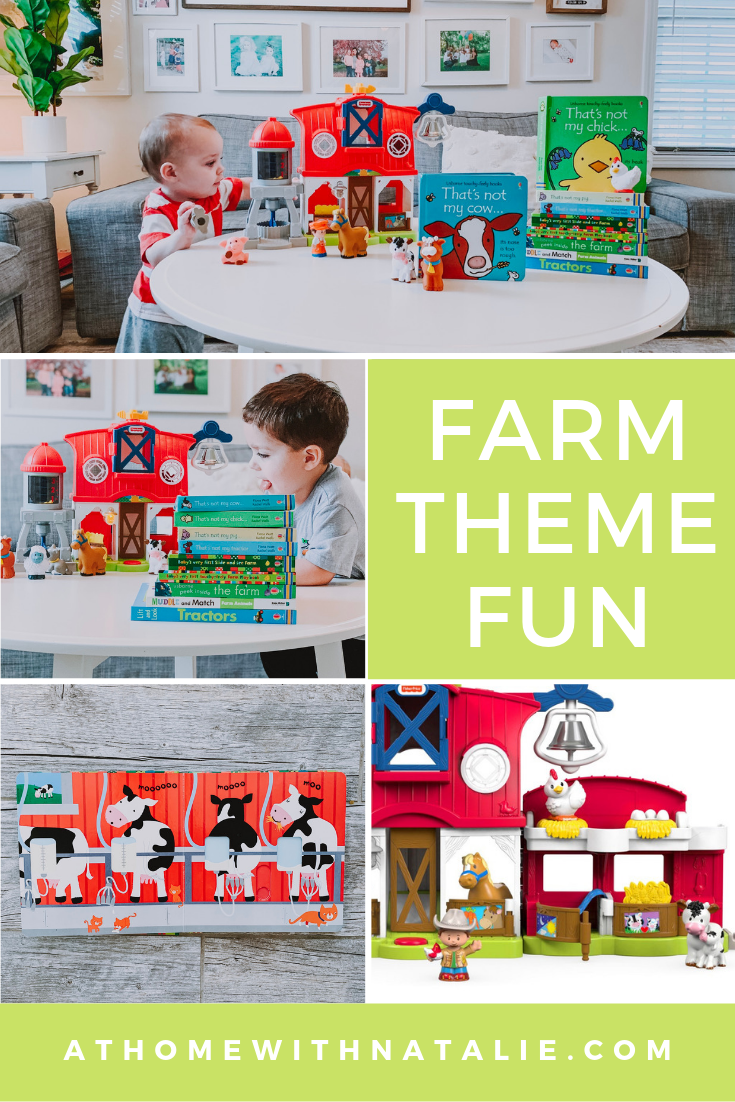 Santa brought Hunter the Fisher Price Farm Playset and it's been a HIT.
It has given us hours of play and I love that it can easily be carried around the house to where they want to have it.
We usually have it tucked on the shelves in our family room.. and Hunter will pull it to his level and sit and play.
Other times I'll put it on the coffee table so he can stand and get to work on his farm! 😉
This is not a sponsored post by Fisher Price haha..we just really love this toy!
OK- Look at Hunter's chubby crossed feet in this photo… it's all I can see and I'm in love haha.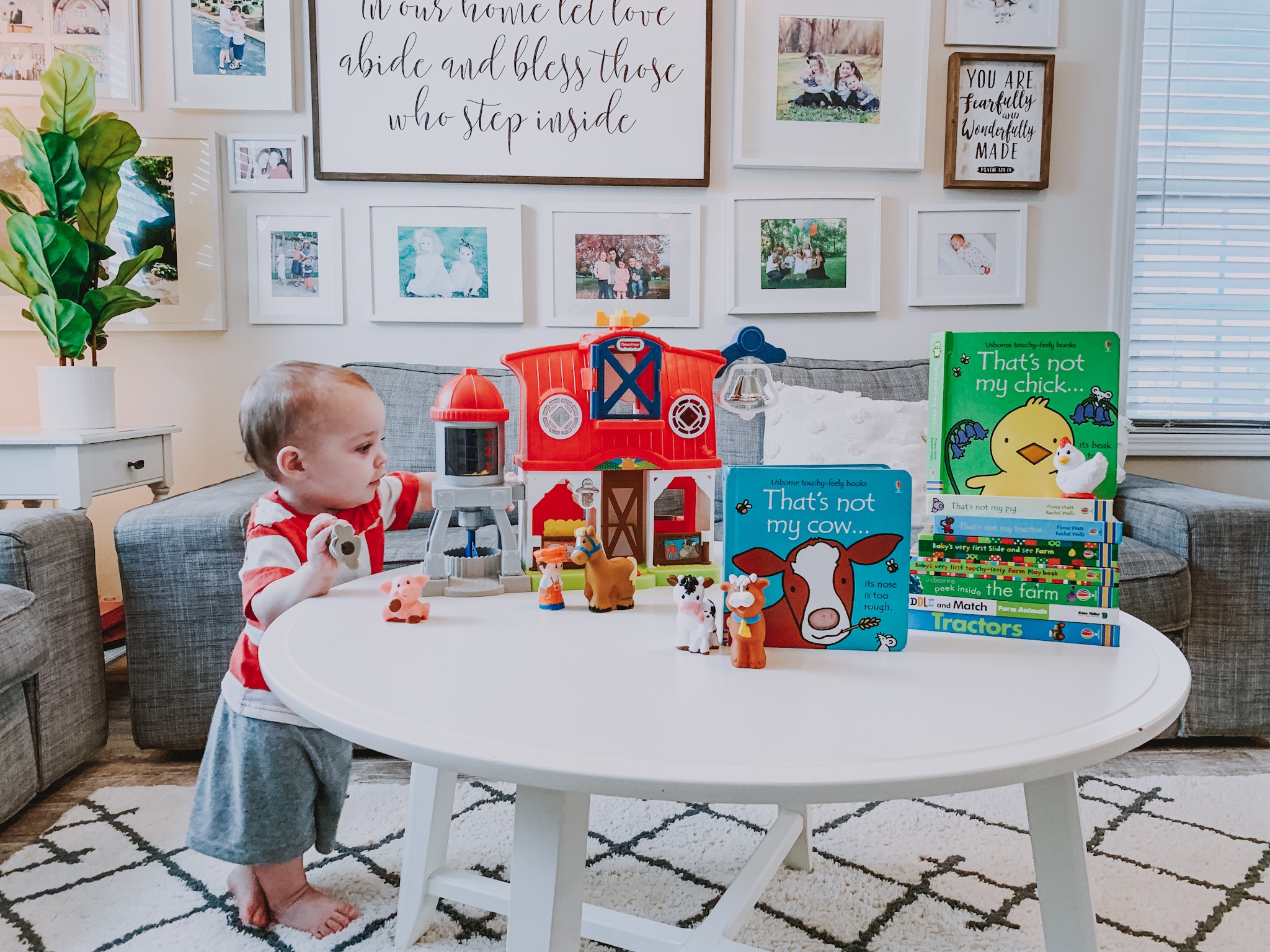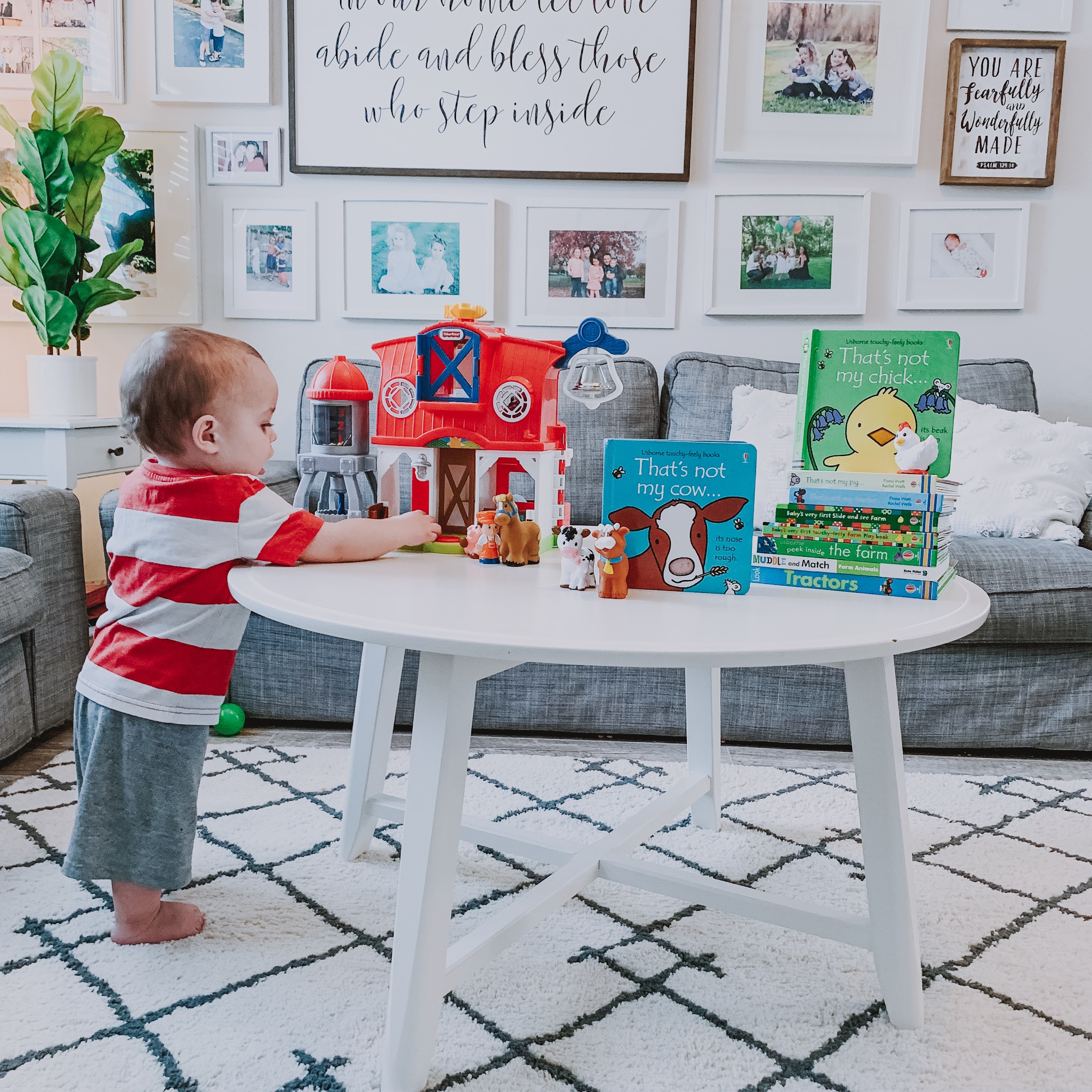 It's a great toy for a span of ages. Hunter is 1 and Asher is 3.
I LOVE giving my kids little people toys to play with. I kind of force my kids to love them because I love them. haha.
Ben says I buy them for myself – so what? 😉
I just love their size and how they fit in their chubby little hands at this age.
Even my big kids will get them out and line them up all and do pretend play with them.
We've gathered a bunch over the years and have a full bin in the playroom just of little people characters.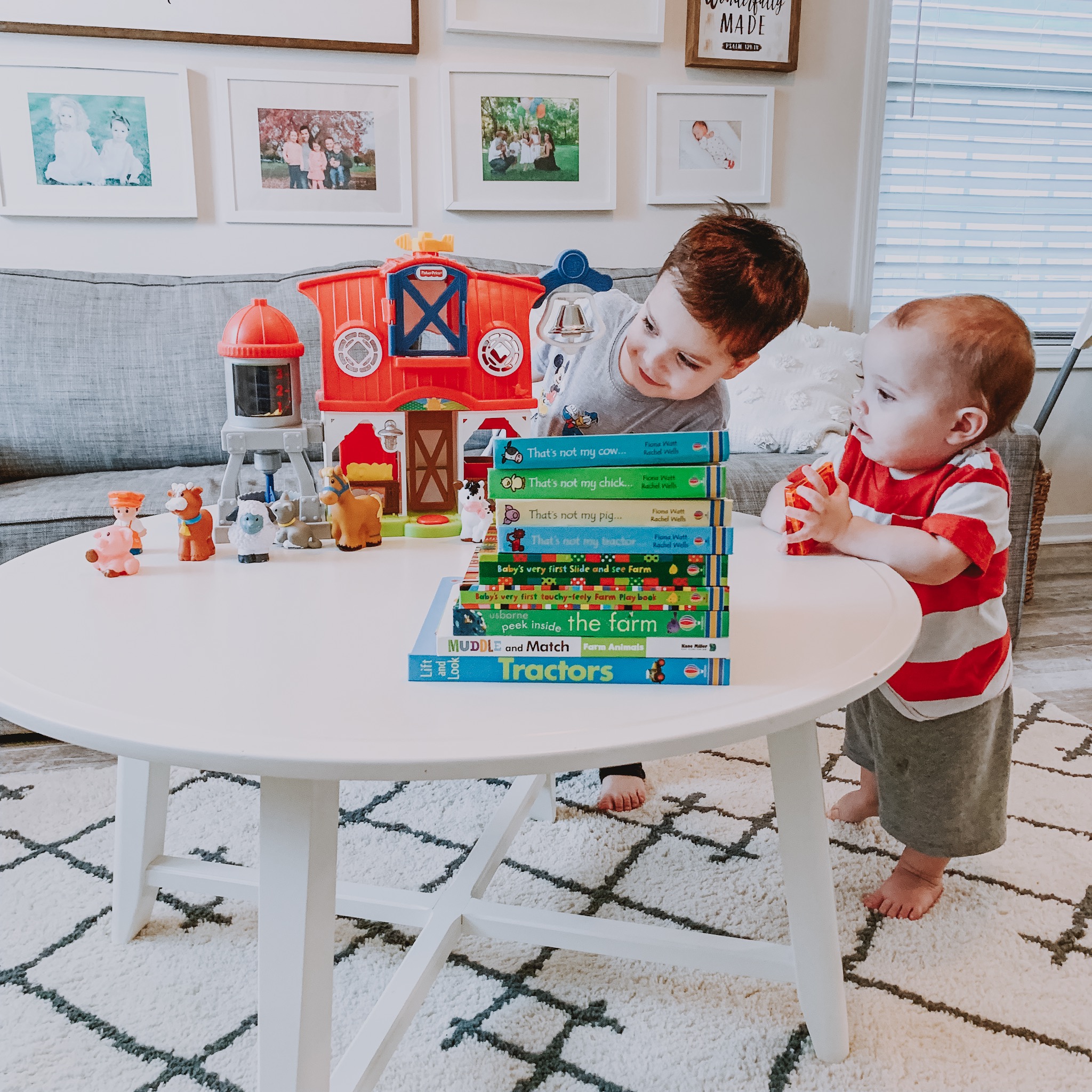 Here's the stack of books that I pulled down from our Home Library that were the farm theme of the day!
We have more but they were in the kids' rooms or the car and I just grabbed the first ones I saw.
If you want to see MORE of the books we love you can check out Our Home Library page.
Lots of videos and a peek inside!
These farm ones are seriously so cute and would be ADORABLE out on the table
during your little one's Farm themed birthday party or play date!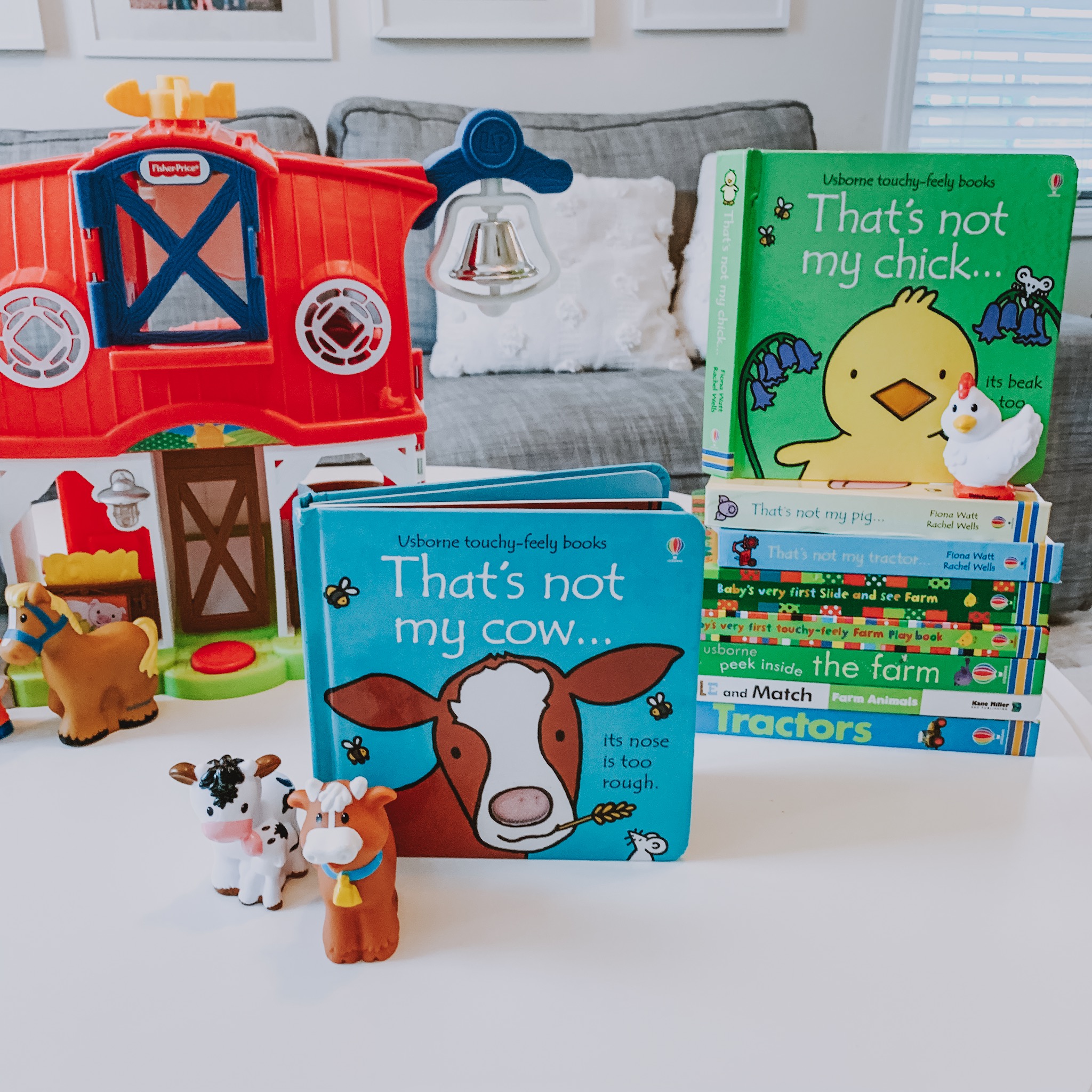 You can order these books any time! Ship times have been awesome.
Does the Easter Bunny do themed baskets?
Ours does sometimes and I LOVE the idea of a farm themed one!
That's not my cow
That's not my tractor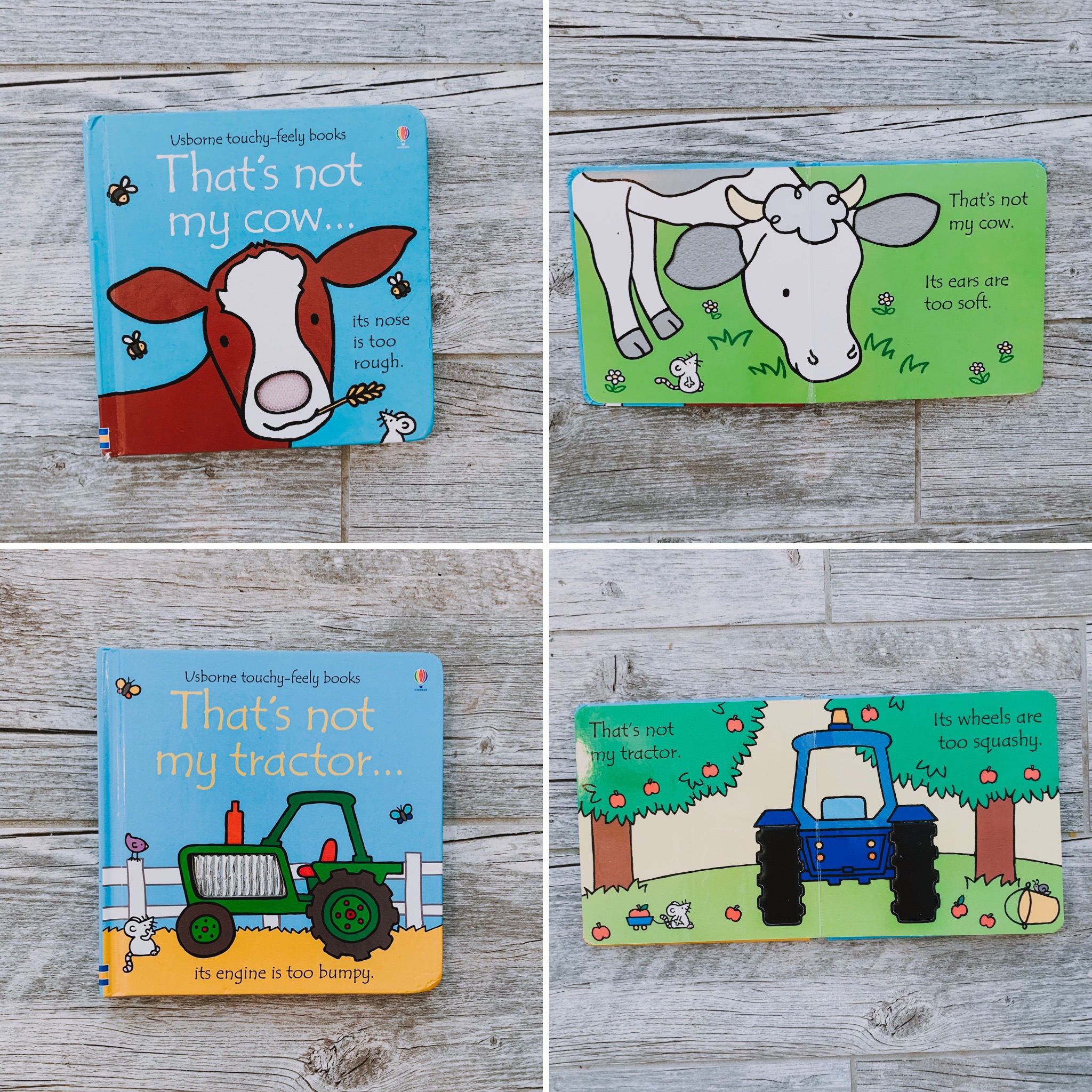 Lift and Look Tractors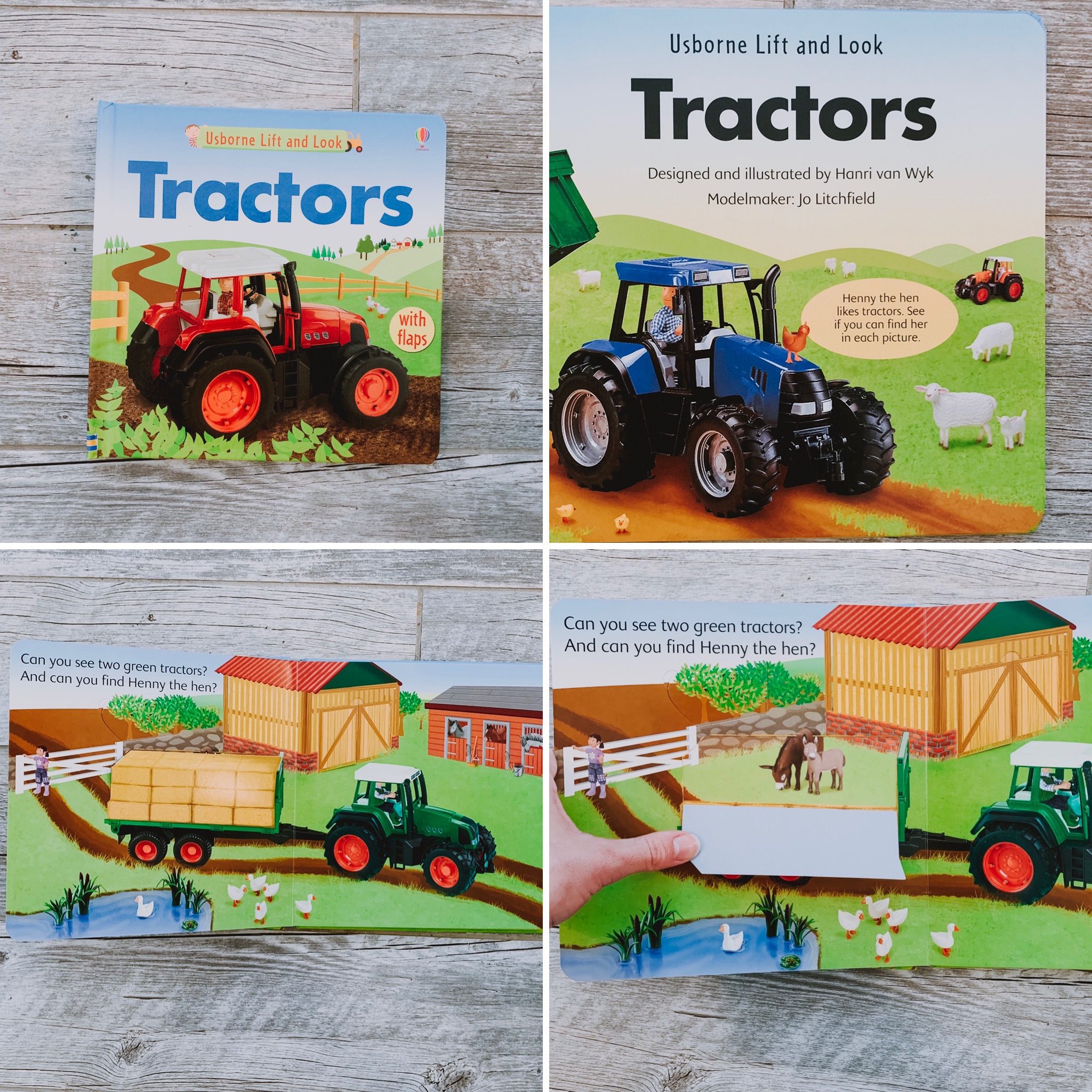 Muddle and Match: Farm Animals
That's not my pig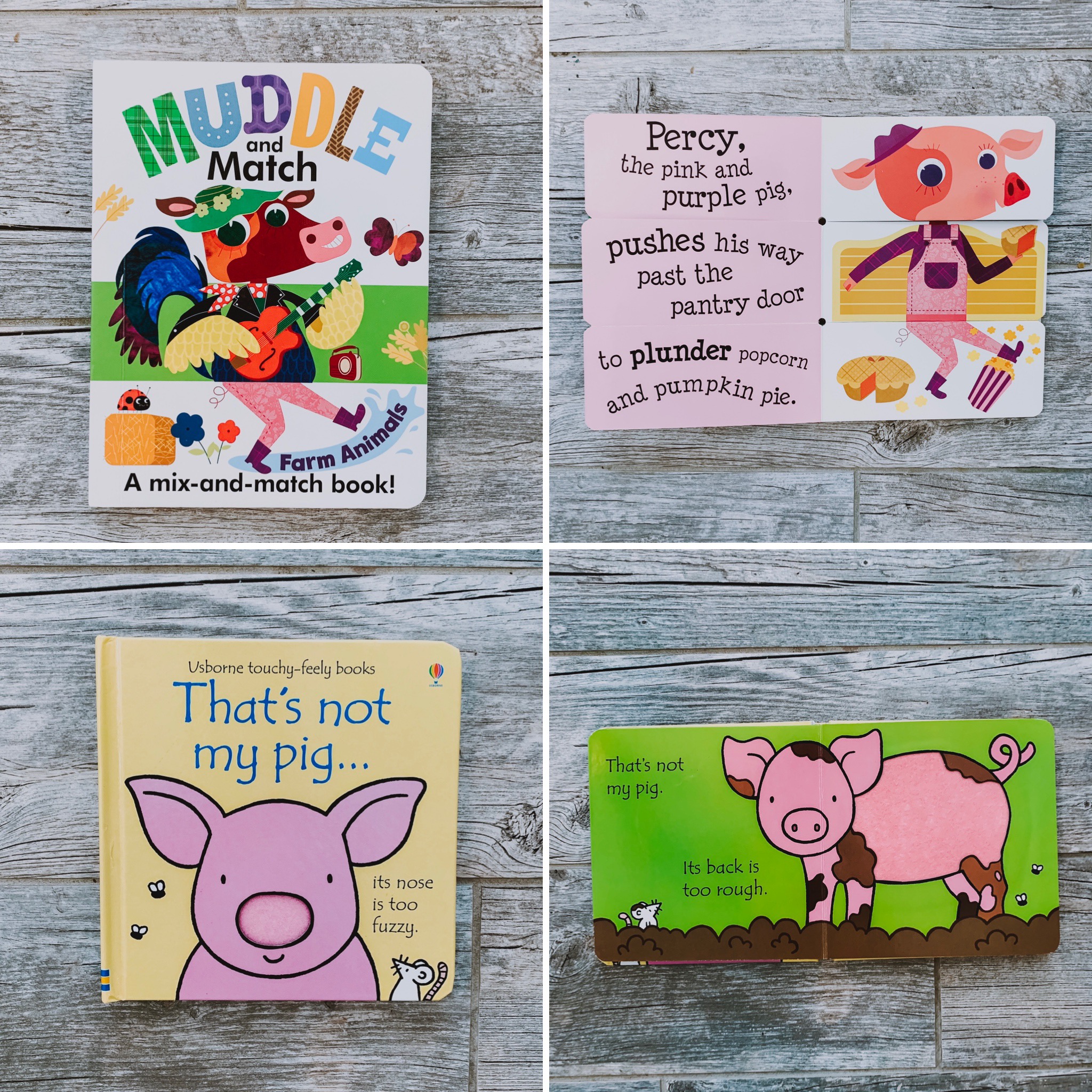 This one is GORGEOUS!
Peek inside the farm.
A MUST for your home library and farm themed fun!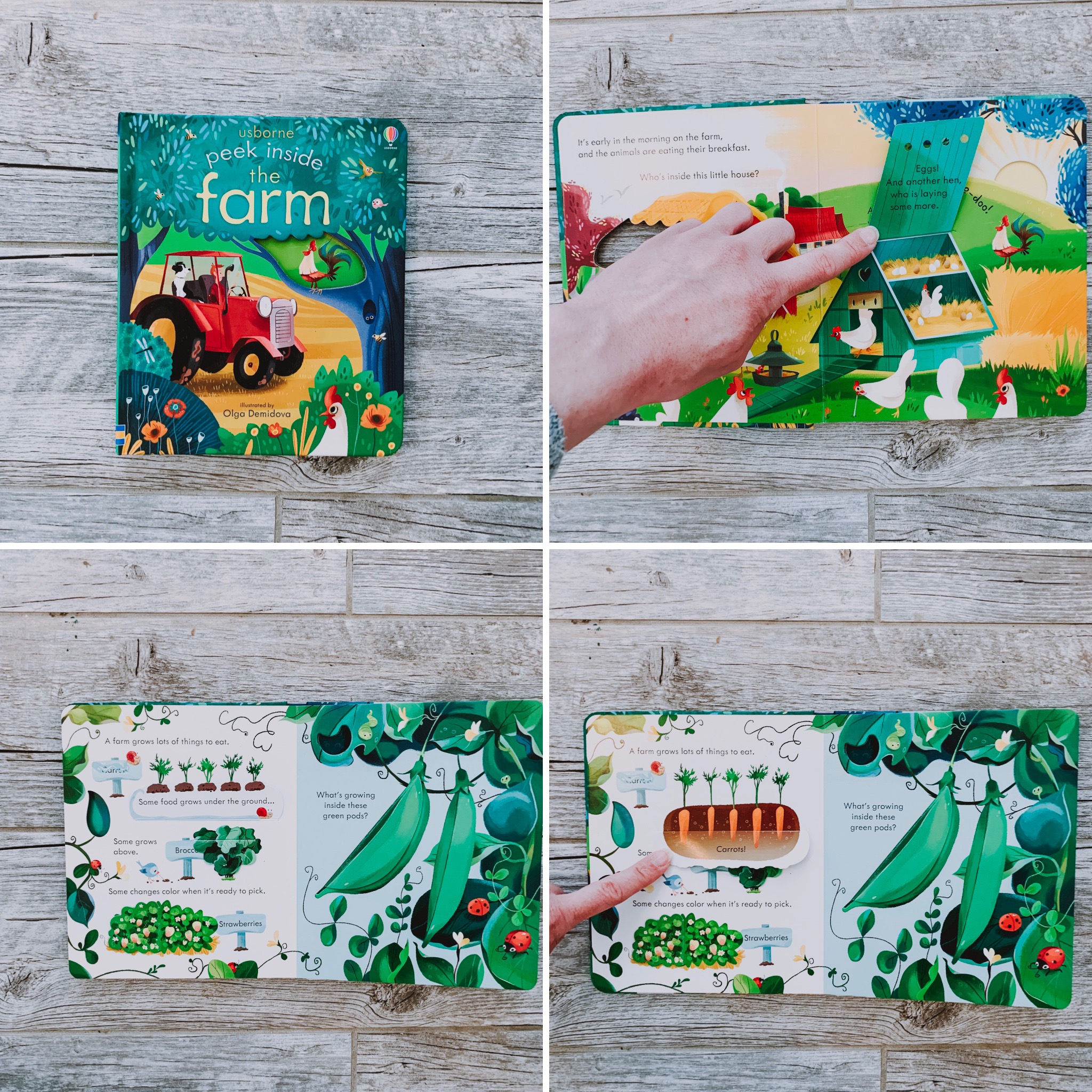 I adore this one too.. the baby piglets and cauliflower are just too much cuteness. 😉
Touchy-Feely Farm Playbook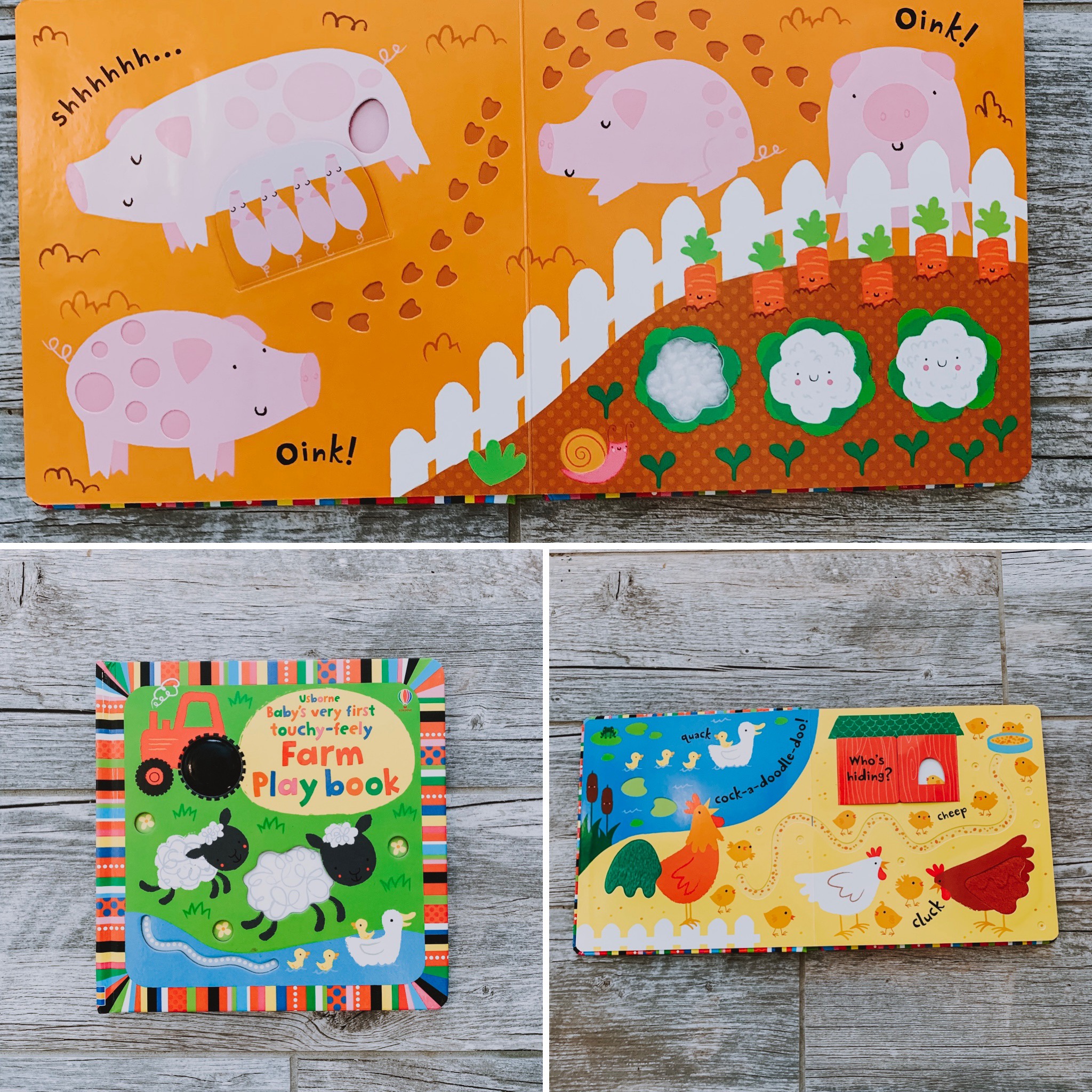 We adore this entire series but this one with the cows getting milked…my little ones LOVE IT!
Slide and see Farm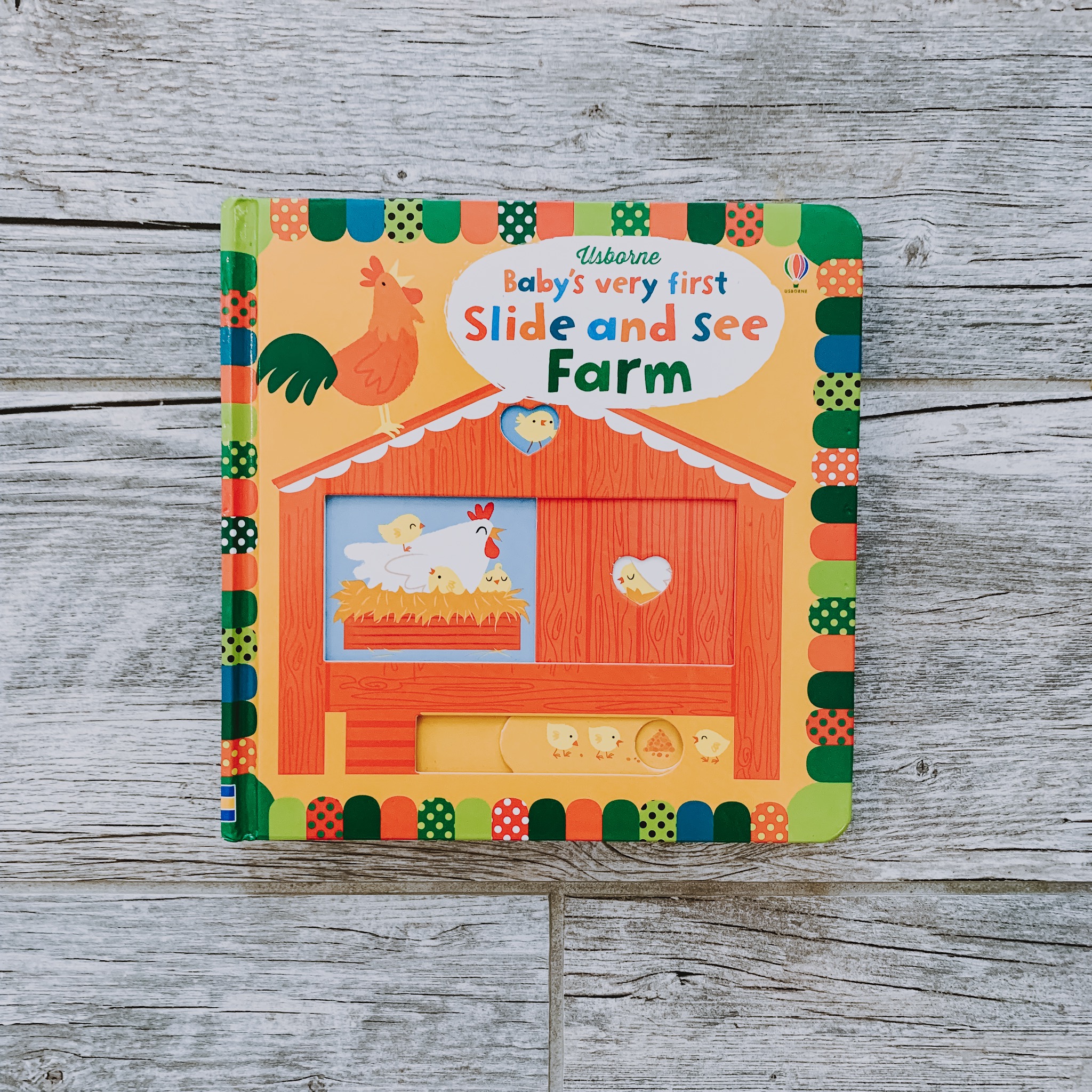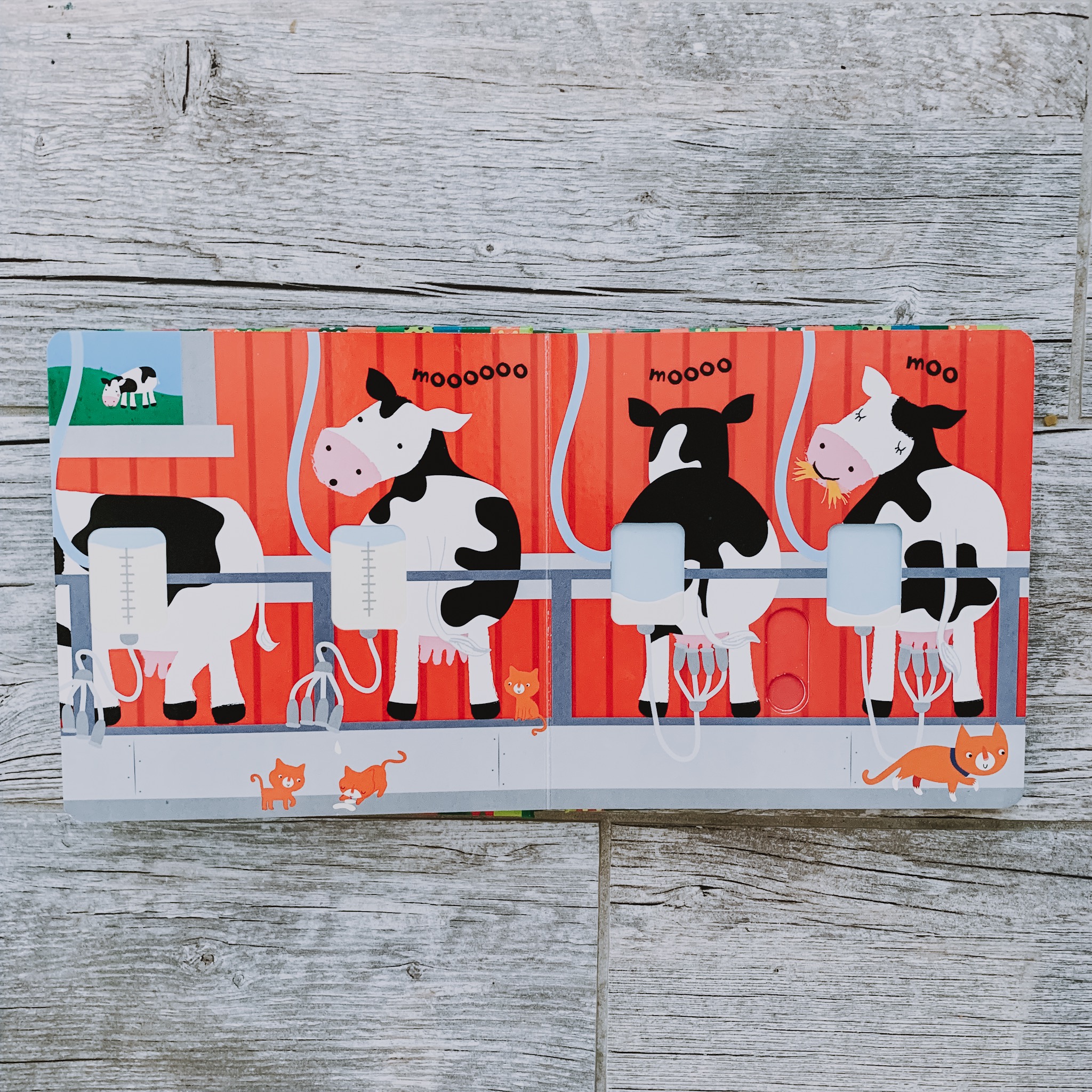 I hope you enjoyed today's post and all the farm themed books and our favorite farm toy!
All great play time options, birthday party detail ideas or for birthday gifts!!
If you have a little farm lover I think he or she will enjoy any of these. 🙂
Want to see more fun themed ideas? Head to my Kid Book Club histogram…
I love a theme and post a lot of them over there using the titles from our home library!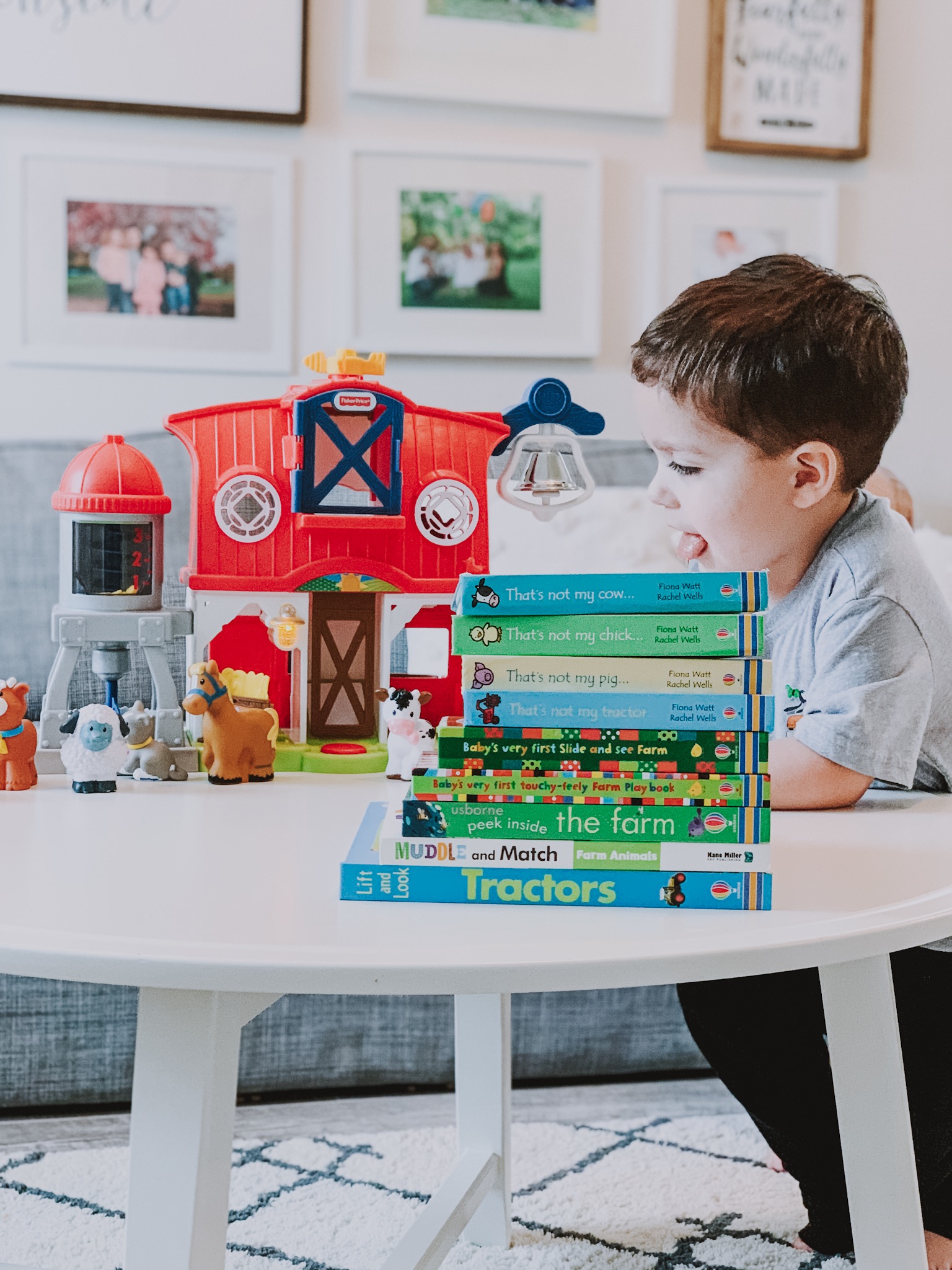 Source link