It's hard to find a good balance between screen time and play time with kids nowadays. The older kids get, the harder Christmas shopping seems to become. That's why we created this list of fantastic Christmas favorites!
There is bound to be something here that every boy in your life will absolutely love. No matter if your boy is into, video games or board games, hands-on toys or outside play. Check out this year's hottest items and surprise him Christmas morning with something awesome!
We received a variety of samples and/or compensation in exchange for inclusion in this post. Affiliate links are used in this post. All opinions are our own.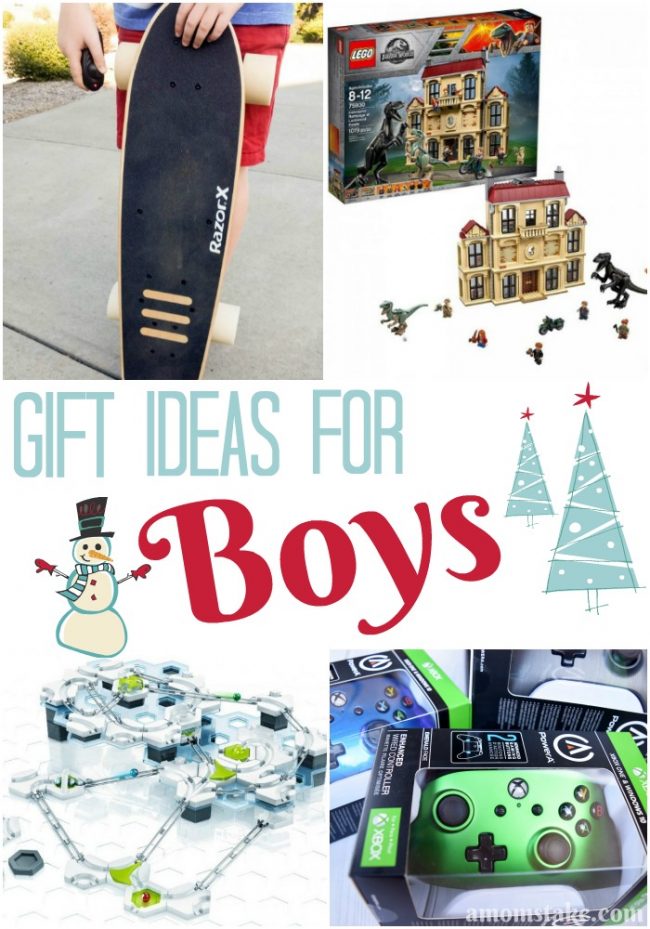 Favorite Holiday Gift Ideas for Boys
1. RazorX Cruiser Electric Skateboard – Give them the thrill and excitement of this RazorX Cruiser electric skateboard that will get them active and outdoors. The skateboard deck is 29.7″ in length and made with a quality 5-ply maple decking to last. They'll quickly be the talk of the neighborhood.
2. GraviTrax Marble Run – Ravensburger – Bring home the fun of GraviTrax by Ravensburger that lets you built your own unique track designs each time. The pieces combine in a variety of ways  Start with the Starter Kit or add-on exciting trick pieces to add to the thrill.
3. Bitsbox Coding Subscription Gift – Ignite their interest in apps and coding with this engaging series of coding projects with Bitsbox that will get them started, and keep them hooked! There are fun and easy projects that build on their skills each month to teach them to code in a way they'll be interested in.
4. Exciting Jurassic World Themed Toys – With the new Jurassic World: Fallen Kingdom movie by Universal recently out, this year's top themed toys are all about Jurassic World! Your children will enjoy all the fun dino-themed products featuring your favorite movie scenes just waiting to be re-enacted!
Favorite picks for Universal's line of Jurassic World toys include: 
5. Family Friendly Board Games by Pressman Toy – Board games are a perfect way to bring the family together for fun, wholesome time spent together! Pressman Toy has been offering classic games and licensed game titles since 1922! They are a part of the larger international toy and game distributor, Goliath Games, that is the third largest game manufacturer in North America!
Through both Pressman Toys and Goliath Games, you can find a whole range of fun and exciting games that can entertain the kids or involve the whole family in a fun game night during winter break.
Check out these fun game titles, and many more, from Pressman Toy: 
6. Gaming Remotes for the family Console- I don't know what it is about boys and video games, but they love them. With all the playing that happens, they go through their remotes often. For the Console gamer in your family, PowerA has a wide variety of gaming remotes and headsets. From wireless to wired their selection covers all of the new gaming consoles. PowerA has a large selection of colors and designs so each kid can have a design or color that's just theirs.
What gifts are topping your boys wish lists this year? 
Source link