Back in November we celebrated our Hunter turning ONE with
friends and family and all things Penguin themed!
It was so fun creating the little party details…
not a single treat leftover and that's a good sign!
Thankful for everyone who came and all of you who
wished our Waddling Hunter a Happy Birthday.
I'm excited to share today the photos and video of his special day…
and go into detail on the Penguin dessert table and party details!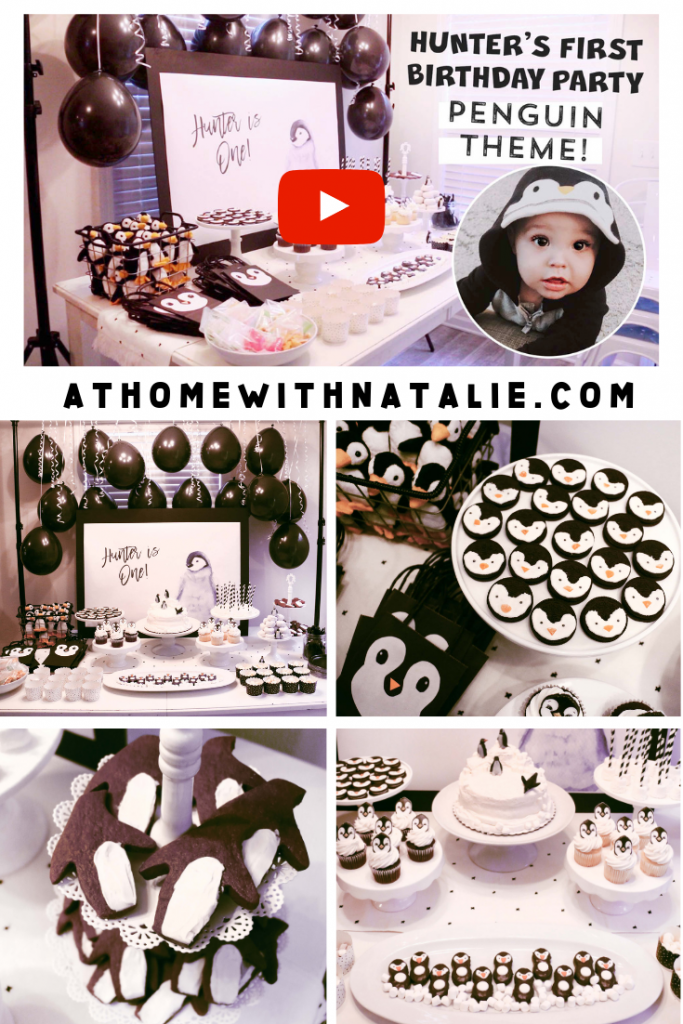 If you aren't subscribed to us over on YouTube be sure to hop over!
I usually post the videos there before they go live on the blog!
We have Micah's Mario Themed 6th Birthday party posting soon. Woohooo!
OK! On to all things penguin. I hope you enjoy seeing all the details and Hunter's chubby face. 🙂
Hunter's 1st Birthday-Penguin Party Theme
Hunter's First birthday party was the same weekend as Micah's Mario themed party…
(they share a birthday week!)
Some might call me crazy for doing two parties in one weekend but
honestly, I've learned how to make things look harder than they really are!
A simple color scheme and theme made it come together easy!
I'm such a fan of giving store-bought desserts a makeover to make them look special!
I'll give you the full rundown on the dessert table!
The backdrop is just the frame of my photo backdrop…
(Here's a similar one.) I already had white curling ribbon in my
craft stash and had purchased some cheap black balloons at Target.
I just blew up balloons.. tied them to the top of the photo backdrop frame and curled the ends!
I went back in with some ribbons and curled them up to jazz it up.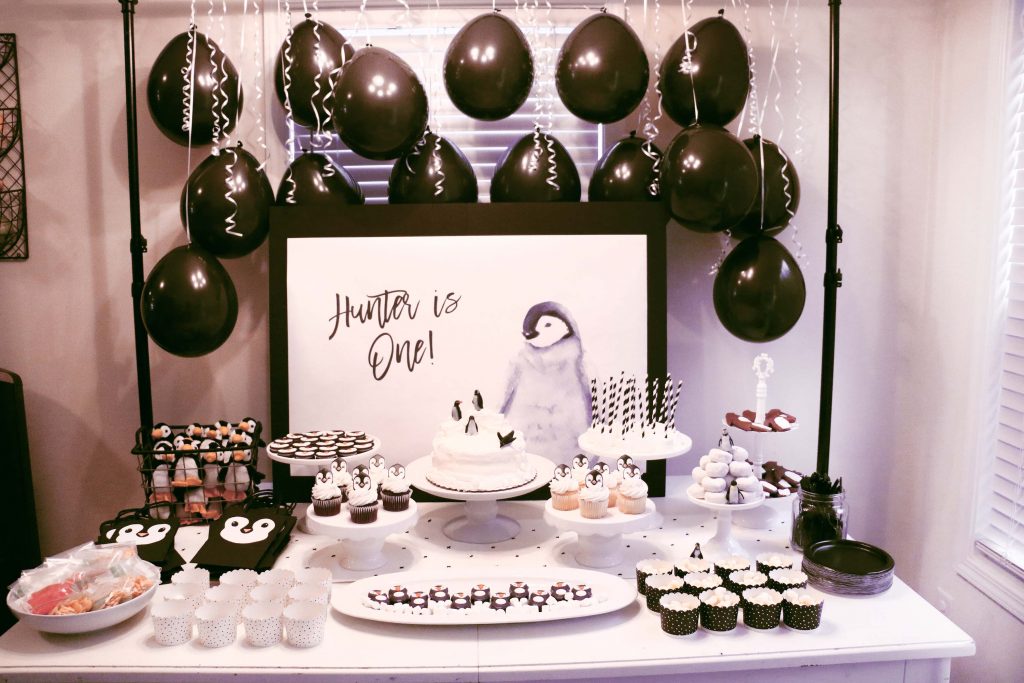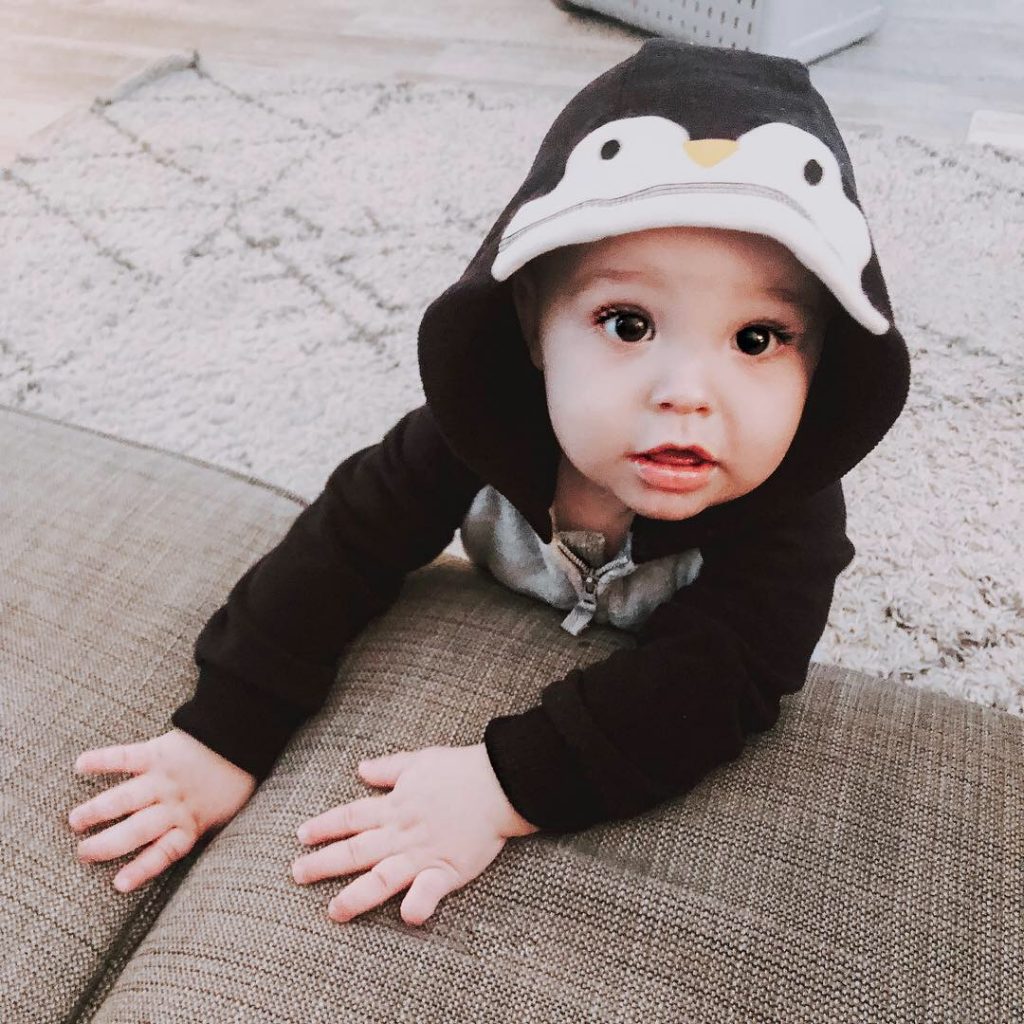 I grabbed my table runner from my kitchen shelf and placed it across the table.
It's from the Hearth & Hand line at Target. (Not there anymore!)
It added a little pop to the table and was a game time decision.
For the backdrop, I created a graphic in Photoshop with a penguin I purchased from Creativemarket.com
(Love that site! filled with talented people!)
I emailed the design to my local Office Depot and had them print it 36×24 on 55 lb yardstick.
When I went to pick it up she gave me a coupon for the print order which was nice.
USUALLY you can get them to do it as a blue print print..and get it cheaper.
But this girl was a little more by the book. 😉
The penguin printed out a little more blue than I wanted but I loved the size!
I already had two foam boards (from Walmart) and I just taped the backside with duck tape and then taped the print onto it!
I just had the sign propped up against the balloons.
I knew I needed to put this in front of the window..but if it was a solid wall I probably would have
framed this bad boy and hung I not he wall..and had the balloons be all around it.
Work with what you have though! Don't not have fun with a party table just because you have a window… make it work!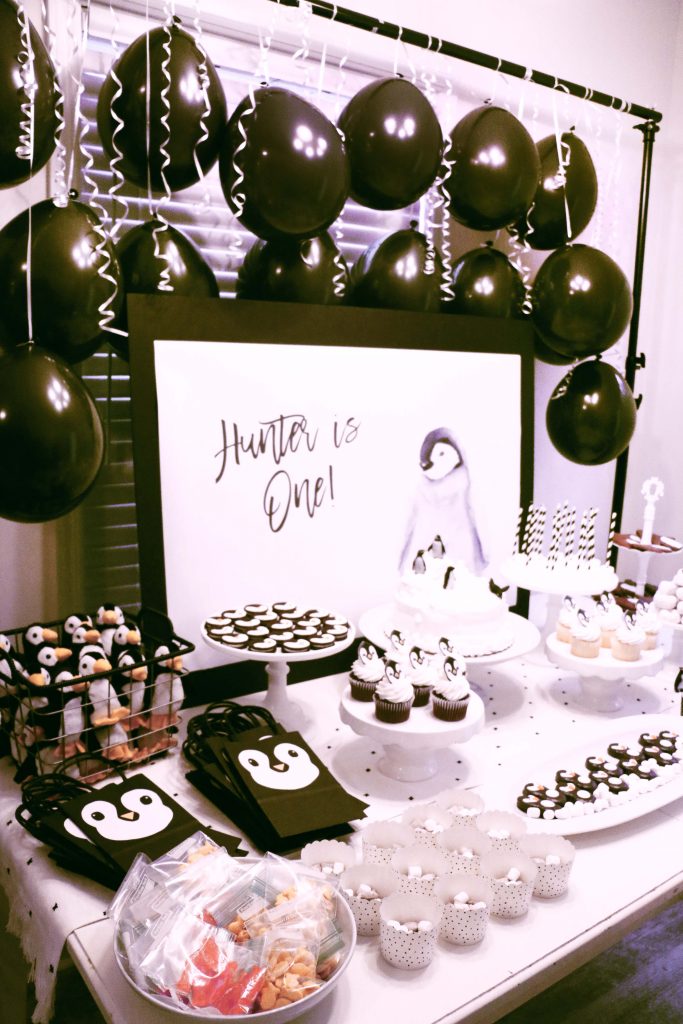 The treats are always a fun part to create when you are doing a theme!
I knew black and white was going to be the main thing…and I wanted to go basic
with the treats but make a few of them look like penguins!
I did store-bought cupcakes with cupcake toppers I got from Amazon. (I couldn't find them to link!)
They were penguin rings and the kids loved them.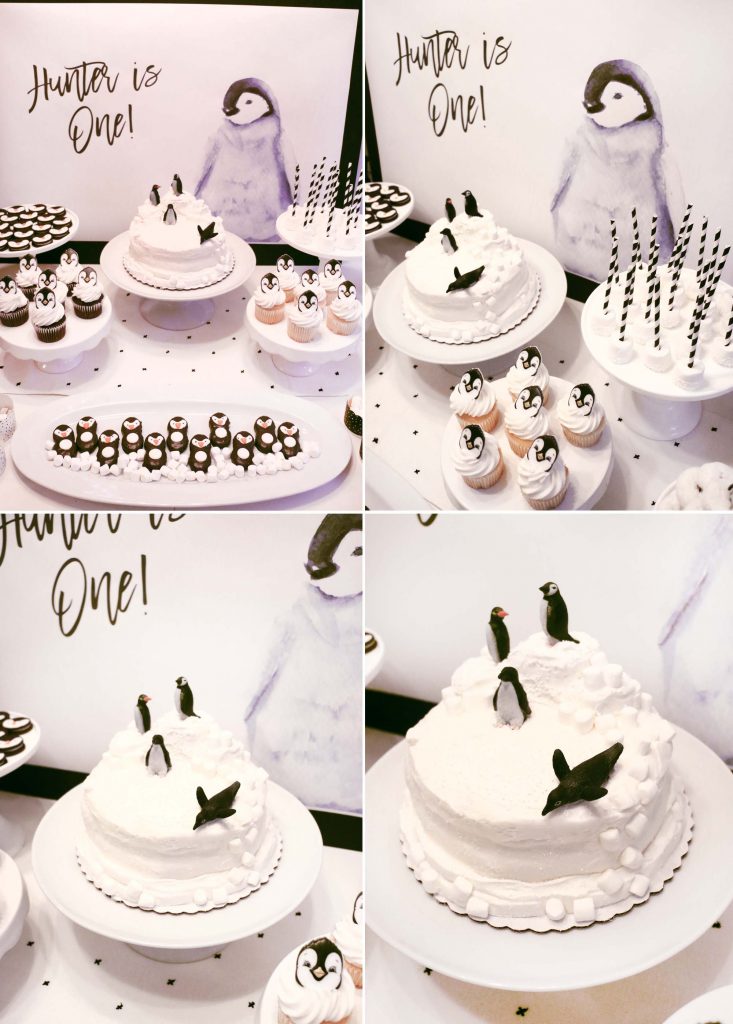 I took a store-bought cake, scraped off the red icing, and redecorated with a container
and a half of frosting and some Little Debbie fancy cakes stacked up!
I added marshmallows, white sprinkles and
some penguin figures from Amazon and we had a penguin cake!
You should seriously try giving a store-bought cake a makeover at your next party.
It's one of my favorite things to do!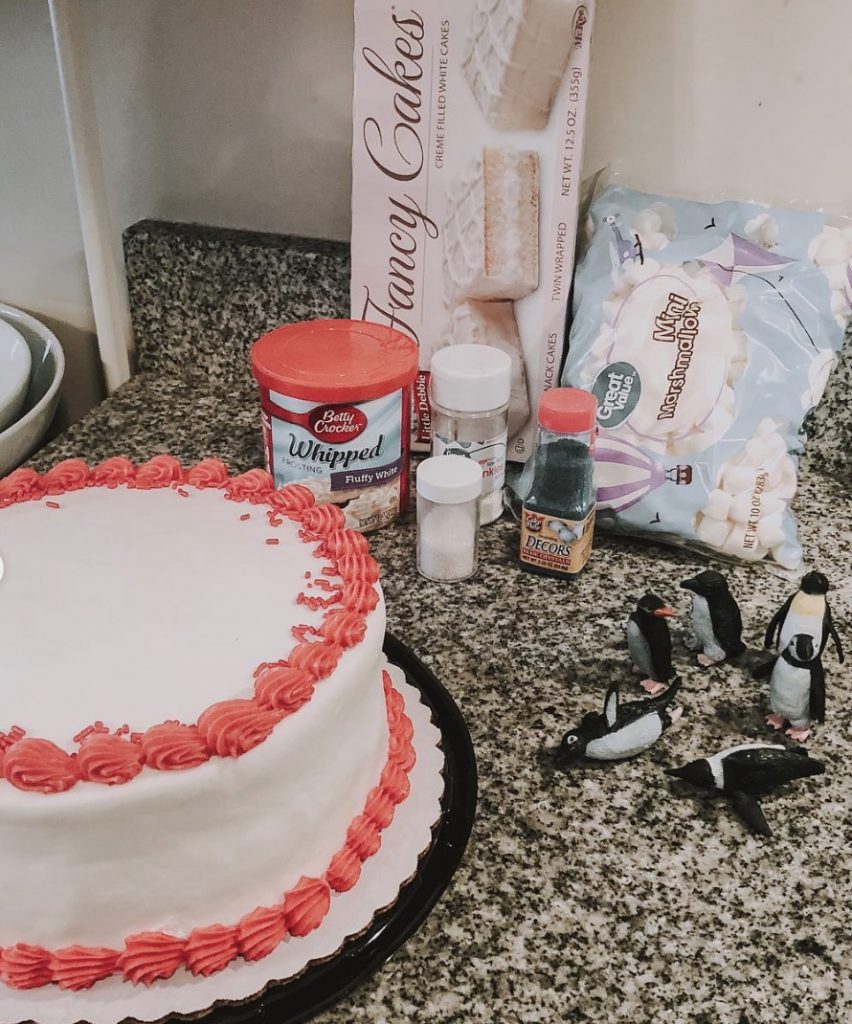 I saw these really cute penguin cookie cutters on Amazon and HAD to get them!
($7.99 for a two pack..cute mama and baby sizes!)
I made a chocolate sugar cookie recipe and added some store-bought frosting (leftover from cake project above)
EASY easy treat and they were adorable!
Marshmallows are always a hit at my parties..kids love them and love anything on a stick.
I took the advice of a instagram follower and instead of dipping them in chocolate for the sprinkles…I just dipped them in water.
LOVED how they turned out! I used cute black and white paper straws as the
handles and loved the pop of color and height they added to the table.
Oh and the sprinkles were the same ones I used on the cake.
My kids love donuts! So I just stacked up some powdered sugar
mini donuts and placed some of the penguin figures on them. They immediately were adorable as well. haha.
The little cake stand they are on also added to the cuteness factor. That's from Zurchers.
Most of my cake stands are from Target bargain bins, Zurchers, Marshalls…
I have a whole collection that I use all the time.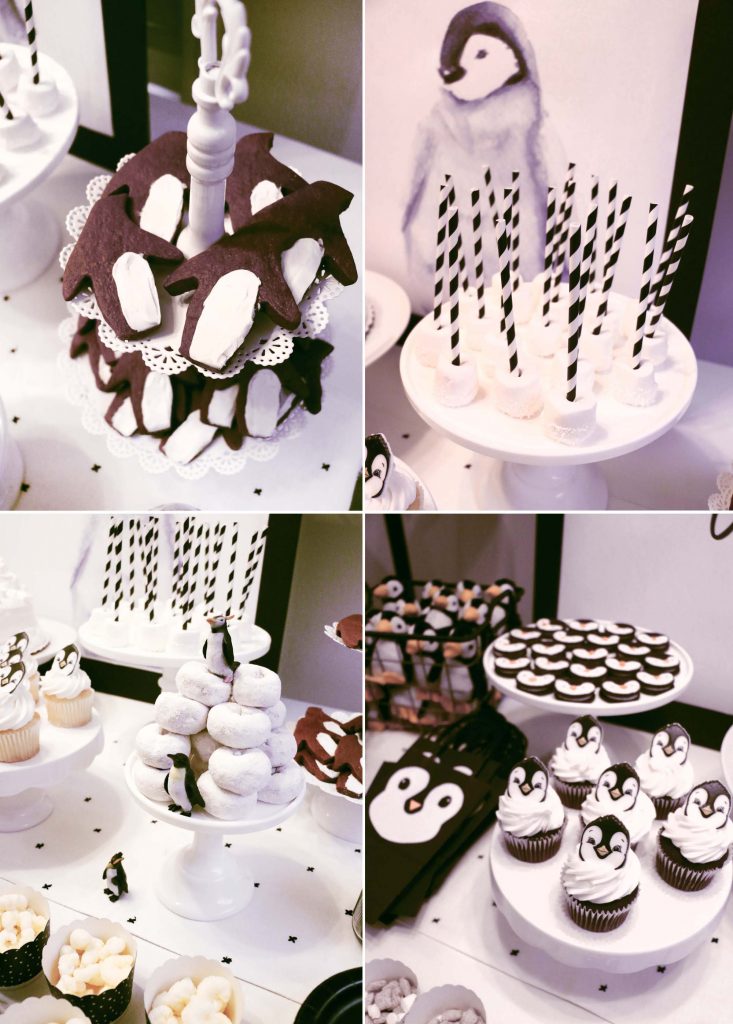 I saw these cute little penguins on Pinterest and thought I would give it a try!
LOVE how they turned out!
I made them using some ingredients that were a little easier for me to handle.
I bought the remade cookie icing instead of making it myself.
I used a little 99 cent pack of grey sprinkles from Walmart for the eyes.
I had some orange slice candies and cut little triangles for the noses.
NOT my favorite part of the project but were super cute in the end.
I would suggest using something less sticky. 😉 When I made the otherrrr penguin treats
below I used some candy corn tips (some of them had orange tips so it worked!)
Those were way easier to work with.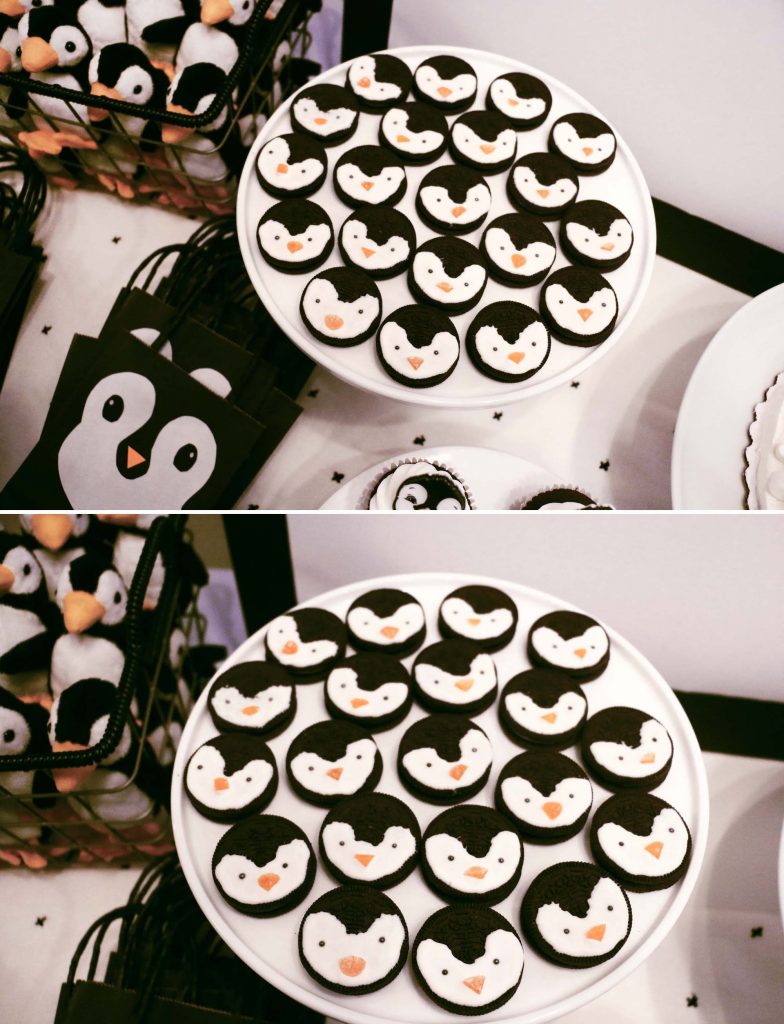 I wanted to add some salty and toddler friendly snacks to the table as well.
Hunter loves some Pirate's Booty so I used some little containers (I believe from Target!)
and filled them up!
I also made a fun little penguin snack mix in the other containers…
Puppy Chow, Mini Marshmallows and White chocolate chip morsels.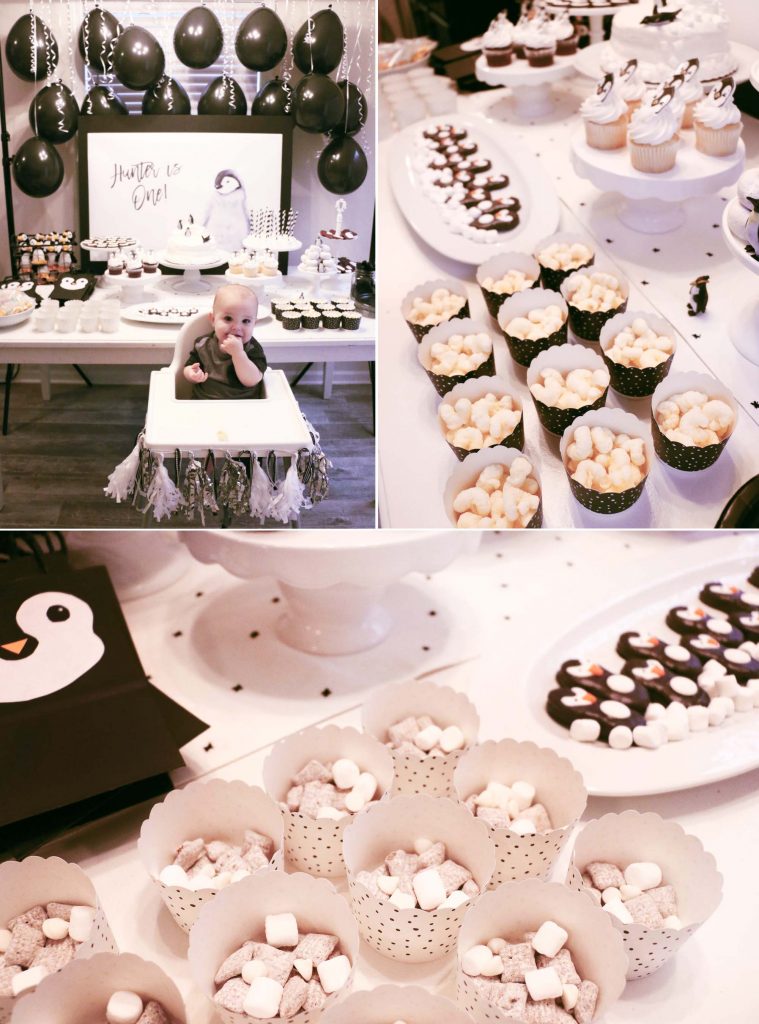 I turned some butter butter cookies into penguins by dipping them in melting chocolate…
then once they cooled a bit I put a whole white melting chocolate piece as the tummy and pressed down.
(Make sure they aren't too hot!) Then once they cooled completely,
I used the cookie icing (that I used for the Oreo penguins above!) and added a little face.
I used the same sprinkles too and then some candy corn tips for the noses!
I sprinkles the plate with marshmallows since everyone knows penguins love playing in snow.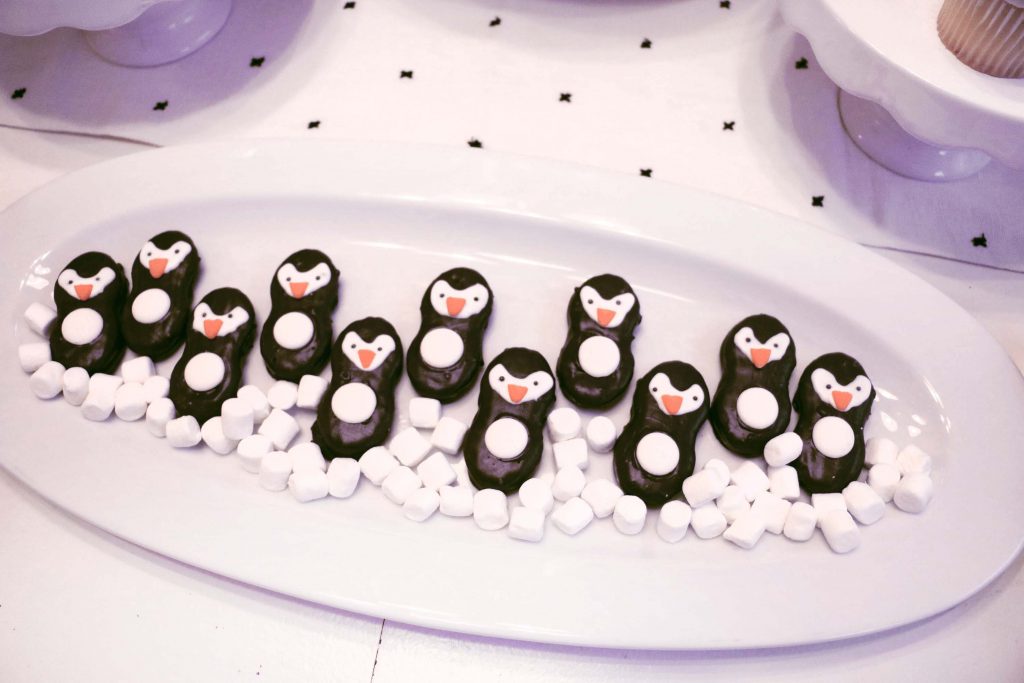 It was such a fun table to put together and have our friends and family enjoy!
You can't go wrong with a penguin theme people… they are adorable!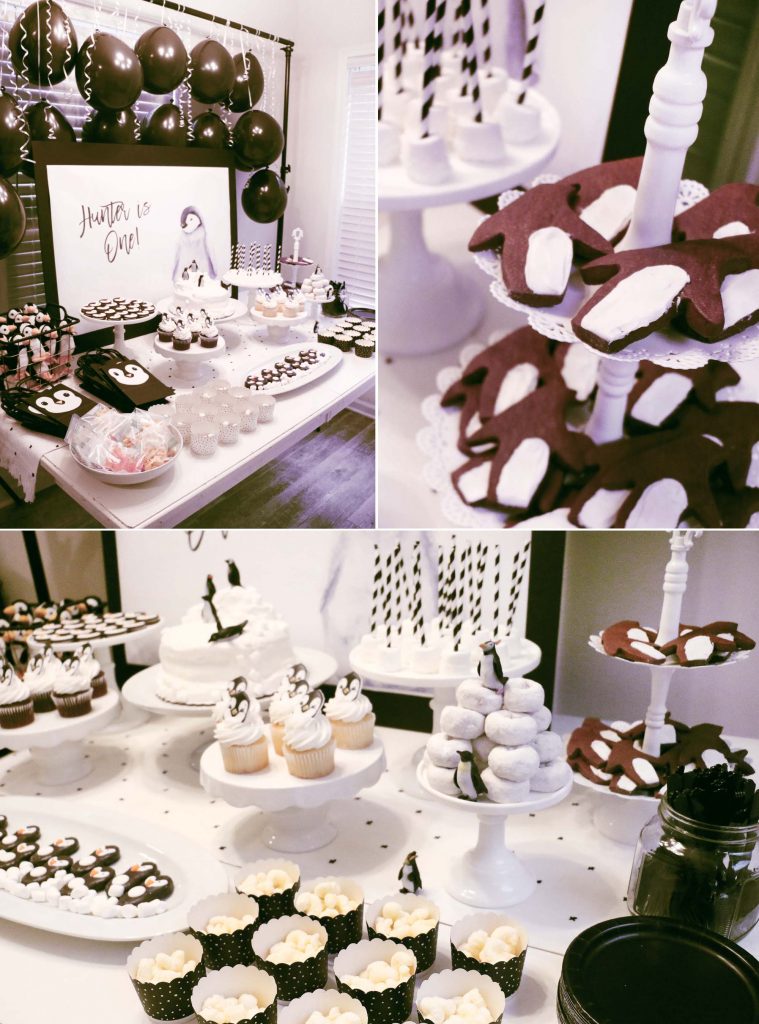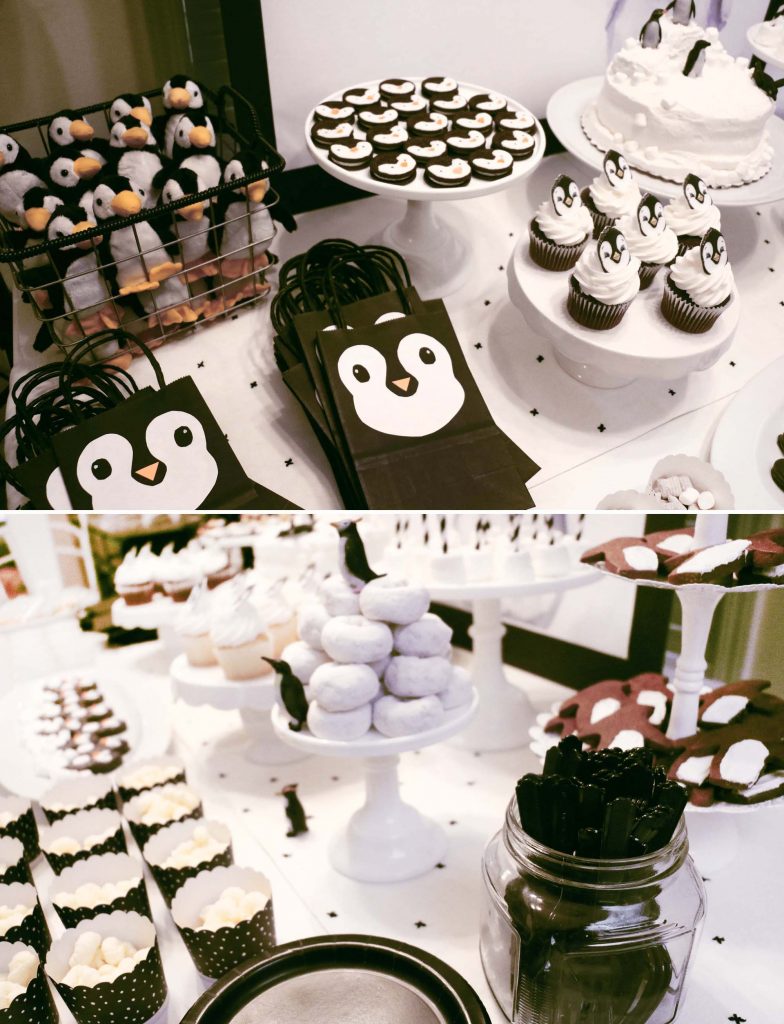 For the party favors I set up a little Penguin station!
The kids could pick one to take home!
I found the plush characters on Amazon.
But they couldn't take home a Penguin without feeding it!
So we had little "portion size: ziplock bags (That we had got by accident for lunch boxes. haha.)
They ended up being the perfect size for Swedish fish or goldfish…
depending on what the child wanted to feed their penguin. 😉
The crate the penguins are in is from Target and was in the boys' room.
I got black favor bags at the store and then used some paper to create the penguin faces!
Kids always love putting stuff into bags or containers… at least mine do!






This was a toy that we gave Hunter
for his birthday and he LOVED it! It makes noises and rolls around.
He was waddling after it laughing!
Fisher Price Bright Beats – Spin and Crawl Tumble ball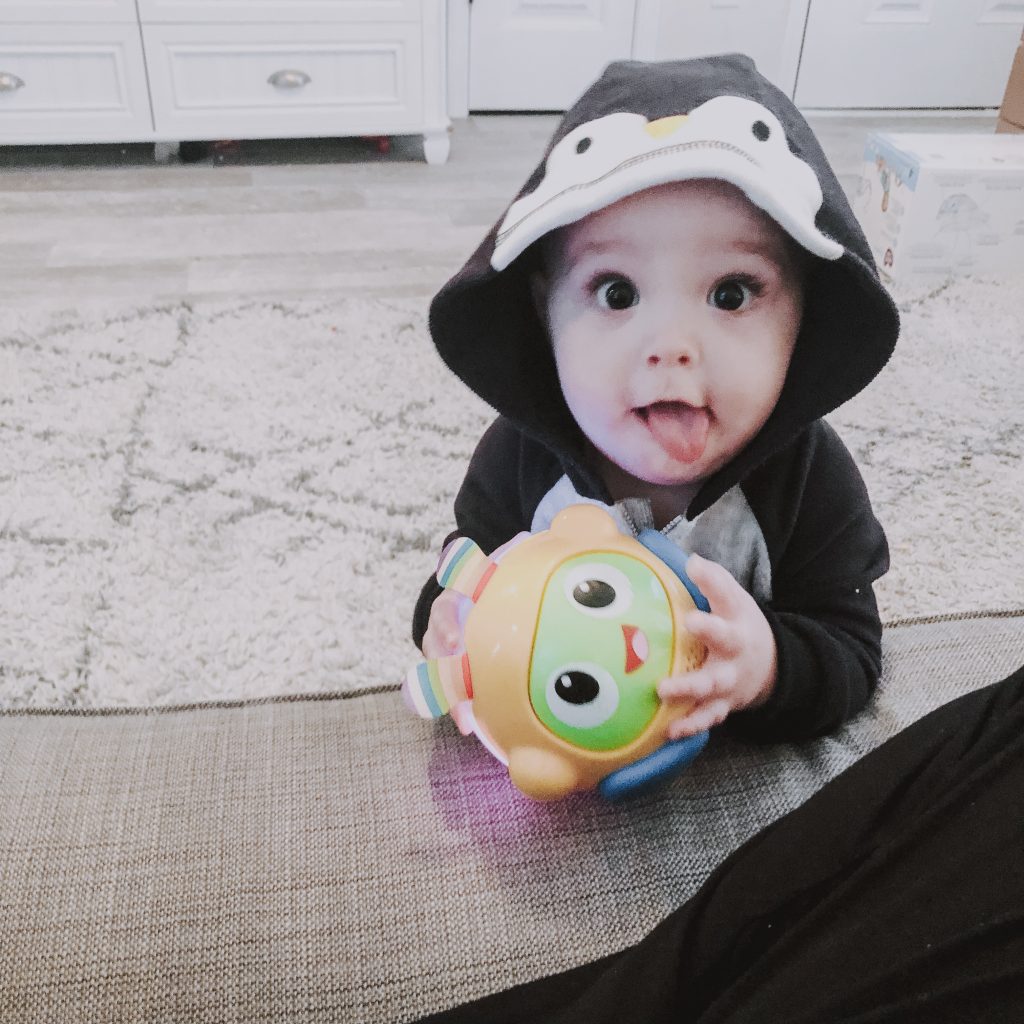 Can't believe our Hunter is one!!
Everything is squishy about this guy and I love it.
I got this little penguin fleece on a Black Friday sale from Kohls.
What's funny is he LOVED having the hood up.
I thought I was going to have to trick him but I guess he just felt cozy!
Thanks for checking out Hunter's First Birthday…
I hope that if you're planning your own little penguin party you feel inspired and excited!
It's always so special celebrating our people and getting creative!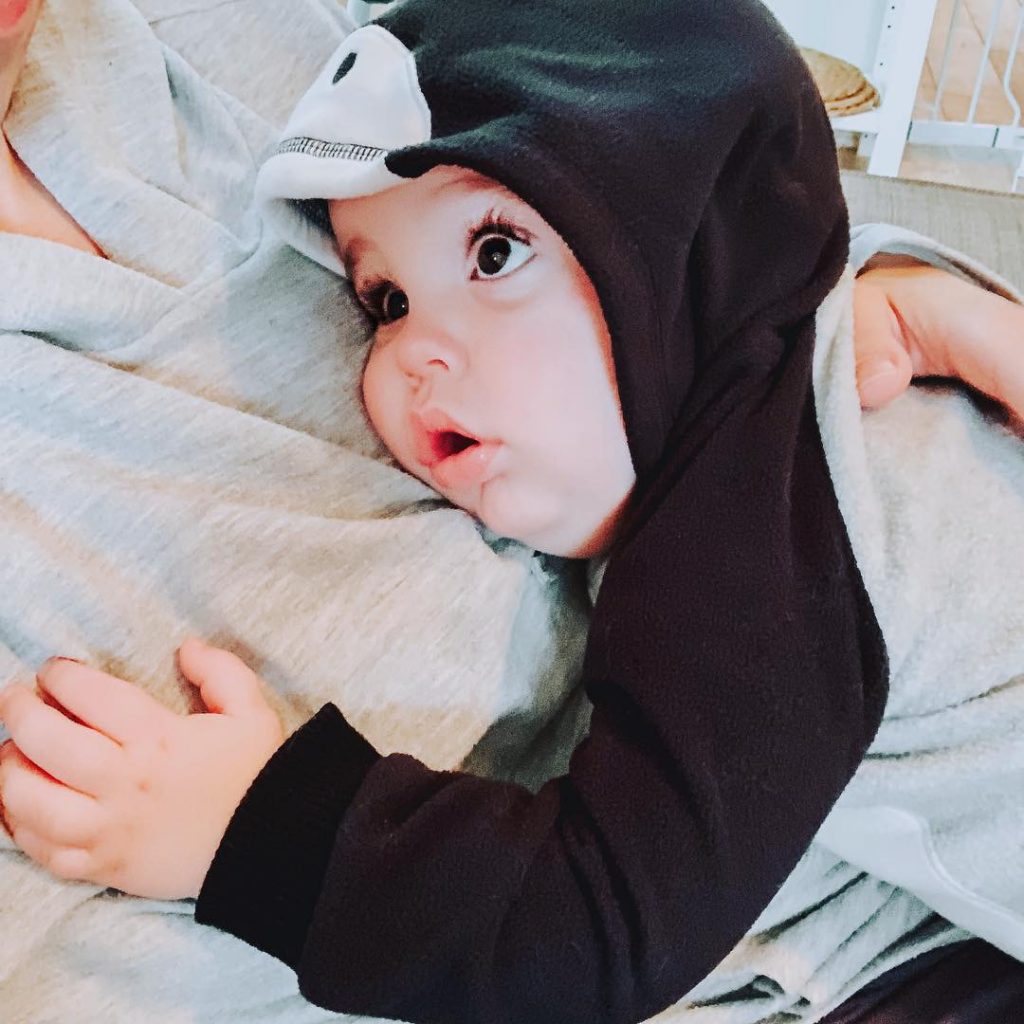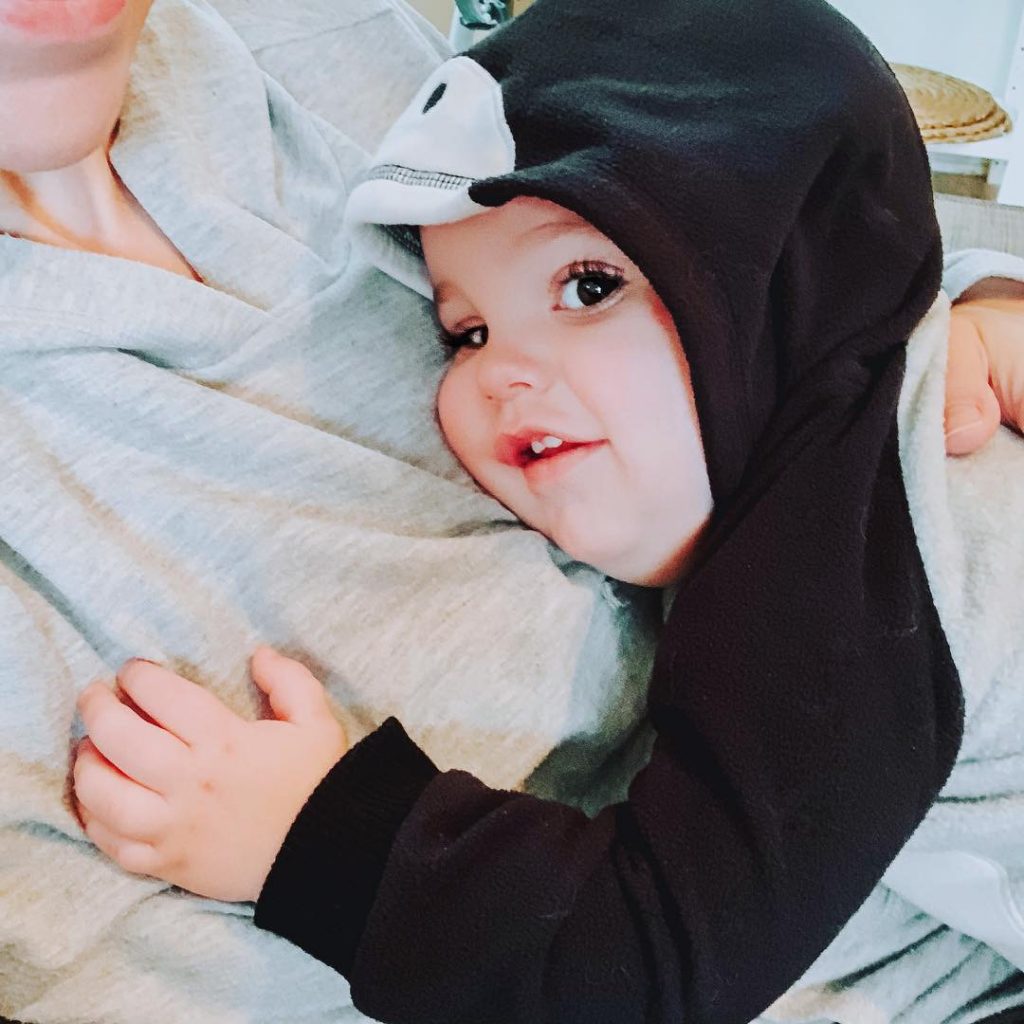 Source link