I love when simple lessons can cover a bunch of bases!
I created this fun 'Zoo Keeper Counting' Printable to use with my
Asher and you can download it to use with your little one!
This activity gave him a chance to use his imagination, naming the animals…
He was practicing his fine motor skills, placing the fruit loops in the circles…
He was practicing counting, rolling the dice and counting as he fed his animals!
You can have your child roll the dice for each animal.. or.. for repetition, feed
all the animals the same amount before you roll again!
I hope you find this a fun activity to do with your crew.
Asher was all about it and I ended up having a bowl of fruit loops for breakfast while we played. 😉
If you have older kids, you can use this same idea… but add in some math!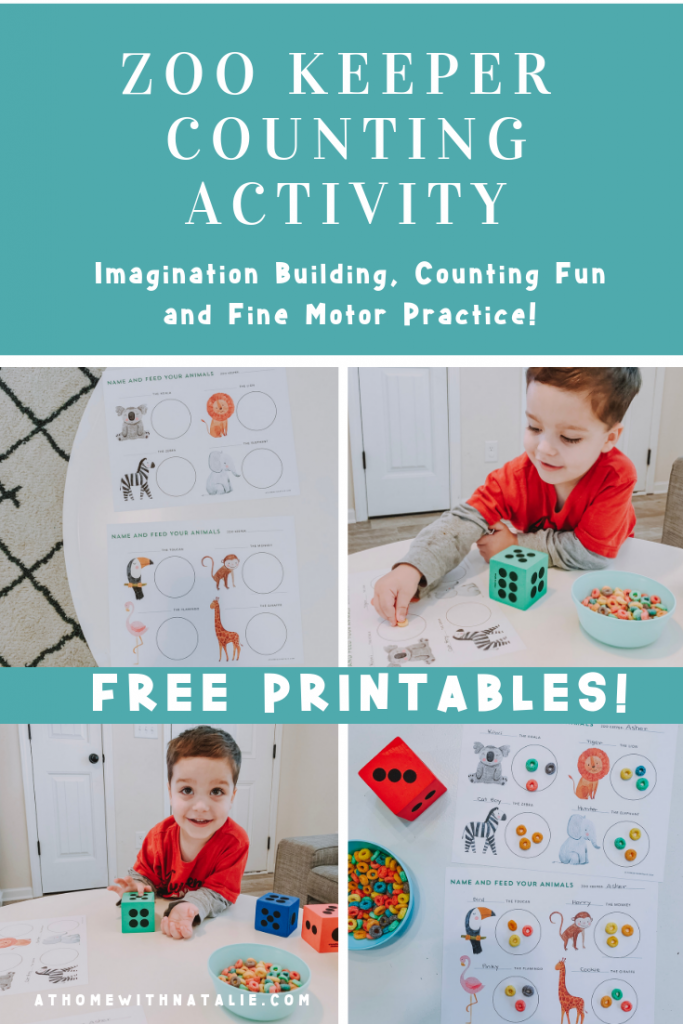 DOWNLOAD MY FREE 'ZOO KEEPER COUNTING' PRINTABLE- 1
DOWNLOAD MY FREE 'ZOO KEEPER COUNTING' PRINTABLE- 2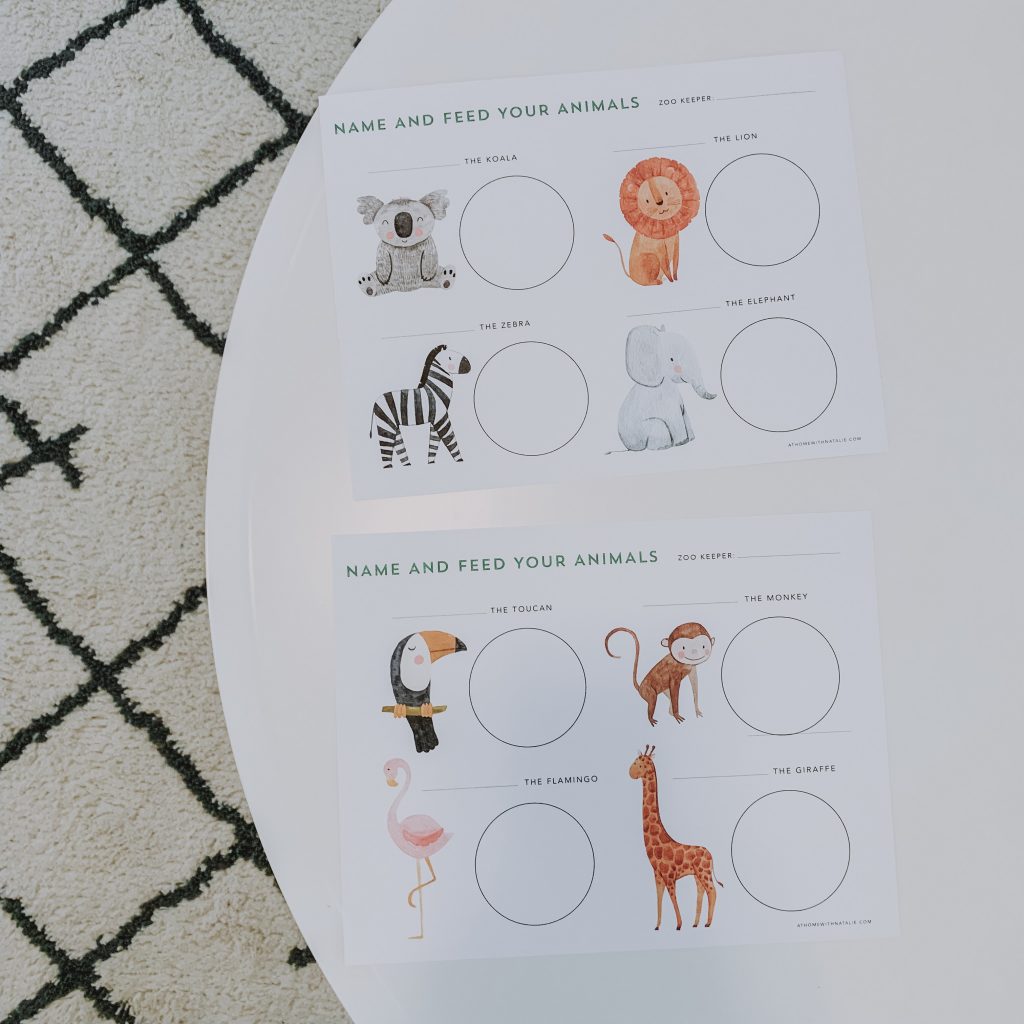 First things first… write your zoo keeper's name down.
Practice going over the letters in their name!
Asher isn't writing yet but if you have an older child they could do that
part and have fun with coming up with names all on their own.
Asher wanted to name toucan bird and I absolutely loved it. haha.
He named the elephant, Hunter. (I get it.) And was set on naming the Lion, Tiger. (slightly confusing.)
He was tickled pink when I said we should name the flamingo Pinky.
Learning activities should be fun and should have giggling involved.
I loved seeing him use his imagination as we named the animals in his zoo!
Activities like this roll over into how he plays…. I'll see him with his zoo books or with the stuffed
animals all lined up or feeding them play food from the kitchen.
I love sparking that imagination nd creativity in them with simple actions like naming animals!
We ended up with Kiwi the Koala, Tiger the Lion, Cat Boy the Zebra(lol) Hunter the Elephant,
Bird the Toucan, Harry the Monkey, Pinky the Flamingo and Cookie the Giraffe.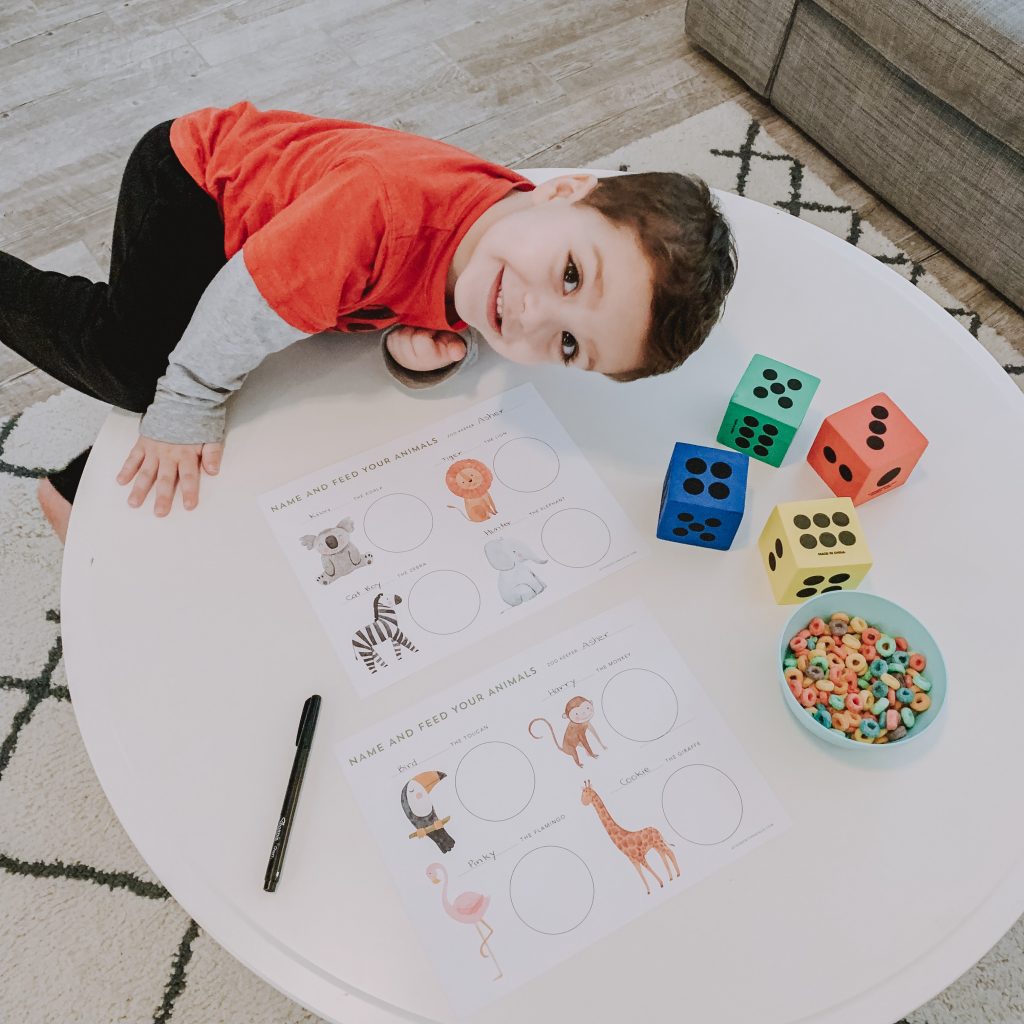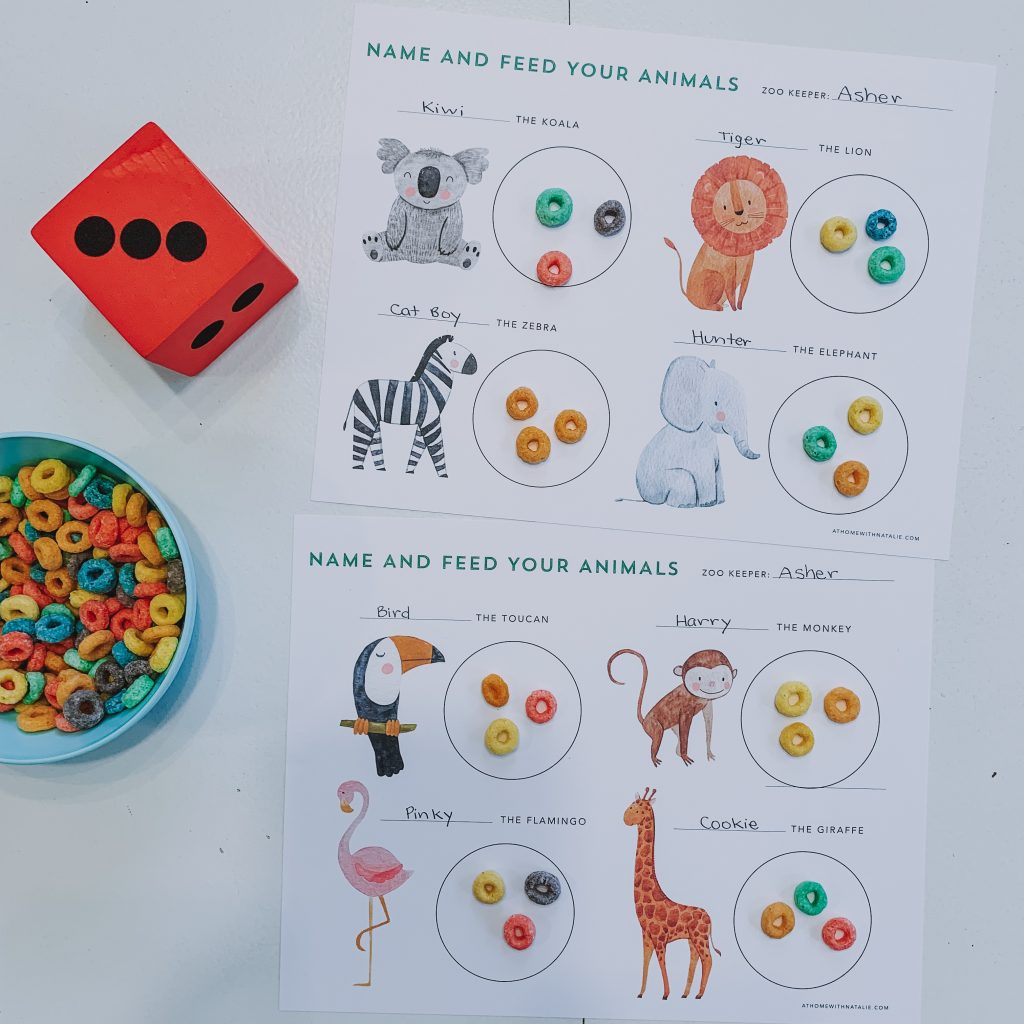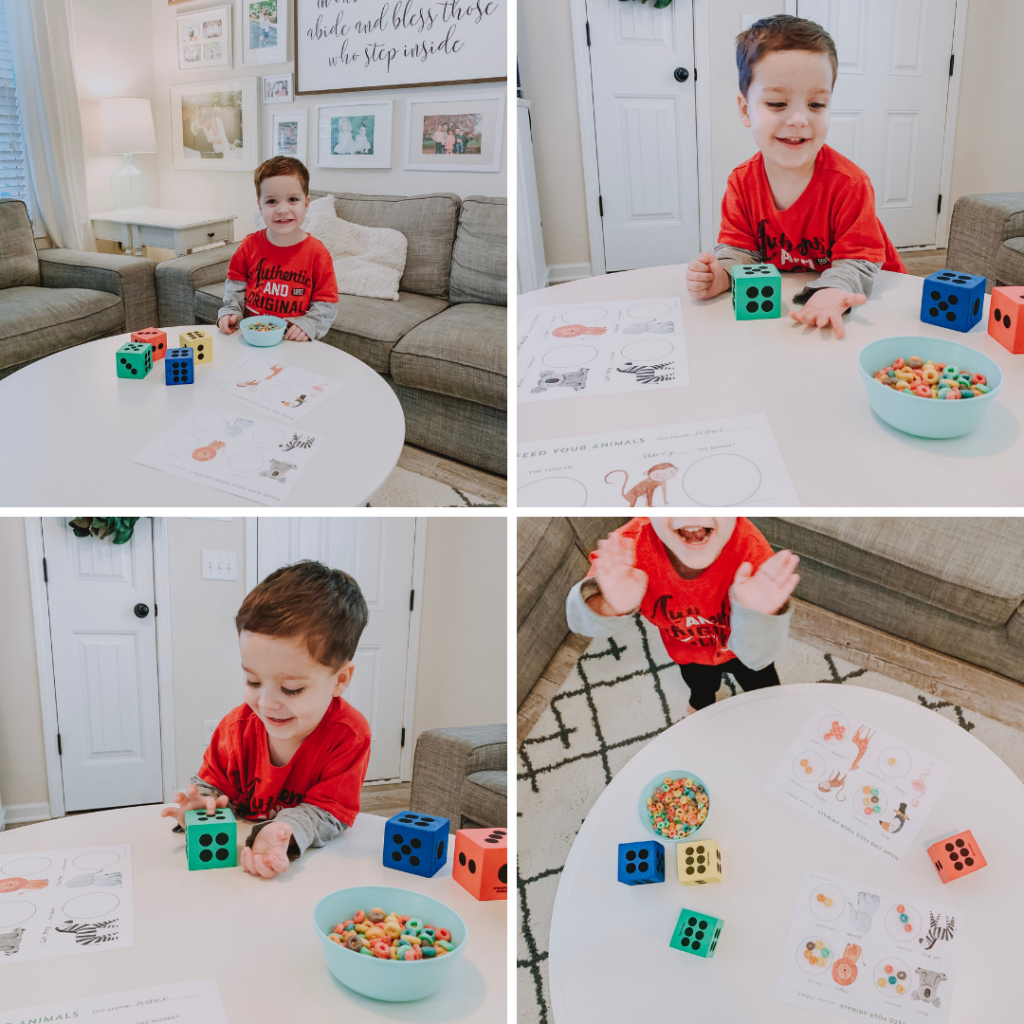 I ordered the large foam dice off Amazon.
They are a good size for him.
You can use these printables in different ways.
You can roll the dice and feed an animal that amount…
or roll the dice and feed all the animals that same amount before you roll again.
We did both and it kept the activity fun and fresh.
I think the repetition of the same number was good for him.
AND I loved how he could look at the dice and see the number and recreate
that in the circle/plate for the animal with the fruit loops!
DOWNLOAD MY FREE 'ZOO KEEPER COUNTING' PRINTABLE- 1
DOWNLOAD MY FREE 'ZOO KEEPER COUNTING' PRINTABLE- 2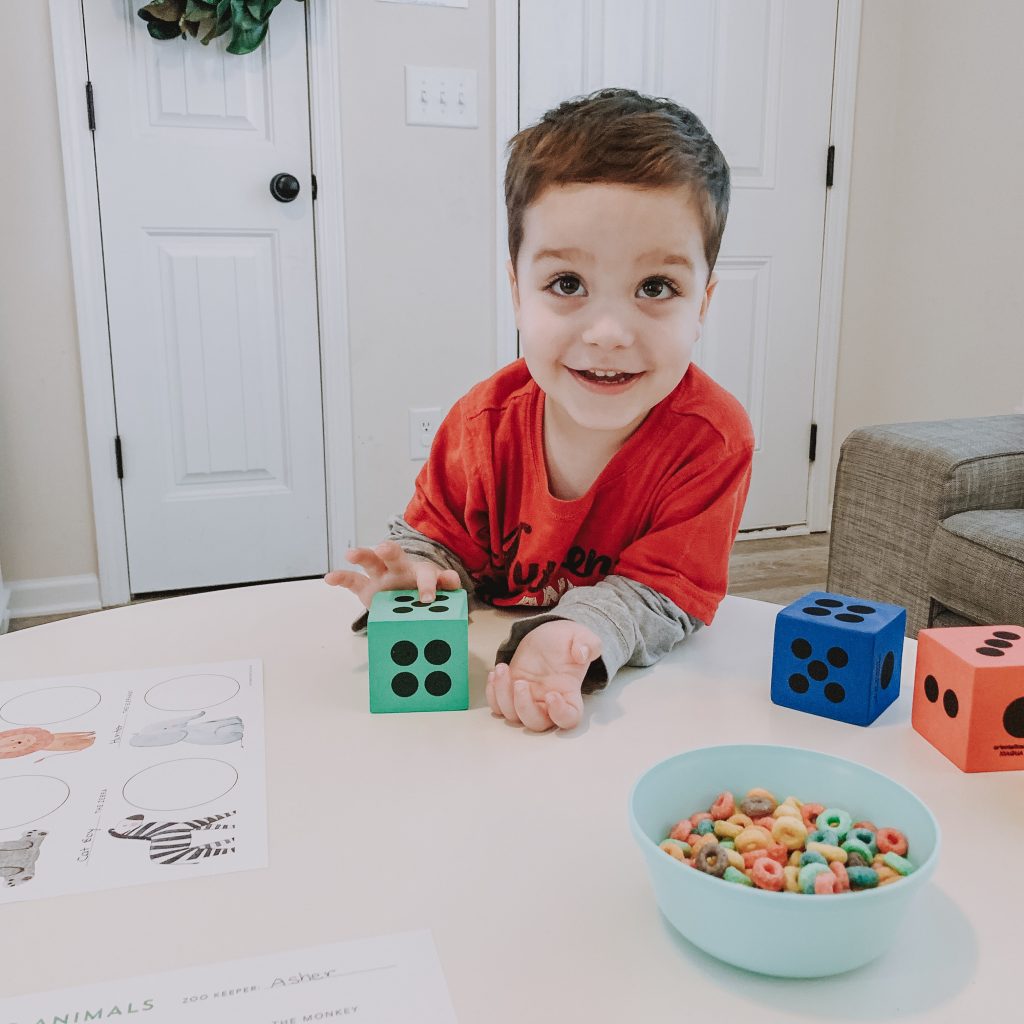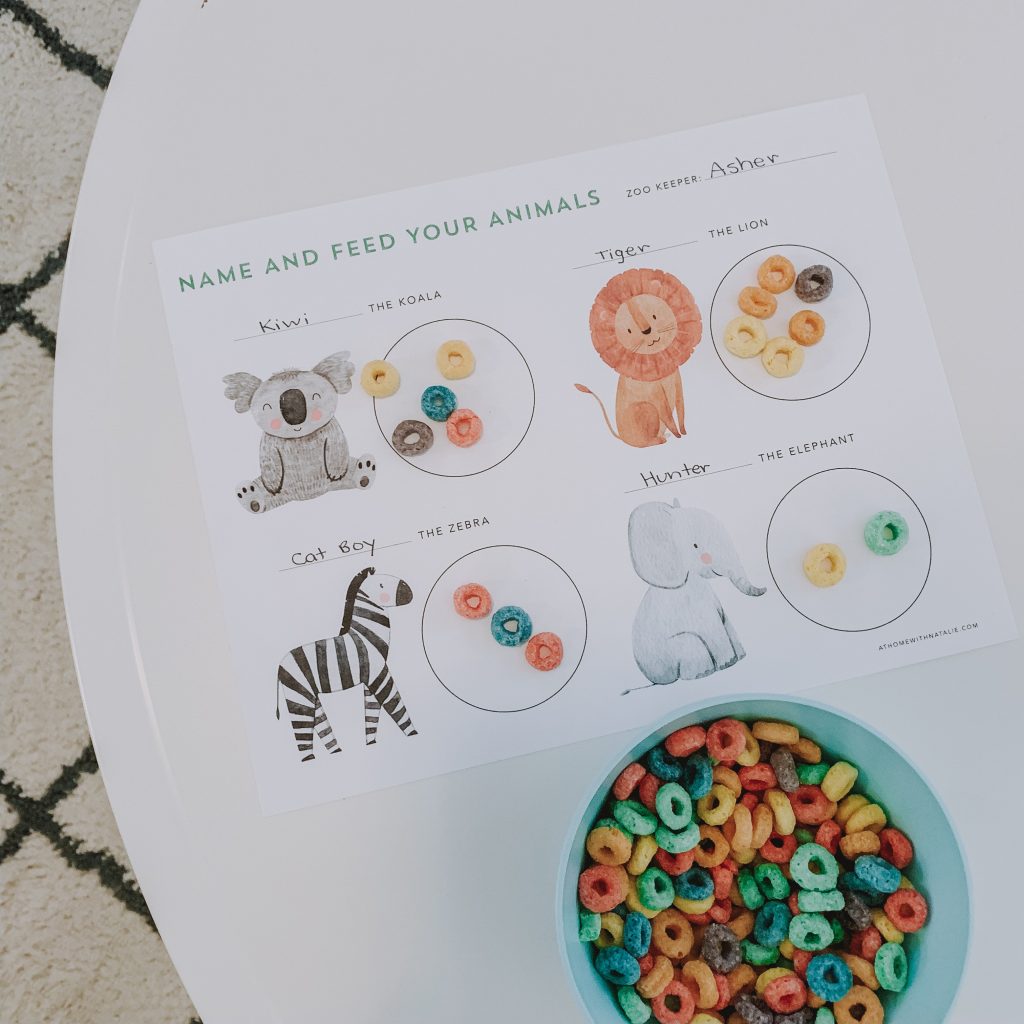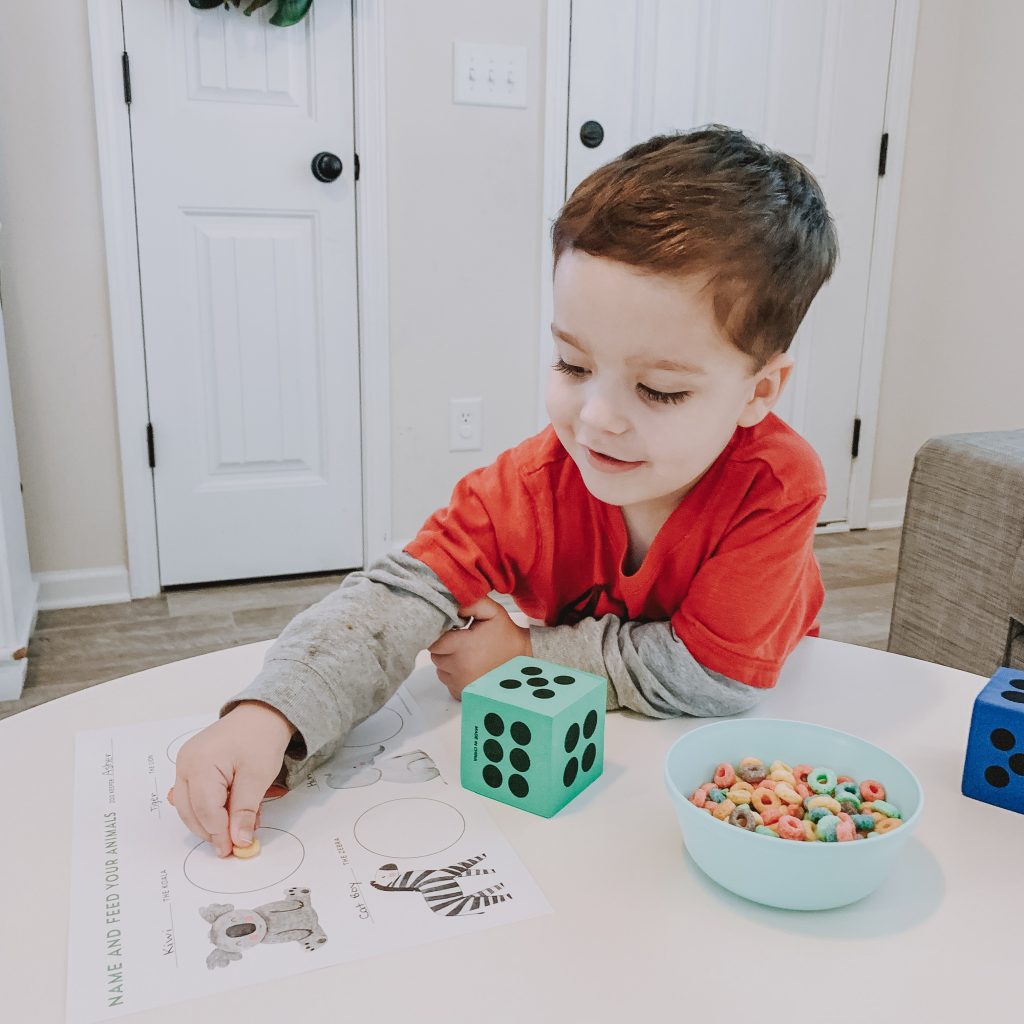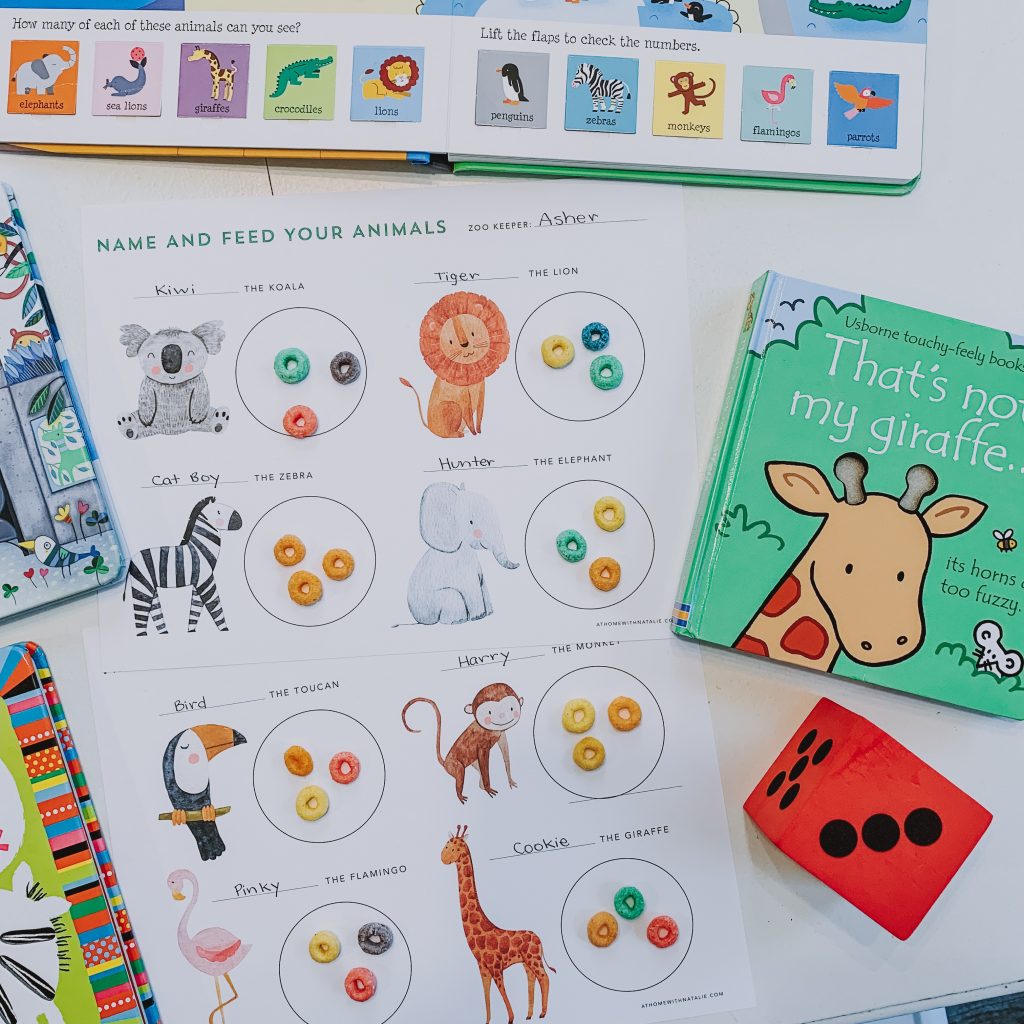 Hunter was a fan of the foam dice too!
He's been stacking them up on the table and knocking them down.
He likes to crack himself up.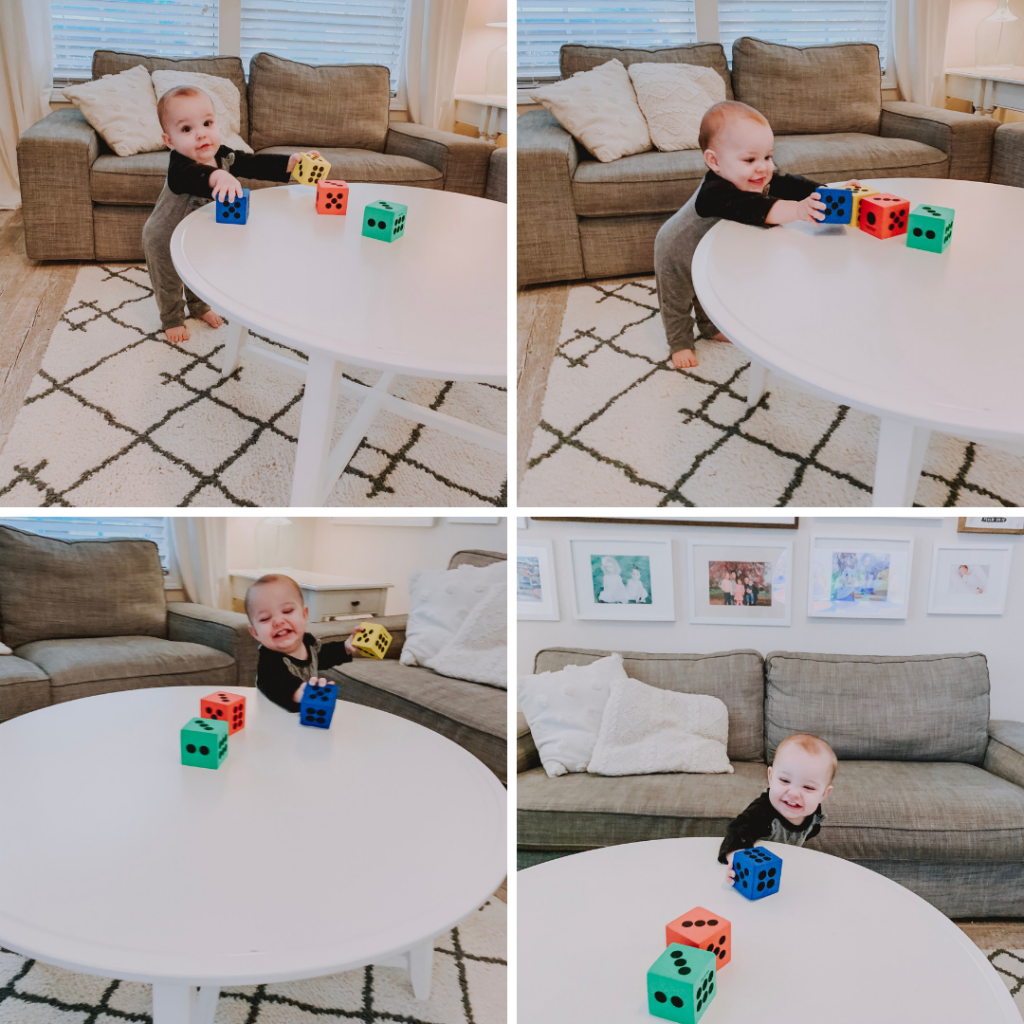 We pulled these books of our shelves in our Home Library
to keep the zoo and counting fun going.
BOOKS WE USED:
Peek Inside the Zoo
Lift-the-flap Numbers
Busy Train
That's not my Elephant
That's not my Giraffe
That's not my Monkey
That's not my…Zebra colors
Baby's very first touch-feely Animals Playbook
Noisy Zoo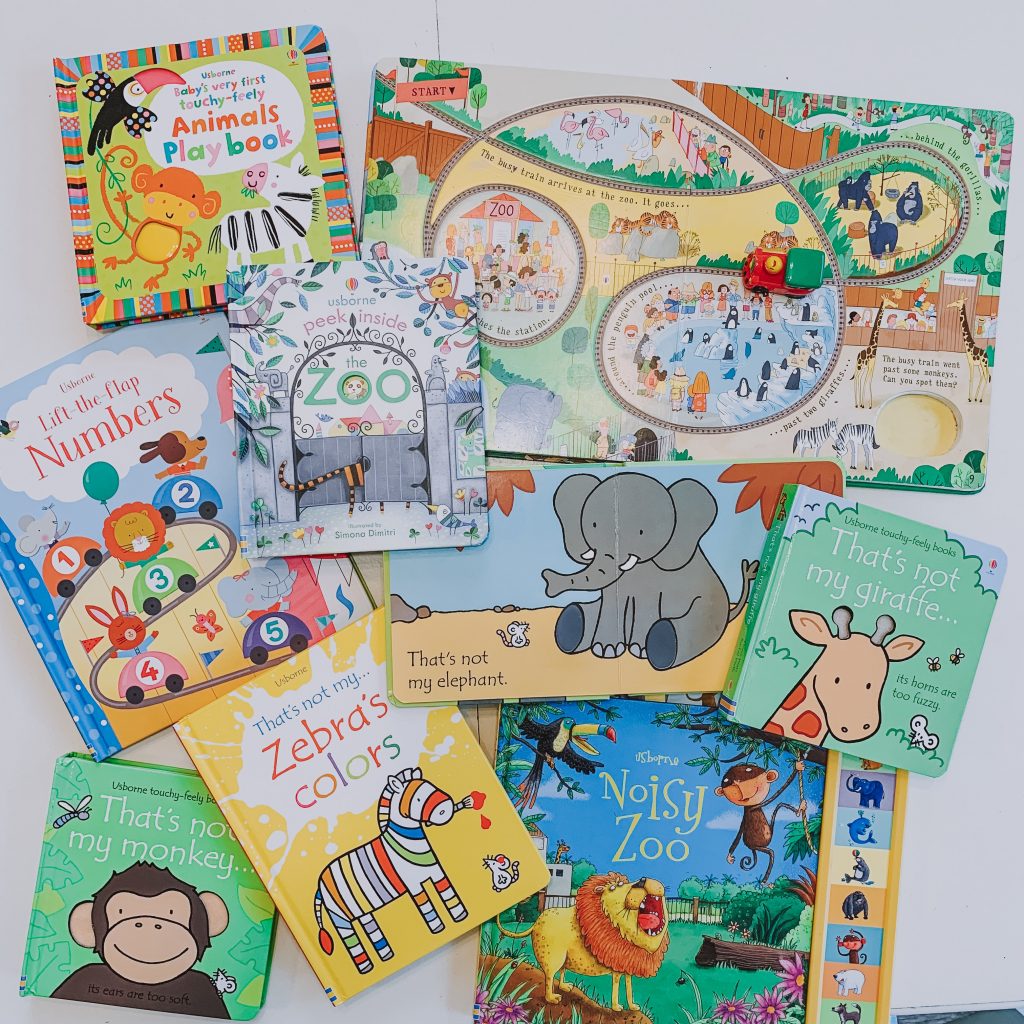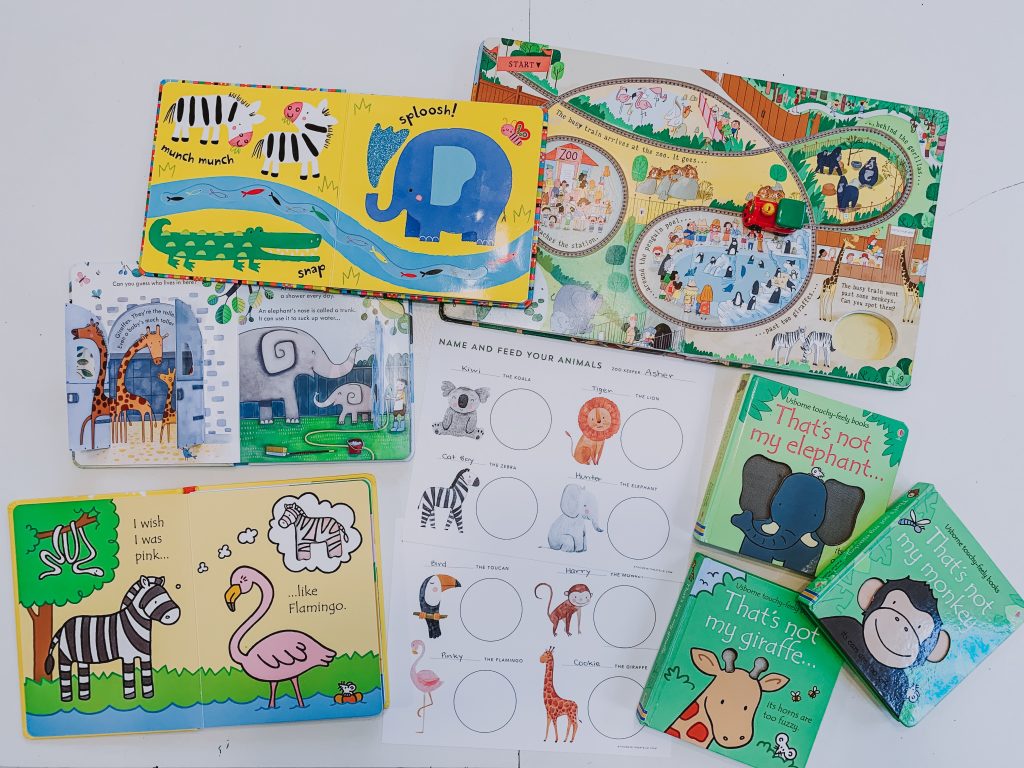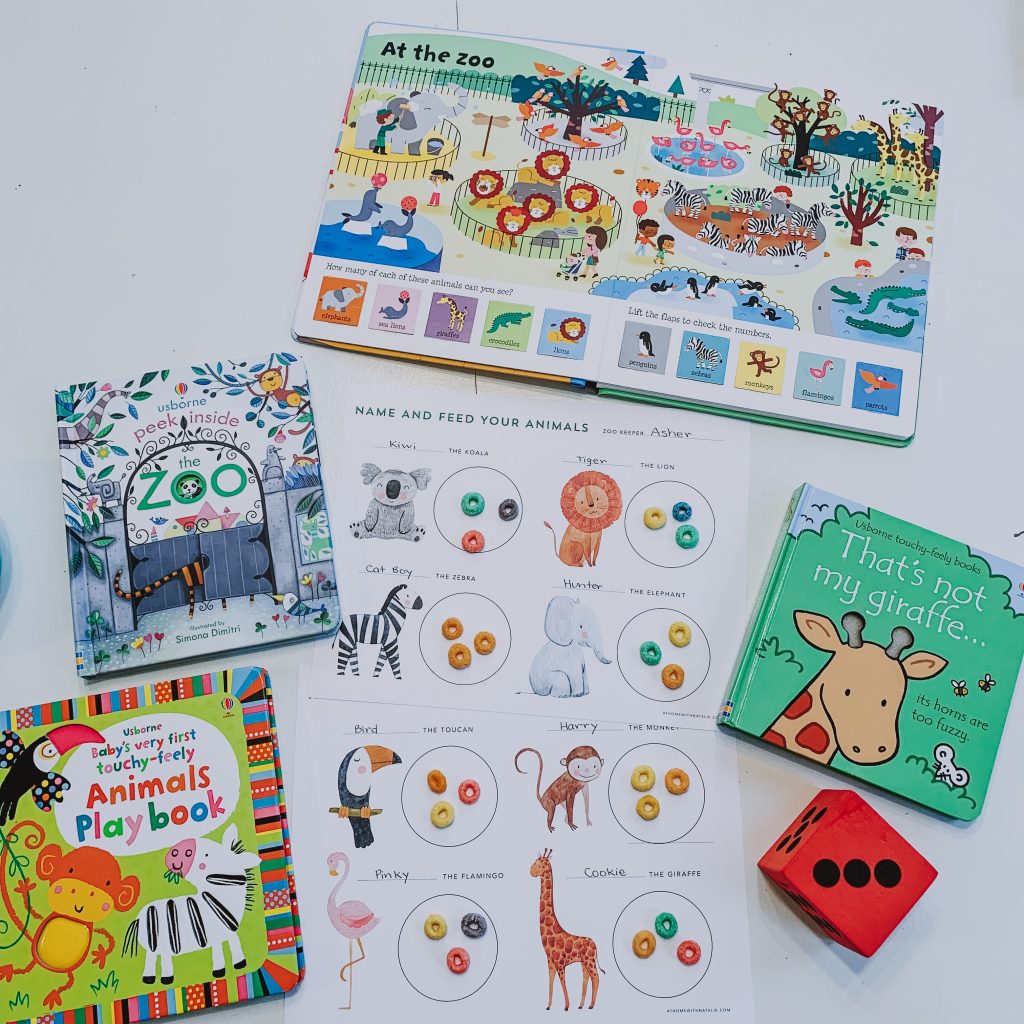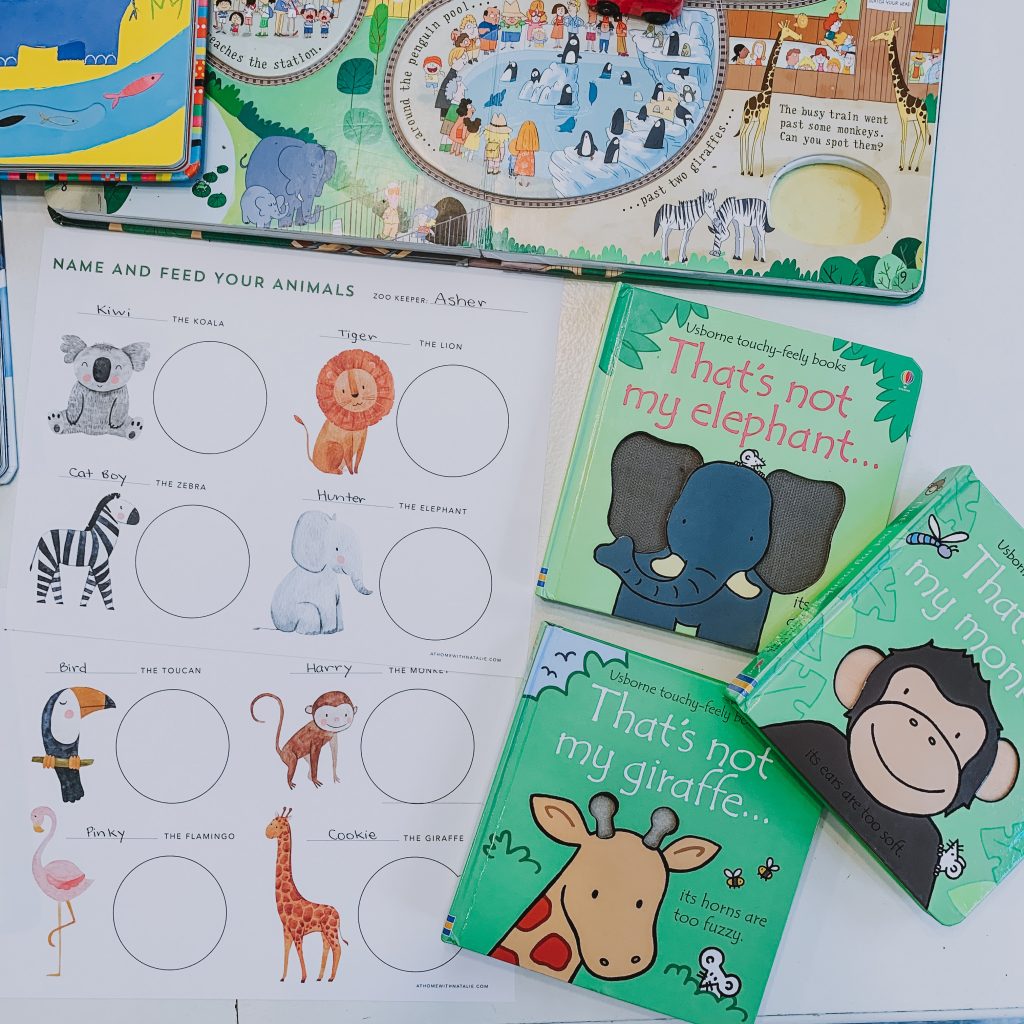 I've been having fun getting creative with the little lessons I do with Hunter.
He is three and it's so exciting seeing him soak up all the knowledge!
If you give this a try and share on social please tag me so I can see!! It would make our day. 🙂
Instagram: @athomewithnatalie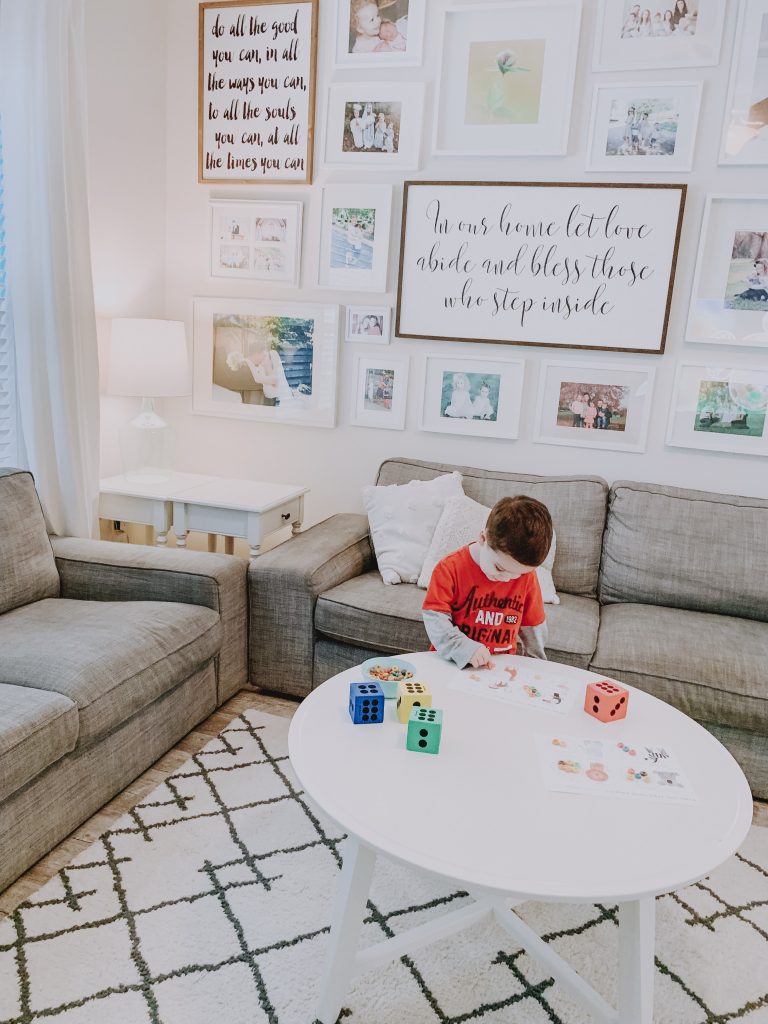 If you like this printable…
You should download my Dino and Unicorn Theme Learning Activity Printables!
Color Matching, Counting Fun and Fine Motor Practice!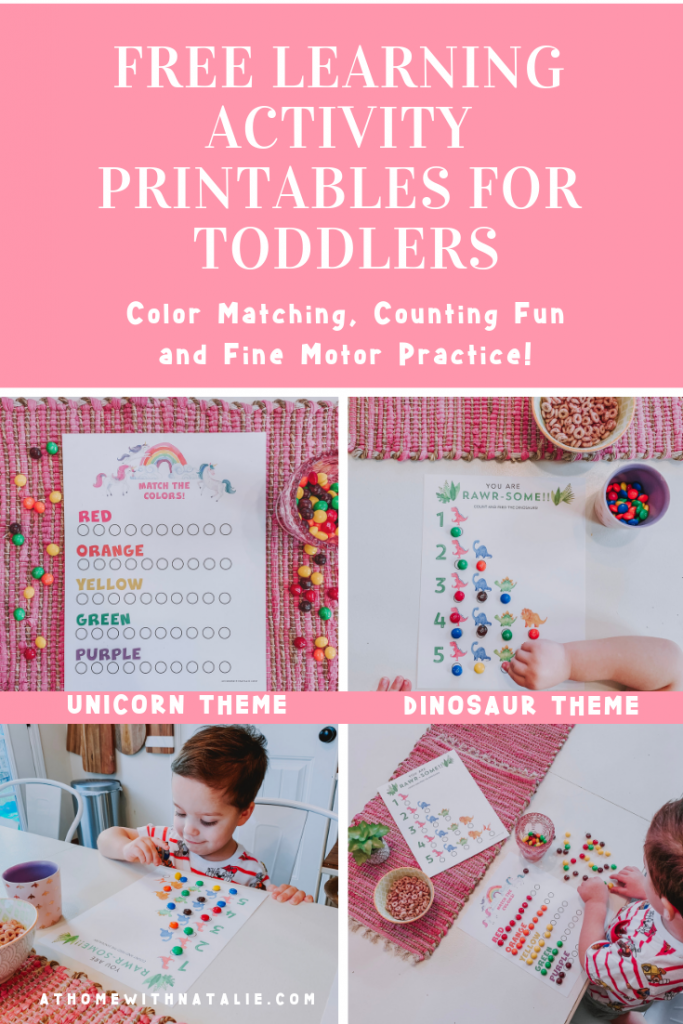 Source link