Today we are sharing with you our last minute, DIY detail filled, Luau!
Just weeks ago, we moved from Louisiana to Charlotte, North Carolina.
We are now back near family and SO excited about it!
It was just time. Time to plant some roots..the kids are growing up so fast!
Our time in Louisiana was a fun season, especially for our kids.
They made some amazing friends at their school that was connected
to the church my husband worked at.
Both Sienna and Sophia were excited for the move
but we knew that it was still going to be hard on them to say bye to their friends.
So even though their birthdays were a couple months away, when they asked if they
could celebrate early with their classmates I said YES! Let's do it!
So we thought since summer was around the corner we would do a Luau theme!
We made it happen on short notice and with lots of easy DIY details we could do together.
With five kids..and three of them big kids…I like to get them involved!
I shared the video on your YouTube Channel the week after we threw the party
but with moving I haven't had a chance to blog it… till today!
Today we are sharing photos and details of the Luau theme party and
we hope you enjoy and get inspired to throw your own!
Sienna requested flamingo details and Sophia asked for Pineapple details… so…
with their powers combined. this is what I came up with! haha.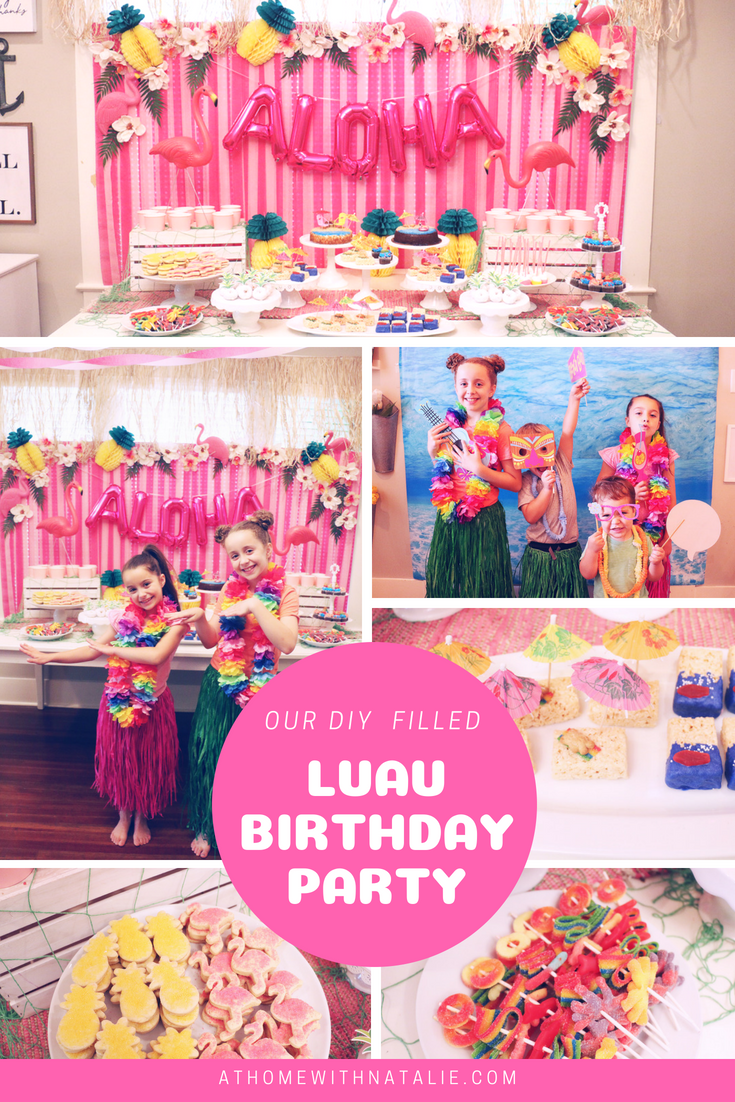 Girls' Luau Early Birthday + Going Away Party
THE DESSERT TABLE
I love getting creative with the themed treats of a party!
I filled my cake stands with fun beachy desserts!
(I have a collection… love me some white cake stands.)
I used four placemats from hobby lobby as a table runner…my white crates to add some height…
and to add more texture to the table I layered some dollar tree fishing nets across the crates/table.
The tiny flamingos are from the Dollar Tree..but the larger ones on the table are from Hobby Lobby.
My girls were SO excited I got them and can't wait to put them in our new yard. haha.
I used the crates to help hold them up on the table. I feel like they just made it all come together!
The kids helped make candy kabobs and add little inner tube guys to store-bought cupcakes.
The girls also helped me dip marshmallows into white chocolate and then pink and yellow sugar.
Kids love anything on a stick and I love paper straws for parties—so many cute patterns
and colors that can work with your theme!
I used store-bought rice krispie treats as the base of some fun creations…
I made sunbathing teddy grahams and some fish in the ocean with bubbles.
I used our family tradition sugar cookie recipe to bake pineapple
and flamingo sugar cookies. (same sugar as the marshmallow treats.)
There was a pink cereal being promoted and I grabbed a box to fill some pink containers from target.
(Kids love anything in containers/portioned out!)
We used powdered sugar donuts and toppers (from hobby lobby) to create little pineapples.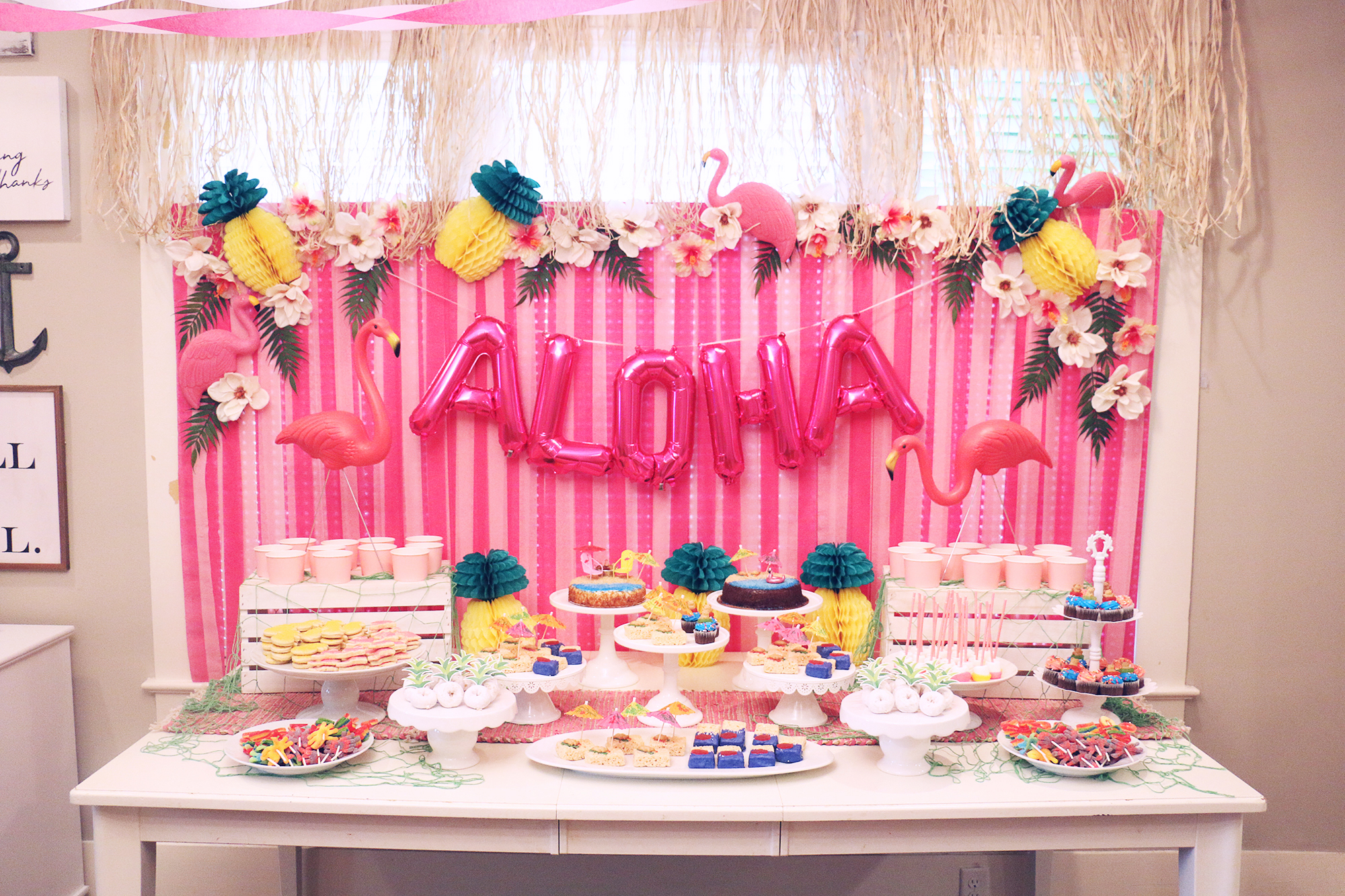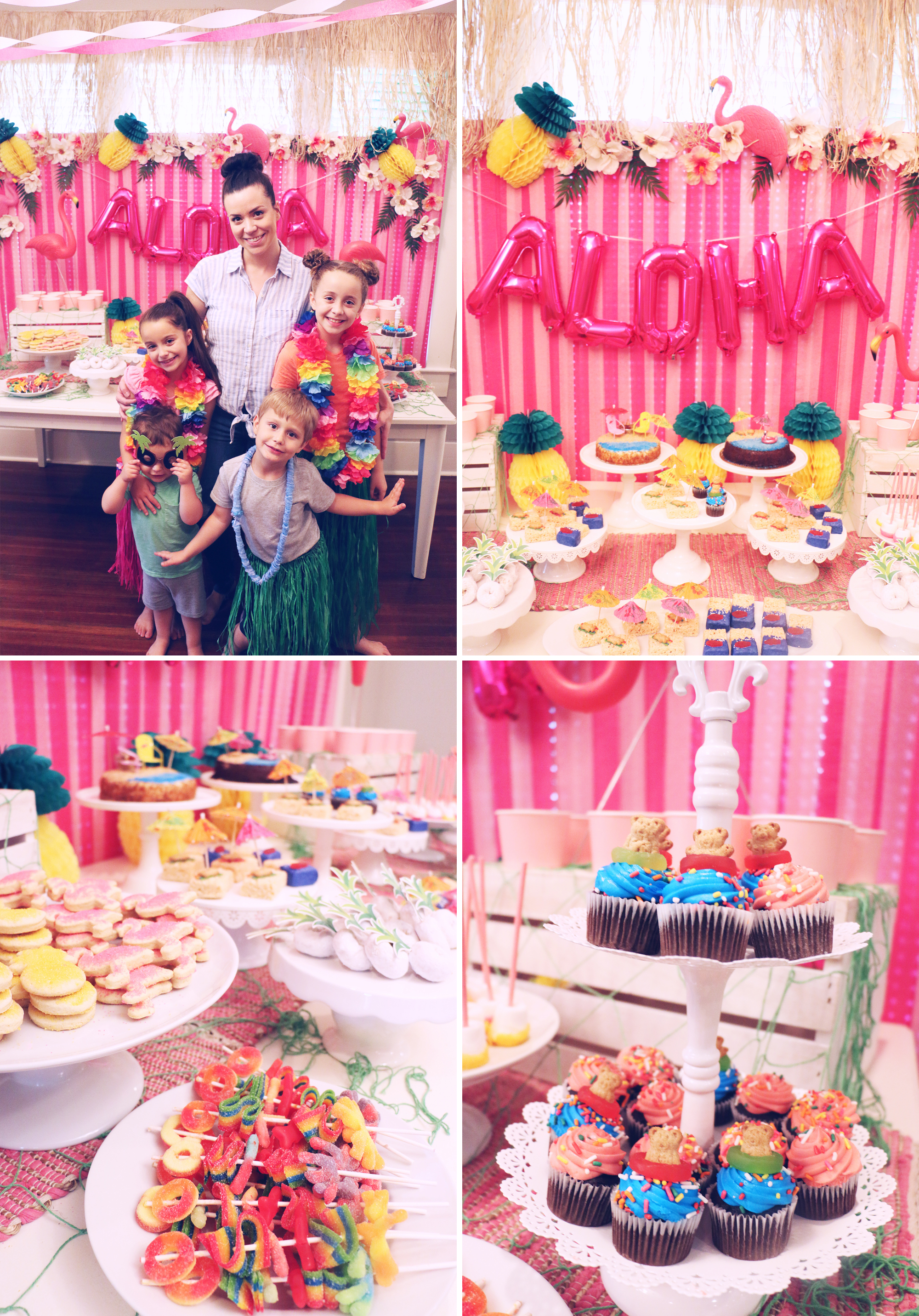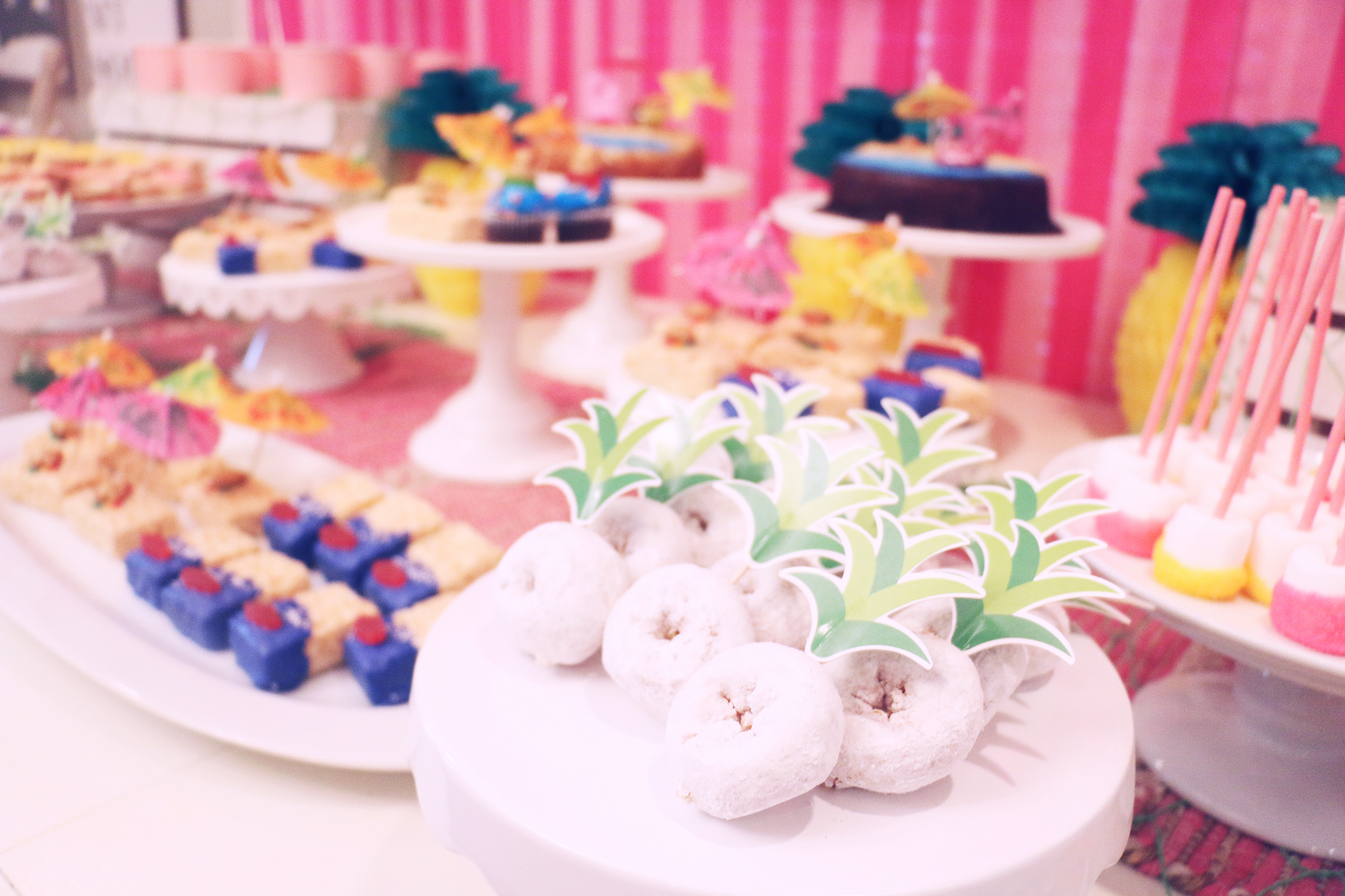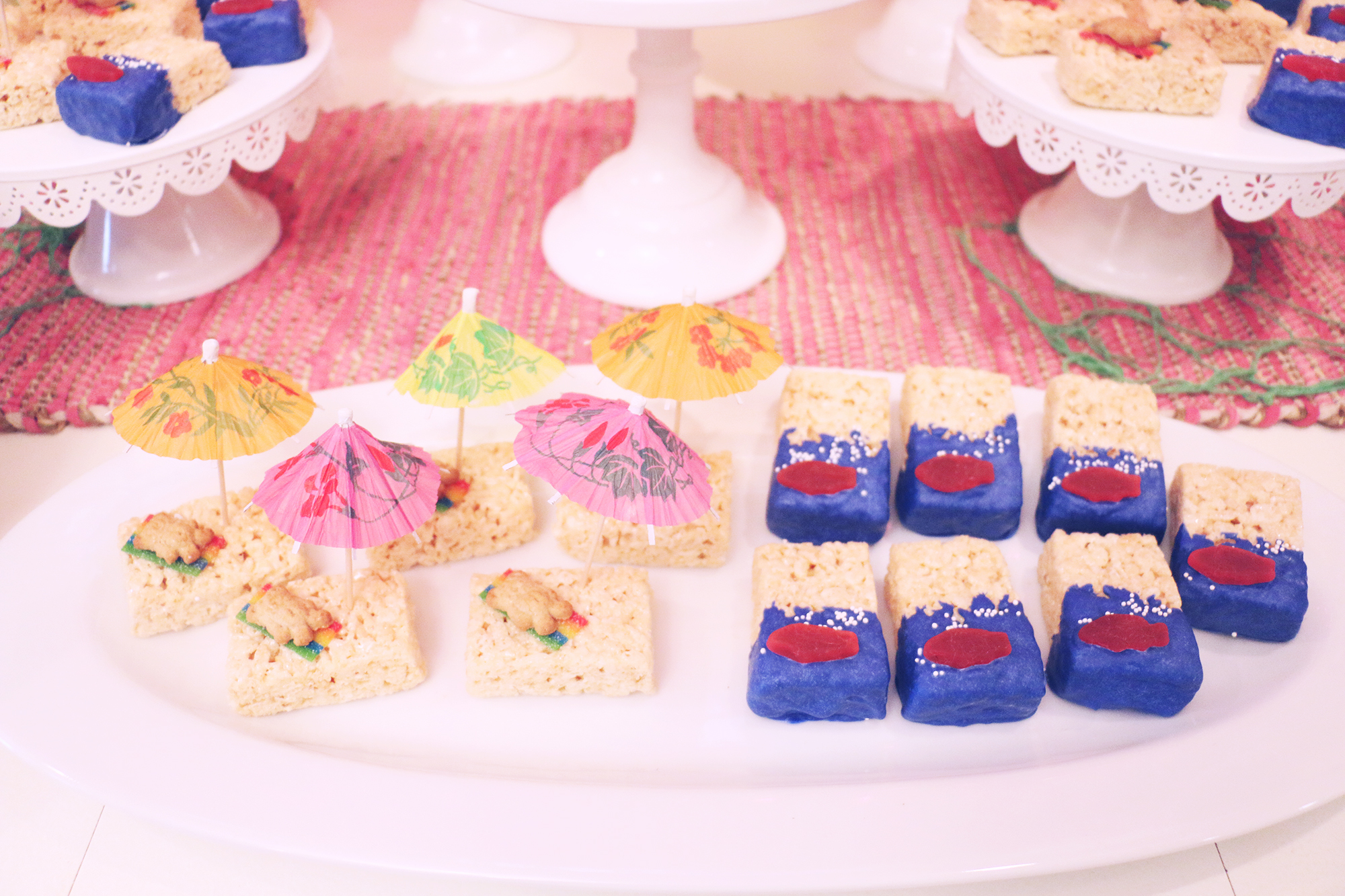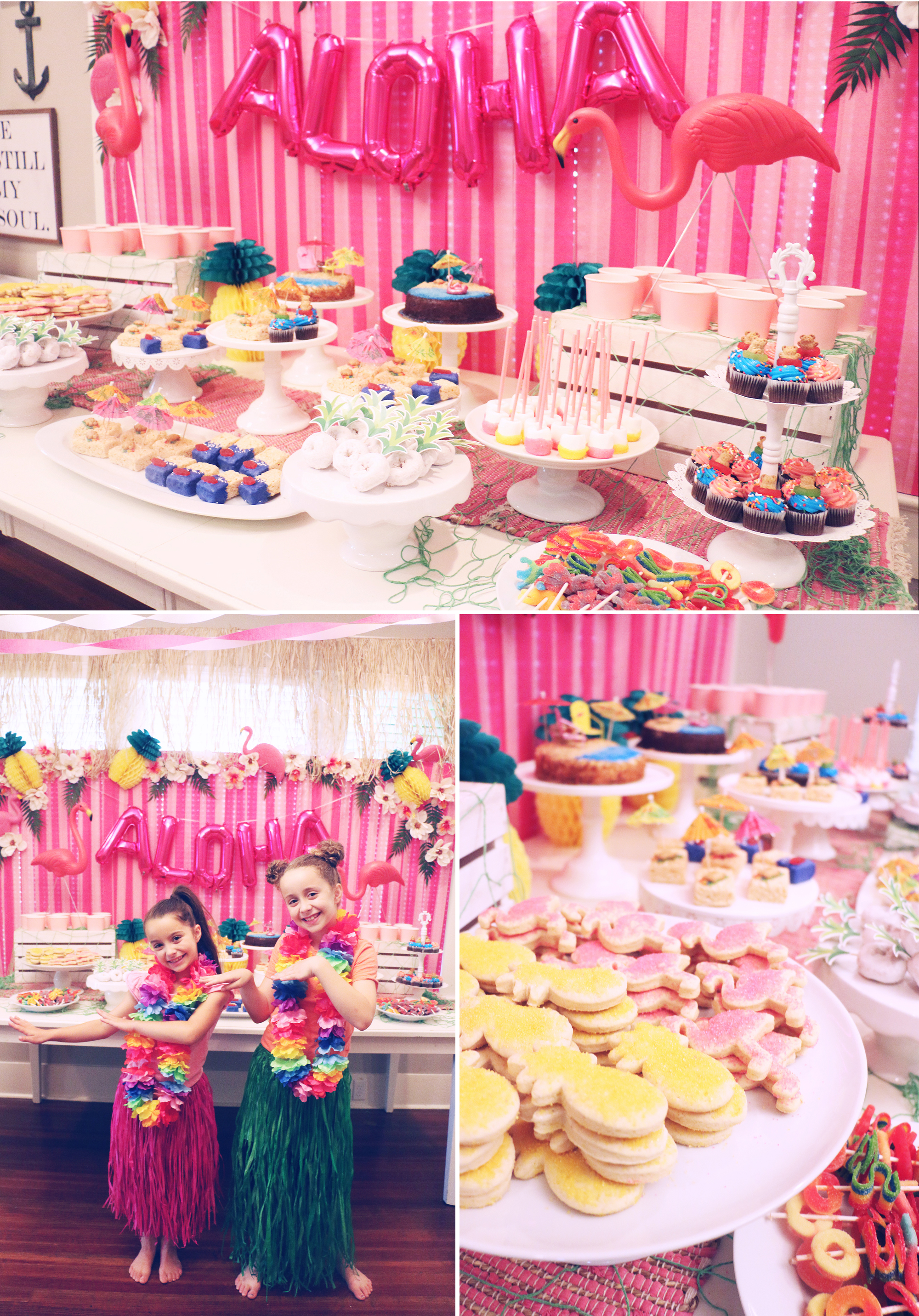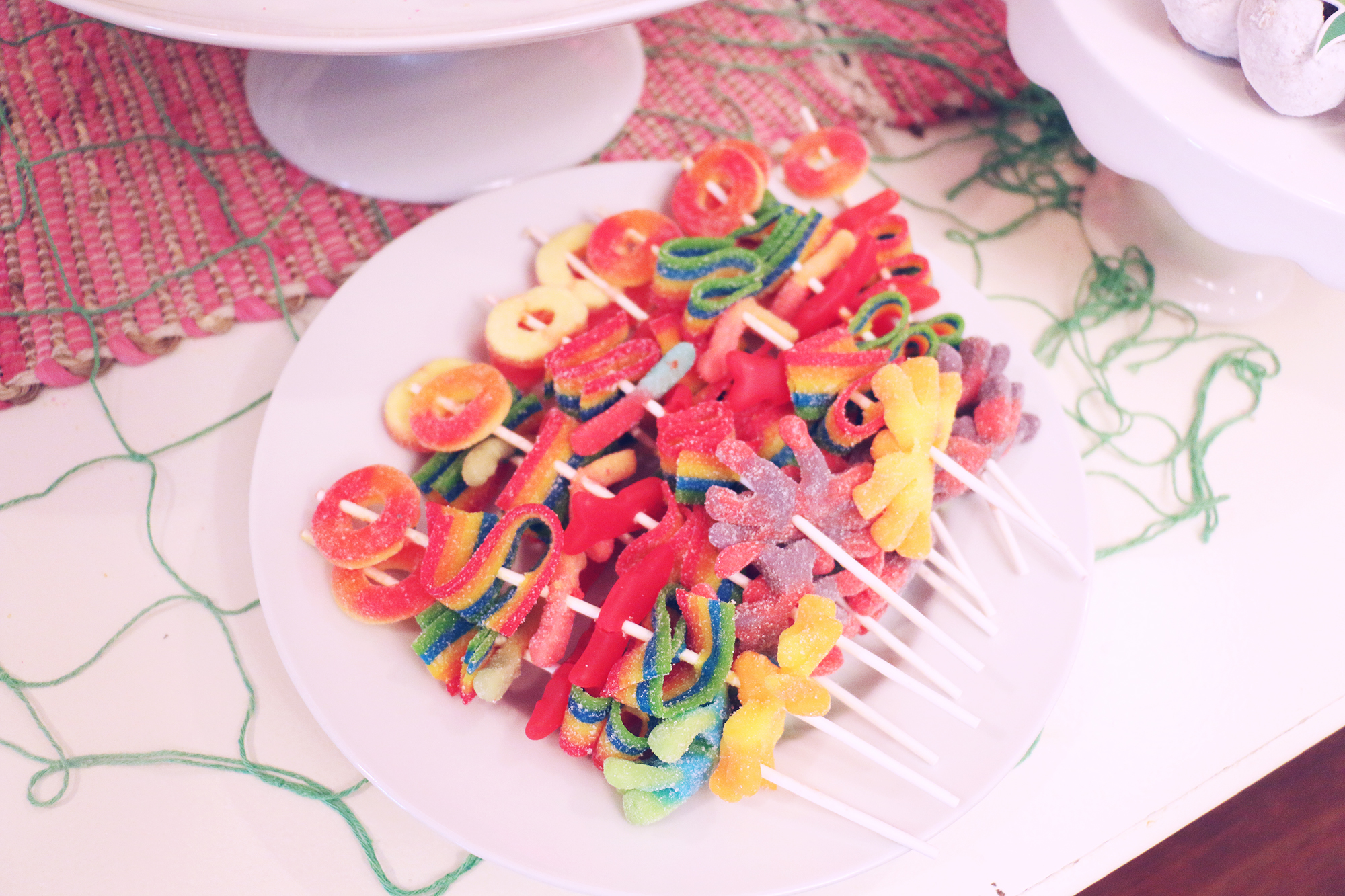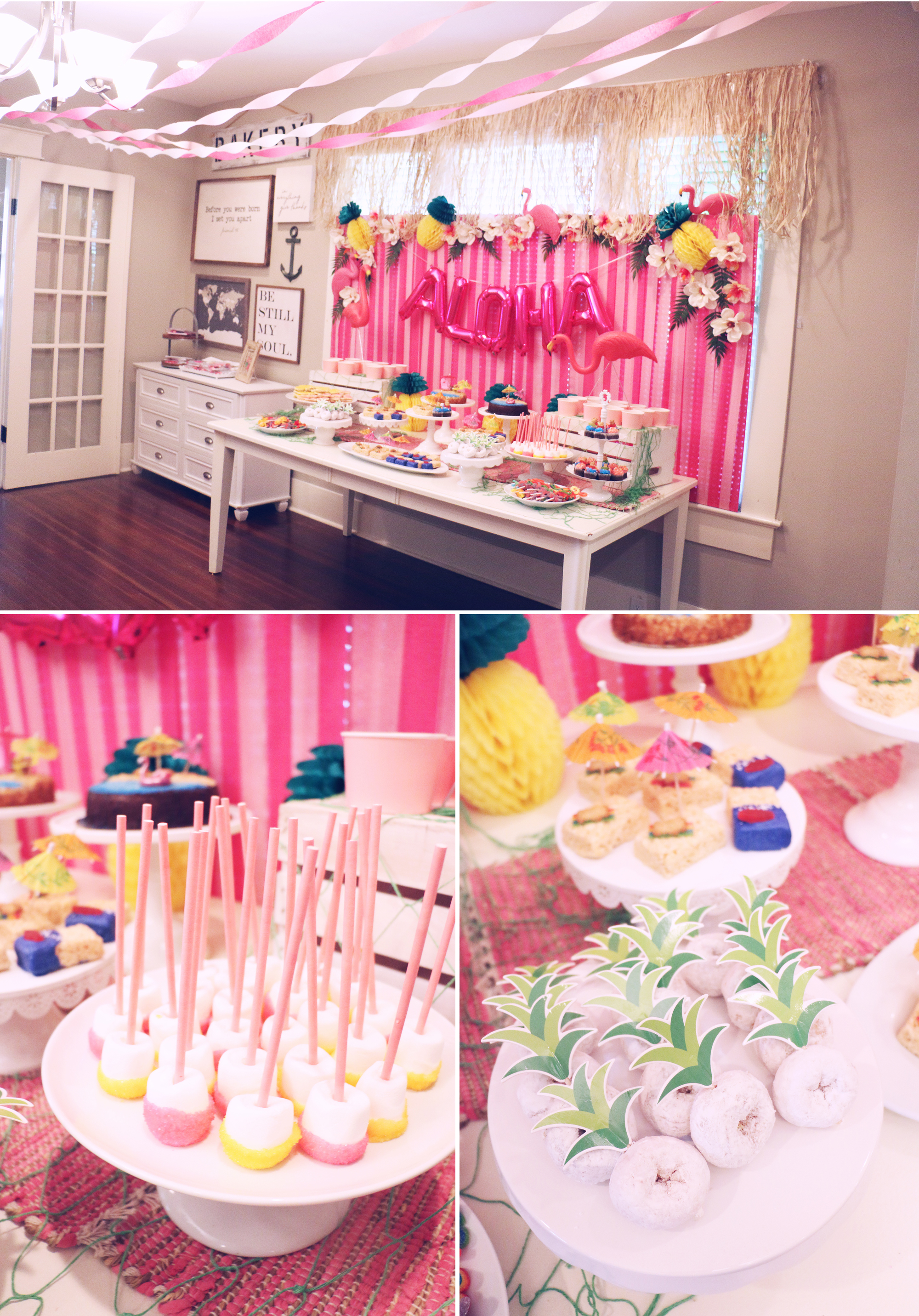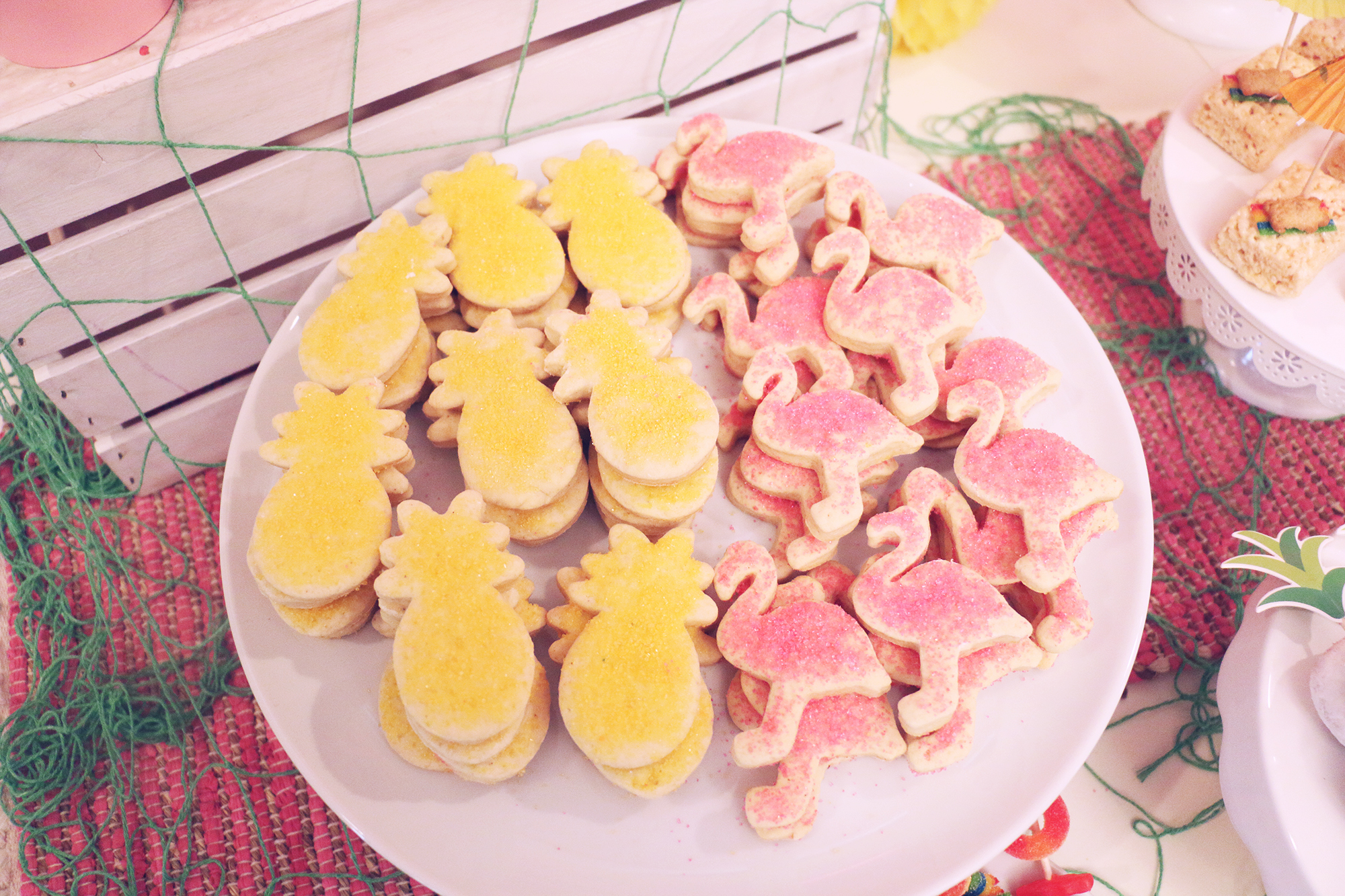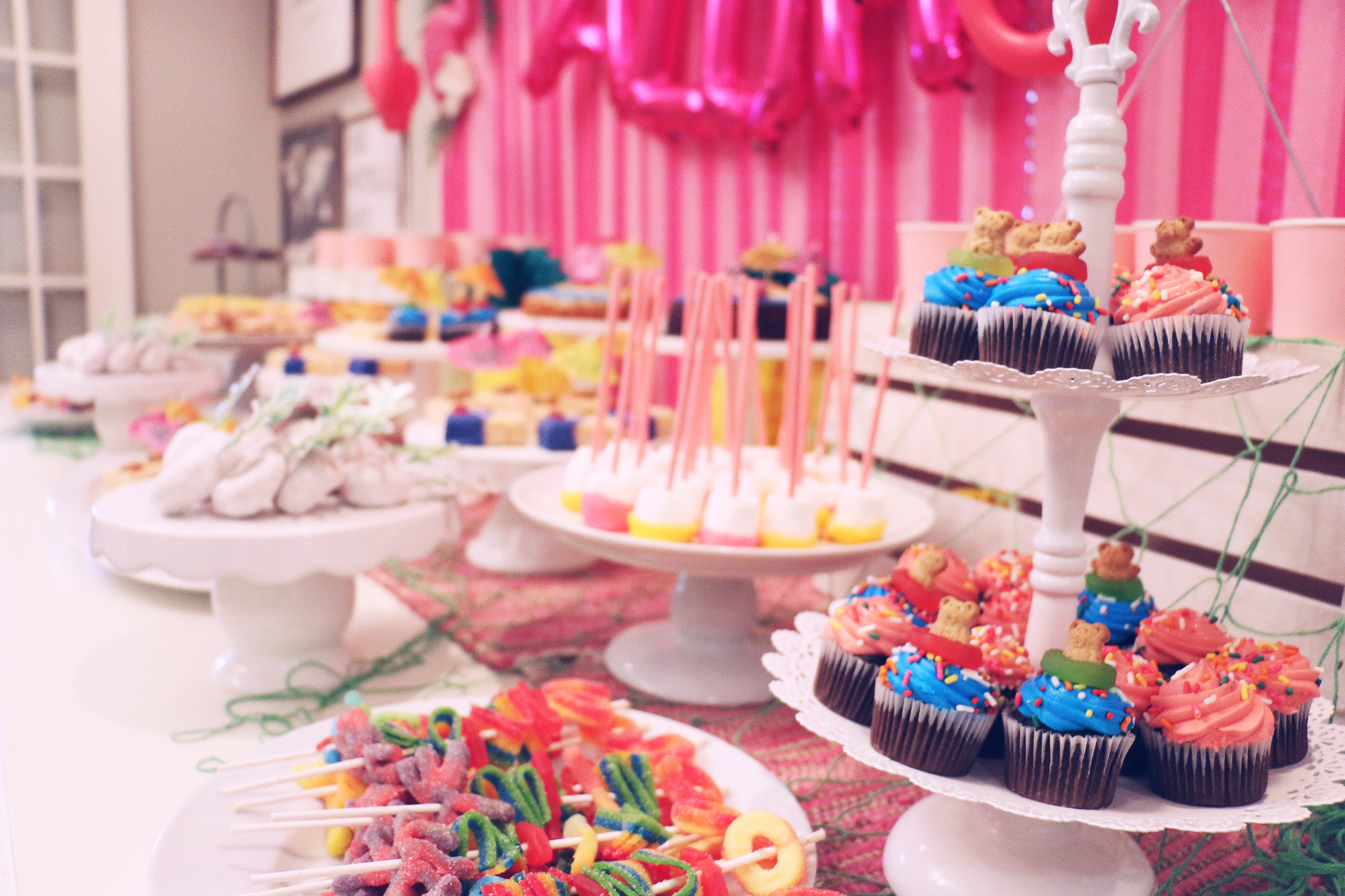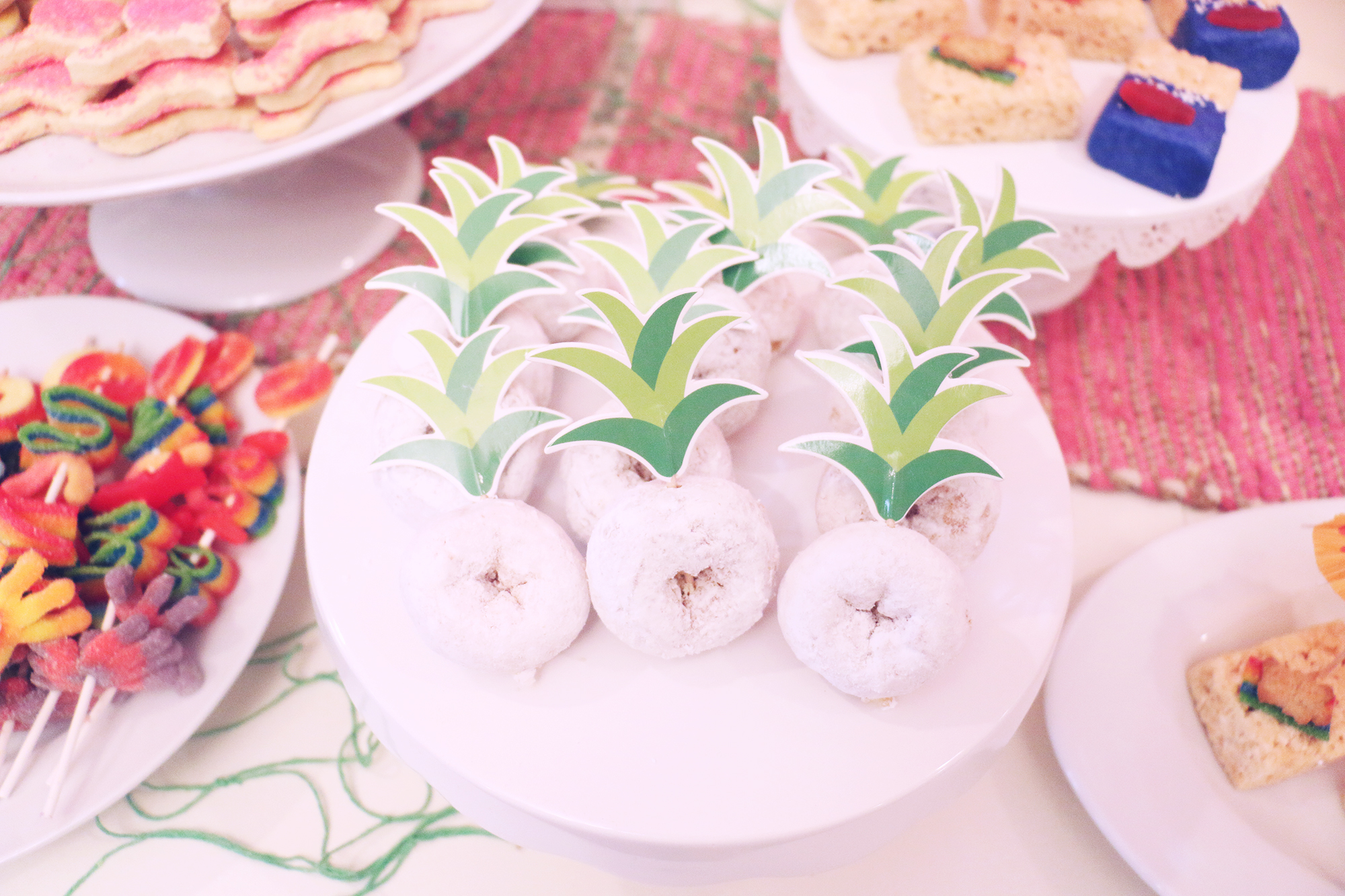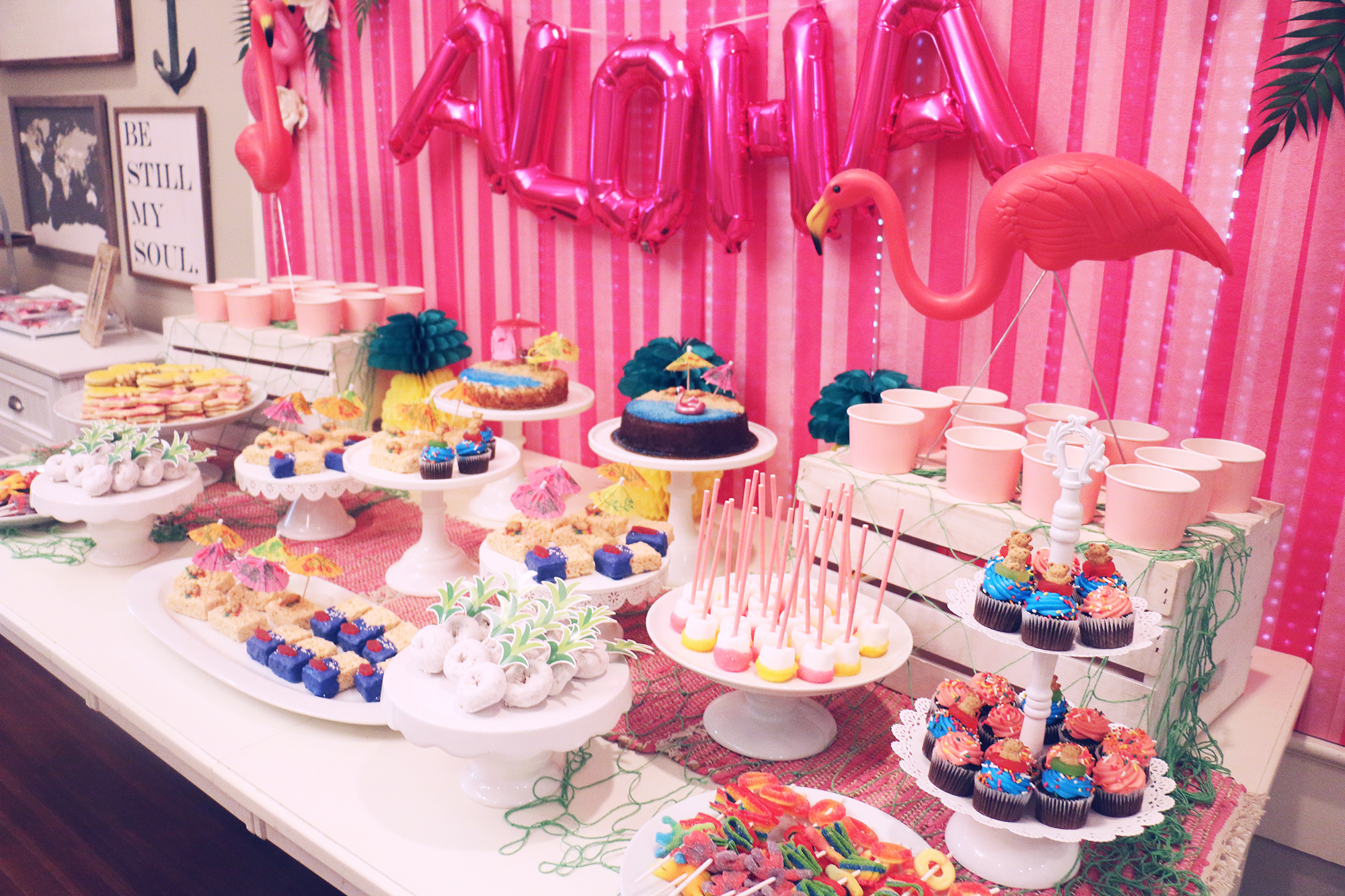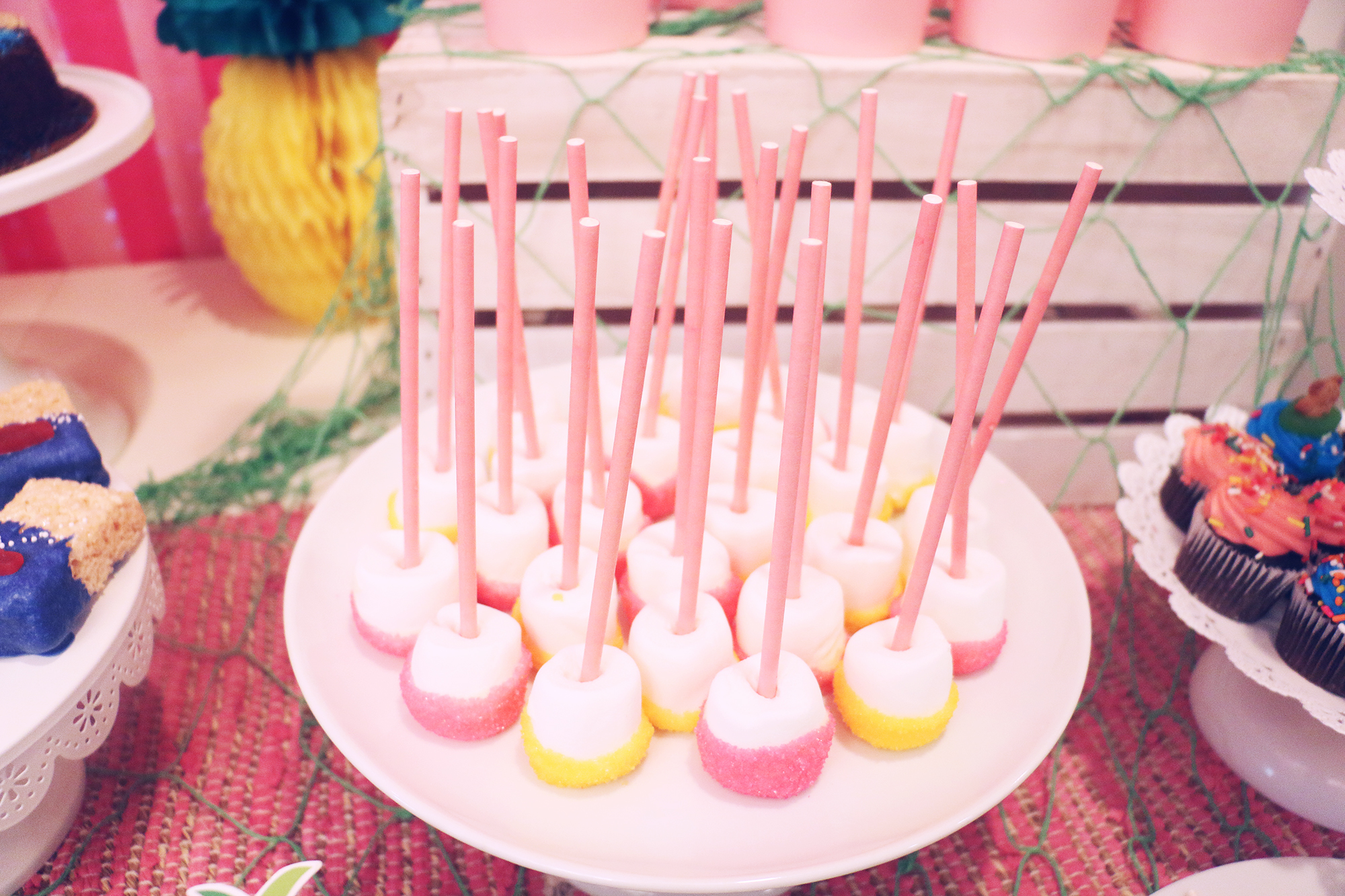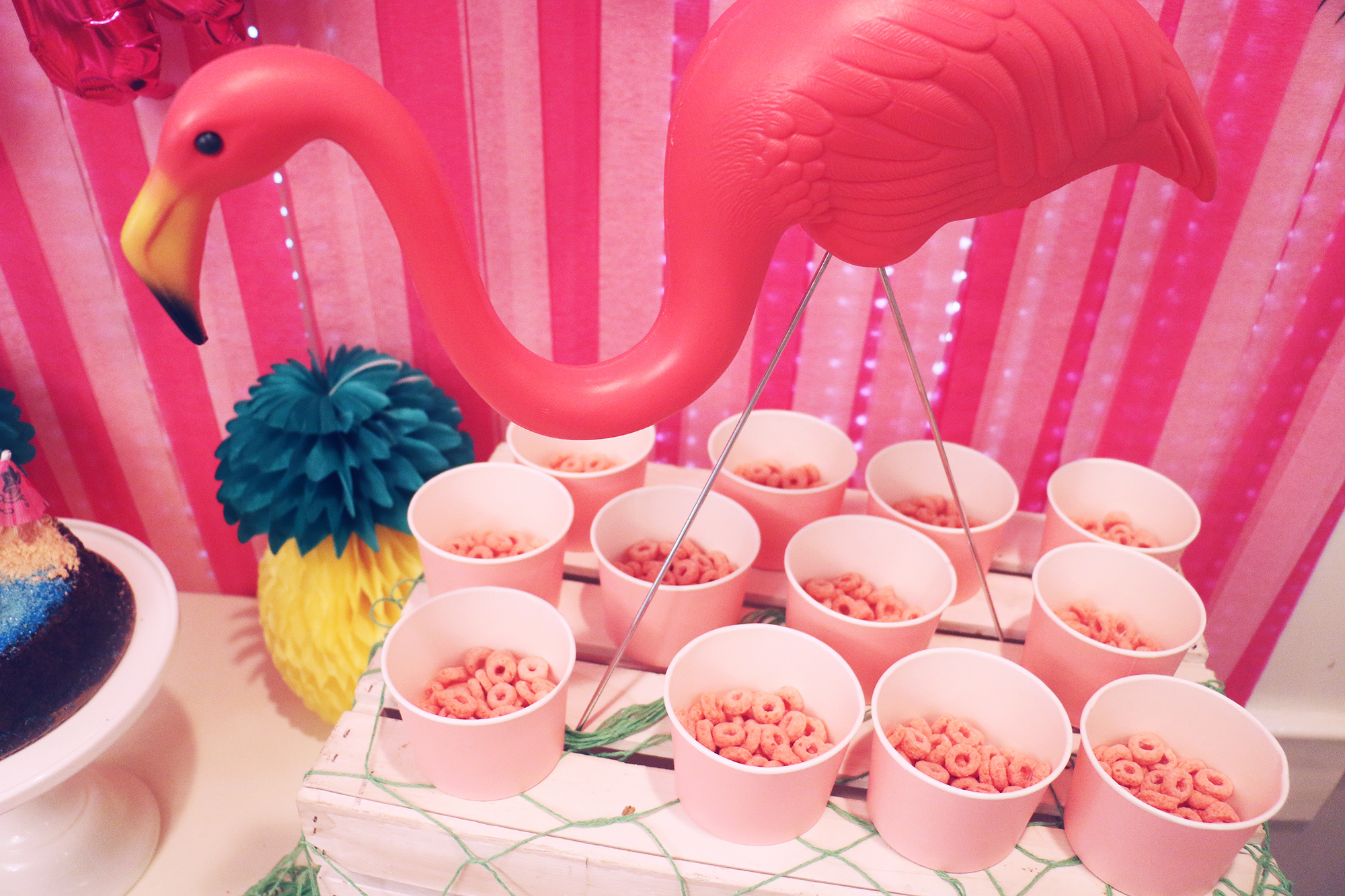 HOW I MADE THE BACKDROP
I knew I wanted to do something with inexpensive streamers!
I loved the idea of the stripes of pinks to look like abstract flamingo legs. see it? see it??
Ben ran to the local hardware store for me and brought back a big sheet of white Pegwood.
I placed it on top of our kitchen table (white side up) and started laying
strips of streamers on top, letting them hang over a bit and cutting them.
This part was easiest to do with an extra set of hands. (Ben's. lol.)
Once the board was covered I used packing tape (that we were using for packing…haha.) to attach it on the backside.
I then propped the table up on the edge of our windowsill and pushed the table against it.
We are lucky to have that work out to hold it up, but…because I worry, I added some string to the top with a nail.
I then hot glued flamingos I got at the Dollar Tree, pineapples from Hobby Lobby, flowers from Walmart
and Michaels and some greenery from Michaels.
The aloha banner was in the bargain bins at Target.
I used the grass table skirt(Hobby Lobby) across the top of the backdrop to add even more fun.
I loved how the light shined through the dots of the pegboard and gave a twinkle!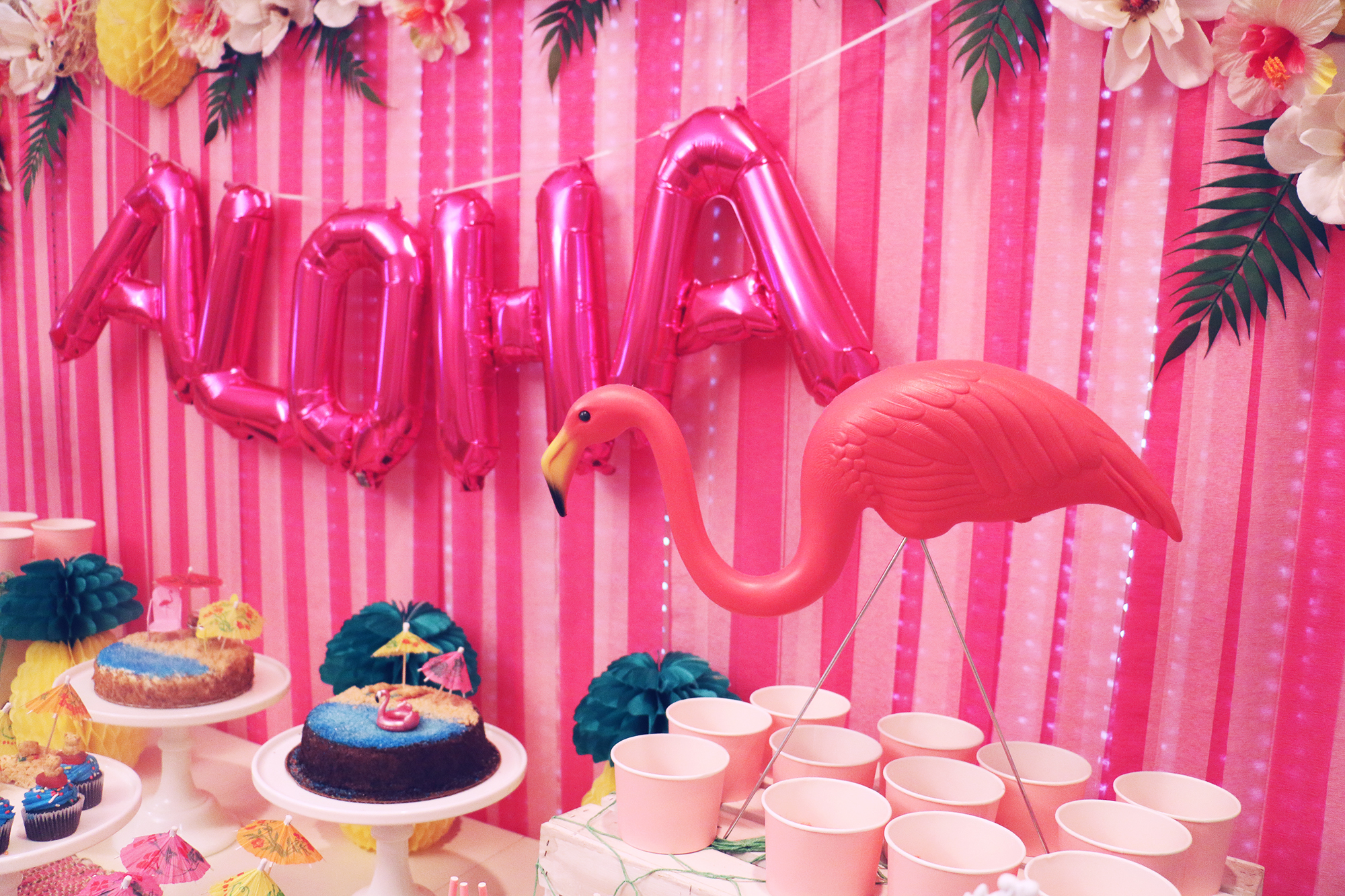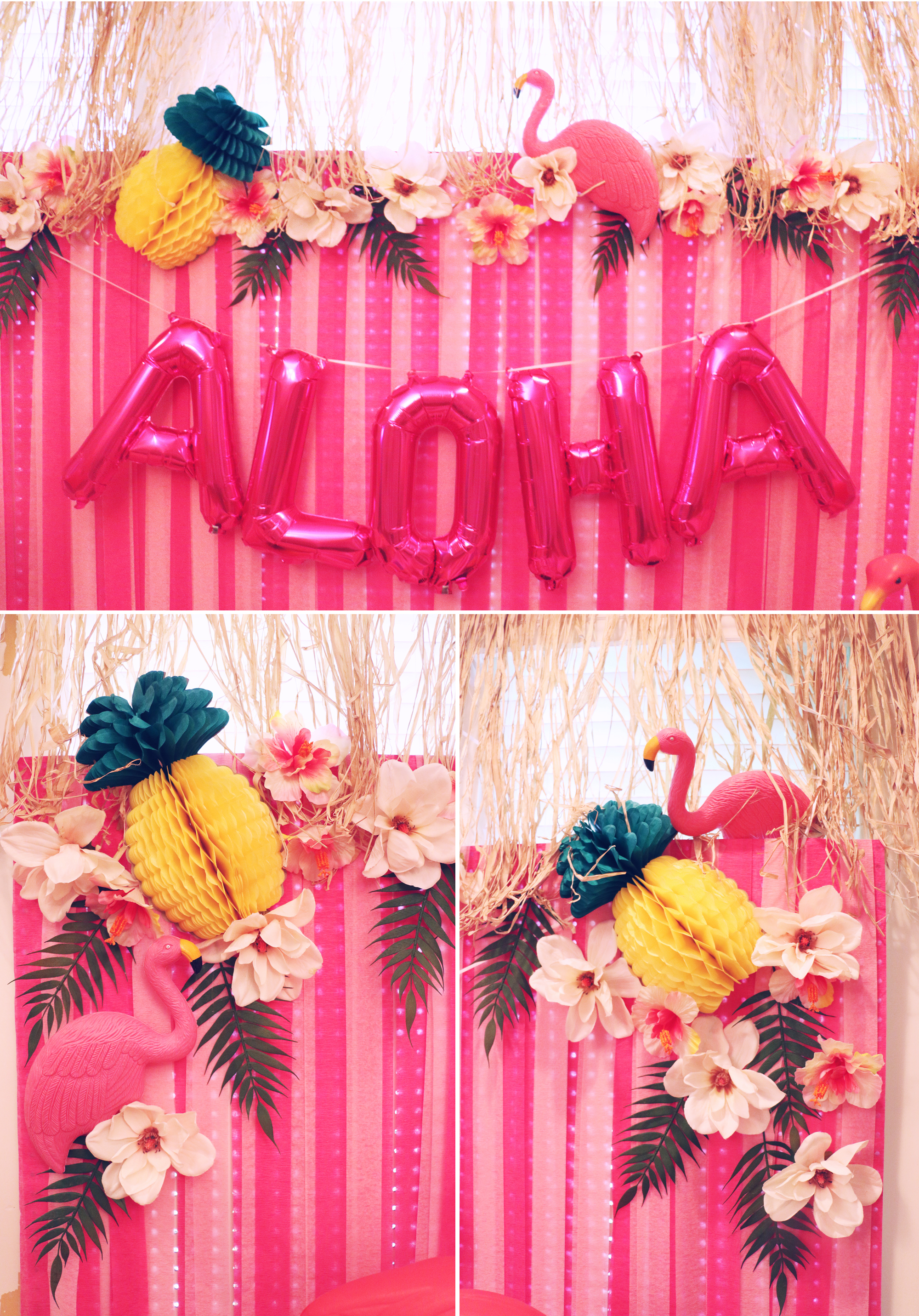 The kids had so much fun with their grass skits!
I snapped a few photos of them before everyone came.
Even without party guests there…it's a party at our house!
The kids' leis and skirts are from Hobby Lobby.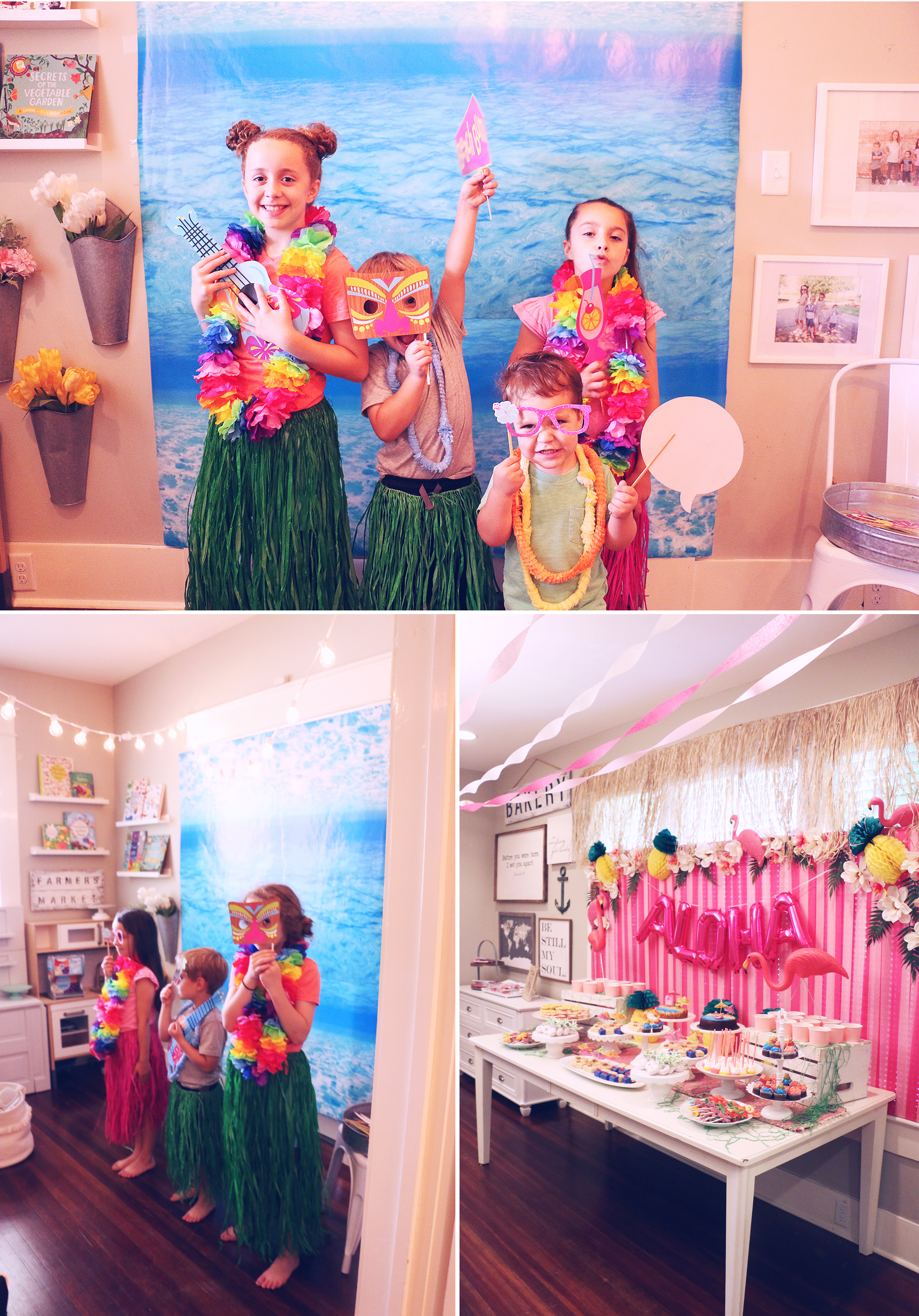 As kids arrived they passed out the leis (from hobby lobby)
They all ate treats, played through the house, had a limbo contest
and cheesed it up in the Photobooth area! 😉
I got a roll of blue ocean paper and a breach themed photo prop pack
from Hobby Lobby and it was a hit!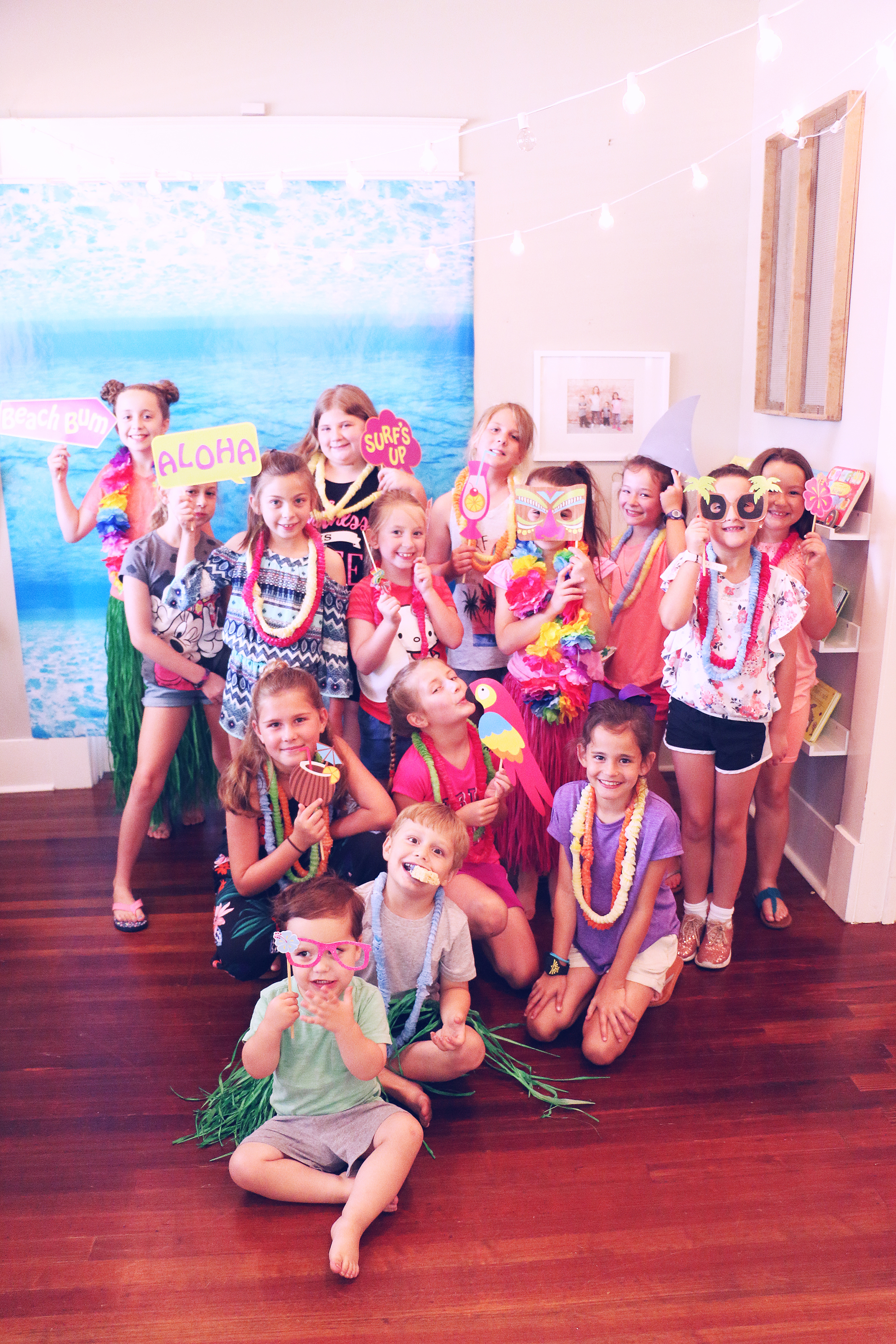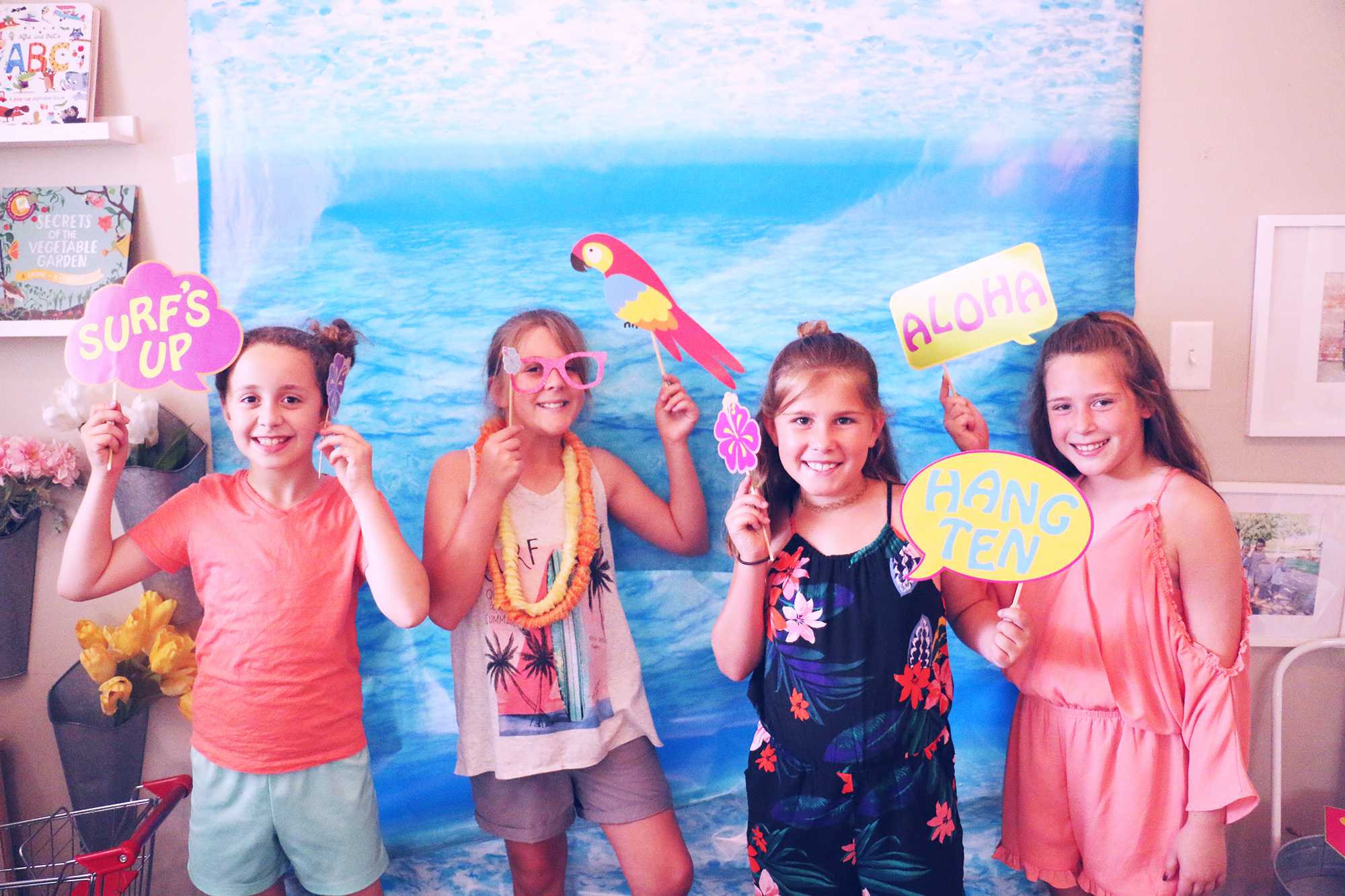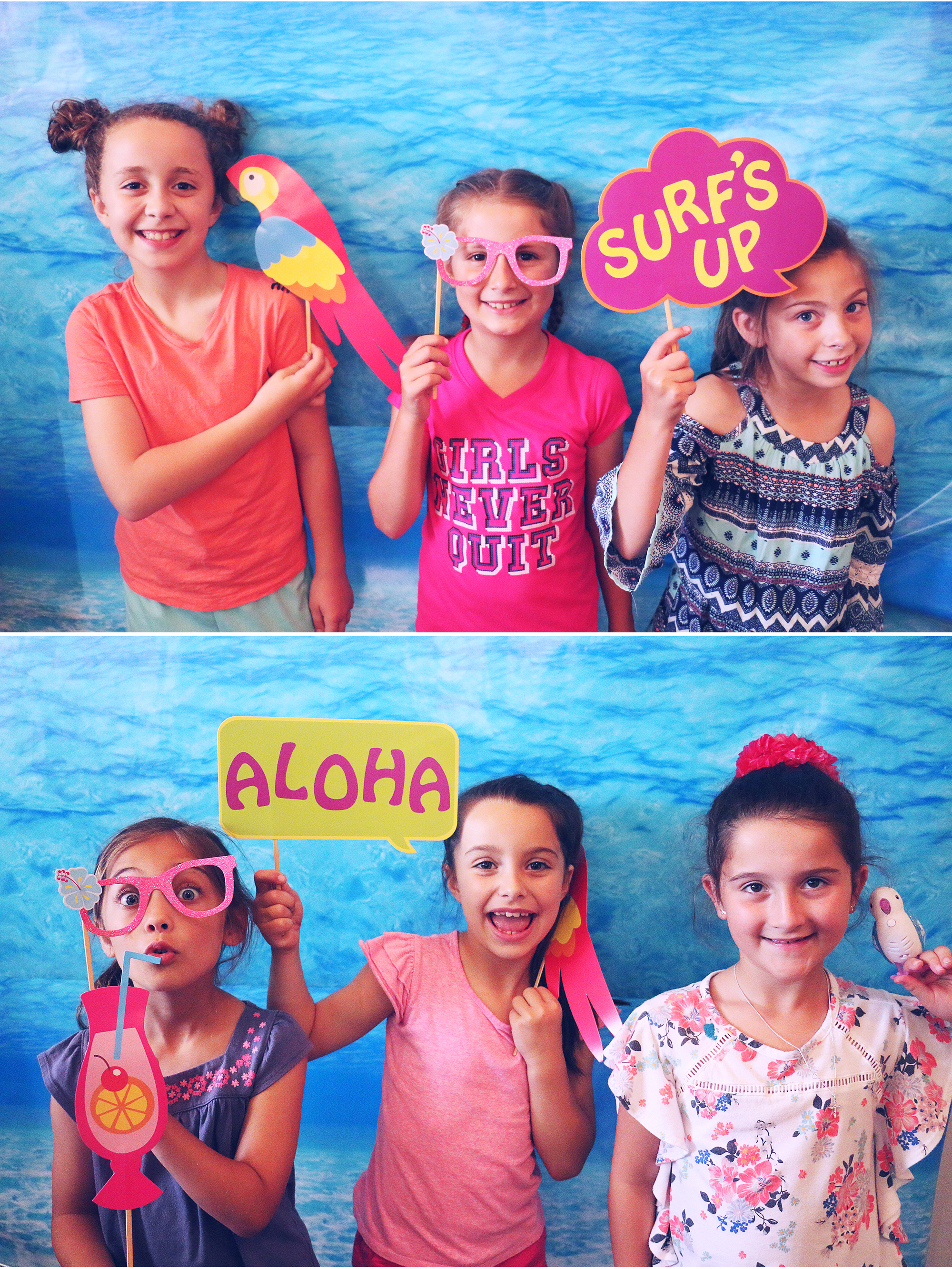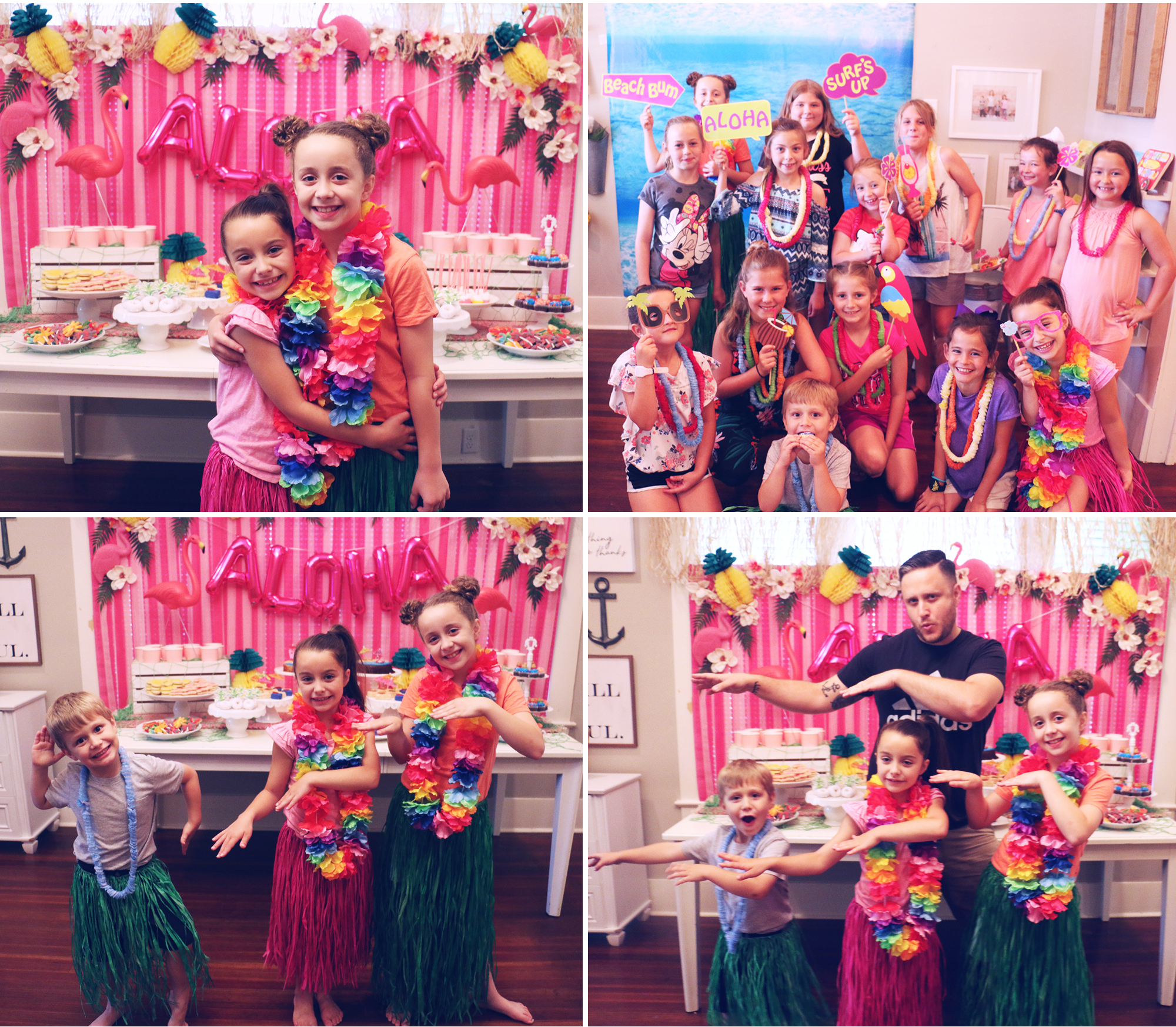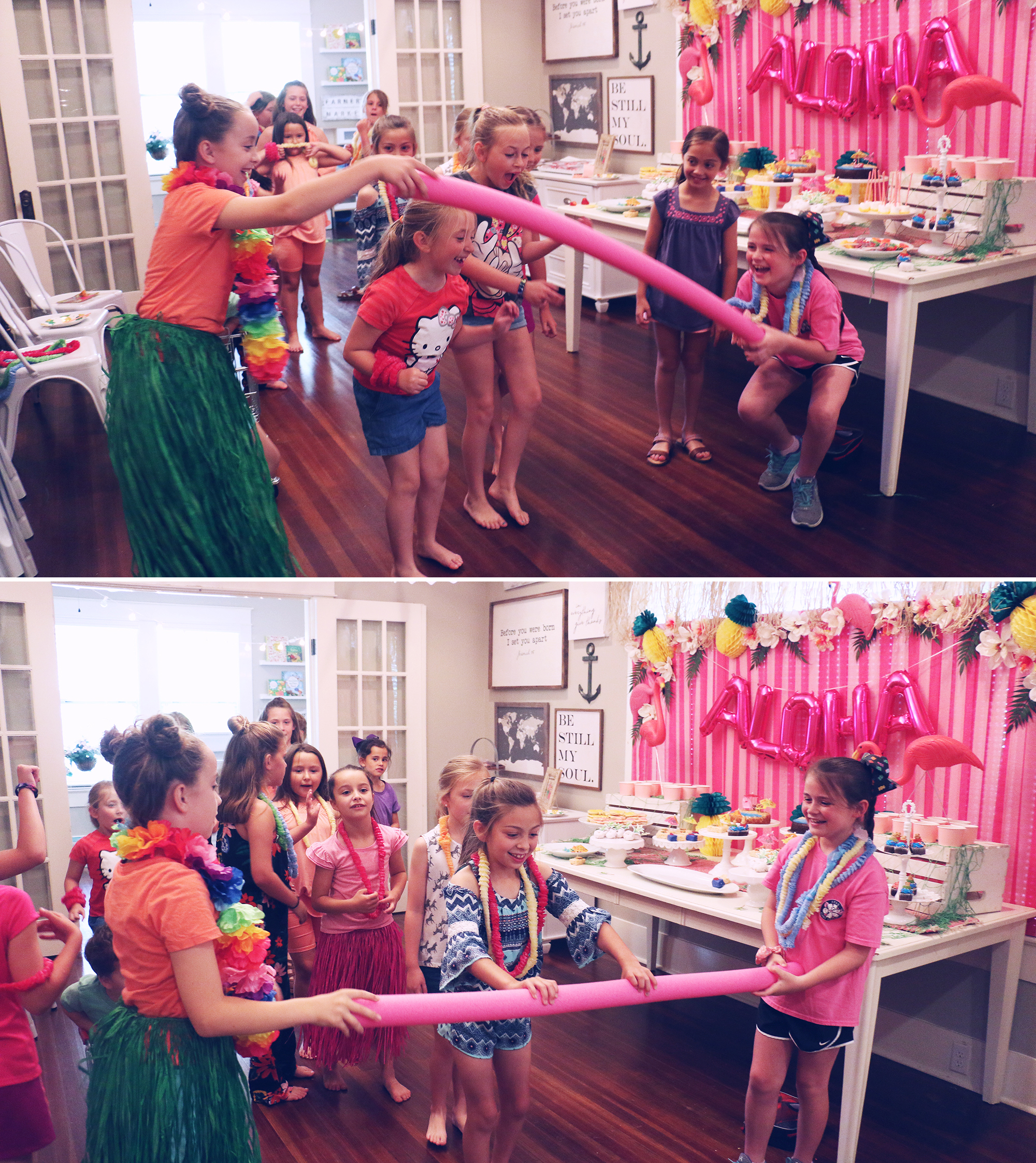 I had t-shirts for the girls' friends to sign before
we moved and we made up pen pal kits!
I'll be sharing the free download and full blog post on that soon.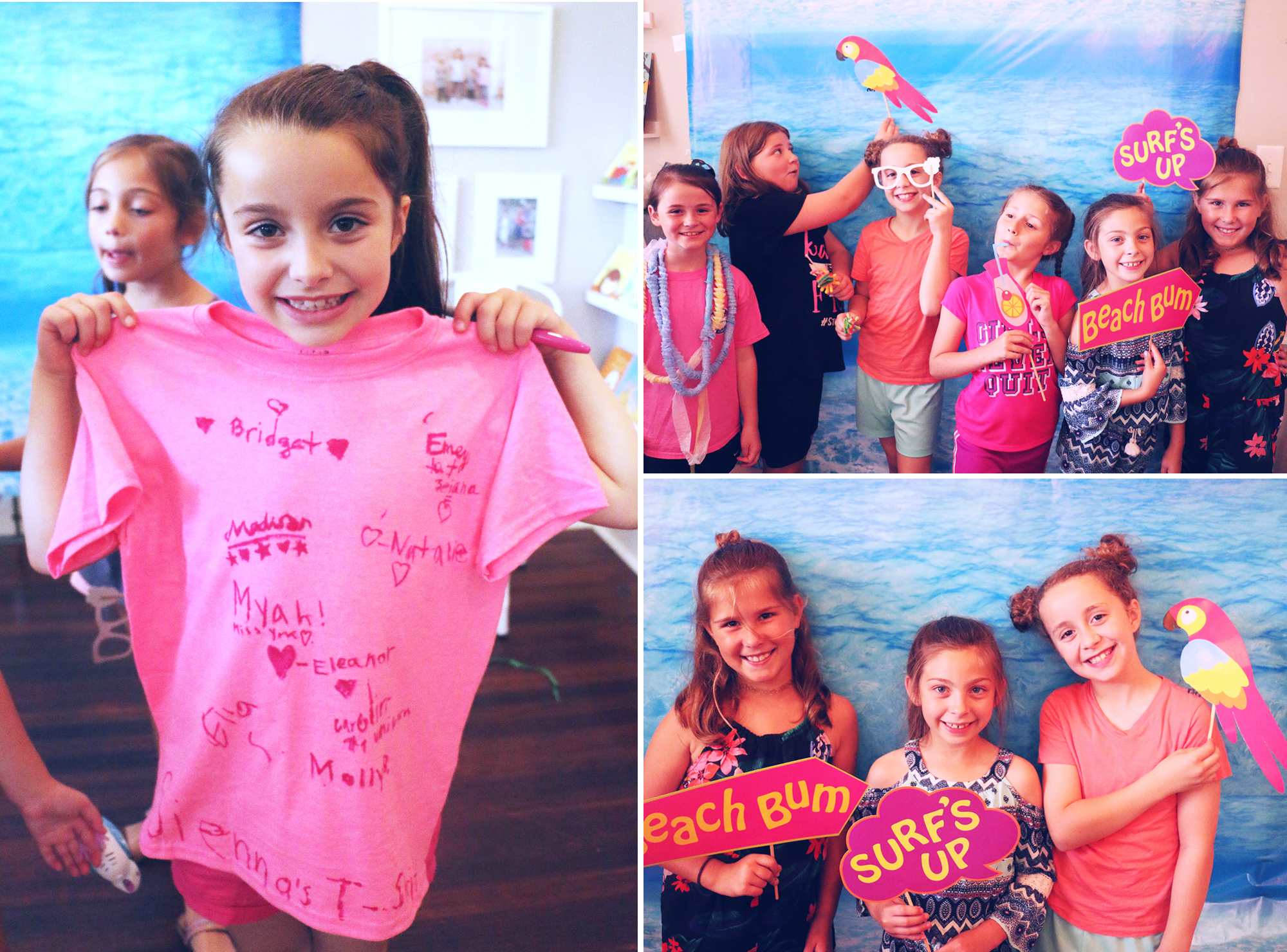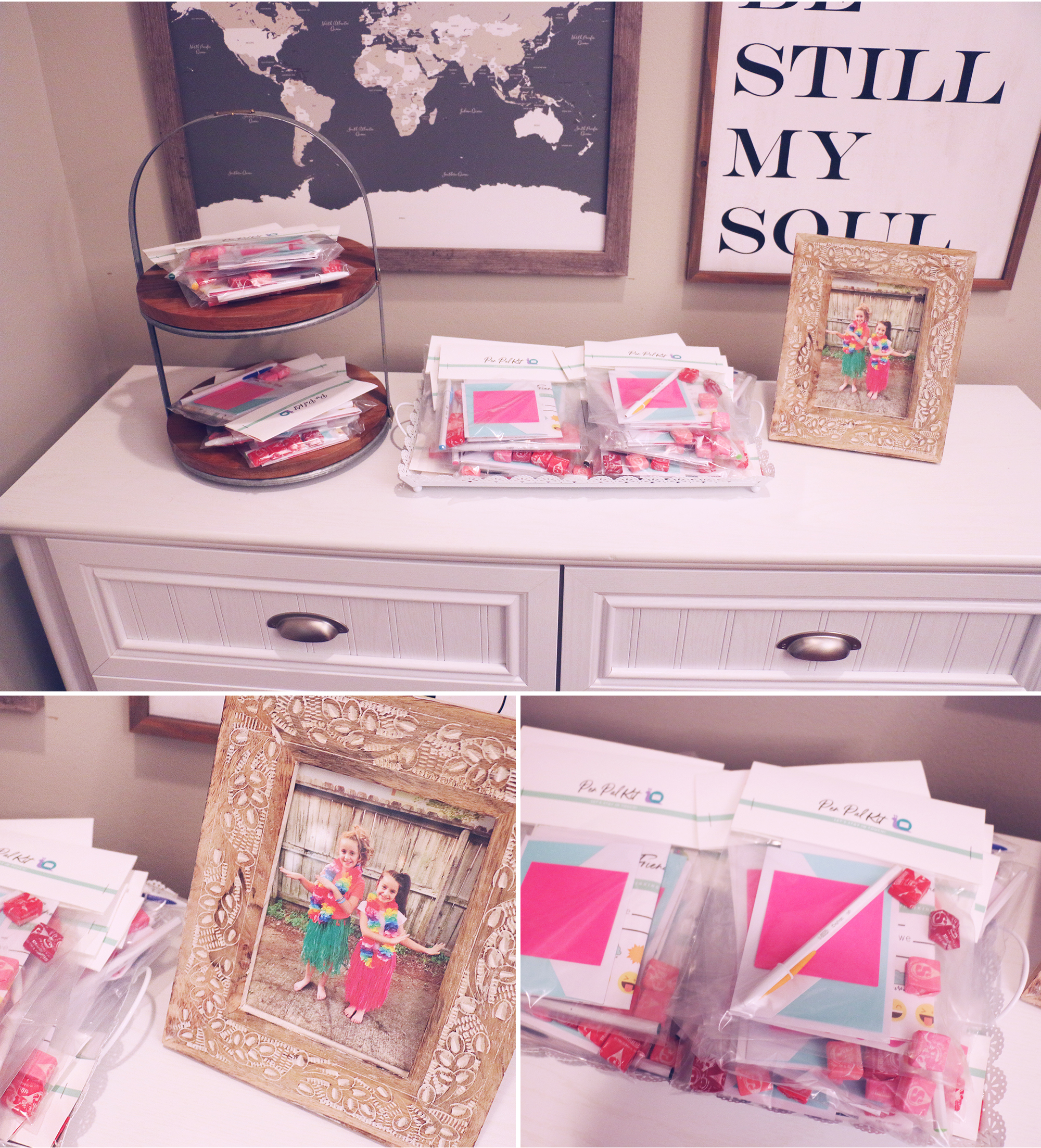 We jazzed up some store-bought cakes with a few themed details and the girls were so excited!
Sienna asked for chocolate cake and Sophia asked for Carrot cake.
Thank you Walmart for doing the baking. lol.
We had gotten some "fairy garden" items at Michael's back when they were on sale
and set up a cute little beach scene with them.
(The girls were excited to use these in their dollhouse after the party!)
We used crushed up graham crackers as the sand and shades of blue sprinkles for the water.
I love the gummy root beers in the bucket. 😉
It made me want to tear up hearing everyone sing the girls happy birthday… so many sweet little friendships.
Thankful they had this time together and glad we have facebook to stay in touch!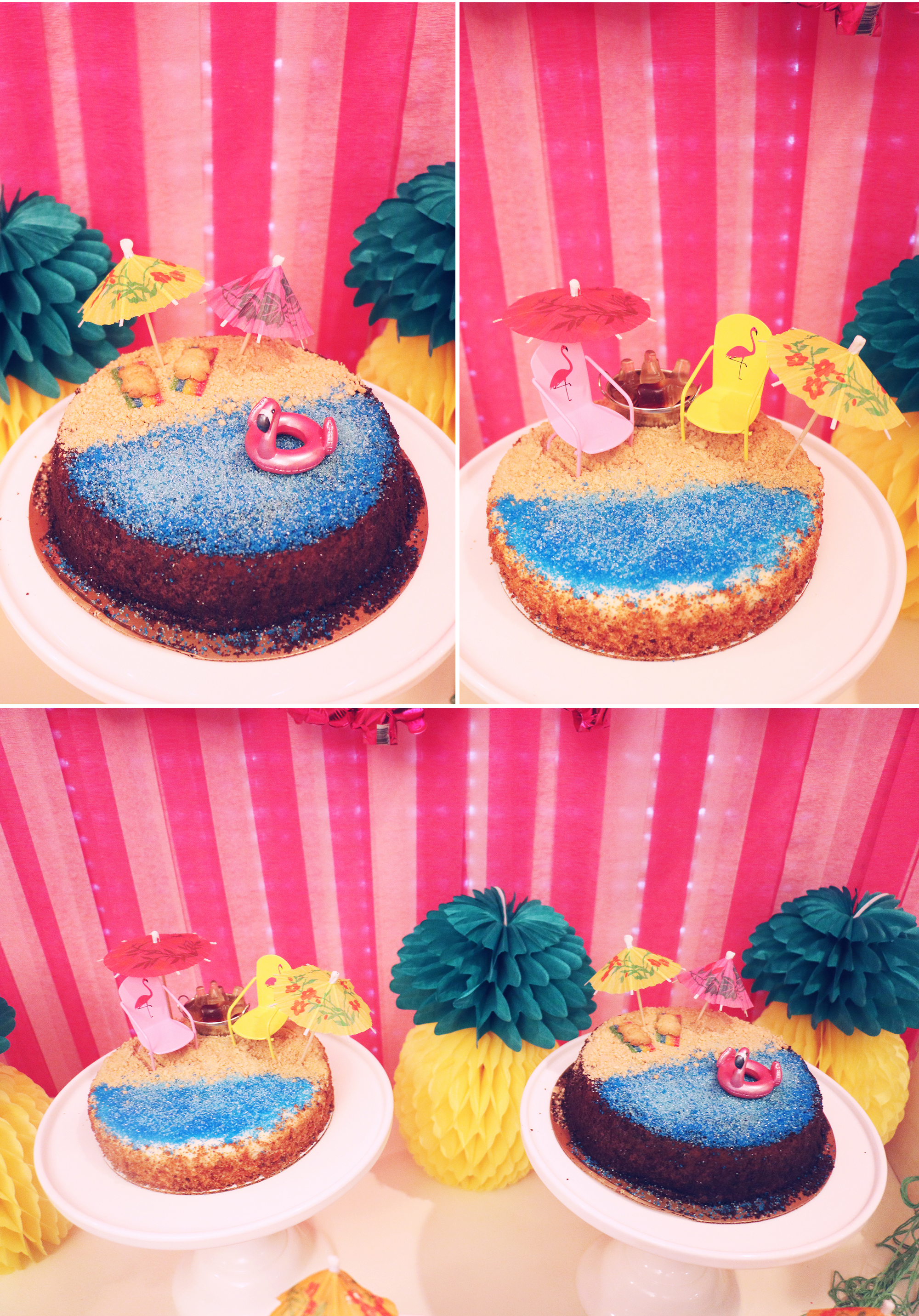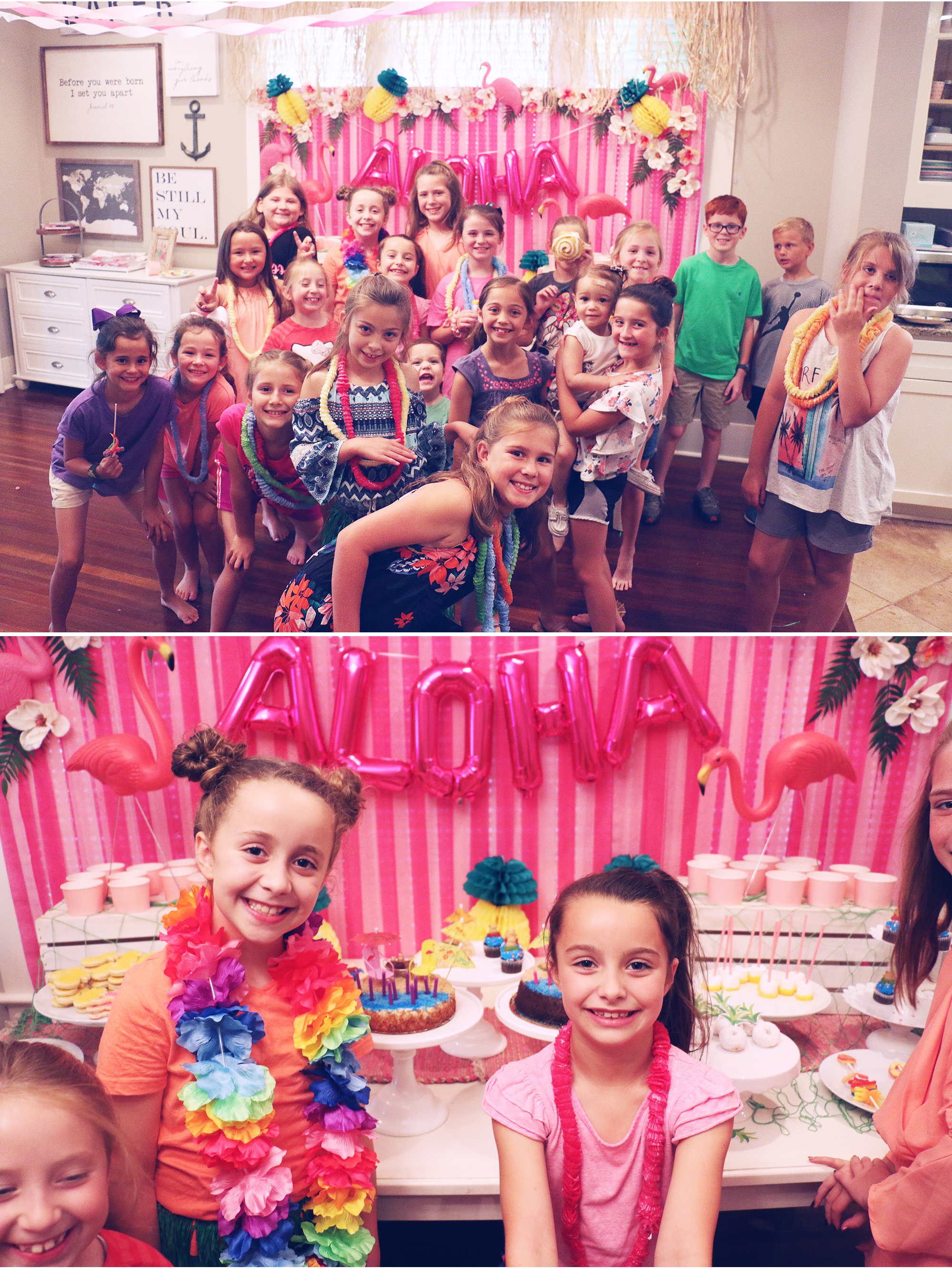 Thanks for checking out the girls' Luau birthday party!
Products in this theme are EVERYWHERE during the summer so
you'll be able to come up with some really fun party details for your own Luau!
We are planning to do a joint party for them here in
Charlotte with their cousins… Cause we like to party! 😉
But first, getting settled and house hunting! I'll do a post on the move soon!
If you aren't following us over on YouTube and Instagram we hope
you hop over and join the fun there.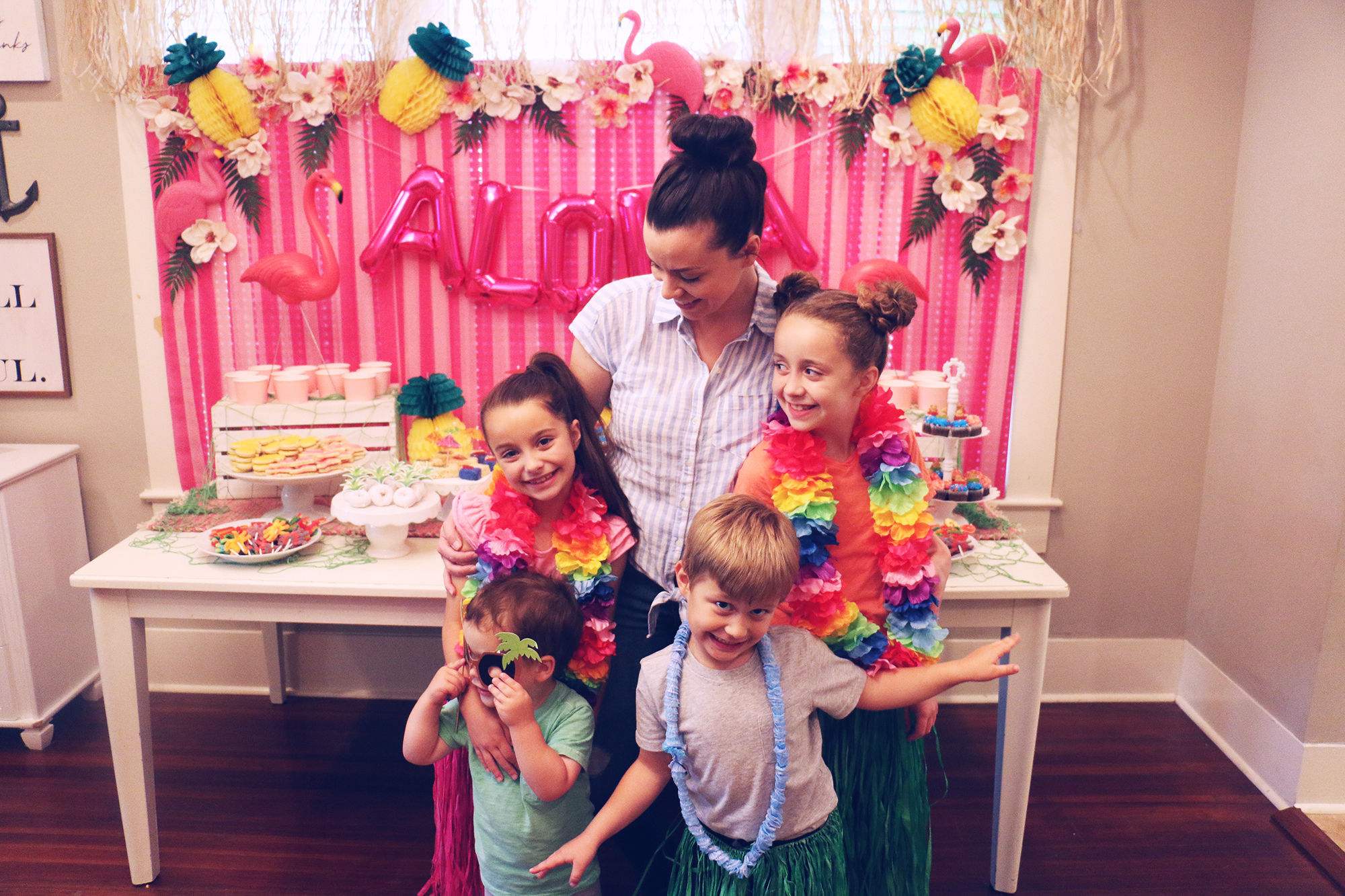 FREE Meal Gifting Printable
We all know someone who would appreciate a yummy home cooked meal delivered right to their doorstep! This gift idea is perfect for a family who just had a baby, adopted, is sick or as a random act of kindness! Grab my free printable!