We had a colorful Super Mario Birthday Party for our Micah Man back in November
and to use his second favorite word next to "classic"😏… He thought it was EPIC!
Oh, it's good to be six people!
He had a mash up of his favorite things- taekwondo, Mario, people and food!
Living his best life breaking boards and slicing cakes with swords.
As you do.
Today I'm sharing all of the DIY details and party fun!!!
Photos, videos, steps and sources!
This was the first birthday that I put together for my kids that was NOT at our home.
(I had 30 minutes to set this up before people started to arrive!)
Keep on reading for all the party details and to get ideas for your own Mario Themed party!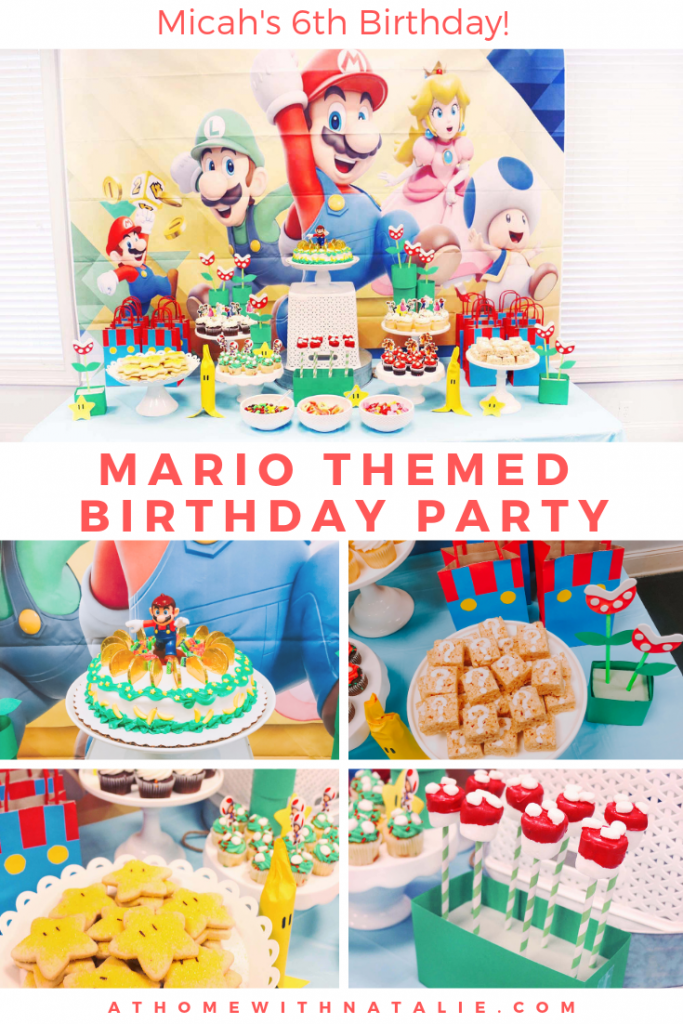 WATCH THE VIDEO—> Micah's Mario Themed Birthday Party
Micah's Mario Themed Birthday Party
Setting up the party on location went pretty smoothly since I made a plan beforehand.
I had generally "mocked up" the party table on our own kitchen table the night before…
to see how I liked it and to picture what cake stands I would need for the treats.
(This way I didn't get to the party and realize I was missing something!)
I packed everything up into some boxes/bins and had them ready for the next day!
Having it all mapped out already in my head made it come
together super fast, which is good because I only had 30 minutes!
I knew that I needed an easy backdrop that I could set up in minutes.
I ordered a Mario themed backdrop off amazon and attached it to
the photo backdrop frame we already had. (Also from Amazon-linked a similar one.)
SO easy to set up. You can do this too! Just simplify and prep before hand.
I had a bin of my little DIY paper crafts I made (more on those below!)
and then I used that bin to add some height to the table for the cake!
I also used a metal tray from Target to add height.
My cake stands are from Zurchers and Target.
I have a whole collection of them that I love and use all the time.
The table cloth was just a simple plastic blue one from Walmart. I doubled them up!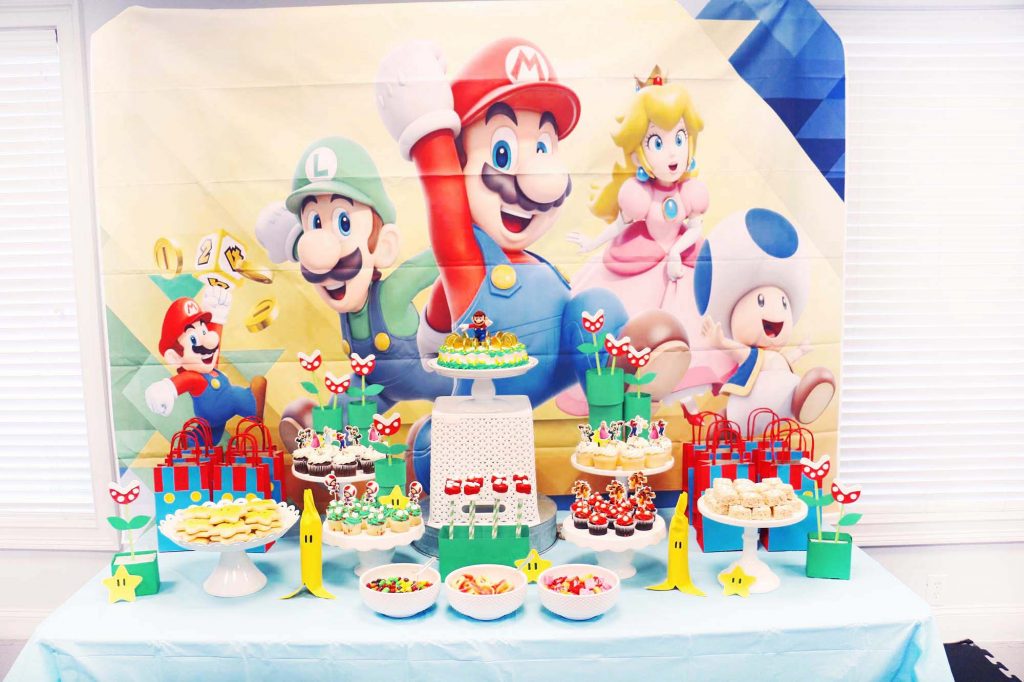 Micah was a happy guy. 🙂
If this wasn't a 6 year old's party I might have steamed that backdrop haha…
but… it was a 6 year old party.
we good.
Happy birthday to our sweet boy we adore you and all the joy you bring to our life!
You're my favorite 6 year old!!!!!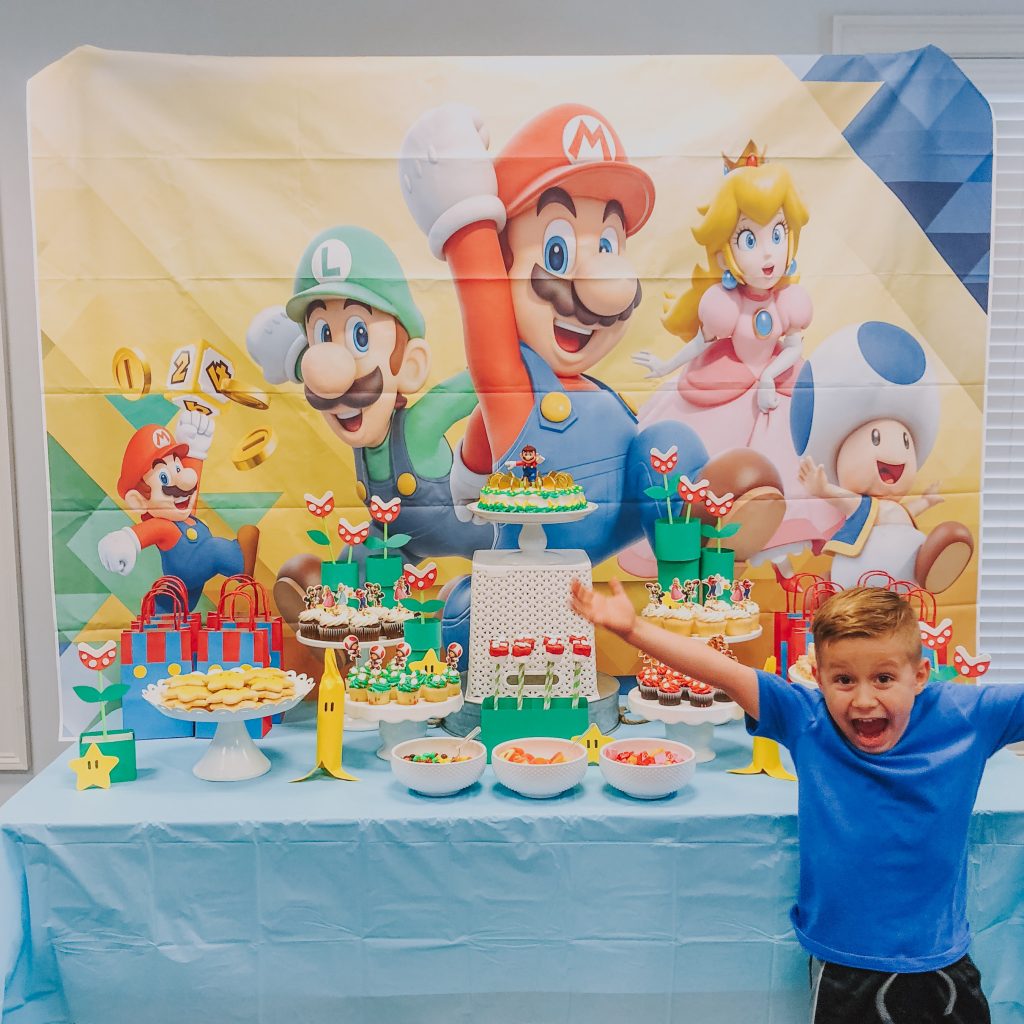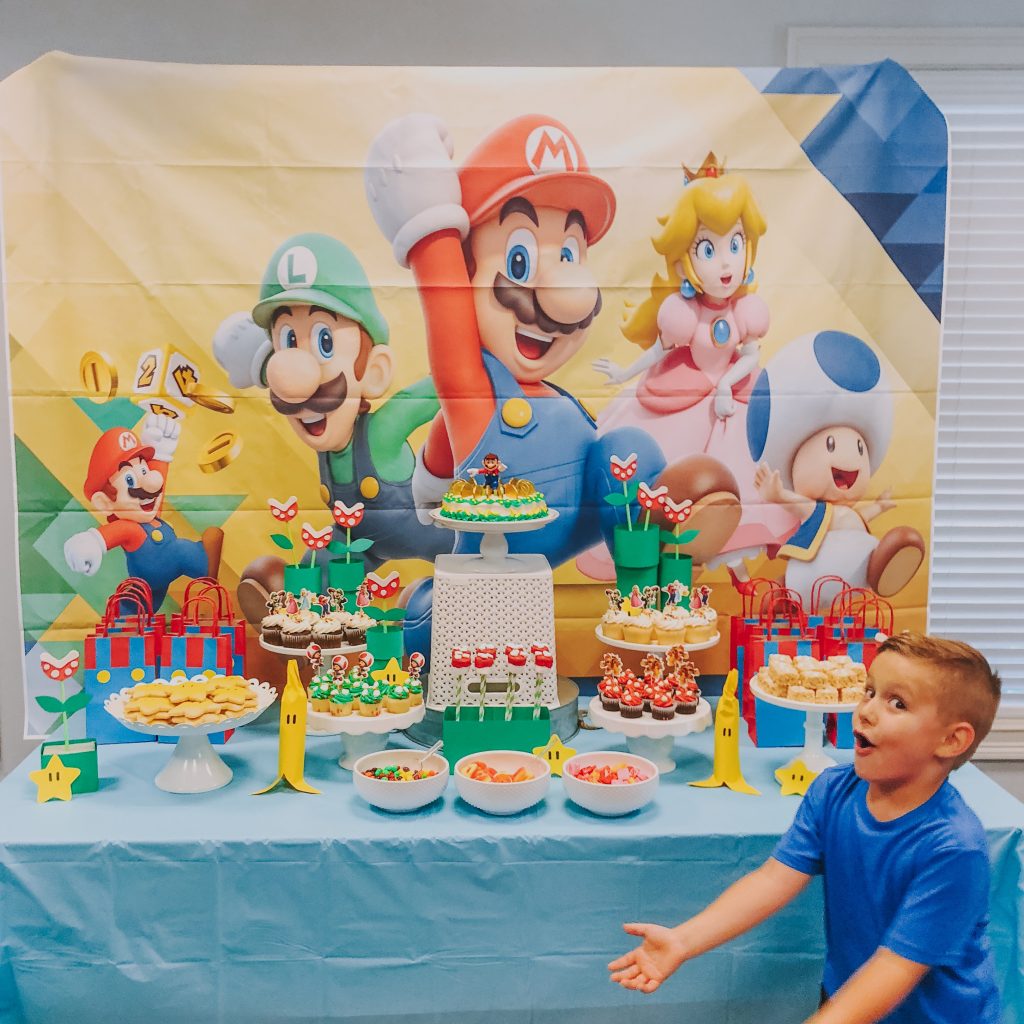 THE TREATS:
If you have been here a while… you know I love a dessert table!
But I also have 5 kids and work and so I try to get clever with what I plan.
Most of the treats were store bought that I gave a little makeover to. My specialty!
The only thing I made from scratch were the star cookies and the dipped marshmallows.
All the treats were from Walmart. One stop shopping mamas!
I bought a pack of red and green mini cupcakes…
with plans to add mini marshmallows to some… and white chocolate chips to others.
It was Christmas season so I just washed my hands and took
off the white snowflake sprinkles they had on the mini cupcakes.
I got some plain white frosted cupcakes as well and
added the Mario themed cupcake toppers I got off Amazon.
It was a variety pack and I just used a mix of them across the cupcakes. Kids love toppers!
I brought three of our cereal bowls (from Target) and filled them with candy.
Peach Rings for Peaches. Skittles for Yoshi.  and Starbursts for the stars.
The kids (and parents) slammed those bowls. haha.
Something about a little scooper that makes kids happy too.
I have a few different styles and sizes of them for situations just like this.
(Michaels, Target and Walmart all have them)
I bought a box of the square Rice Krispie treats and a tube of cookie icing.
You just microwave the icing for a hot second and then pipe on the question marks.
I wasn't so sure about these (Pinterest fail maybe? haha.)
but they were a FAVORITE on the table. So… just shows you never know! 😉
I baked some of our favorite sugar cookies up and used a star cookie cuter.
I pulled the cookies out of the oven, sprinkled a little more yellow sugar
and then once they cooled, added the chocolate sprinkles for the eyes! (jimmies!)
Micah's heart was gonna burst when he saw those. I mean. He was pumped.
Once the little boys went to bed I pulled out the marshmallows (they legit freak over those babies.)
I had bought some cheap floral foam blocks from Walmart to be the holders of my marshmallows!
I wrapped them with green card stock paper to make them look nice.
Using my green and white stripe paper straws that I already had,
I dipped the marshmallows into some red melting chocolate.
While they cooled down for a second, I sliced some mini marshmallows in half..and added them to the tops!
My kids woke up to them and flipped. Mission accomplished.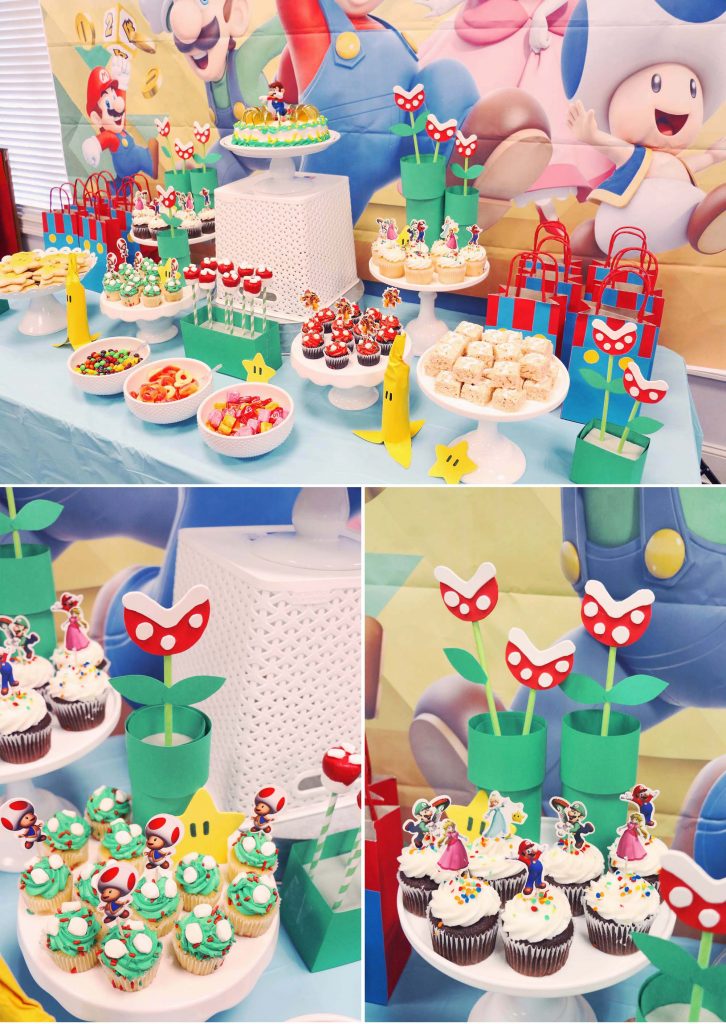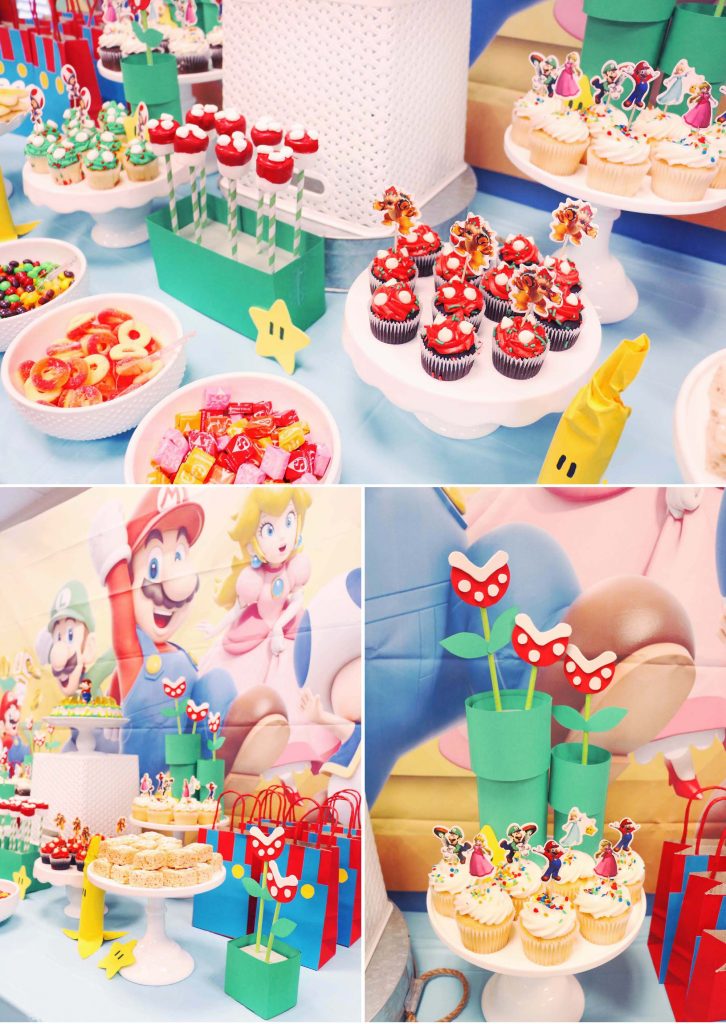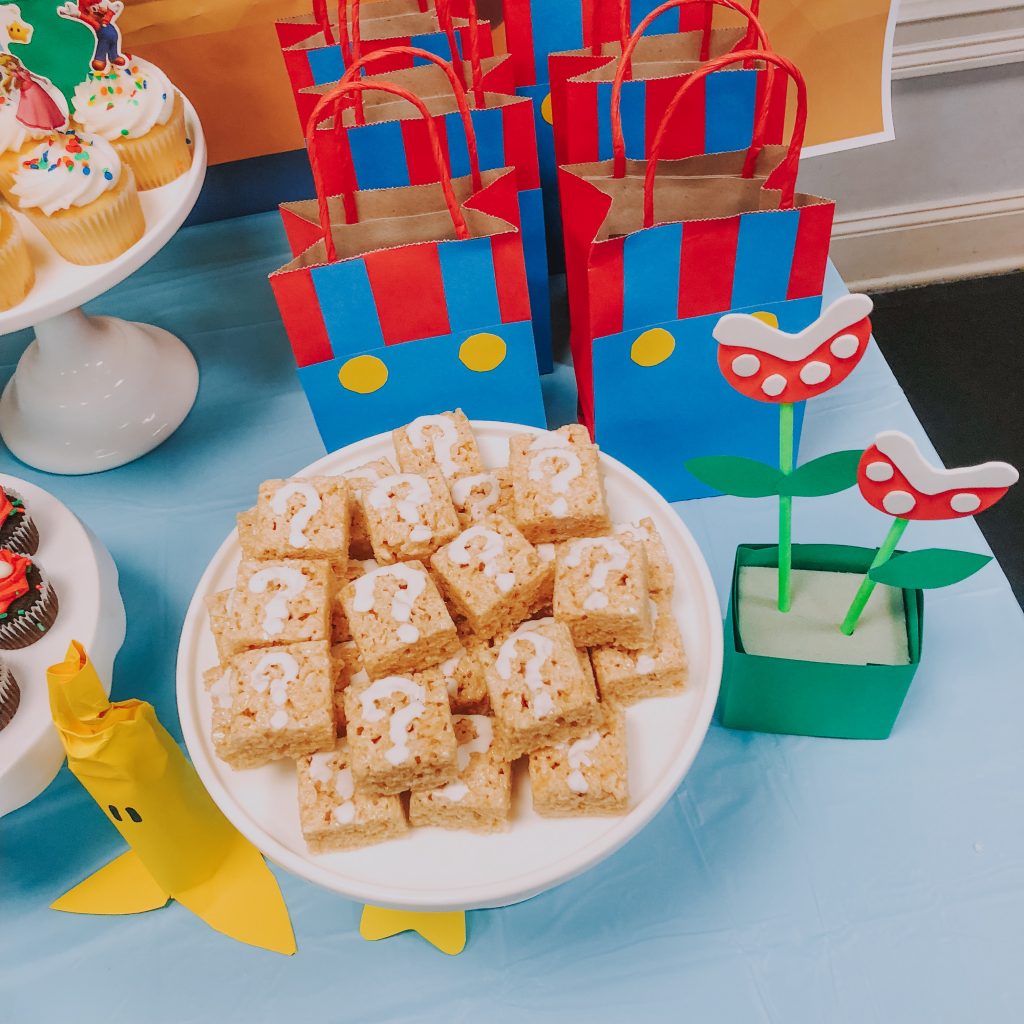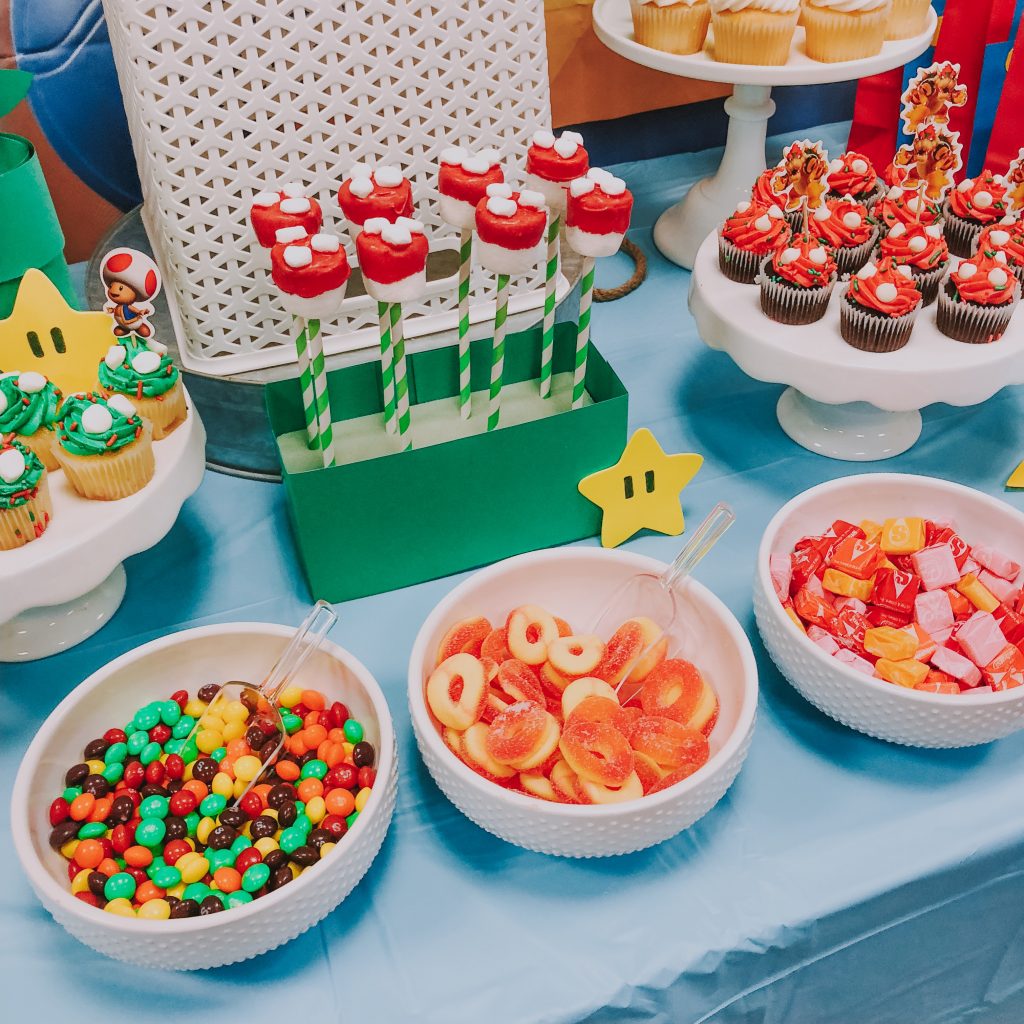 THE CAKE:
For the cake, I knew I needed a store-bought one that I could jazz up!
I found the perfect one at Walmart and grabbed some chocolate candy coins for decorations.
I had yellow stars and banana sprinkles from other projects and thought those would be perfect to add to it!
He had requested candy on his cake so I used our favorite rainbow airhead xtreme bites.
I got a Mario figure and that's all Micah needed in his life. 6 year old dreams came true.
I love doing toppers that are toys so that they can hold
onto them after and have the fun memory of their birthday party!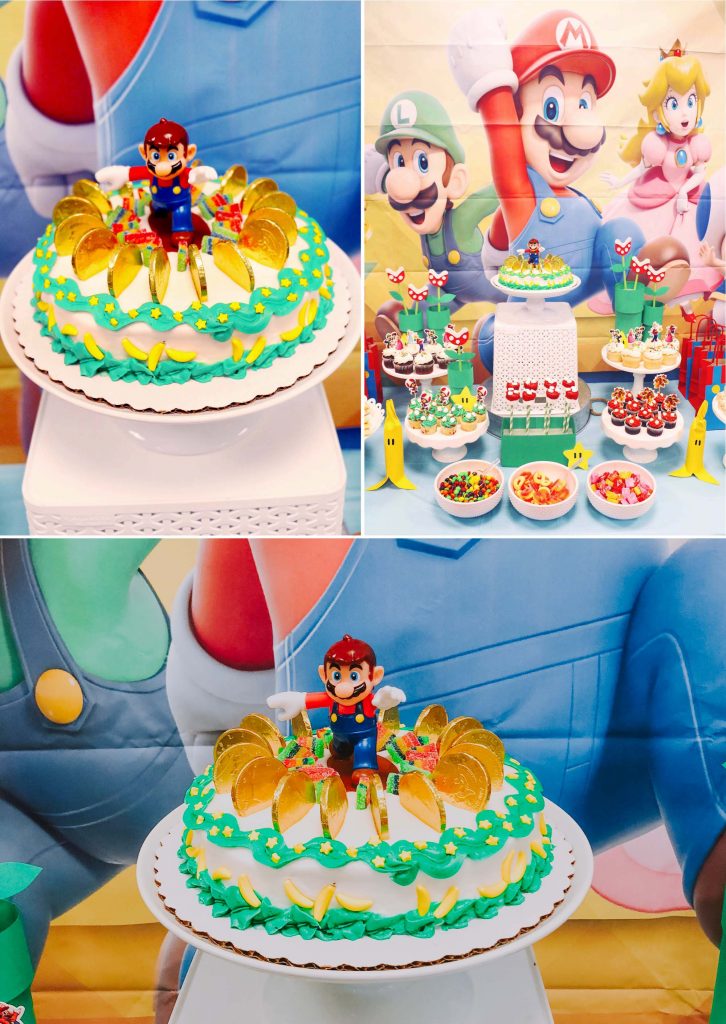 THE PAPER CRAFTS AND PARTY FAVORS:
I wanted to create some of my own chomp plants for the table!
Just needed a few materials:
+Pack of colored card stock paper (needed the green)
+A pack of foam craft sheets (it was a multi pack but just needed white and red!)
+Green paper straws (already had)
+Floral Foam at different heights (cheap at Walmart!)
I just cut out the foam into my chomp plants (hot glued them together) and used the
card stock paper for leaves and to wrap around the floral foam.
I did one wrap of the green paper and then another around the top but made that
circle a little bigger and taped to back: so I could get that shadow! Hopefully that makes sense.
I'll try to do a tutorial on it another day with photos I took of the steps!
I used the same foam craft pack to make the stars on the table!
I just used my star cookie cutter for the perfect shape and then added eyes with a sharpie.
There was a cool paper banana craft on Pinterest but they were kind of a pain for me…
so I left it at two. You get the idea. haha. I wasn't as patient!
I got REAL bananas to place across the kids' table! (You can see it in the video above!)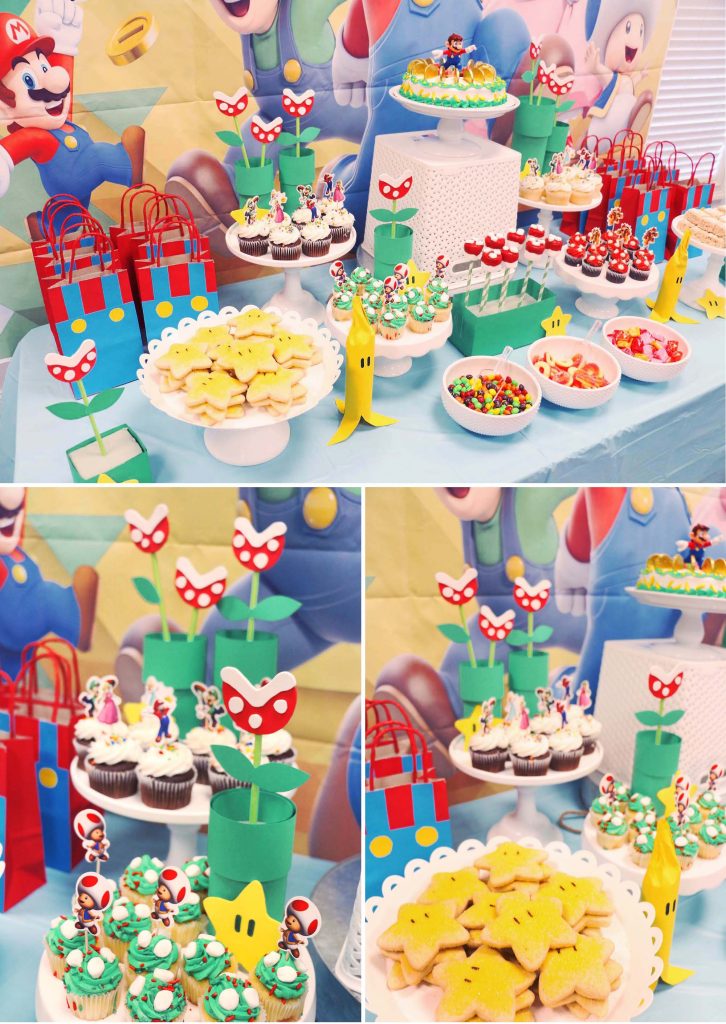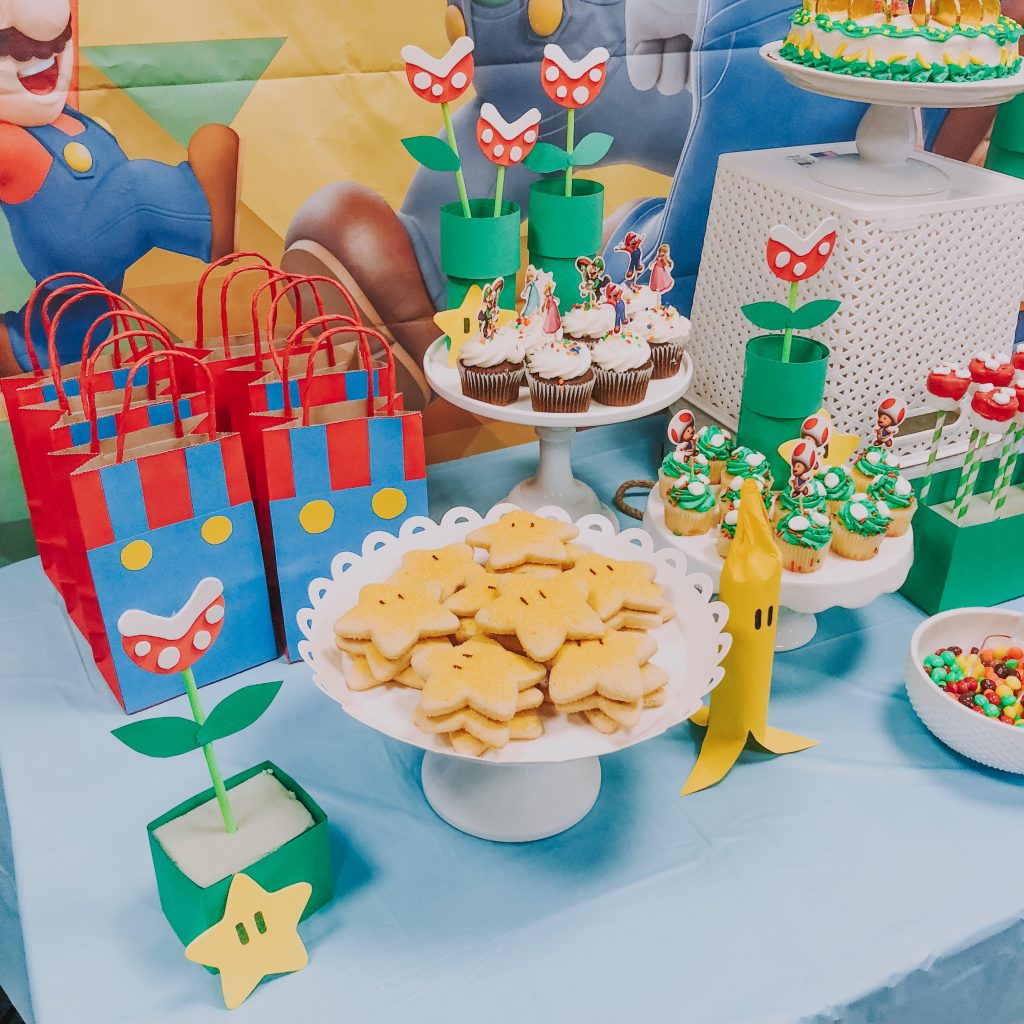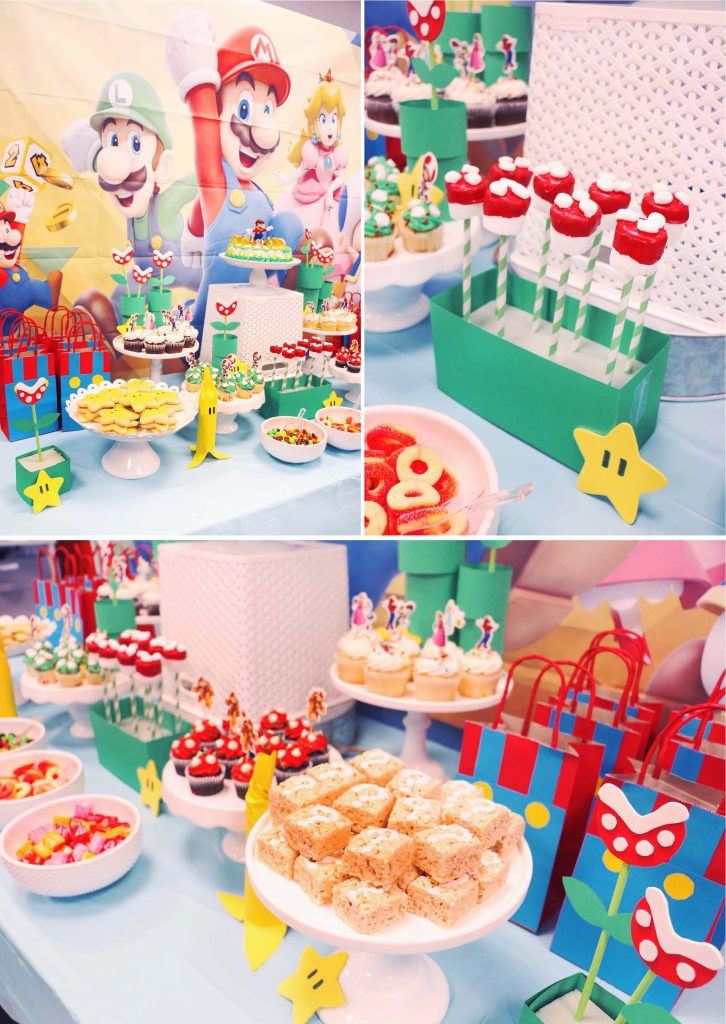 I made Mario themed favor bags with red party bags and adding blue paper to the front.
I cut out yellow buttons and glue sticked them on. Micah helped me with this project!
He filled up all the bags with skittles, starbursts and Mario themed party favors from Target!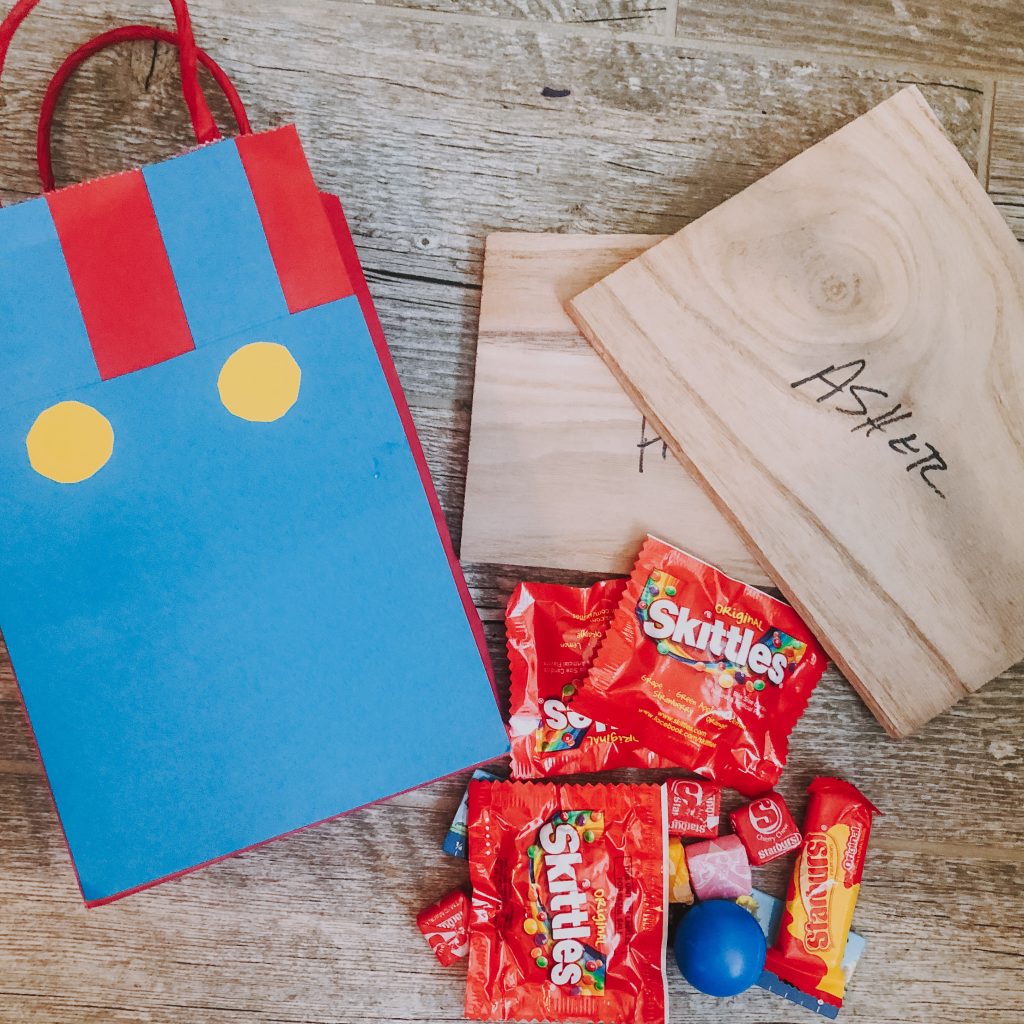 It was a fun day and I LOVED having it where he takes Taekwondo!
Master O ran all sorts of fun games and activities for the kids.
And Micah got to slice his cake with a sword and get his special black uniform!
He will never forget it!
I also LOVED…coming home to a clean house. haha.
Thankful for family, classmates and friends who
could join us in celebrating our Micah man!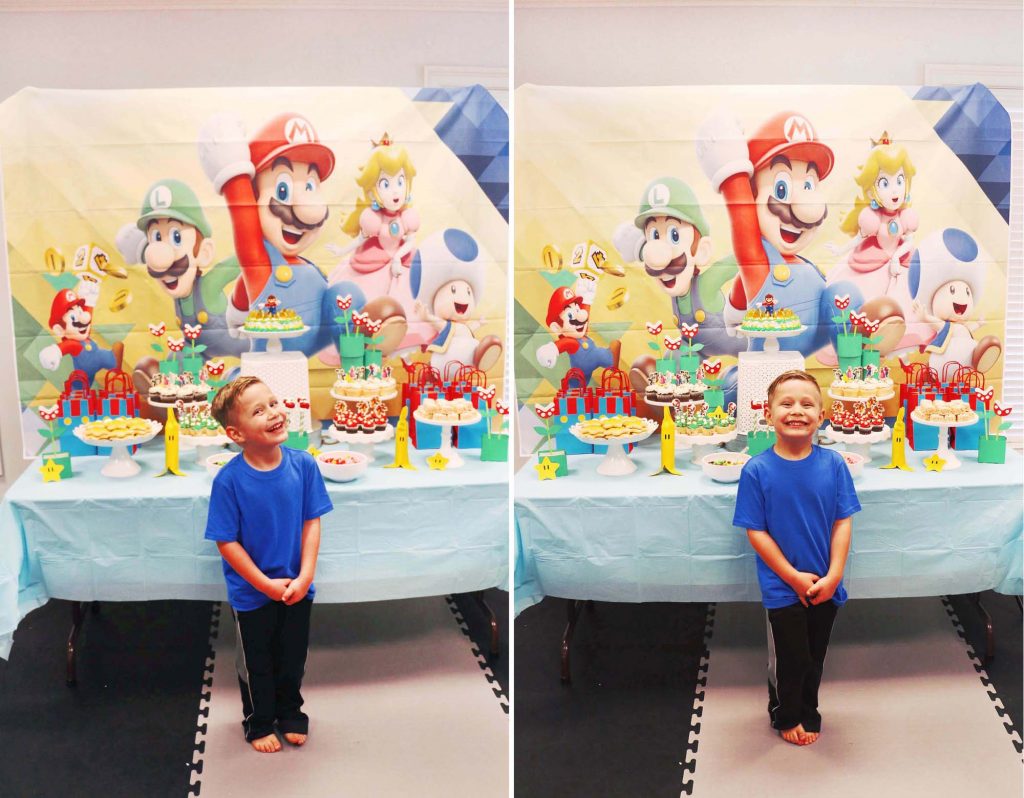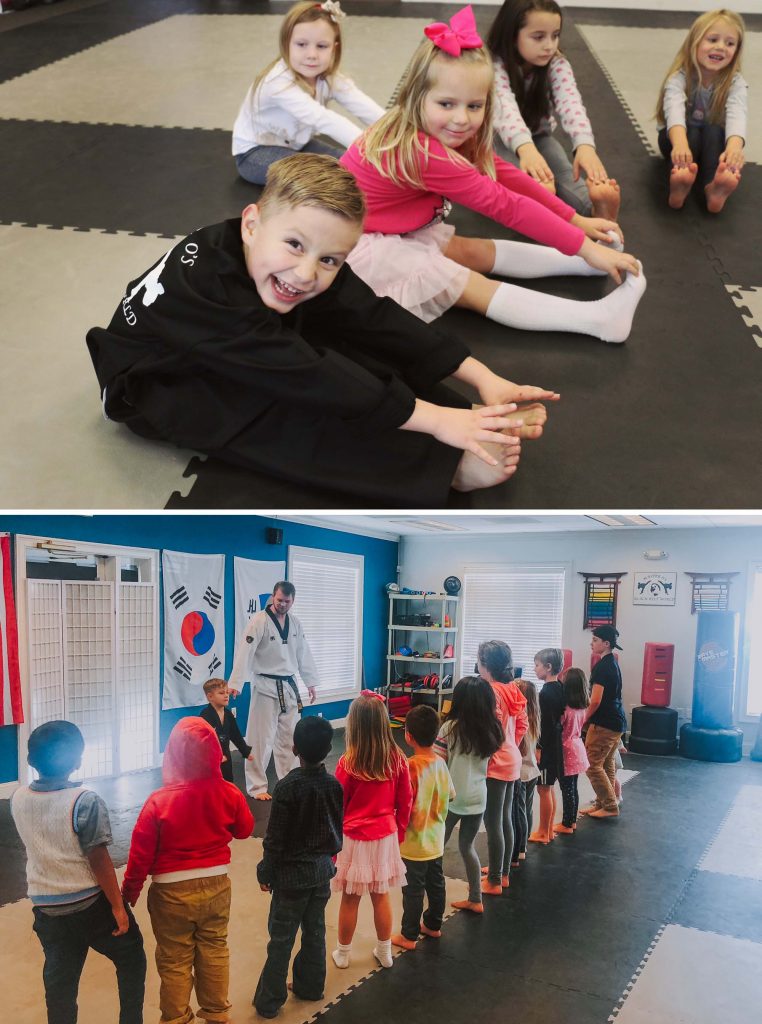 Micah was Mario for Halloween…
so you KNOW he was gonna wear his costume if he had a chance too. 😉
When everyone came in for cake and pizza we passed out mustaches and it was cracking us up!
Micah really got into character and posed it up for us.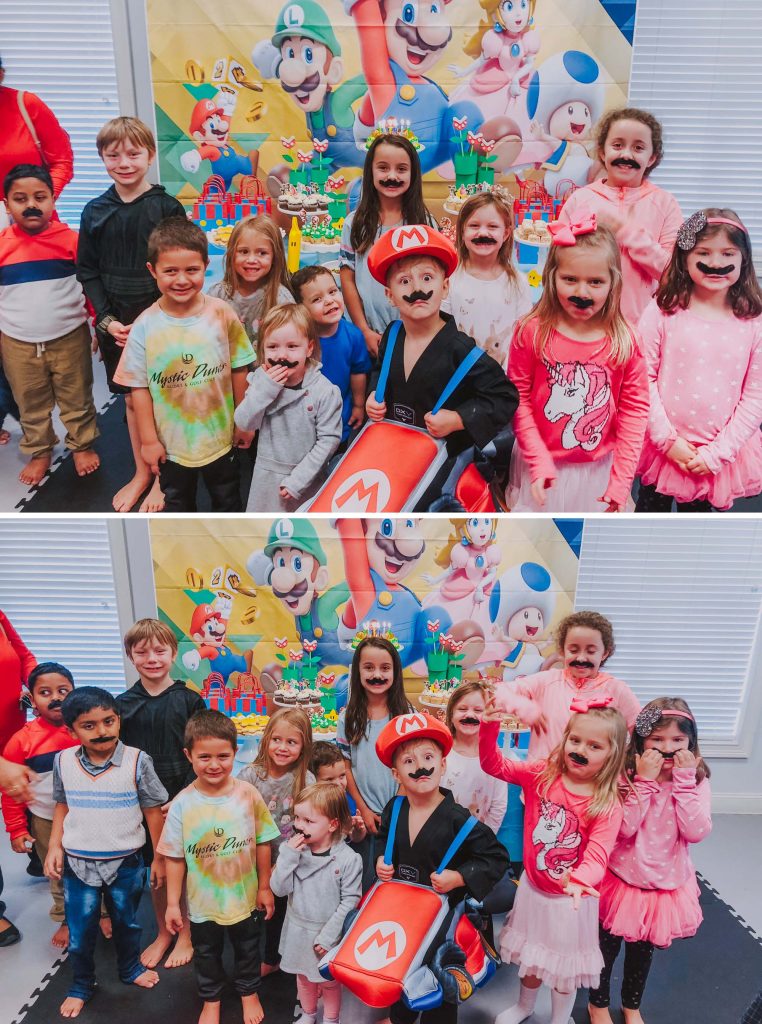 Thanks for stopping by!
You can see all of the parties I've thrown for my people over on my party page!
I love throwing parties with lots of DIY details and affordable ideas.
OUR PARTIES
Source link