Below, we collect the individual year-end top ten lists published by a variety of music sources, including critics, music magazines, music shops, and more. This page will be updated at least once a day throughout December and January as new lists are published; be sure to check back frequently.
Critics pick the best albums of 2019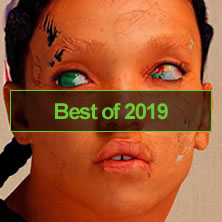 Below is our updated running tally of the albums most frequently mentioned by individual music publications in their year-end top ten lists.
Although many of the lists come from publications whose reviews are included on this site, we have also included extra lists from prominent music stores, websites, a few radio stations, and publications not normally found in Metacritic's music section.
Note that if a source ranks more than the standard 10 albums, we will not include titles ranked 11th or worse. (We do include unranked lists of 11-20 items, though each album gets just one-half of a point.) In case of a tie for first or second, each album will receive the full points for that position.
Our points system works as follows:
3 points for each 1st place ranking

2 points for each 2nd place ranking

1 point for being ranked 3rd – 10th, or for being included on an unranked list of 10 or fewer albums

0.5 points for being included on an unranked list of 11-20 albums
Individual top ten lists
Below are the 20 individual top ten lists used to calculate the standings above. Some publications may list albums without ranking them; such lists are displayed below, without numbers, in alphabetical order.
Albumism
View full list
All Mirrors by Angel Olsen

Jimmy Lee by Raphael Saadiq

Still on My Mind by Dido

Ventura by Anderson .Paak

Norman Fucking Rockwell by Lana Del Rey

Kiwanuka by Michael Kiwanuka

Remind Me Tomorrow by Sharon Van Etten

Western Stars by Bruce Springsteen

Quiet Signs by Jessica Pratt

Dedicated by Carly Rae Jepsen
BBC Radio 6
View full list
Dogrel by Fontaines D.C.

Eton Alive by Sleaford Mods

Kiwanuka by Michael Kiwanuka

Trust in the Lifeforce of the Deep Mystery by The Comet Is Coming

Grey Area by Little Simz

Tainted Lunch by Warmduscher

The Book of Traps and Lessons by Kate Tempest

Jaime by Brittany Howard

Encore by The Specials

Ghosteen by Nick Cave and the Bad Seeds
Bleep
View full list
Ecstatic Computation by Caterina Barbieri

Volume Massimo by Alessandro Cortini

Flamagra by Flying Lotus

Magdalene by FKA twigs

Ataxia by Rian Treanor

Blue Spring by Mathan Micay

Lifetime by Klein

uknowwhatimsayin by Danny Brown

Utility by Barker

Rainford by Lee "Scratch" Perry
Decibel
View full list
Hidden History of the Human Race by Blood Incantation

Caligula by Lingua Ignota

Deserted by Gatecreeper

The Ruins of Fading Light by Crypt Sermon

Planetary Clairvoyance by Tomb Mold

Revelations of Oblivion by Possessed

Hallucinogen by Blut aus Nord

Divided by Darkness by Spirit Adrift

Awakening by Sacred Reich

Portent by False
Drift Record Shop/Deluxe Devon, UK View full list
Purple Mountains by Purple Mountains

Incidental Music by W.H. Lung

Shepherd in a Sheepskin Vest by Bill Callahan

Two Hands by Big Thief

UFOF by Big Thief

The Age of Immunology by Vanishing Twin

All Mirrors by Angel Olsen

Laughing Matter by Wand

Schlagenheim by Black Midi

First Taste by Ty Segall

Trust in the Lifeforce of the Deep Mystery by The Comet Is Coming
Fopp UK View full list
Remind Me Tomorrow by Sharon Van Etten

Ghosteen by Nick Cave and the Bad Seeds

Magdalene by FKA twigs

Two Hands by Big Thief

Designer by Aldous Harding

Like the River Loves the Sea by Joan Shelley

Schlagenheim by Black Midi

All Mirrors by Angel Olsen

Shepherd in a Sheepskin Vest by Bill Callahan

Psychodrama by Dave
Mojo [January 2020 issue]
Ghosteen by Nick Cave and the Bad Seeds

Shepherd in a Sheepskin Vest by Bill Callahan

Western Stars by Bruce Springsteen

Trust in the Lifeforce of the Deep Mystery by The Comet Is Coming

Designer by Aldous Harding

Dogrel by Fontaines D.C.

Norman Fucking Rockwell by Lana Del Rey

Schlagenheim by Black Midi

Purple Mountains by Purple Mountains

Rainford by Lee "Scratch" Perry
MondoSonoro Spain View full list
Magdalene by FKA twigs

Ghosteen by Nick Cave and the Bad Seeds

Igor by Tyler, The Creator

Norman Fucking Rockwell by Lana Del Rey

When We All Fall Asleep, Where Do We Go? by Billie Eilish

The Book of Traps and Lessons by Kate Tempest

Kiwanuka by Michael Kiwanuka

i,i by Bon Iver

Nothing Great About Britain by Slowthai

Crush by Floating Points
Paste
View full list
Titanic Rising by Weyes Blood

All Mirrors by Angel Olsen

Remind Me Tomorrow by Sharon Van Etten

Two Hands by Big Thief

Magdalene by FKA twigs

Jaime by Brittany Howard

Dedicated by Carly Rae Jepsen

Crushing by Julia Jacklin

Cuz I Love You by Lizzo

Atlanta Millionaires Club by Faye Webster
Piccadilly Records Manchester, UK View full list
Incidental Music by W.H. Lung

The Unforgiving Current by Horsebeach

The Paralian by Andrew Wasylyk

The Age of Immunology by Vanishing Twin

De Facto by Lorelle Meets The Obsolete

Night of the Worm Moon by Shana Cleveland

Gece by Altın Gün

Reward by Cate Le Bon

Grey Area by Little Simz

Stars Are the Light by Moon Duo
Prog Sphere
View full list
Empath by Devin Townsend

A Dawn to Fear by Cult of Luna

In Cauda Venenum by Opeth

Arc by Diagonal

Animal Choir by Her Name Is Calla

Fear Inoculum by Tool

Lotus by Soen

Periphery IV: Hail Stan by Periphery

Pitfalls by Leprous

The Cocoon by Richard Henshall
The Quietus
View full list
For You and I by Loraine James

2020 by Richard Dawson

Ecstatic Computation by Caterina Barbieri

Your Wilderness Revisited by William Doyle

Inside the Rose by These New Puritans

The Age of Immunology by Vanishing Twin

Schlagenheim by Black Midi

Serfs Up! by Fat White Family

The Reeling by Brìghde Chaimbeul

Life Metal by Sunn O)))
Resident Music Brighton, UK View full list
Incidental Music by W.H. Lung

Grey Area by Little Simz

When I Have Fears by The Murder Capital

Ghosteen by Nick Cave and the Bad Seeds

Schlagenheim by Black Midi

Dogrel by Fontaines D.C.

Trust in the Lifeforce of the Deep Mystery by The Comet Is Coming

Nothing Great About Britain by Slowthai

Anima by Thom Yorke

All Mirrors by Angel Olsen
Revolver
View full list
Fear Inoculum by Tool

We Are Not Your Kind by Slipknot

Deserted by Gatecreeper

A Different Shade of Blue by Knocked Loose

Gold & Grey by Baroness

Atonement by Killswitch Engage

Satan Spits on Children of Light by Devil Master

Nest by Brutus

Divided by Darkness by Spirit Adrift

Rammstein by Rammstein
Rough Trade Shops UK/USA View full list
Dogrel by Fontaines D.C.

Titanic Rising by Weyes Blood

All Mirrors by Angel Olsen

Grey Area by Little Simz

Schlagenheim by Black Midi

Eton Alive by Sleaford Mods

Reward by Cate Le Bon

The Age of Immunology by Vanishing Twin

Ex: Re by Ex: Re

Trust in the Lifeforce of the Deep Mystery by The Comet Is Coming
Sister Ray Records London View full list
Free by Iggy Pop

Bandana by Freddie Gibbs & Madlib

Reward by Cate Le Bon

Schlagenheim by Black Midi

Igor by Tyler, The Creator

Life Metal by Sunn O)))

I by Föllakzoid

Ghosteen by Nick Cave and the Bad Seeds

Serfs Up! by Fat White Family

Loops in the Secret Society by Jane Weaver
The Skinny Scotland View full list
Ghosteen by Nick Cave and the Bad Seeds

Two Hands by Big Thief

All Mirrors by Angel Olsen

Cuz I Love You by Lizzo

Crushing by Julia Jacklin

I Am Easy to Find by The National

UFOF by Big Thief

Magdalene by FKA twigs

When I Get Home by Solange

Titanic Rising by Weyes Blood
The Sunday Times UK View full list
Ghosteen by Nick Cave and the Bad Seeds

Psychodrama by Dave

Magdalene by FKA twigs

Remind Me Tomorrow by Sharon Van Etten

When We All Fall Asleep, Where Do We Go? by Billie Eilish

Jaime by Brittany Howard

Norman Fucking Rockwell by Lana Del Rey

Titanic Rising by Weyes Blood

Grey Area by Little Simz

Father of the Bride by Vampire Weekend
Time Andrew R. Chow and Raisa Bruner View full list
Magdalene by FKA twigs

When I Get Home by Solange

UFOF by Big Thief

Norman Fucking Rockwell by Lana Del Rey

Hiding Places by Billy Woods and Kenny Segal

When We All Fall Asleep, Where Do We Go? by Billie Eilish

i,i by Bon Iver

Cheap Queen by King Princess

Turn to Clear View by Joe Armon-Jones

Assume Form by James Blake
Uncut [January 2020 issue]
Titanic Rising by Weyes Blood

Ghosteen by Nick Cave and the Bad Seeds

Purple Mountains by Purple Mountains

Trust in the Lifeforce of the Deep Mystery by The Comet Is Coming

Norman Fucking Rockwell by Lana Del Rey

Like the River Loves the Sea by Joan Shelley

Western Stars by Bruce Springsteen

Shepherd in a Sheepskin Vest by Bill Callahan

UFOF by Big Thief

Ode to Joy by Wilco
Source link