*This post contains affiliate links. Thank you and I hope you find this post helpful!
I use these products EVERY DAY*

I'm a busy mama with five kids…
all of them usually hovering around me at various levels…
MOST of the day.
SO my makeup routine has to be simple and quick!
I used to have both drugstore and higher end makeup products in my makeup bag for every day…
but I was convinced I could find some makeup dupes to the pricier products I was using.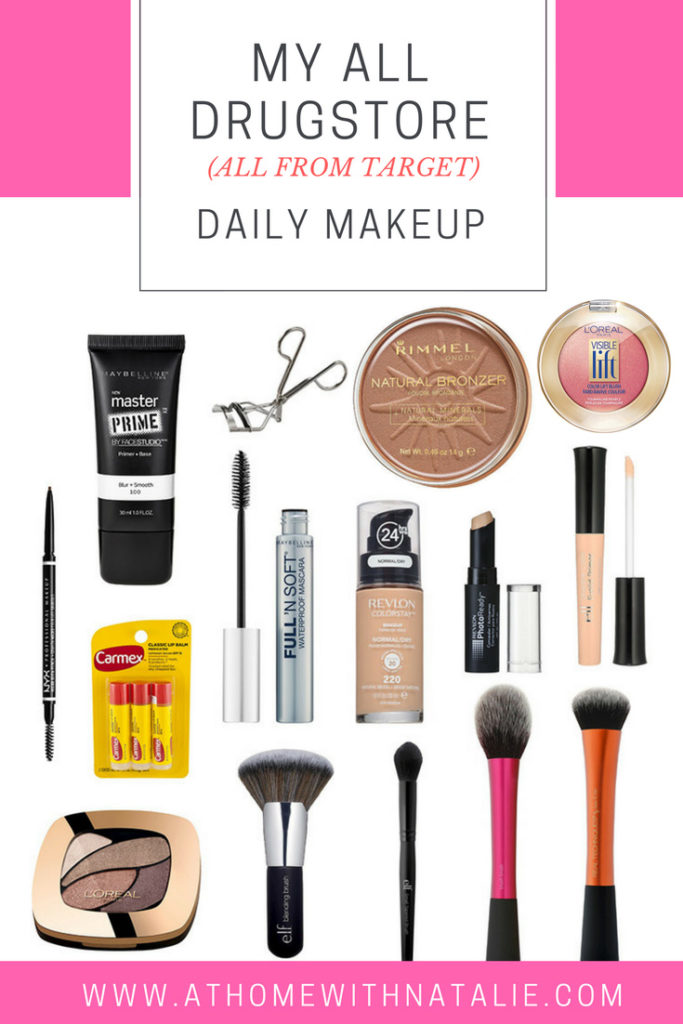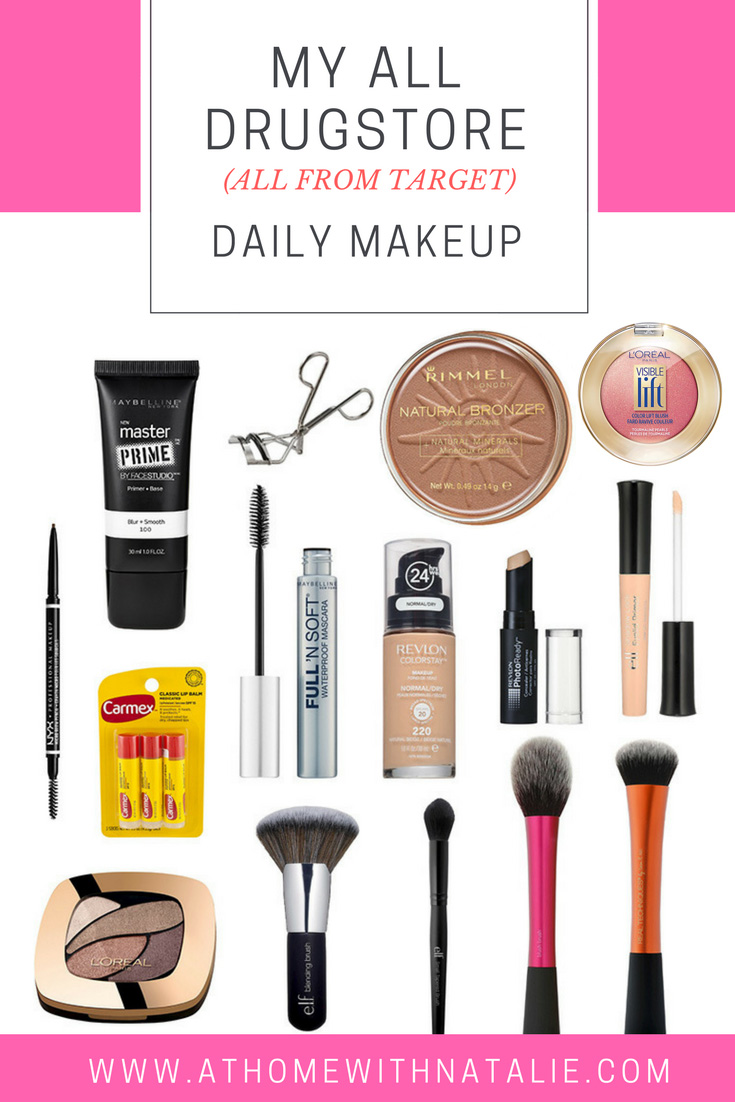 Honestly, I was looking for a one stop shop for my makeup products.
I can pick them all up when I run in or even better I can order them all, use the free shipping on orders over $35 and call it a day!

I know that the drugstore makeup aisles can be a little overwhelming!
You don't have to go in blind– Here's the products I use EVERY DAY and why I love them so much!
Revlon ColorStay Makeup For Normal/Dry Skin, Natural Beige
First things first – Foundation.
I honestly am SO HAPPY with my foundation routine.
That was one area I was a little worried about using a cheaper product for…
But my skin is actually BETTER and the makeup lasts LONGER.
We took all the kids to Disney World recently and I didn't have to touch up my makeup ALL DAY.
Which was nice because I wanted to look back on our photos and not be a hot mess in them
AND I didn't have extra time to be powdering my nose in the bathroom lol.
I use this brush to apply it.
Real Techniques Expert Face Brush
Revlon ColorStay Pressed Powder, Light
I have combo oily and dry skin – so I wanted to find a powder
I could use in my oil spots – I don't need it everywhere!
I love how this goes on and blends in. Stops the shine without looking heavy!
Maybelline Face Studio Master Prime Primer, Blur + Smooth
Primers are secret weapons! They help your makeup go on smoother and stay on longer!
This was a dupe for my usual smashbox primer and I love it.
It doesn't make it as matte as the smashbox, but I think the combo of this
and the foundation I use, is why my makeup lasts so long!
Revlon Photoready Concealer, Light Medium
I am a hormonal hot mess right now so random breakouts happen!
I needed a good concealer stick that could blend in well and gave good coverage when needed.
This has been perfect! I went in blind with this product but so glad I tried it out because
it's a favorite and SO MUCH cheaper than the MAC concealer I used to use.
Rimmel Natural Bronzer, Sunshine
You know those filters on Instagram that give you some nice contouring??
well this is my real life filter haha.
I don't have time to do a full out contouring and shading step in my daily makeup…
but I still want to add a little shadow in my cheekbones and around my hair line.
It makes me feel alive! Like I got a little sun too. It has a tiny sparkle to it, so if you don't like
that I would look for something more matte. But I like how it goes on…
blends in easy and isn't a weird orange color.
I use the Target brand brush to apply it!
You can also use a similar brush by e.l.f.
e.l.f. Beautifully Bare Blending Brush
e.l.f. Essential Eyelid Primer SHEER
This has been an item in my makeup box for years!
It helps my eyeshadow last all day and I just like how it preps my eyes for the eyeshadow.
L'Oréal Paris Colour Riche Dual Effects Eye Shadow, Perpetual Nude
I change up my eyeshadows a lot…trying to find a good neutral shade..
and this is the palette I've been using the past few months!
I use this brush to apply my eyeshadow
e.l.f. Small Tapered Brush
Maybelline Instant Age Rewind Eraser Dark Circles Treatment Concealer, Light
I used to swear by the Mac under eye mineralizer concealer – but this is the best dupe!
A LOT cheaper and it works great.
People comment on my Instagram about how rested I look— it's all this and a nice filter lol.
MAGIC.
NYX Micro Brow Pencil  – Brunette
Probably the question I get asked most, up by what is your wall paint color
(still don't know sorry! it was on the walls when we moved here! lol)
IS… about my eyebrows lol. Are they microbladed?? what product do you use??
I LOVE this product – would love if I didn't have to use it at all, but…
with every pregnancy I've lost eyebrow hair! Its weird. and frustrating because I don't even tweeze!
One day I want to try and get them microbladed…but if you are looking for
something inexpensive and gives good results – this is your product!
Carmex Lip Balm
Most days I just use chapstick on my lips and am ready to roll!
Maybelline New York Full 'N Soft Waterproof Mascara, Very Black
This is another drugstore product that has always been a staple for me. Since high school days!
I've tried others..and always go back to this one.
I love how the waterproof lasts all day and it comes off with my Neutrogena face wash easy.
It is by far THE BEST DRUGSTORE MASCARA.
I use a curler before and after I apply it.
I use the Revlon brand but really any favorite eyelash curler will do!
Revlon Extra Curl Lash Curler 
L'Oréal Paris Visible Lift Color Lift Blush, Pink Lift
I couldn't find it online – but it's on amazon and Walmart online!
I like to add a pop of pink to the apples of my cheeks!
Again, another real life filter for you! 😉
I use this brush to apply my blush…nice and fluffy!
Good quality brush. I've tried some other brands and they end up falling out!
Real Techniques Blush Brush
I hope you found this round up of my favorite and daily drugstore makeup products helpful!
Definitely give some of these products a try! I think you are going to end up
loving them more than your expensive products…just like I did!
(Great thing about Target is their return policy! You can try and return.)
I linked all of my daily makeup products on Amazon too in case you are an Amazon mama like me!

Love this round up?? Want to make sure you don't miss any of my Target favorite posts?
Sign up and don't miss a thing!
(I don't spam you, promise. My emails are short + sweet and most of all HELPFUL!)

Source link