New trailers and updates for upcoming films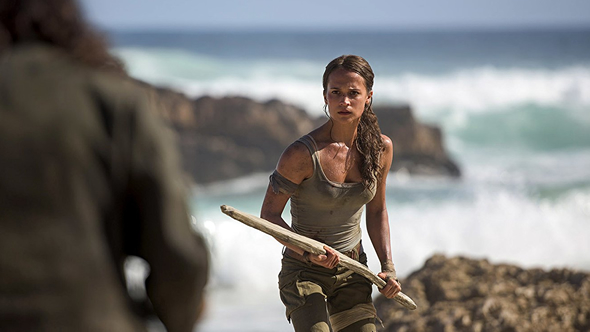 Another look at Tomb Raider
Alicia Vikander stars as Lara Croft in this reboot of a film franchise based on the video game series that began in 1996. The March 16 release finds a 21-year-old Lara trying to solve the mystery of her father's death, leading her to a tomb on a mythical island off the coast of Japan. Directed by Roar Uthaug (The Wave), the film features supporting performances by Walton Goggins, Dominic West, Daniel Wu, Kristin Scott Thomas, and Hannah John-Kamen. Let's hope this Tomb Raider will be an improvement over Angelina Jolie's two efforts—Lara Croft: Tomb Raider and Lara Croft Tomb Raider: The Cradle of Life.
TOMB RAIDER | Official Trailer #2 | 2018 [HD]
Don't Worry, He Won't Get Far on Foot
Based on a true story, Don't Worry, He Won't Get Far on Foot reunites Joaquin Phoenix with his To Die For director, Gus Van Sant. Phoenix stars as quadriplegic cartoonist John Callahan, who battles giving up drinking after nearly losing his life in a car accident. Jonah Hill plays Phoenix's sponsor, and Rooney Mara is his girlfriend (in the movie and in real life). With Jack Black, Carrie Brownstein, Beth Ditto, and Kim Gordon in the supporting cast, the film will premiere at the Sundance Film Festival this week before coming to theaters May 11th.
Don't Worry, He Won't Get Far On Foot – Teaser Trailer | Amazon Studios
Super Troopers 2
Coming to theaters on April 20th (of course), Super Troopers 2 continues the story of highway patrolmen Mac (Steve Lemme), Thorny (Jay Chandrasekhar), Foster (Paul Soter), Rabbit (Erik Stolhanske), and Farva (Kevin Heffernan) 17 years after Super Troopers first debuted at Sundance. The story picks up with the Broken Lizard team and their captain (Brian Cox) being tasked with establishing a new Highway Patrol station on the now disputed U.S. and Canada border. Rob Lowe, Emmanuelle Chriqui, Tyler Labine, and Will Sasso join the fun this time around.
SUPER TROOPERS 2: OFFICIAL RED BAND TRAILER
The Death of Stalin
The new film from writer/director Armando Iannucci (In the Loop, Veep, The Thick of It) is a satirical look at the political landscape of 1950's Russia. In the aftermath of Joseph Stalin's death, his team fights to control the future of the country, but the main goal is to stay alive. Based on the French graphic novel by Fabien Nury and Thierry Robin and starring Steve Buscemi, Andrea Riseborough, Olga Kurylenko, Paddy Considine, Simon Russell Beale, Rupert Friend, Jason Isaacs, Michael Palin, and Jeffrey Tambor, The Death of Stalin has received excellent early reviews, even landing on a few best of 2017 top 10 lists (thanks to a UK release last fall). Find it in select North American theaters beginning March 9th.
The Death of Stalin – Official Green Band Trailer I HD I IFC Films
Double Lover
The latest from François Ozon divided critics at last year's Cannes Film Festival and earned a bit of extra press for its very explicit opening image. Coming off the period melodrama of Frantz, Ozon has crafted an erotic thriller (more in the mode of Swimming Pool) about a young woman (Marine Vacth of Ozon's Young & Beautiful) who falls in love with her psychoanalyst (who happens to have a twin brother who is also a therapist). Double Lover hits select theaters February 14th.
DOUBLE LOVER – US Trailer
Love, Simon
In Love, Simon, 17-year-old Simon Spier (Nick Robinson) is struggling to tell his family that's he's gay while attempting to uncover the identity of the classmate he's fallen in love with online. Adapted from Becky Albertalli's novel Simon vs. the Homo Sapiens Agenda and directed by TV producer/filmmaker Greg Berlanti, the March 16 release stars Katherine Langford, Alexandra Shipp, Logan Miller, Jennifer Garner, and Josh Duhamel.
Love, Simon | Official Trailer 2 [HD] | 20th Century FOX
Before We Vanish
Kiyoshi Kurosawa's diverse resume (Creepy, Tokyo Sonata, Pulse) gets another strange addition with this alien invasion movie adapted from a play by Tomohiro Maekawa. Following three aliens as they scout humanity by taking over the bodies of an estranged husband, a violent young girl, and a young man who enlists a journalist as his guide, the film received a mixed reaction when it premiered at Cannes last year. Before We Vanish hits select theaters February 2nd.
BEFORE WE VANISH [Theatrical Trailer] – In Select Theaters Starting Feb 2
Allure
Premiering at TIFF last year under the title A Worthy Companion, the feature directorial debut of Carlos and Jason Sanchez stars Evan Rachel Wood as a damaged woman who forms an obsessive relationship with a quiet teenager (Julia Sarah Stone) with whom she crosses paths while cleaning her house. With mostly good early reviews, Allure comes to select theaters and VOD March 16th.
Traffik
In Traffik, Paula Patton and Omar Epps play a couple whose romantic weekend is first disrupted by the arrival of two friends (Laz Alonso and Roselyn Sanchez) and then threatened by a violent biker gang. This April 27 release is written and directed by Deon Taylor.
Traffik (2018 Movie) – Official Trailer
Dear Dictator
The latest from writer-directors Lisa Addario and Joe Syracuse (Amateur Night) stars Michael Caine as a dictator who flees his island nation and seeks refuge with his pen pal, a rebellious teenager played by Odeya Rush. Coming to select theaters and VOD on March 16th, Dear Dictator also features Jason Biggs, Katie Holmes, and Seth Green.
Dear Dictator – Official Trailer
Short takes
Jeff Unay's documentary The Cage Fighter follows Joe Carman as he competes in mixed martial arts and struggles to deal with his own health scares, his wife's chronic illness, and the demands of raising four girls. Look for it in select theaters beginning February 2nd.
The Cage Fighter – Official Trailer | HD | Sundance Selects
Written and directed by Derek Nguyen, the Vietnamese supernatural horror/thriller The Housemaid hits select theaters February 16th.
The Housemaid – Official Trailer I HD I IFC Midnight
Coming to theaters February 23rd, Beast of Burden stars Daniel Radcliffe as a drug smuggler flying cocaine across the U.S.-Mexico border.
Beast of Burden – Official Trailer
News and notes
Source link