New trailers and updates for upcoming films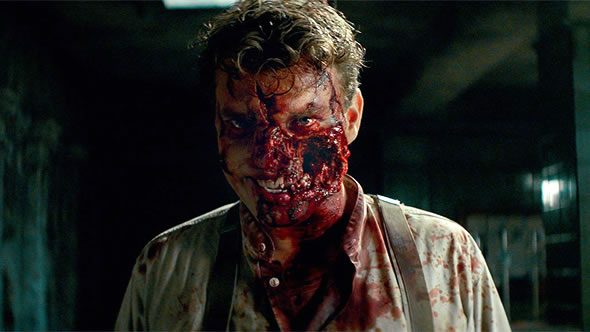 Overlord
Originally rumored to be another Cloverfield movie, the J.J. Abrams-produced Overlord follows a group of American paratroopers who are dropped behind enemy lines on the eve of D-Day only to discover that Nazis are experimenting with dangerous supernatural forces. Julius Avery (Son of a Gun) directs a cast that includes Jovan Adepo, Wyatt Russell, Pilou Asbæk, Bokeem Woodbine, John Magaro, and Mathilde Ollivier. Find it in theaters November 9th.
OVERLORD (2018)- Official Trailer – Paramount Pictures
Bohemian Rhapsody
Rami Malek (Mr. Robot) stars as Freddie Mercury in this biopic about the lead singer of Queen. Director Bryan Singer was fired from the movie after causing production delays, and Dexter Fletcher (Eddie the Eagle) took over, but Singer will receive sole directing credit. Gwilym Lee, Ben Hardy, and Joseph Mazello play Queen members Brian May, Roger Taylor, and Jon Deacon, respectively. Bohemian Rhapsody opens on November 2nd.
Bohemian Rhapsody | Official Trailer [HD] | 20th Century FOX
Robin Hood
The latest film version of Robin Hood stars Taron Egerton as Robin of Loxley and Jamie Foxx as Little John. Together, they lead a revolt against the English crown and Ben Mendelsohn's Sheriff of Nottingham. Coming to their aid are Jamie Dornan's Will Scarlet, Eve Hewson's Maid Marian, and Tim Minchin's Friar Tuck. Robin Hood opens November 21st.
Robin Hood (2018 Movie) Official Trailer – Taron Egerton, Jamie Foxx, Jamie Dornan
Boy Erased
Based on Garrard Conley's memoir, this November 2 release tells the story of Jared (Lucas Hedges), who at the age of 19 is sent to a conversion therapy program by his Baptist minister father (Russell Crowe) after being outed to his family. Nicole Kidman plays his more understanding mother. Boy Erased is written and directed by Joel Edgerton (The Gift), who also plays the leader of the program. The supporting cast includes Xavier Dolan, Troye Sivan, Cherry Jones, and Flea.
BOY ERASED – Official Trailer [HD] – In Theaters November
On the Basis of Sex
Following the success of the documentary RBG, it seems like a perfect time for a film about the early years of Ruth Bader Ginsburg's law career. Starring Felicity Jones as the future Supreme Court justice, On the Basis of Sex chronicles Ginsburg's 1970s battle against gender discrimination as the head of the Women's Rights Project at the ACLU. Mimi Leder directs this December 25 release, and Armie Hammer, Justin Theroux, Sam Waterston, Kathy Bates, Stephen Root, Jack Reynor, and Cailee Spaeny make up the supporting cast.
ON THE BASIS OF SEX – Official Trailer [HD] – In Theaters This Christmas
Second Act
With a touch of Working Girl and Maid in Manhattan, Second Act tells the story of Maya (Jennifer Lopez), a 40-year-old woman who gets a chance at her Madison Ave. dream job with a little help from a juiced up resume and online profile. Peter Segal (Grudge Match) directs this November 21 release that features Leah Remini, Vanessa Hudgens, Milo Ventimiglia, Charlyne Yi, Larry Miller, and Treat Williams in supporting roles.
Second Act | Official Trailer [HD] | Coming Soon
Welcome to Marwen
Based on Jeff Malmberg's award-winning documentary Marwencol about the life and art of Mark Hogancamp, Welcome to Marwen stars Steve Carell as Hogancamp, the victim of a vicious attack who found a unique way for art to help him regain his life. Directed by Robert Zemeckis (Allied, The Walk), who wrote the screenplay with Caroline Thompson, the November 21 release also stars Leslie Mann, Janelle Monáe, Eiza González, Merritt Wever, Gwendoline Christie, and Diane Kruger. This second trailer takes a more straightforward approach to Hogancamp's story.
Welcome to Marwen – Official Trailer 2
Assassination Nation
Assassination Nation follows high school senior Lily (Odessa Young) and her best friends as their town, Salem (note the name), comes undone when someone starts posting details from the private lives of half the population. Writer-director Sam Levinson's follow-up to his 2011 Waldo Salt Screenwriting Award winner, Another Happy Day, earned mixed reviews at Sundance, but Neon and the Russo brothers' AGBO bought it for more than $10 million. The September 21 release stars Suki Waterhouse, Hari Nef, Abra, Anika Noni Rose, Bella Thorne, Maude Apatow, Bill Skarsgård, and Joel McHale.
Assassination Nation [Red Band Trailer] – In Theaters September 21
Hell Fest
In the horror film Hell Fest, college students Natalie (Amy Forsyth), Brooke (Reign Edwards) and Taylor (Bex Taylor-Klaus) plan to have a fun night at Hell Fest, a traveling carnival of scary rides, games, and mazes. Unfortunately for them, a masked serial killer turns the horror-themed amusement park into his hunting ground. Gregory Plotkin (Paranormal Activity: The Ghost Dimension) directs this September 28 release.
HELL FEST – Teaser Trailer – HD (Amy Forsyth, Reign Edwards, Bex Taylor-Klaus)
A Prayer Before Dawn
Based on Billy Moore's memoir, A Prayer Before Dawn follows Moore, played by Joe Cole, as he tries to box his way to a better life when he's thrown into a Thai prison. Shot in an actual Thai prison with a cast made up of real inmates, Jean-Stephane Sauvaire's film premiered at Cannes in 2017 to solid reviews and is currently available on DirecTV. Look for it in select theaters August 10th.
A Prayer Before Dawn | Official Trailer 2 HD | A24
Short takes
Minding the Gap, Bing Liu's documentary about his skateboarding friends in Rockford, Illinois, was put together from over 12 years of footage. Early reviews have been excellent, and the film won the U.S. Documentary Special Jury Award for Breakthrough Filmmaking at the 2018 Sundance Film Festival. Look for it in select theaters and on Hulu beginning August 17th.
Minding the Gap Full Trailer (Official) • A Hulu Original Documentary
Early reviews have been good for Stephen Loveridge's Matangi/Maya/M.I.A., a look at the life of Sri Lankan musician/rapper Mathangi "Maya" Arulpragasam, aka M.I.A. Look for it in select theaters beginning September 28th.
MATANGI / MAYA / M.I.A. (Official Trailer)
Writer-director Susanna Nicchiarelli's Nico, 1988 captures the late career of the vocalist for The Velvet Underground. Early reviews have been good for this August 1st release, especially for Trine Dyrholm's lead performance.
The rom-com Little Italy stars Emma Roberts and Hayden Christensen and revolves around two families who run competing pizzerias. Find it in select theaters and on VOD beginning September 21st.
LITTLE ITALY – In Select Theaters and On Demand September 21!
News and notes
Timothée Chalamet will lead director Denis Villeneuve's multi-part Dune adaptation. – Deadline

Harrison Ford is in talks to star in Call of the Wild, based on Jack London's 1903 novel about a prospector during the 1890s Klondike gold rush. – Variety

The characters joining Margot Robbie's Harley Quinn in Birds of Prey will be Huntress, Cassandra Cain, Black Canary, and Renee Montoya. Cathy Yan is directing the film. – TheWrap

Zombieland 2 is happening. Director Ruben Fleischer will return, as will stars Emma Stone, Woody Harrelson, Jesse Eisenberg, and Abigail Breslin. – Heat Vision

Duncan Jones revealed that he's working on a film adaptation of the 2000 AD comic book Rogue Trooper.

Zazie Beetz is in talks to join Joaquin Phoenix in his Joker movie. – Heat Vision

Jim Jarmusch is filming The Dead Don't Die, a zombie comedy starring Bill Murray, Adam Driver, Chloë Sevigny, Tilda Swinton, Steve Buscemi, and Selena Gomez.

Palme d'Or winner Hiorkazu Kore-eda's next film will star Juliette Binoche, Ethan Hawke, and Catherine Deneuve. – Variety

Ashton Sanders (Moonlight) and Jeffery Wright will star in All Day & A Night for Black Panther writer-turned-director Joe Robert Cole.- Deadline

Matthew Rhys will play journalist Tom Junod in You Are My Friend, the Tom Hanks-starring, Marielle Heller-directed Mr. Rogers biopic. – Variety

Dave Franco, Corey Hawkins, Manuel Garcia-Rulfo, and Adria Arjona have joined Ryan Reynolds in Michael Bay's Netflix film 6 Underground. – Variety

Lin-Manuel Miranda will make his feature directorial debut with Tick, Tick…Boom!, an adaptation of Rent creator Jonathan Larson's autobiographical musical. – Deadline

Rose Byrne is in talks to join Tiffany Haddish in Miguel Arteta's comedy Limited Partners. – THR

Numan Acar (In the Fade) has joined the cast of Spider-Man: Far from Home. Speculation has him playing the villain Chameleon. – Deadline

Richard Madden will play Elton John's manager, John Reid, alongside Taron Egerton in the biopic Rocketman. – Variety

Jennifer Hudson, Taylor Swift, James Corden, and Ian McKellen are set to star in Les Miserables director Tom Hooper's adaptation of Andrew Lloyd Webber's musical Cats. – Screen Daily

The Metacritic Must-See documentary Three Identical Strangers is being turned into a narrative feature. – THR

In honor of its 10-year anniversary, The Dark Knight will return to select IMAX theaters beginning August 24th. Tickets are on sale today.

Damien Chazelle's First Man will open the 75th Venice Film Festival. Luca Guadagnino's Suspiria, Alfonso Cuarón's Roma, The Sisters Brothers, and Beautiful Boy are also expected to premiere at the festival. – Variety
Source link