New trailers and updates for upcoming films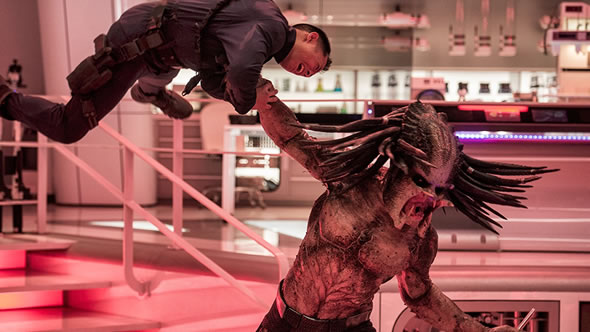 The Predator
Writer-director Shane Black (Kiss Kiss Bang Bang, Iron Man 3, The Nice Guys) played Hawkins in 1987's Predator. Now he's putting his own spin on the series with The Predator. Set between the Danny Glover-starring Predator 2 and Nimrod Antal's Adrien Brody-starring Predators, this fourth film in the series (sorry AVP, you are no longer canon) features a Super-Predator. Written by Black and Fred Dekker, who previously teamed-up on The Monster Squad, the September 14 release stars Sterling K. Brown, Boyd Holbrook, Olivia Munn, Jacob Tremblay, Yvonne Strahovski, Lochlyn Munro, Thomas Jane, Jake Busey, Keegan-Michael Key, Trevante Rhodes, and Edward James Olmos.
The Predator | Official Trailer [HD] | 20th Century FOX
Mile 22
Following Lone Survivor, Deepwater Horizon, and Patriots Day, Mile 22 is the fourth collaboration between director Peter Berg and Mark Wahlberg. Their latest follows a CIA operative who, with the help of two tactical teams, must deliver an asset (Iko Uwais) with critical information to an extraction point before the enemy takes them out. John Malkovich, Ronda Rousey, and Lauren Cohan also star in this August 17 release (which already has a sequel in the works).
Mile 22 | Restricted Trailer 2 | In Theaters August 17, 2018
The Equalizer 2
2014's The Equalizer reunited Antoine Fuqua and Denzel Washington, the director and star of Training Day. With The Equalizer 2, they are together again. Washington returns as Robert McCall, and this time it's personal. When his friend (Melissa Leo) is killed, he seeks revenge in typically brutal fashion. The July 20 release also stars Pedro Pascal, Bill Pullman, and Ashton Sanders.
THE EQUALIZER 2 – Official Trailer #2
Beautiful Boy
Based on the best-selling memoirs by David and Nic Sheff, Beautiful Boy stars Steve Carell as David and Timothée Chalamet as Nic. Directed by Felix Van Groeningen (The Broken Circle Breakdown), this October 12 release chronicles Nic's struggles with addiction over several years. Amy Ryan and Maura Tierney co-star as Vicki Sheff and Karen Barbour.
Beautiful Boy – Official Trailer | Amazon Studios
Mandy
Writer-director Panos Cosmatos's follow-up to Beyond the Black Rainbow stars Nicolas Cage as a lumberjack who wants one thing: bloody revenge on his wife's killers. Set in 1983, Mandy follows Red Miller's path of revenge after Mandy (Andrea Riseborough), the love of his life, is taken from him by a cult led by Jeremiah Sand (Linus Roache). The September 14 release has excellent early reviews.
Assassination Nation
Assassination Nation follows high school senior Lily (Odessa Young) and her best friends as their town, Salem (note the name), comes undone when someone starts posting details from the private lives of half the population. Writer-director Sam Levinson's follow-up to his 2011 Waldo Salt Screenwriting Award winner, Another Happy Day, earned mixed reviews at its Sundance premiere, but Neon and the Russo brothers' AGBO picked up the film for more than $10 million. The September 21 release stars Suki Waterhouse, Hari Nef, Abra, Anika Noni Rose, Bella Thorne, Maude Apatow, Bill Skarsgård, and Joel McHale.
Assassination Nation [RED BAND Teaser] – In Theaters September 21
Support the Girls
The latest from writer-director Andrew Bujalski (Results, Computer Chess) captures a day in the life of Lisa Conroy (Regina Hall), the manager at Double Whammies, a "sports bar with curves," where she protects her girls (Haley Lu Richardson, Shayna McHayle, Dylan Gelula) and handles the unpleasant owner (James LeGros). Support the Girls hits theaters August 24th.
Support The Girls – Trailer Starring Regina Hall & Haley Lu Richardson
Blaze
The latest directorial effort from Ethan Hawke tells the story of singer-songwriter Blaze Foley (Ben Dickey in a highly praised performance) by weaving together three different moments in time—his love affair with Sybil Rosen (Alia Shawkat), his last night on earth, and his impact on friends and foes after his death. With very good early reviews, Blaze hits select theaters August 17th.
Blaze – Official Trailer | HD | Sundance Selects
Juliet, Naked
In this romantic-comedy from director Jesse Peretz (Our Idiot Brother), Rose Byrne's Annie strikes up a transatlantic correspondence with Tucker Crowe (Ethan Hawke), a reclusive singer-songwriter with whom her boyfriend Duncan (Chris O'Dowd) is completely obsessed. An adaptation of a Nick Hornby novel, Juliet, Naked received mixed reviews when it premiered at Sundance earlier this year. Look for it in select theaters beginning August 17th.
Juliet, Naked | Official Trailer | In select theaters August 17
The House with a Clock in Its Walls
Based on the YA book by John Bellairs, The House with a Clock in Its Walls follows 10-year-old Lewis (Owen Vaccaro) as he goes to live with his uncle, Jonathan Barnavelt (Jack Black) and his associate Mrs. Zimmerman (Cate Blanchett) in an old house with a mysterious tick-tocking heart. The house once belonged to the dangerous warlock Isaac Izard (Kyle MacLachlan), so trouble is afoot in the sleepy town of New Zebedee, Michigan. Eli Roth takes a break from the blood and guts of The Green Inferno and Death Wish to direct this September 21 release.
The House with a Clock in Its Walls – Official Trailer 2
Madeline's Madeline
Following Butter on the Latch and Thou Wast Mild and Lovely, writer-director Josephine Decker's third feature is another experimental effort, but a more successful one according to critics that caught the film at Sundance. Capturing the relationship between mentally fragile teenager Madeline (newcomer Helena Howard), her mother (Miranda July), and the director of progressive theater group (Molly Parker), Madeline's Madeline comes to select theaters August 10th.
Madeline's Madeline – Official Trailer HD – Oscilloscope Laboratories
The Hate U Give
Adapted by Audrey Wells from Angie Thomas's novel, The Hate U Give stars Amanda Stenberg (Everything, Everything) as Starr Carter, a young girl living in a poor neighborhood but going to school at a rich prep school. When her childhood best friend Khalil (Algee Smith) is gunned down by a cop, Starr's world is shattered, but she finds strength in her voice. Directed by George Tillman Jr. (The Inevitable Defeat of Mister and Pete), this October 19 release features a supporting cast of Regina Hall, Common, Anthony Mackie, Issa Rae, and Russell Hornsby.
The Hate U Give | Official Trailer [HD] | 20th Century FOX
Three headed to Netflix, and one for Prime Video
The Legacy of a Whitetail Deer Hunter, the latest from Jody Hill (Observe and Report, Vice Principals), disappointed critics when it premiered at the SXSW Film Festival. Coming to Netflix on July 6th, the film stars Josh Brolin as Buck Ferguson, a semi-famous hunter trying to reconnect with his son (Montana Jordan). Danny McBride plays Buck's friend and cameraman, who tags along to document their adventure.
The Legacy of a Whitetail Deer Hunter | Official Trailer [HD] | Netflix
How It Ends follows a man (Theo James) and his father-in-law (Forest Whitaker) as they race to save his pregnant wife/daughter (Kat Graham) after an apocalyptic event. Look for it on Netflix beginning July 13th.
How It Ends | Official Trailer [HD] | Netflix
Available July 20th on Amazon Prime Video, Zoe tackles computerized relationship compatibility tests and the possibility of androids (or synthetics as they're termed in the film) as partners through the life of Ewan McGregor's Cole, a robotics and AI pioneer. Also starring Léa Seydoux, Theo James, and Rashida Jones, the latest from Drake Doremus (Newness, Equals) disappointed critics at early screenings.
Zoe – Official Trailer | Prime Video
Coming to Netflix on August 10th, The Guernsey Literary and Potato Peel Pie Society stars Lily James as writer who forms a bond with a literary club on Guernsey Island. This adaptation of Mary Ann Shaffer and Annie Barrows' novel by director Mike Newell has received good early reviews and features a strong supporting cast of Glen Powell, Matthew Goode, and Michiel Huisman.
The Guernsey Literary and Potato Peel Pie Society | Official Trailer [HD] | Netflix
Short takes
Coming to theaters and VOD August 31st, Reprisal is the latest collaboration between Bruce Willis and director Brian A. Miller (The Prince).
Reprisal (2018 Movie) Official Trailer – Bruce Willis, Frank Grillo
The Captain, the latest from Robert Schwentke, returns the director to Germany where a deserter uses a Nazi captain's uniform to take command of a camp holding German soldiers accused of desertion. Look for it in select theaters July 27th.
THE CAPTAIN – Official U.S. HD Trailer
News and notes
Source link