New trailers and updates for upcoming films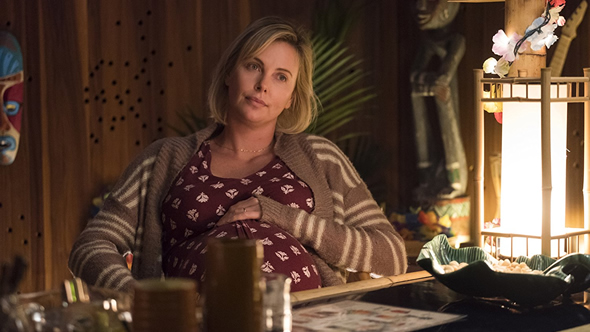 Tully
Following Juno and Young Adult, the third collaboration between director Jason Reitman and writer Diablo Cody stars Charlize Theron as Marlo, a mother of three. Her newborn pushes her to the breaking point until Tully (Mackenzie Davis), a night nurse, arrives to ease her burden. With very good reviews from its Sundance premiere, Tully hits theaters April 20th.
TULLY – Official Trailer [HD] – In Theaters May 4
Here's that Mary Poppins sequel you've been asking for …
Mary Poppins Returns is set in 1930s London, where Michael (Ben Whishaw) and Jane (Emily Mortimer) Banks are now grown up. After Michael suffers a tragedy, Mary Poppins (Emily Blunt, taking over the role Julie Andrews made famous in 1964) returns to help the Banks family with the aid of a street lamplighter played by Lin-Manuel Miranda. This December 25 release directed by Rob Marshall will also introduce new characters from PL Travers' books, including Meryl Streep's Topsy and Angela Lansbury's Balloon Lady.
Mary Poppins Returns Official Teaser Trailer
… and yet another visit from The Grinch
Benedict Cumberbatch voices the Grinch in this new animated adventure for one of Dr. Seuss's classic creations. Directed by Scott Mosier and Yarrow Cheney (The Secret Life of Pets), The Grinch will reveal more about the Grinch's home, his relationship with his dog, Max, and, of course, his plan to steal Christmas from his neighbors in Who-ville. Look for it in theaters November 9th.
The Grinch – Official Trailer (HD)
Your favorite Workaholics head to Netflix
In Game Over, Man!, the stars of TV's Workaholics (Adam Devine, Anders Holm, and Blake Anderson) play childhood friends who find themselves becoming action heroes when the hotel where they work is taken over by terrorists. Coming to Netflix on March 23rd, the comedy also stars Neal McDonagh, Jillian Bell, Aya Cash, and Utkarsh Ambudkar.
GAME OVER, MAN! | Official Trailer 2 [HD] | Netflix
Hello again, Christopher Robin
Coming on the heels of the disappointing Goodbye Christopher Robin, the August 3 release Christopher Robin stars Ewan McGregor as the title character. All grown up with a job and a family, Christopher encounters his childhood friend Winnie-the-Pooh and rediscovers the joys of life. Directed by Marc Forster (Finding Neverland, World War Z), Christopher Robin stars Hayley Atwell and features the voices of Jim Cummings, Chris O'Dowd, and Toby Jones.
Christopher Robin Official Teaser Trailer
Submergence
Wim Wenders directs Alicia Vikander and James McAvoy in this adaptation of J.M. Ledgard's novel about a British agent (McAvoy) and a bio-mathematician (Vikander) who fall in love before being torn apart by their jobs. He's imprisoned in Somalia, while she goes on a deep-see dive to explore the origin of life. (You know, your typical relationship drama.) With mixed early reviews, Submergence arrives in theaters April 13th.
SUBMERGENCE US Trailer – Starring James McAvoy & Alicia Vikander
The Seagull
Saoirse Ronan stars in this adaptation of Anton Chekhov's The Seagull. Directed by Michael Mayer, the story captures the romantic entanglements of an aging actress (Annette Bening), her son (Billy Howle), his love interest (Ronan) and her crush, a famous novelist played by Corey Stoll. The Seagull opens on May 11th.
The Seagull | Official Trailer HD (2018)
Lowlife
Ryan Prows' feature directing debut has earned good early reviews. The story of a fallen Mexican wrestler, an ex-con with a face tattoo, and a recovering junkie in search of a kidney, Lowlife captures how a ruthless crime boss connects these three miscreants. Look for it on demand and in select theaters beginning April 6th.
Lowlife – Official Trailer I HD I IFC Midnight
The House of Tomorrow
Director Peter Livolsi adapts Peter Bognanni's best-selling novel about sheltered 16-year-old Sebastian Prendergast. Having spent most of his life with his Nana, who hopes to raise him as a protege of her former mentor Buckminster Fuller, Sebastian begins sneaking around with the punk-obsessed Jared (Alex Wolff) and his teenage sister Meredith (Maude Apatow). The House of Tomorrow opens in select theaters April 27th.
The House of Tomorrow Official Trailer
Zama
Writer-director Lucrecia Martel's new film comes nine years after her much praised The Headless Woman. An adaptation of Antonio Di Benedetto's 1956 novel about Don Diego de Zama, a clerk for the Spanish empire whose main desire is to be transferred from his outpost in what is now Paraguay, Zama has received excellent early reviews. Find it in select theaters beginning April 13th.
Zama – Official US Trailer HD
Short takes
Coming to select theaters on May 4th, RBG details the life of U.S. Supreme Court Justice Ruth Bader Ginsburg. The film earned good reviews when it premiered at Sundance earlier this year.
Coming to VOD and select theaters next Friday, Furlough stars Tessa Thompson, Melissa Leo, Anna Paquin and Whoopi Goldberg in a comedy from director Laurie Collyer (Sherrybaby).
The documentary Take Your Pills chronicles the impact of Adderall and other prescription stimulants on America. Find it on Netflix next Friday.
Take Your Pills | Official Trailer [HD] ] Netflix
Nicolas Cage stars in the dystopian action-thriller The Humanity Bureau. Find it on VOD and in select theaters April 6th.
The Humanity Bureau – Official Trailer [HD]
News and notes