New trailers and updates for upcoming films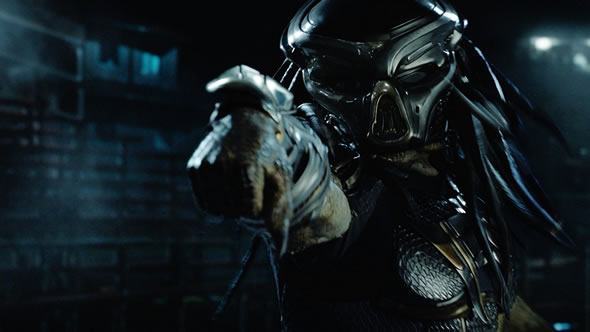 Shane Black v Predator
Writer-director Shane Black (Kiss Kiss Bang Bang, Iron Man 3, The Nice Guys) played Hawkins in 1987's Predator. Now he's putting his own spin on the series with The Predator. Set between the Danny Glover-starring Predator 2 and Nimrod Antal's Adrien Brody-starring Predators, this fourth film in the series (sorry, AVP: you are no longer cannon) takes place in suburbia when Jacob Tremblay accidentally summons the universe's most lethal hunters to Earth. Written by Black and Fred Dekker, who previously teamed-up on The Monster Squad, the September 14 release stars Sterling K. Brown, Boyd Holbrook, Olivia Munn, Yvonne Strahovski, Lochlyn Munro, Thomas Jane, Jake Busey, Keegan-Michael Key, Trevante Rhodes, and Edward James Olmos.
The Predator | Teaser Trailer [HD] | 20th Century FOX
It's hard to Google the Searching trailer, but we have it right here
Aneesh Chaganty's debut feature Searching takes place entirely on computer screens as it follows a father's search for his missing daughter (Michele La). John Cho stars as David Kim, a concerned father who uses his daughter's laptop to aid in the investigation. Debra Messing plays the detective assigned to the case. Searching won the Audience Award in the NEXT section of this year's Sundance Film Festival, where it received excellent reviews. Find it in theaters beginning August 3rd.
SEARCHING – Official Trailer (HD)
Another Sundance hit: American Animals
Bart Layton's debut narrative feature dramatizes the "Transy Book Heist" of 2004 when four Kentucky college students attempted to steal millions of dollars in rare books. The film still retains some of the documentary flourishes from his award-winning The Imposter. Layton cast Evan Peters, Barry Keoghan, Blake Jenner, and Jared Abrahamson to play the college kids, but he also has their current day counterparts appear with them and comment on their actions. American Animals hits select theaters on June 1st.
American Animals (2018) | Exclusive Online Trailer
Take a chance on the Mamma Mia sequel trailer
This sequel to the surprising 2008 hit Mamma Mia! (which grossed over $600 million worldwide) goes back and forth in time to show how the past resonates in the present. While Amanda Seyfried's Sophie prepares to have a child, she reflects on her mother's past. Lily James plays the young Donna (Meryl Streep in the first film) as she meets the younger versions of Pierce Brosnan, Stellan Skarsgård, and Colin Firth. Written and directed by Ol Parker (the writer of The Best Exotic Marigold Hotel), this July 20 release brings back Julie Walters and Christine Baranski as well and introduces Cher as Donna's mother.
Mamma Mia! Here We Go Again – Final Trailer
Adrift
After tackling Everest, Baltasar Kormákur takes on the Pacific Ocean with another true tale of survival. Adrift tells the story of Tami Oldham (Shailene Woodley) and Richard Sharp (Sam Claflin), two avid sailors who found themselves stranded after a category 5 hurricane wrecked their boat. Learn about their struggles to safely reach Hawaii when this incredible story comes to theaters June 1st.
Adrift | Final Trailer | Now In Theaters
The Spy Who Dumped Me
In The Spy Who Dumped Me, Audrey (Mila Kunis) and Morgan (Kate McKinnon) are best friends who are pulled into an international conspiracy when Audrey's ex-boyfriend (Justin Theroux) reveals that he's a spy being hunted by deadly assassins. As they go on the run through Europe, Audrey and Morgan have to come up with a plan to save the world. Directed by Susanna Fogel from a script she wrote with David Iserson, the August 3 release features a supporting cast that includes Gillian Anderson, Sam Heughan, Hasan Minhaj, and Ivanna Sakhno.
The Spy Who Dumped Me (2018 Movie) Official Trailer – Mila Kunis, Kate McKinnon, Sam Heughan
Never Goin' Back
Writer-director Augustine Frizzell's debut feature follows Angela (Maia Mitchell) and Jessie (Camila Morrone) as they try to scrounge enough money to escape their waitressing jobs at a Dallas diner and take a birthday trip to Galveston. With mixed reviews from Sundance and SXSW, Never Goin' Back hits theaters August 3rd.
Never Goin' Back | Official Red Band Trailer HD | A24
Dog Days
Actor Ken Marino's directorial follow-up to How to Be a Latin Lover is an ensemble comedy about dog owners and their canine counterparts in Los Angeles. Dog Days stars Nina Dobrev, Vanessa Hudgens, Adam Pally, Eva Longoria, Tone Bell, Thomas Lennon, Tig Notaro, Finn Wolfhard, and Ron Cephas Jones. Find it in theaters August 10th.
DOG DAYS | Official Teaser
Alex Strangelove
Coming to Netflix on June 8th, Alex Strangelove tells the story of high school senior Alex Truelove (Daniel Doheny). He has good grades, great friends, a girlfriend (Madeline Weinstein) and his virginity, but life gets complicated when he meets Elliot (Antonio Marziale), who has no problem telling Alex he has a crush on him. Written and directed by Craig Johnson (The Skeleton Twins), this tale of self and sexual discovery has good early reviews.
Alex Strangelove | Official Trailer [HD] | Netflix
Short takes
Here's a look inside Jurassic World: Fallen Kingdom, coming to theaters June 22nd.
Jurassic World: Fallen Kingdom – In Theaters June 22 ("A Look Inside" Featurette) (HD)
News and notes