New trailers and updates for upcoming films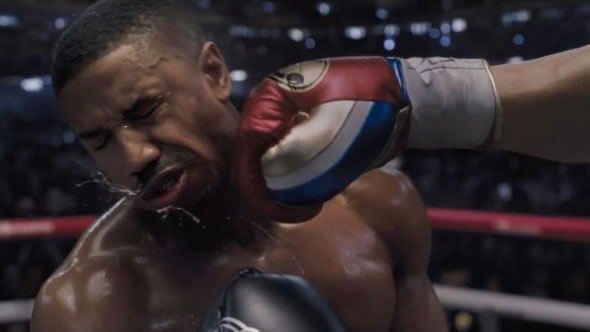 A second look at Creed II
Michael B. Jordan returns as Adonis Creed in this sequel to 2015's Creed. The November 21 release brings back a familiar foe from Rocky IV, Ivan Drago (Dolph Lundgren), whose son, Viktor Drago (Florian Munteanu), will be Adonis's opponent this time around. Steven Caple Jr. (The Land) takes over directing duties from Ryan Coogler, but Creed II does bring back Sylvester Stallone as Rocky, Tessa Thompson as Bianca, and Phylicia Rashad as Mary Anne Creed.
CREED II | Official Trailer 2 | MGM
X-Men: Dark Phoenix
In X-Men: Dark Phoenix, Jean Grey (Sophie Turner) is hit with a cosmic force while on a rescue mission in space and returns home more powerful but also unstable. Unable to contain the entity inside her, Jean spirals out of control, threatening the tenuous bond that holds the X-Men together. Producer-writer Simon Kinberg makes his directing debut with this February 14, 2019 release, featuring the return of Charles Xavier/Professor X (James McAvoy), Raven/Mystique (Jennifer Lawrence), Magneto (Michael Fassbender), Hank McCoy/Beast (Nicholas Hoult), Quicksilver (Evan Peters), Cyclops (Tye Sheridan), Nightcrawler (Kodi Smit-McPhee), and Storm (Alexandra Shipp).
Dark Phoenix | Official Trailer [HD] | 20th Century FOX
Mid90s
Jonah Hill's feature directorial debut follows Stevie (Sunny Suljic, The Killing of a Sacred Deer), a 13-year-old in Los Angeles who finds relief from a difficult home life by skateboarding with his new friends. Mid90s also stars Katherine Waterston as Stevie's mom, and Lucas Hedges as his brother. The October 19 release has good early reviews.
Mid90s | Official Trailer 2 HD | A24
Fantastic Beasts: The Crimes of Grindelwald
The second film in a planned five-film series, the November 16 release Fantastic Beasts: The Crimes of Grindelwald continues the story that began in 2016's Fantastic Beasts and Where to Find Them. The villain of the series—Johnny Depp's Grindelwald—revealed himself at the end of that film. Now, at the behest of his mentor Albus Dumbledore (Jude Law), Newt Scamander (Eddie Redmayne) will face off against the dark wizard. David Yates returns to direct his sixth film in J.K. Rowling's Wizarding World, and Katherine Waterston, Dan Fogler, Carmen Ejogo, Ezra Miller, and Alison Sudol are back as well. Joining the cast are Zoe Kravitz (who was introduced via a photo in the first film), Jessica Williams, Poppy Corby-Tuech, Callum Turner, and Claudia Kim, whose role as Nagini (Voldemort's Horcrux in the books and earlier films) stirred up a minor controversy earlier this week.
Fantastic Beasts: The Crimes of Grindelwald – Final Trailer
Burning
Burning was a critical favorite at Cannes this year, taking home the FIPRESCI (International Federation of Film Critics) prize for the best film in competition, though it didn't win any main competition awards. Directed by Lee Chang-dong (Poetry), the October 26 release is a loose adaptation of Haruki Murakami's short story "Barn Burning." A mysterious tale of love and class, the film revolves around a love triangle between deliveryman Jongsu (Ah-in Yoo), Haemi (Jong-seo Jun), a local girl he falls for, and Ben (Steven Yeun), the man she brings back home with her after a trip to Africa.
BURNING (2018) Official US Trailer | Steven Yeun Movie
Bumblebee
This December 21 release is a spin-off from the Transformers series. Set in 1987, Bumblebee follows Charlie (Hailee Steinfeld) as she discovers the titular Transformer in a junkyard, only to learn it's no ordinary VW bug. Travis Knight makes his live-action directing debut after the critical hit Kubo and the Two Strings. The supporting cast includes John Cena, John Ortiz, and Jorge Lendeborg Jr.
Bumblebee (2018) – New Official Trailer – Paramount Pictures
The Long Dumb Road
A Teacher director Hannah Fidell's follow-up to 6 Years is a road trip comedy that follows Nathan (Tony Revolori) as he drives from Texas to Los Angeles to begin his freshman year of college. When his car breaks down, he gets some mechanical help and a new passenger in the form of Jason Mantzoukas' Richard. With mixed reviews from it's Sundance premiere, The Long Dumb Road arrives in select theaters November 9th and On Demand November 16th.
THE LONG DUMB ROAD l Official Trailer l In Theaters November 9, On Demand and Digital November 16
Border
Danish-Iranian director Ali Abbasi's follow-up to Shelley is an adaptation of a novella by Let The Right One In author John Ajvide Lindqvist. A love story between Tina, a customs agent with an extraordinary sense of smell, and Vore, who introducers her to her true self, Border won the Un Certain Regard section at the Cannes Film Festival this year and is Sweden's entry for the best foreign-language film Oscar. Look for it in select theaters beginning October 26.
Border [Official Trailer] In Theaters October 26
Tyrel
Before he premiered Fistful of Dirt at Telluride last month, director Sebastián Silva brought Tyrel to Sundance. With good early reviews, the December 5 release stars Jason Mitchell as Tyler, a young man who joins his friend on a weekend trip where he discovers he's the only black guy in attendance and heavy drinking is the main entertainment.
Tyrel – Official Trailer with Jason Mitchell, Christopher Abbott, Michael Cera, & Caleb Landry Jones
Galveston
Directed by Mélanie Laurent (Breathe) from a screenplay adapted by Jim Hammett from True Detective creator Nic Pizzolatto's novel, Galveston follows Roy (Ben Foster), a hit man, and Rocky (Elle Fanning), a young woman he rescues during a job. Look for it in select theaters and on VOD beginning October 19th.
Galveston – OFFICIAL TRAILER
They'll Love Me When I'm Dead
After the critical and box office success of Won't You Be My Neighbor, it's shaping up to be another good year for Academy Award-winning director Morgan Neville (20 Feet from Stardom). His new documentary is a companion piece to Orson Welles' posthumously completed film The Other Side of the Wind. Covering the the final 15 years of the director's life, They'll Love Me When I'm Dead (like Wind) arrives on Netflix on November 2nd.
They'll Love Me When I'm Dead | Official Trailer [HD] | Netflix
Short takes
Michael Kelly stars as a bookie who starts taking bets on youth baseball games in All Square. Find it in select theaters and on VOD beginning October 12th.
ALL SQUARE Official US Theatrical Trailer
Peter Bogdanovich (The Last Picture Show, Paper Moon) celebrates the life and career of Buster Keaton in The Great Buster. Look for it in select theaters October 5th.
The Great Buster: A Celebration | Official US Trailer
Monrovia, Indiana, the new documentary from director Frederick Wiseman (Ex Libris) comes to select theaters October 26.
'Monrovia, Indiana' – Trailer
News and notes
Source link