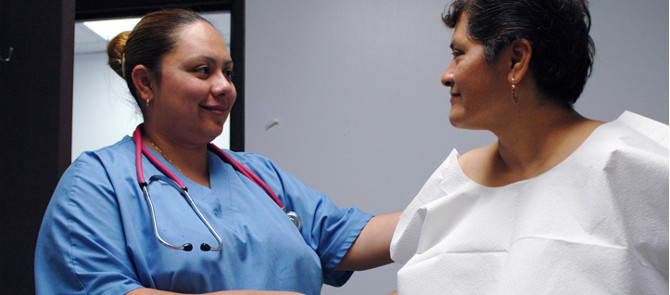 Breast cancer researcher and breast cancer survivor Maryellen Brisbois says she got her sense of humor from her father. She is thankful for it because laughter, she says, is what helped get her and her family through her battle with breast cancer 7 years ago.
"You are in the middle of this crisis and the world is still spinning. Having a sense of humor saved me and everyone around me because they could laugh with me."
Brisbois, who was a practicing nurse for 2 decades, turned her diagnosis into a career change moment. After recovering, she decided to pursue her longtime dream of getting her Ph.D. so she could teach other nurses. "I found over the years that there is a need for more nurse educators who are positive and can be mentors and a support system for those in the field."
While conducting research for her doctorate she interviewed 2 Caucasian women who had gone through breast cancer at the same time she had. "I realized their experiences were very different from mine," says Brisbois. "So, I started to think that if their experiences were different from mine then, wow, what would someone else's experience be like?"
That thought sparked her idea for her dissertation research. Brisbois became interested in particular in the issue of premature menopause brought on by chemotherapy, a common side effect that women going through breast cancer treatment experience. She found that while there was a lot of research on the subject in non-Latina women, there wasn't much about the experiences of Latinas.
With the help of an American Cancer Society Doctoral Degree Scholarship in Cancer Nursing, Brisbois recruited 20 Latinas with breast cancer across 12 states in the U.S. for her dissertation project. "I would not have been able to do the project to the extent I did without the scholarship – there is absolutely no way; the work would not have been as comprehensive." The unique scholarship program offers nurses who want to pursue a doctoral degree and conduct cancer nursing research financial support and career mentorship.
Brisbois describes the experience of the Latinas she studied as "bigger than menopause." In addition to dealing with early menopause, according to Brisbois, the Latina women had many more physiological, psychological, and social issues going on at the same time.
Brisbois discovered that Latinas encountered significant challenges – many of which Caucasian women do not experience – while going through breast cancer treatment. "I started to realize there were many disparities having to do with Latinas that caused worse outcomes than for white women." For example, 2 of the 20 study participants did not speak English. "They felt left behind in the system; they had a lot of difficulty navigating the health system."
These findings are reflective of the broad breast cancer disparities in Latinas vs. Caucasian women. Latinas are less likely than Caucasian women to get a breast cancer diagnosis while the cancer is in the earliest stage. Additionally, breast cancer is the leading cause of cancer deaths in Latinas, while that is not the case for Caucasian women.
Brisbois found that the women who had great relationships with their healthcare providers did better. But those who didn't, struggled. "Many women said their healthcare providers would say: 'OK, you are cancer free, what do you want me to do now?'" In this situation, Brisbois says, a lot of the women didn't advocate for themselves, "even though they described in my work that they had emotional symptoms – depression, anxiety, etc. – but they weren't screened for these issues."
Upon completing her degree, Brisbois joined the University of Massachusetts, Dartmouth College of Nursing faculty as an assistant professor. She says more research to obtain better information about these types of problems and more Spanish language resources, such as support groups for Spanish-speaking women with breast cancer, are needed. In addition, issues of health policy need to be addressed; she says, "we need to answer: how do we make things more equitable?"
Sign up here to get more breast cancer news and stories like this.
Source link