I am beyond excited to share this themed play dough activity I did for my kids because
it gave me HOURS and HOURS of happy playing and kids entertaining themselves.
A summer miracle! haha.
We had happy kiddos which made me a happy mama!
Sharing today our favorite play dough recipe and the
easy ocean themed set up that sparked their imaginations!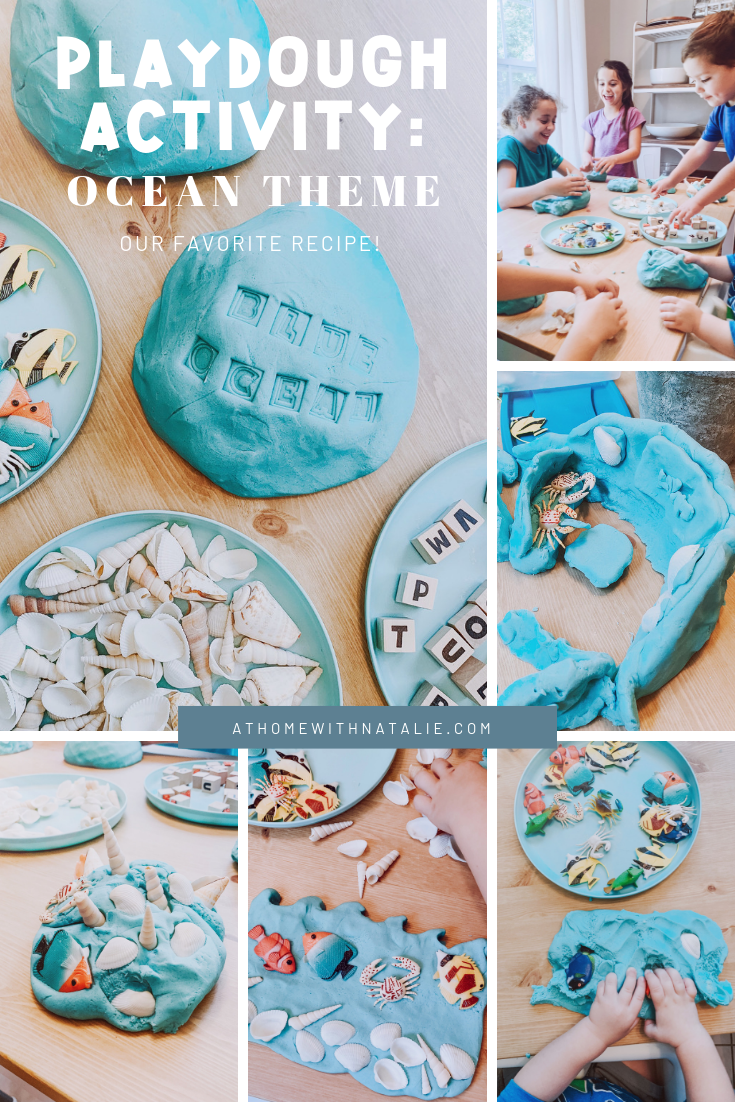 We love play dough in our house and have tried different recipes over the years.
For this go around we went with our basic recipe but added a secret ingredient……
The cheapest conditioner you can buy at the store! And bonus if it smells yummy like strawberries. 😉
When we made this I quadrupled it! I would suggest if you are a first timer just double it at most.
Always can add more flour if it is sticky.
You can't really ruin it…. just add more flour and oil and kneed it!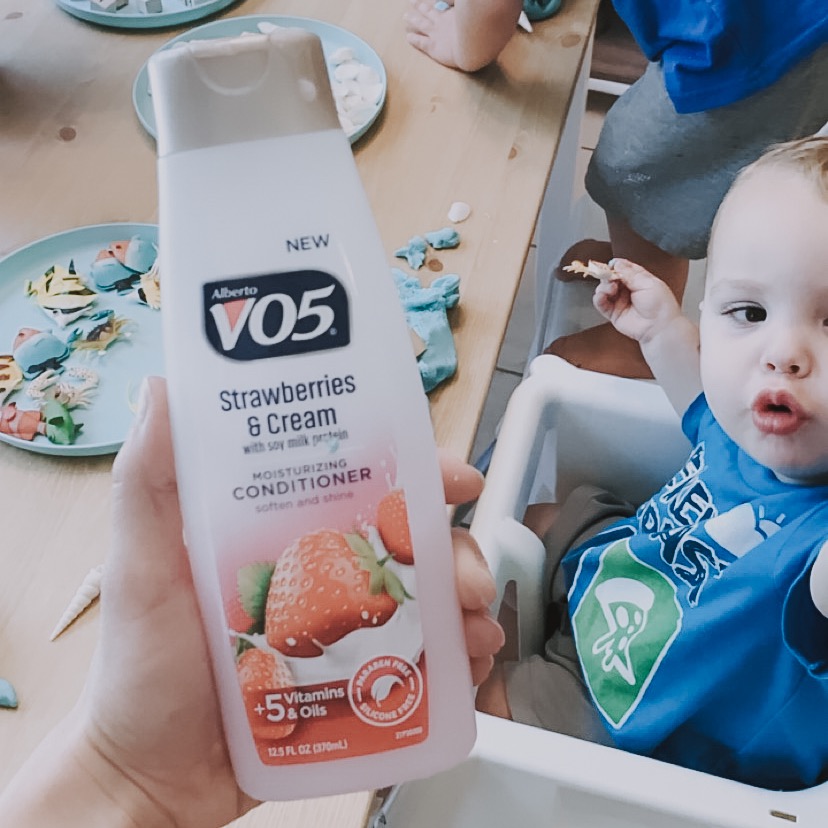 Also, don't use a metal spoon with a plastic attachment.. lol. definitely broke it.
I couldn't find my wooden spoon! The kids thought it was just
hilarious though..so.. just part of the memories I suppose. 😉
PLAY DOUGH RECIPE:
2 Cups Flour
4 TB Cream of Tartar
1 Cup Salt
3 TB Vegetable Oil
2 Cups Water
Few squirts of the conditioner – add more flour if needed!
Blue Gel food coloring (that's what I had but you can use
regular food coloring and mix till you get the colors you want!)
RECIPE:
1. Combine the dry ingredients (flour, cream of tartar and salt) in your pot.
2. Add the wet ingredients (water, food coloring, conditioner and vegetable oil)
3. Stir over medium heat until it starts forming a play dough consistency.
4. Remove from heat and allow to cool…I just tossed it onto a cutting board for this part.
5. Once it's cooled a bit just knead it together for a while to get the right consistency and color.
Time to play!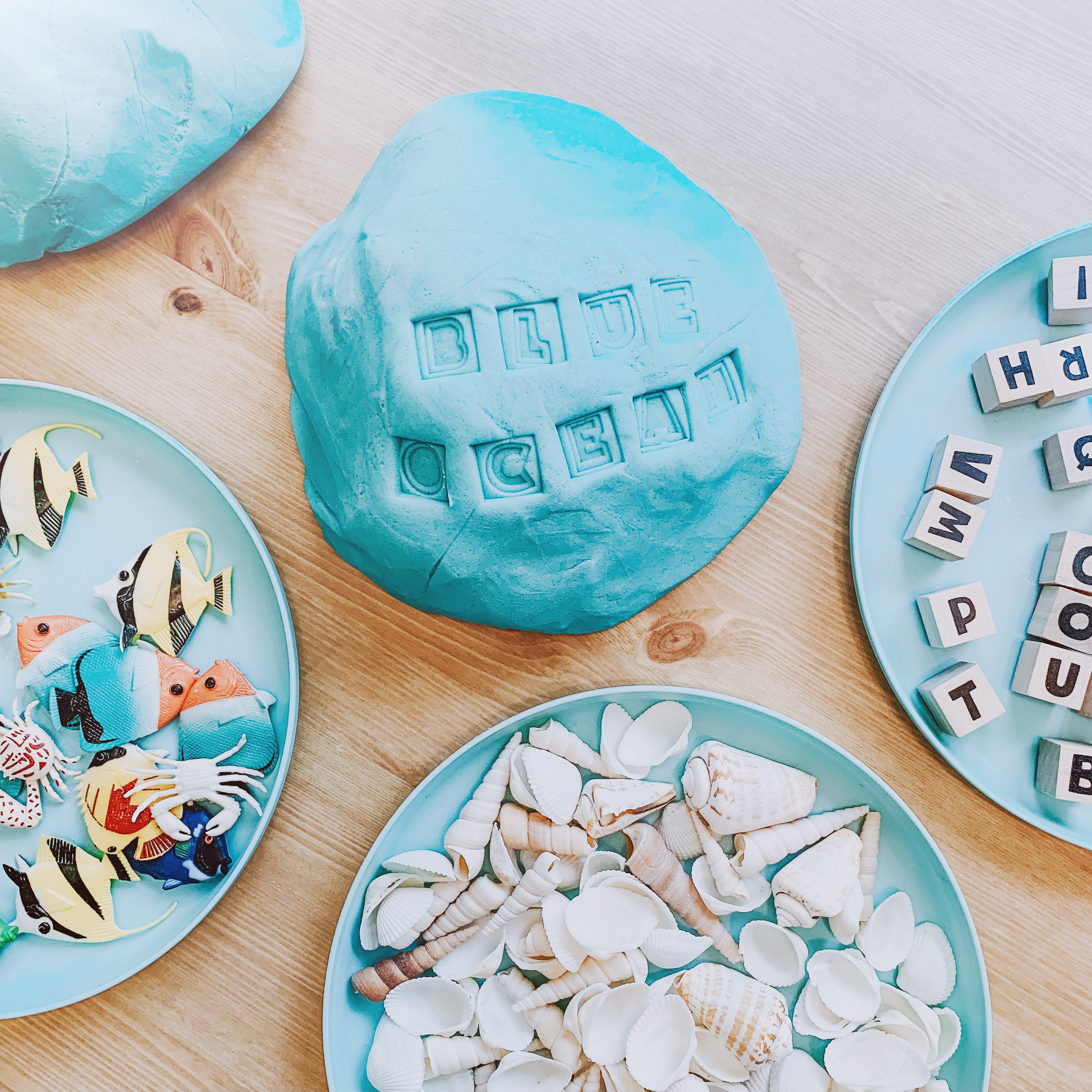 OCEAN THEMED ITEMS:
I found a few fun things at Walmart to use for this ocean themed activity.
Letter stamps (will be great to reuse for other fun projects too!)
Sea shells (a huge bag was $5 and we only used a quarter of them for this project.
I also already had some ocean animal figures from Target.
The plates we use for the kids every day and they are from Target as well.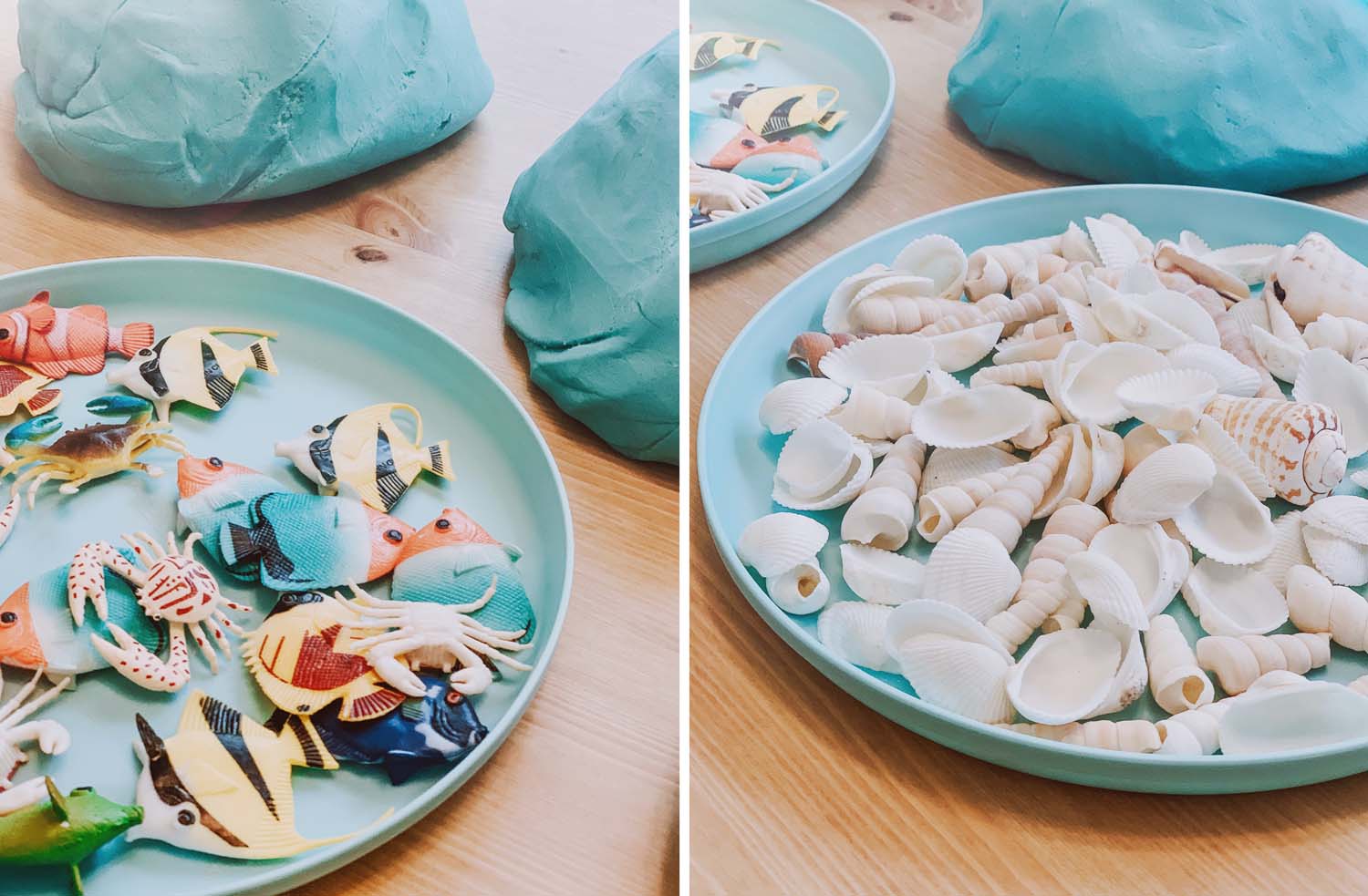 I can't rave enough about this activity and set up…..
I am still shocked how long my kids sat there and laughed and played.
GUYS…. I went and sat down on the sofa and just let them play.
No one asked me for a snack… or said I'm bored…
we had a few fussy moments where someone touched someone else's play dough but they worked through it!
It was pretty funny seeing their personalities shine through in their creations!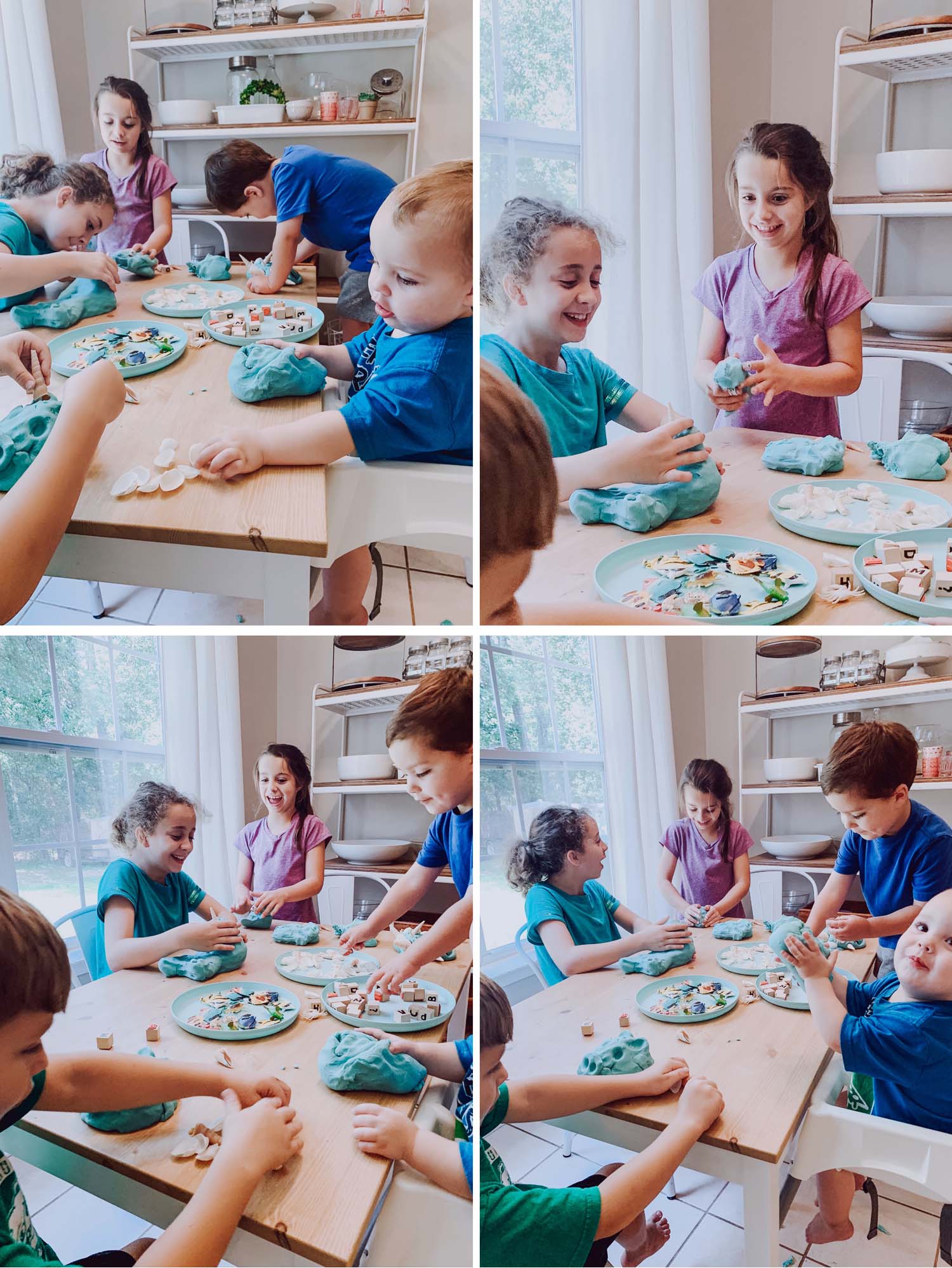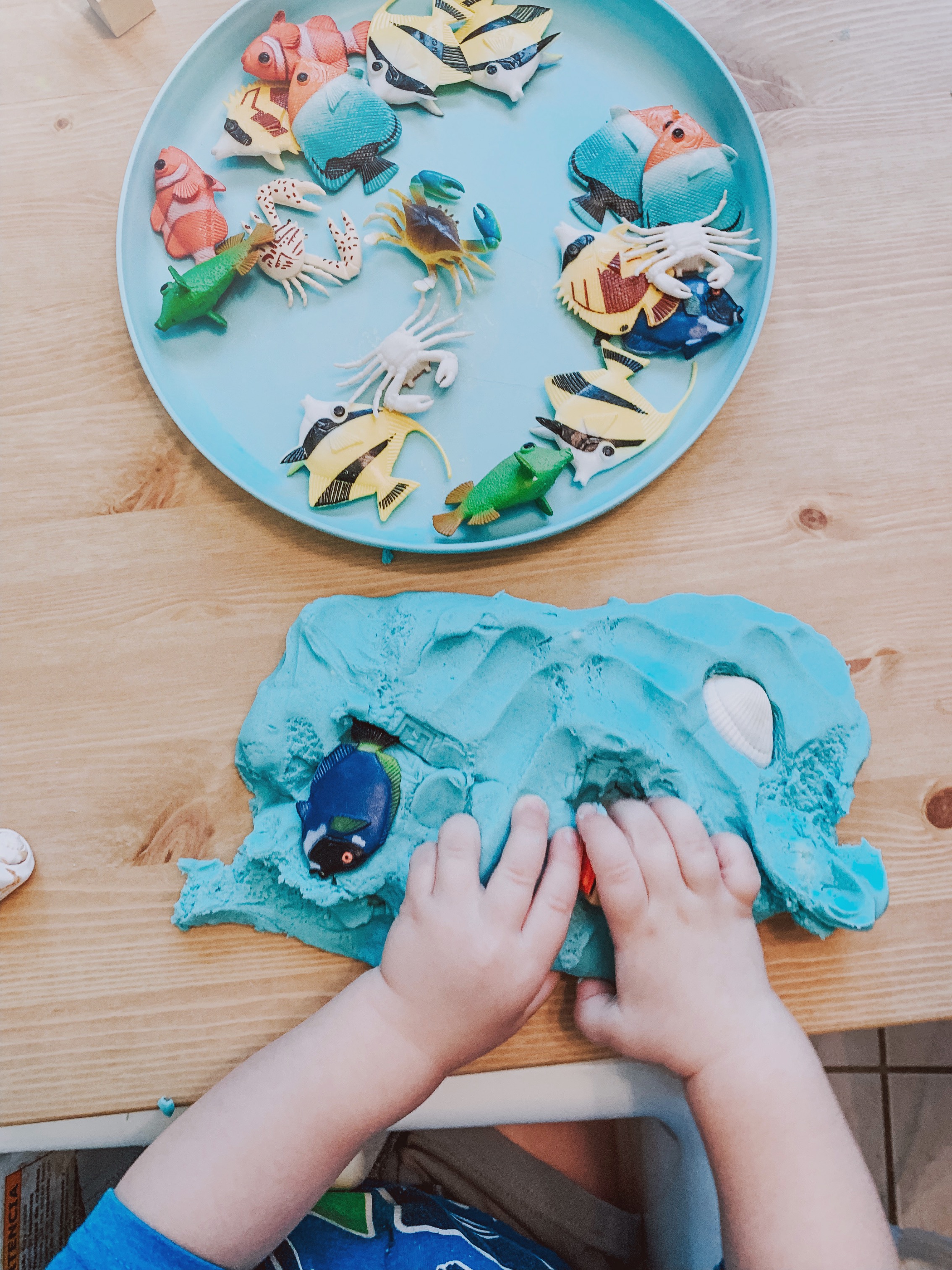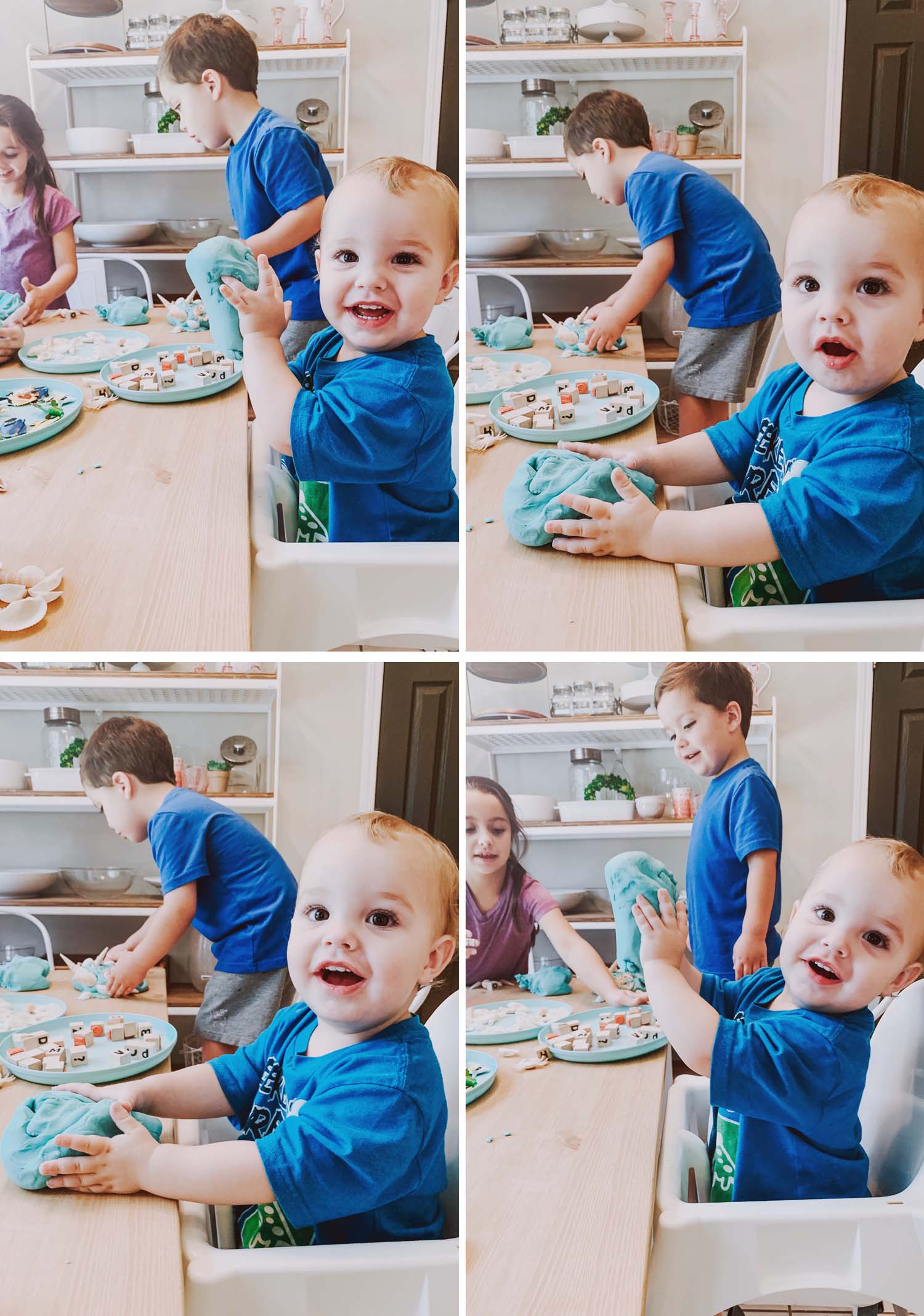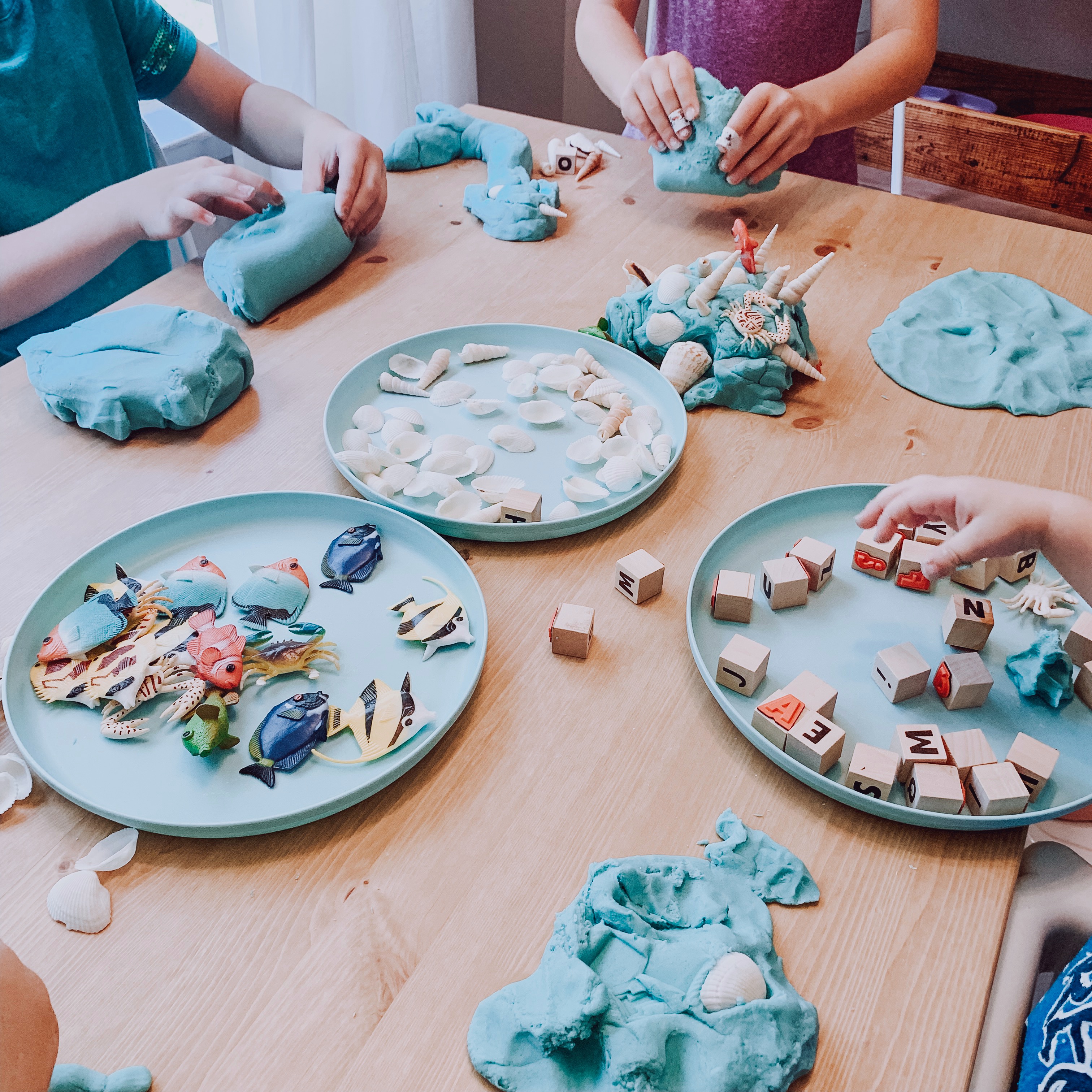 Everyone was a tad giggly and loopy at the time
so we ended up with a crab pig….. also a pig with a mustache.
Asher was so proud of his ocean scene. (bottom right.)
And Sophia made that pretty "ocean cake."
With five kids ages almost 11 to almost 2….
I LOVE when I have an activity they can all do together. It's the best!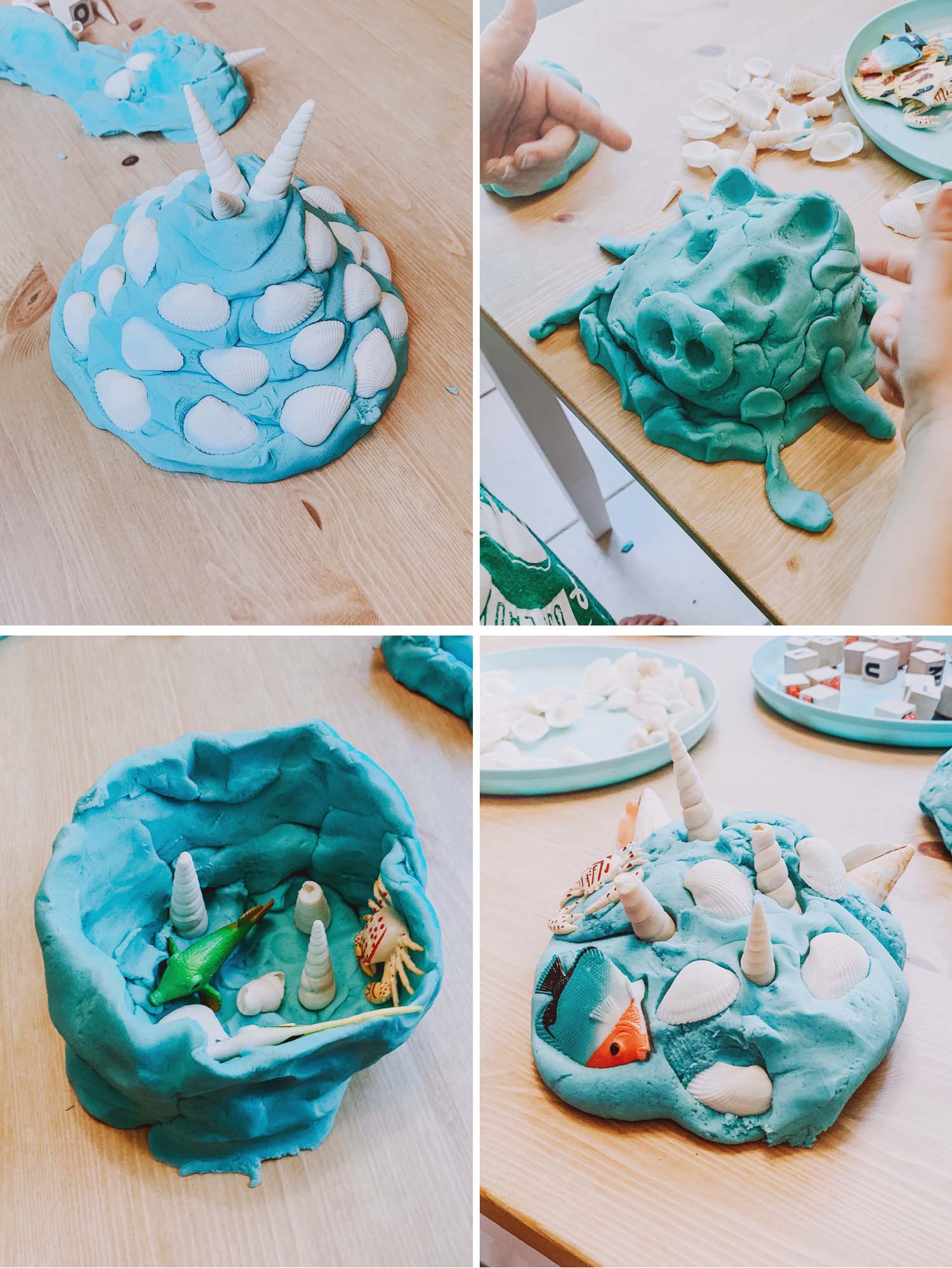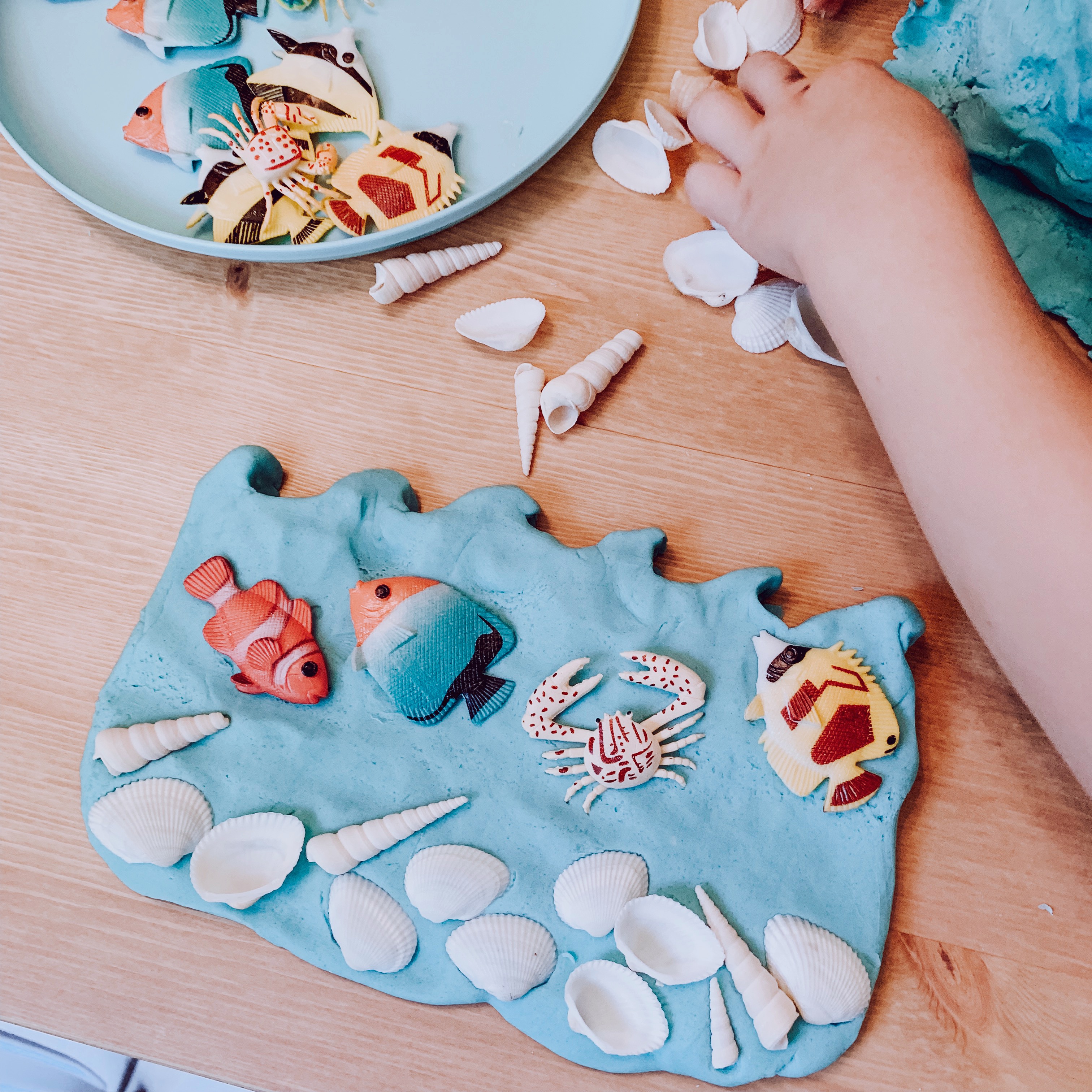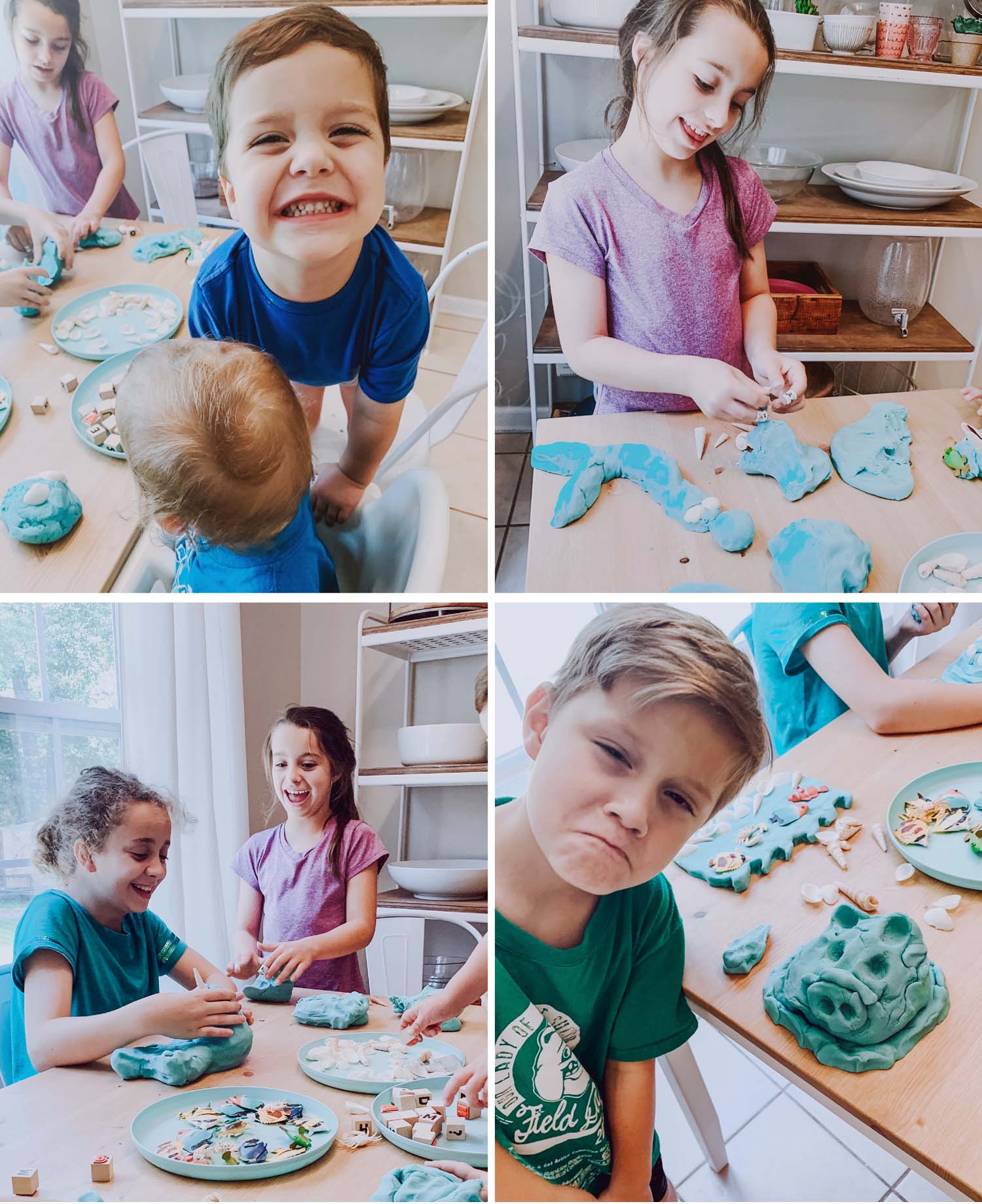 WAIT GUYS- IT GETS BETTER!
So next day they pulled out their containers of play dough and started working up a whole floor plan for their sea creatures.
Please note the remote control the crab is holding. haha.
I also like the large circle dining room table. Very functional and cute. 😉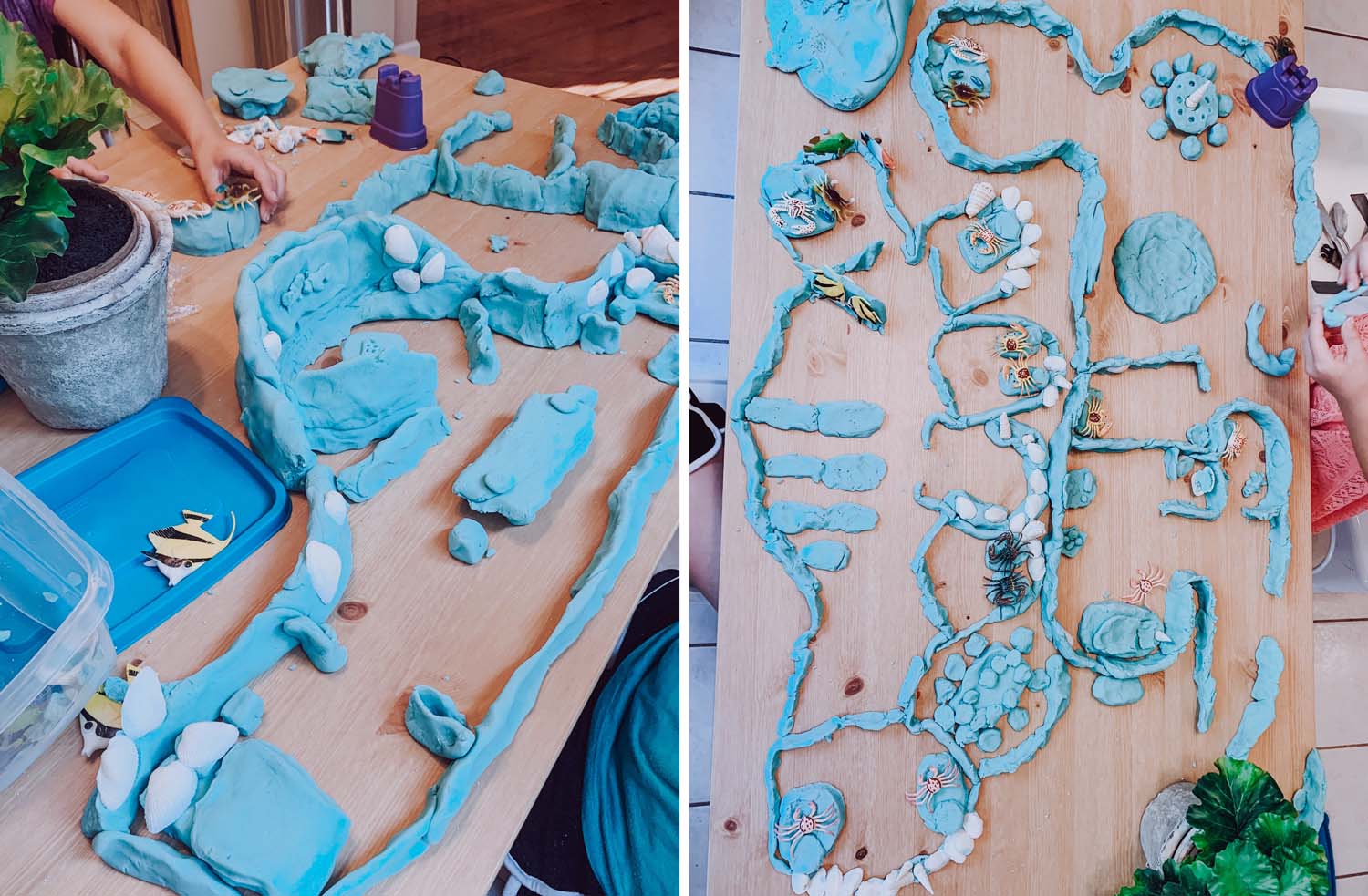 I had bought plastic containers at Walmart so that we could easily pack the
fun up and then the kids could get into it another time.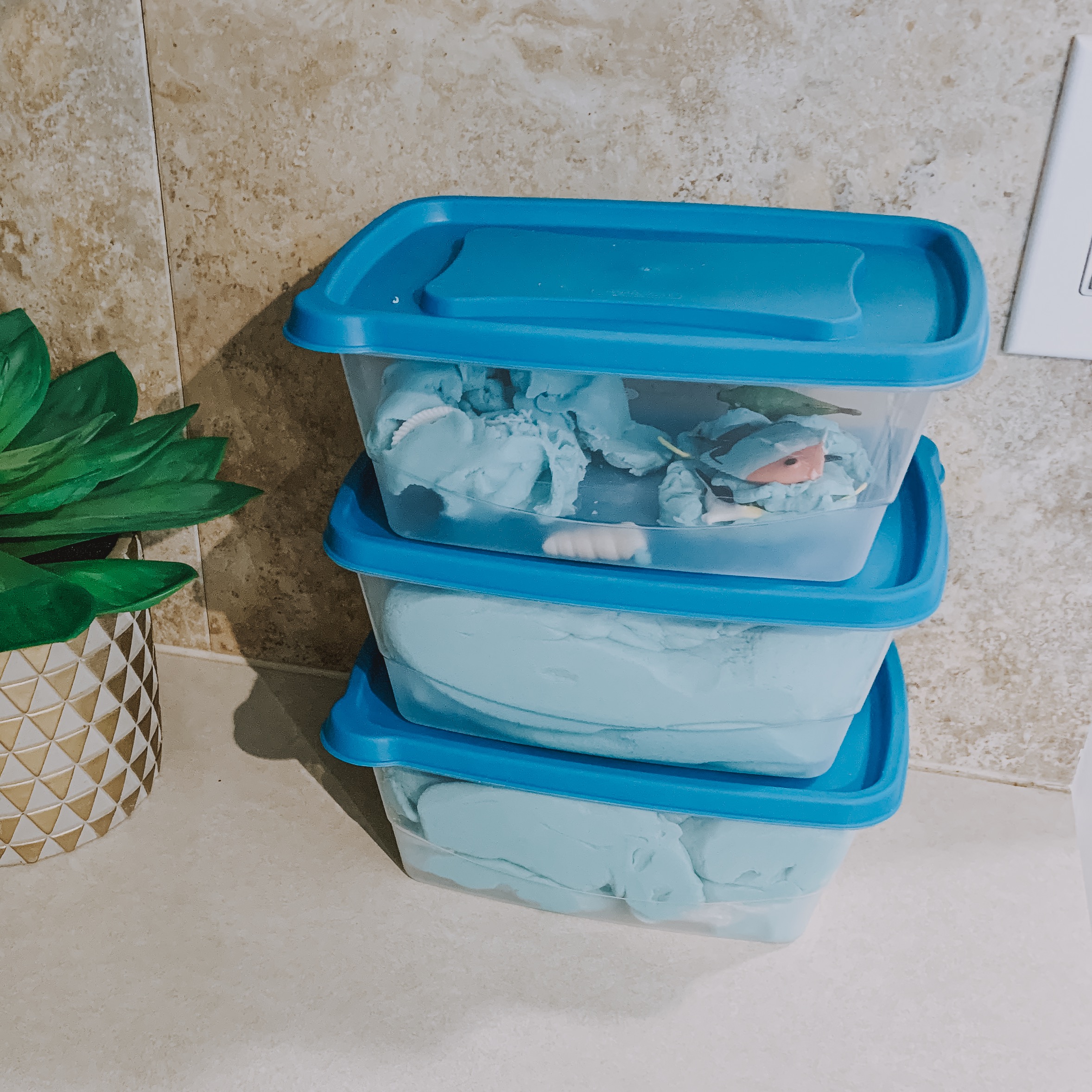 I hope you whip up some of your own play dough and set up a fun themed activity like this…
I promise you are going to love the moments it gives you.
BE OK with a little playdough on the ground – make the kids clean it up!
Have fun seeing their creativity run wild… and maybe even a moment of silence or happy kiddos for ya? 😉
Happy end of summer friends! Come say hey over on insta if you share your own play dough fun!– @athomewithnatalie


Source link