Life is busy as a mama – I know I'm preaching to the choir here!
With all the stuff going on, sometimes my meal planning gets tossed out the window. You too?
Sometimes it's dinner time and I'm suddenly needing to throw something together.
No recipe? No problem! Eckrich Smoked Sausage is a new staple in my grocery pick-up order…
I now always have Eckrich products in there to save the day.
(My love for them all started with their Kielbasa!)
But tonight, I used their Turkey Skinless Smoked Sausage Rope and
it might be my new favorite product from them!
But honestly anything from Eckrich – paired with whatever you have
on hand in the fridge and pantry – can make dinner come together super quick.
Want to see what I whipped up?? We JUST had this for dinner and it
was TOO GOOD not to write up and share it with you guys!
One-Pan Sausage, Asparagus + Potatoes!
I had asparagus that needed to be made asap and a bag of steamable golden potatoes.
I knew I could make those work with my pre-cooked Turkey Sausage!
I had this on the table in 21 minutes. 5-minute prep time and 16 minutes in the oven. And it was a HIT!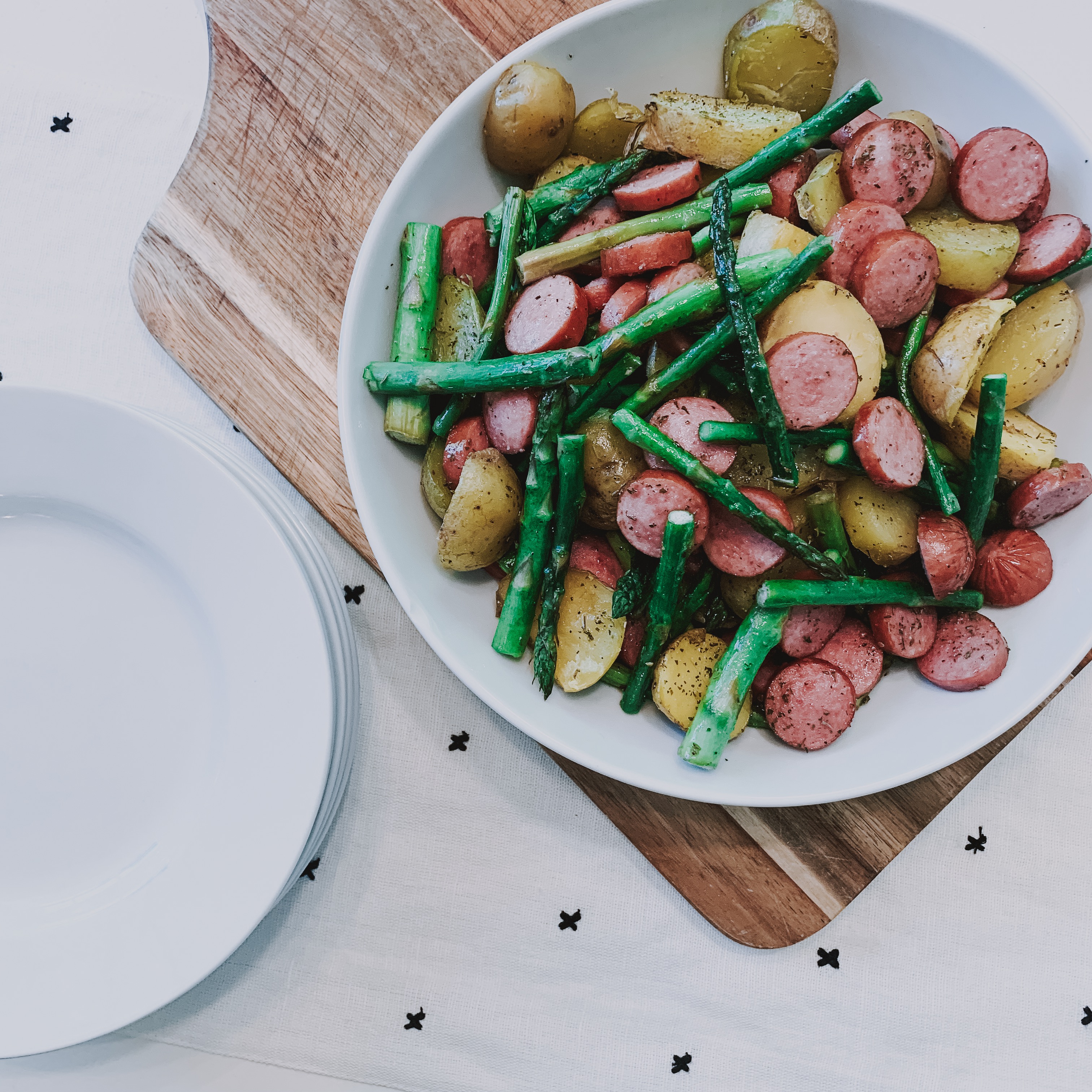 INGREDIENTS:
Eckrich Turkey Skinless Smoked Sausage Rope
Asparagus
Potatoes (In a steamable bag to make it even quicker!)
Olive Oil
Salt, Pepper, Garlic Powder, Oregano and Parsley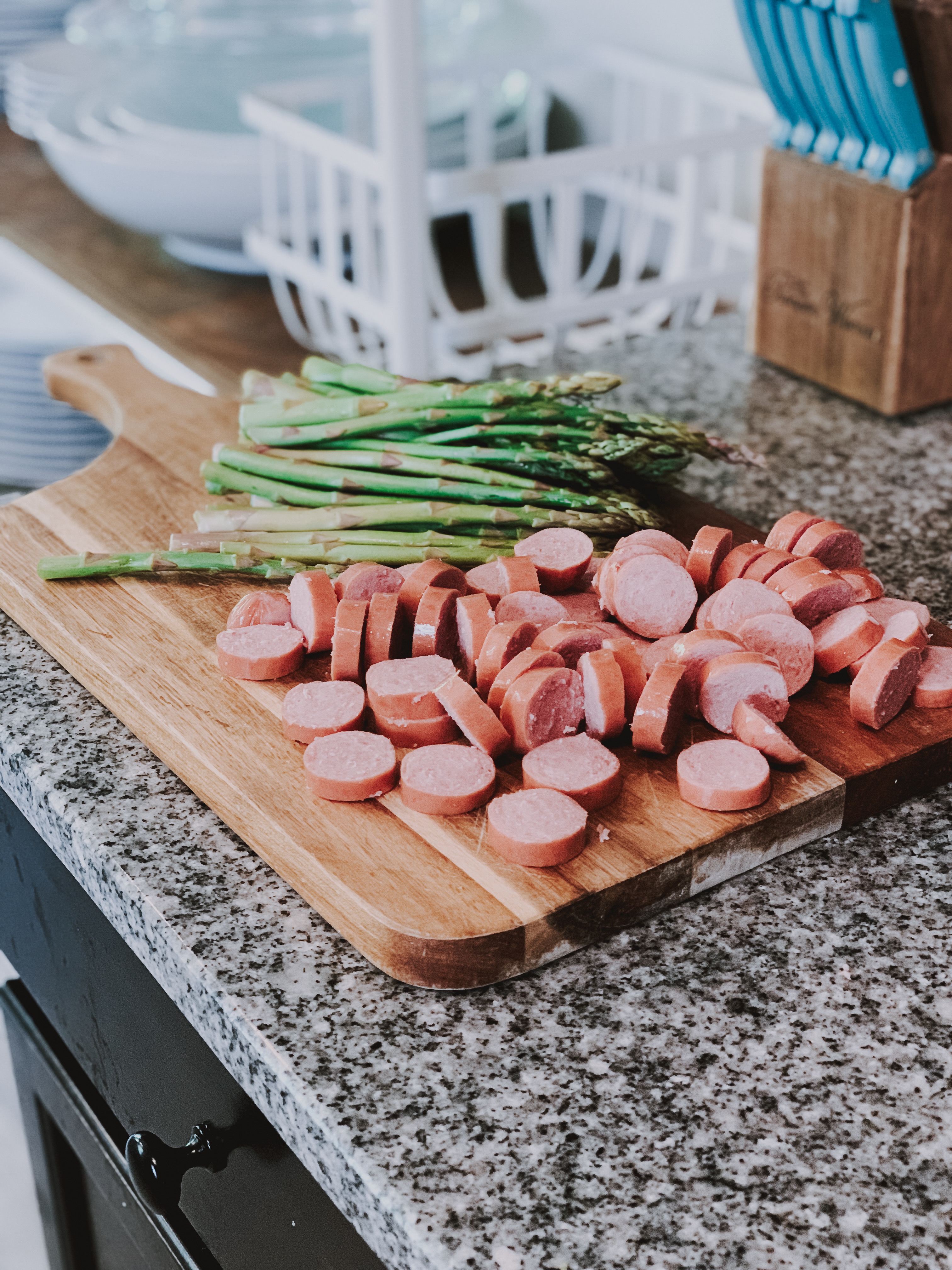 STEPS:
Preheat oven to 400 degrees
Pop your steamable potatoes in the microwave for half the time it says.
While that steams you are going to slice up your sausage and cut your asparagus in half!
Line a baking sheet with parchment paper.
Toss sausage and asparagus on baking sheet.
Once your potatoes are done steaming, you want to carefully pour them
out of the bag onto the cutting board you just used (careful they are hot!).
Give them a second to cool down and then cut up and place on sheet pan!
If you don't have the steam-in-a-bag option for your potatoes…..
just put sliced up potatoes on the sheet pan for 20 minutes or so before you add the sausage and asparagus!
Drizzle olive oil across your yummy ingredients.
This recipe could not get easier! Now it's time to just dash on some spices!
I used salt, pepper, garlic powder, oregano and parsley! YUM.
Put sheet pan in oven for 16 minutes.
Serve warm, directly from sheet pan OR make yourself look like the
amazing chef you are and pour into a pretty serving dish.
Looks like you slaved away all night prepping dinner for your people. 😉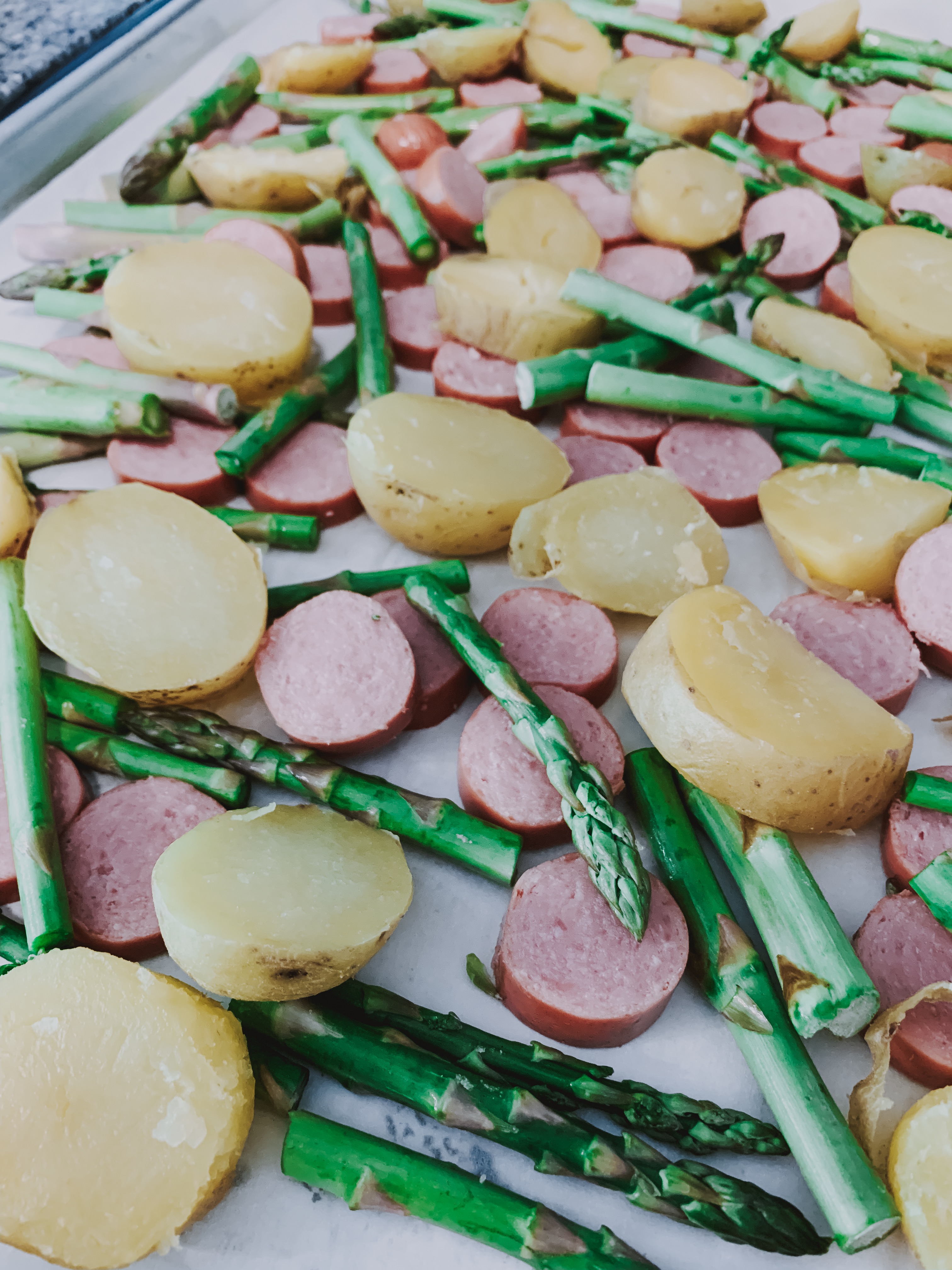 The kids LOVED it and this was a dinner I was sneaking bites of before the kids got to the table. Haha.
So delicious. Lucky for me we have some leftovers, I know what I'm having for lunch tomorrow!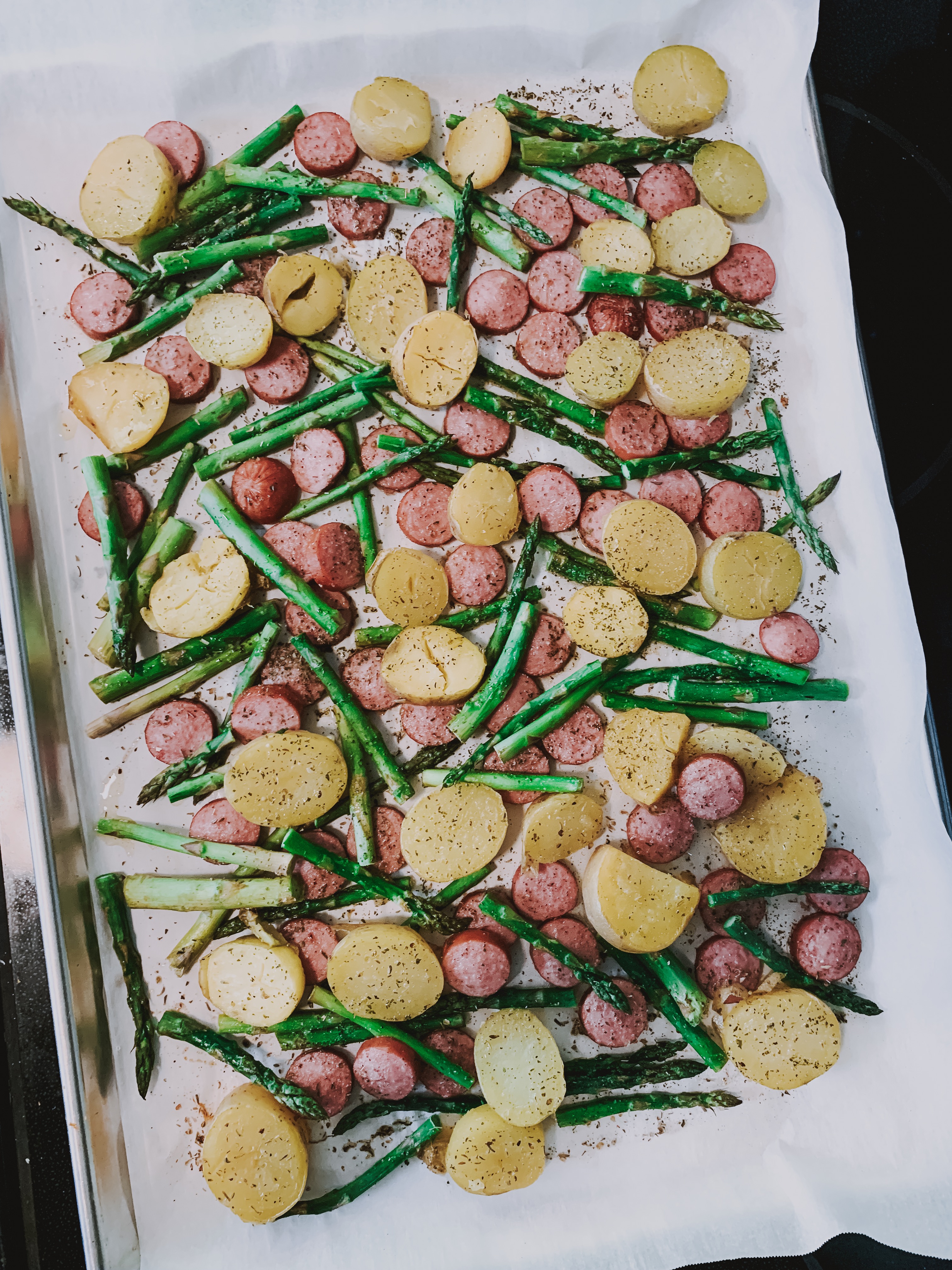 Having Eckrich products on hand enables you to use anything else you have in your
fridge or pantry, and bring everything together into a delicious meal. Add it to your grocery list mamas!! 😉
For more mealtime inspiration, product information, and where to buy, visit www.Eckrich.com.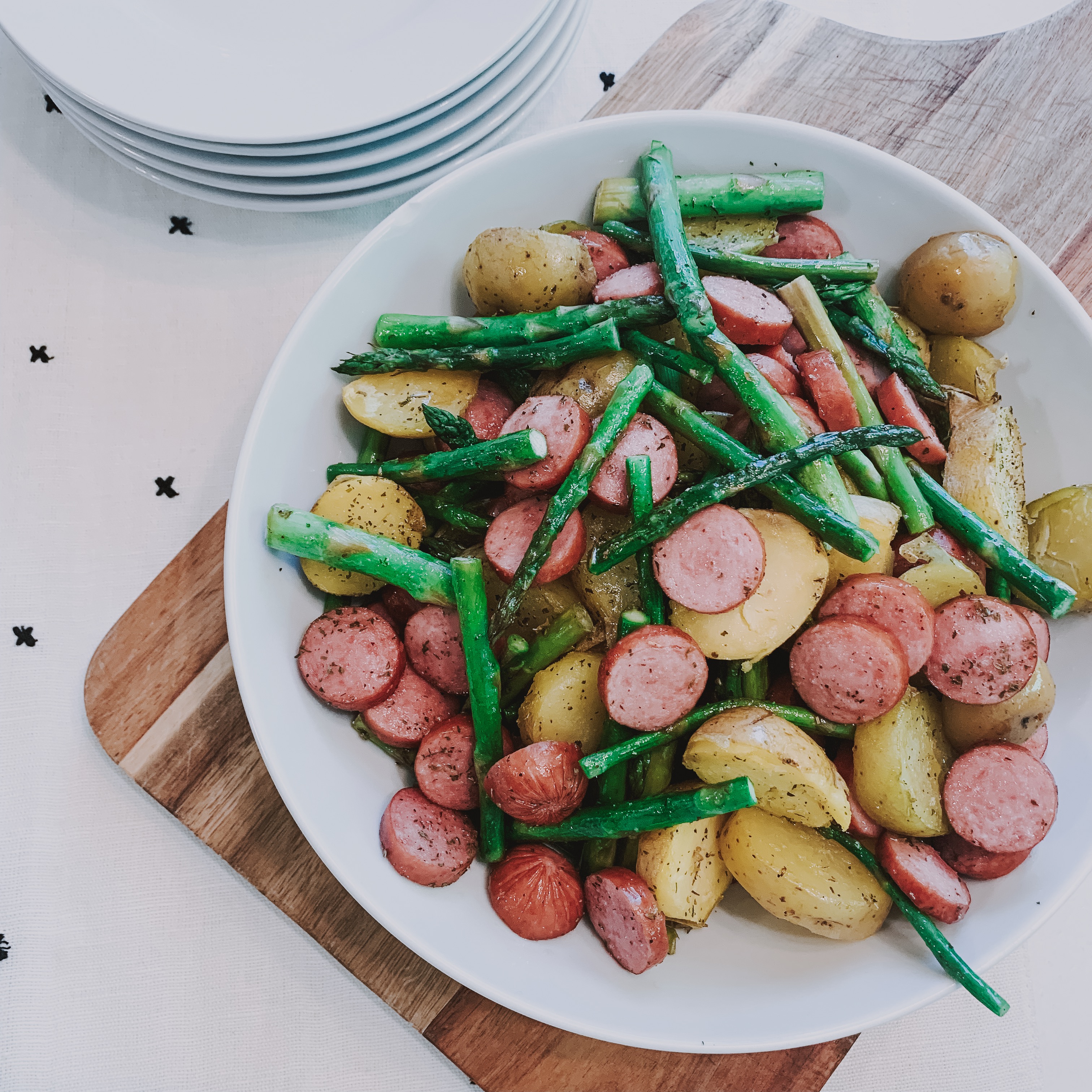 Source link