Hey everyone! Today I'm sharing with you our Chicco MyFit LE Harness + Booster for Asher!
If you are on the hunt for a better car seat or
ready to bump up from a convertible car seat… this post is for you!
I was excited to share this post because we need to share more info like this with
each other…get the full scoop… and help each other make sure our little ones are safe.
I wanted to share the basics about this seat and the features that make it so amazing!
We have five kids and a larger vehicle. But with so many kids, that car fills up quickly!
So that's why I love how the MyFit LE is a great fit for smaller vehicles.
Doesn't take up much space and has a great slim fit!
(You can comfortably fit this seat three across!)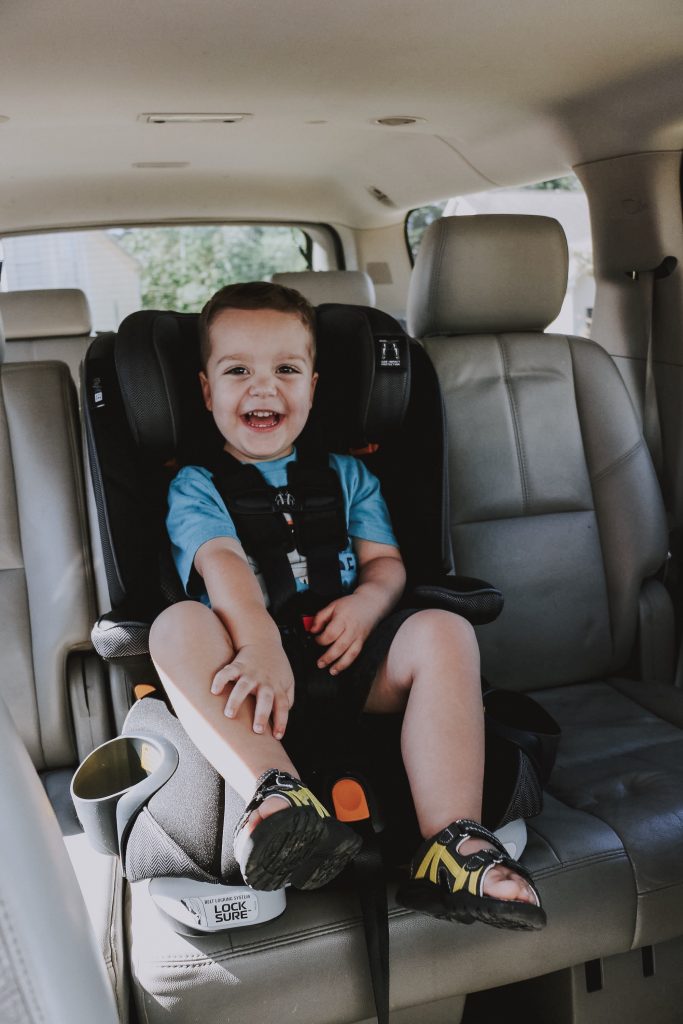 Car Seat Pick: Our Chicco MyFit LE for Asher

So Chicco has been manufacturing baby gear for more than 50 years- I'm sure you
know this brand…They have the #1-rated KeyFit 30 Infant and NextFit Convertible
Car Seats and a full line of playards, highchairs, car seats, strollers and more.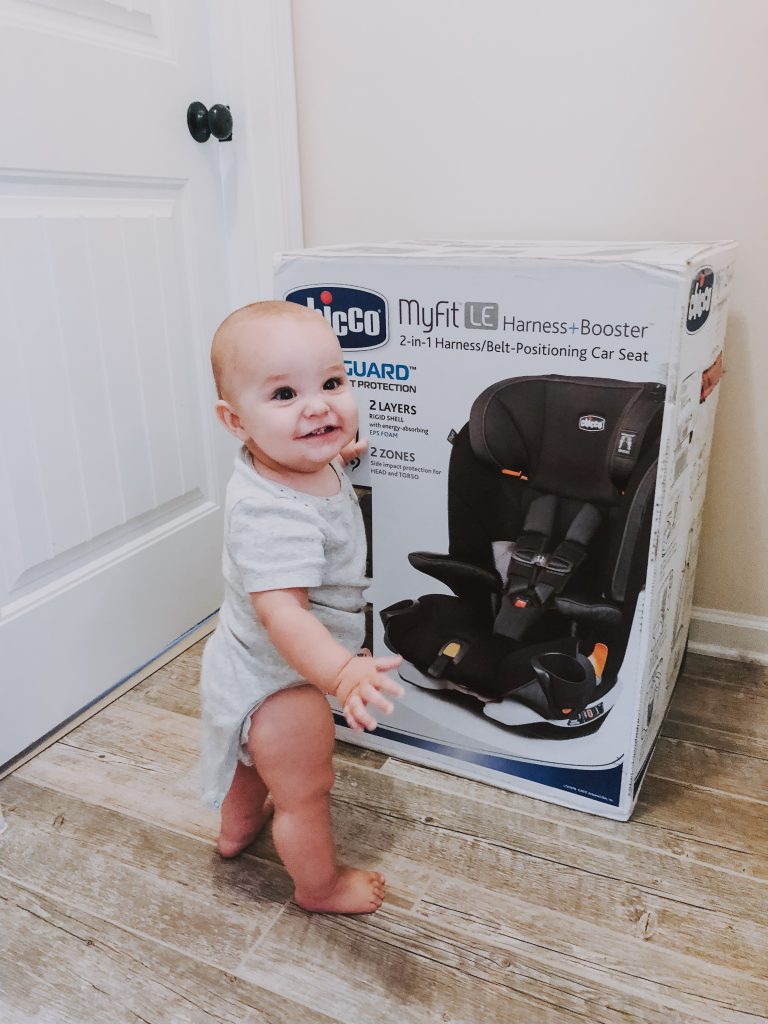 Couple key facts about the My Fit LE.
This seat converts from 5-point harness to a belt-positioning booster.
It grows with your child!
You start out with the harness and then transition to a booster later down the road.
In harness mode it goes to 25-65 pounds.
In booster mode it's for 40-100 pounds.
The harness has a 54-inch height limit.
It also has a nine-position extended headrest, which
can be adjusted so the shoulder straps are even with or slightly
above your child's shoulders, to accommodate years of growing.
I love that with this seat you are able to keep your child in the harness set up longer
I'm all for that added security but also let's just keep that child really
contained as long as possible. Am I right? Haha. Anything to help
keep the peace in the car and kid hands from reaching other children. 😉
One less "his elbow is touching my elbow!" please.
So you can have your child in the harness and then when it's time
transition them to the booster and seatbelt mode.. You're ready to roll!
According to Chicco's child passenger safety advocate, Courtney Barry, maturity
plays a critical role in knowing when to transition from the 5-point harness to belt-positioning booster.
You must feel confident that your child can sit upright, without playing with
their seat belt and accidentally shifting it into an unsafe position.
I love that this seat does both because when you are looking to purchase a seat for your child..
You want to know how it's going to work down the road.
You want it to make sense for your budget and your child!
There is also a basic MyFit that has similar comfort and safety features but is available at a lower price.
So you have two great options to choose from!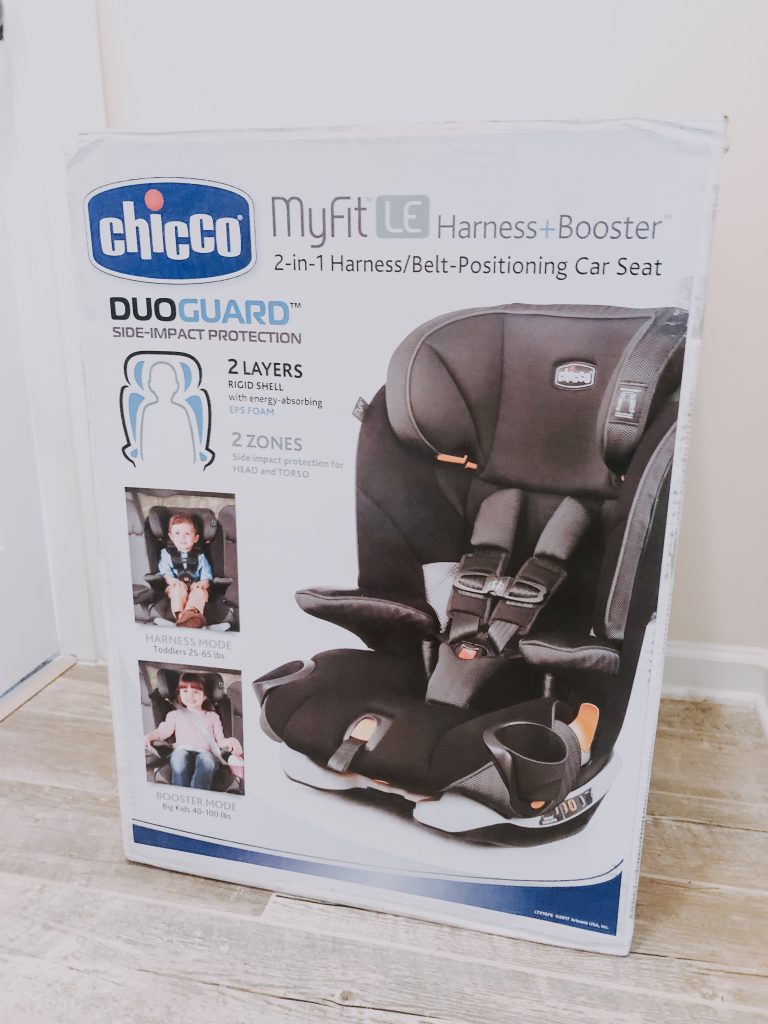 Chicco thought about us mamas, and our sanity… when they designed
it with smart functionality that makes it the easiest to install simply, accurately, and securely, every time.
That is a huge deal for us moms – we want to make sure it's in correctly and securely!
The seat has a four-position ReclineSure leveling system and RideRight
bubble levels to help you have the correct angle in the vehicle seat.
It also has Premium LATCH connectors with a SuperCinch tightener and
a LockSure belt-tightening system so you can achieve a tight and secure
fit with LATCH or the vehicle seat belt.
SO just a recap – The MyFit LE is a harness to booster car seat.
Combination forward-facing-only car seat.
Minimum of 2 years of age to use it, but remember that it's important to keep kids
rear-facing for as long as possible so wait until your child outgrows their convertible car seat to make the switch.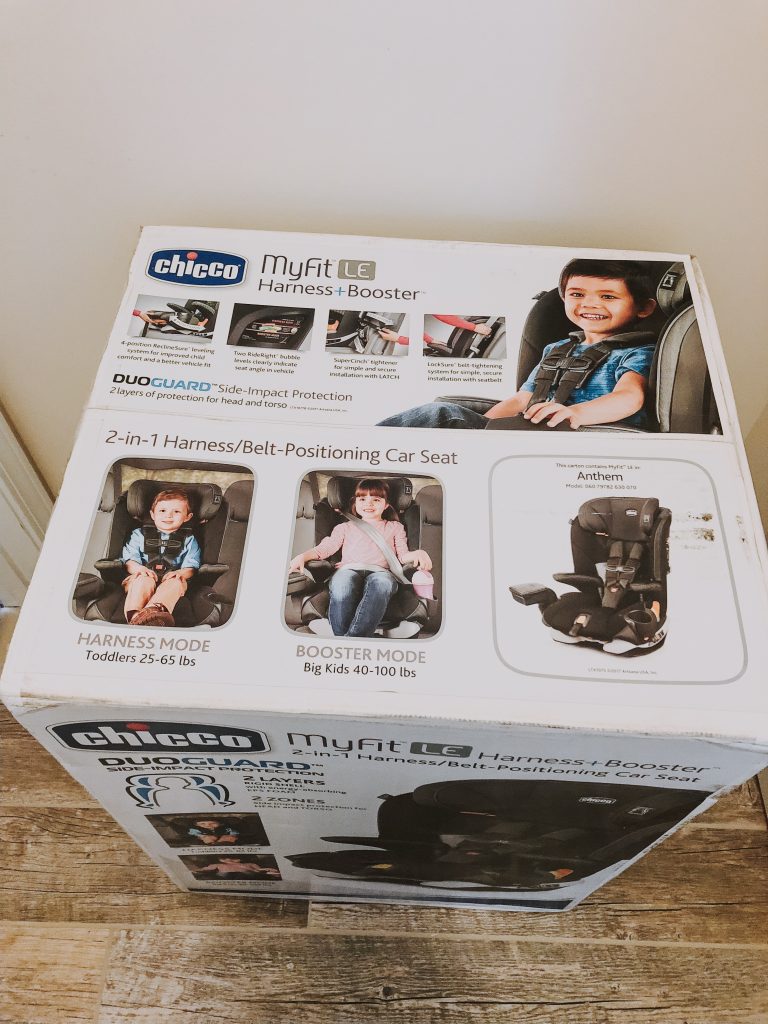 The MyFit LE is available online at ChiccoUSA.com and at a variety
of retailers, including Amazon, Target and buybuy BABY for $249.99
A basic model of the MyFit, offering the same safety and comfort features, is available for $199.99
Thank you Chicco for sponsoring today's post!
I hope you found the video helpful as you check out the details of this seat!
Asher is living his best life in this seat 😉
Sophia said she wants it in her size. I don't blame her.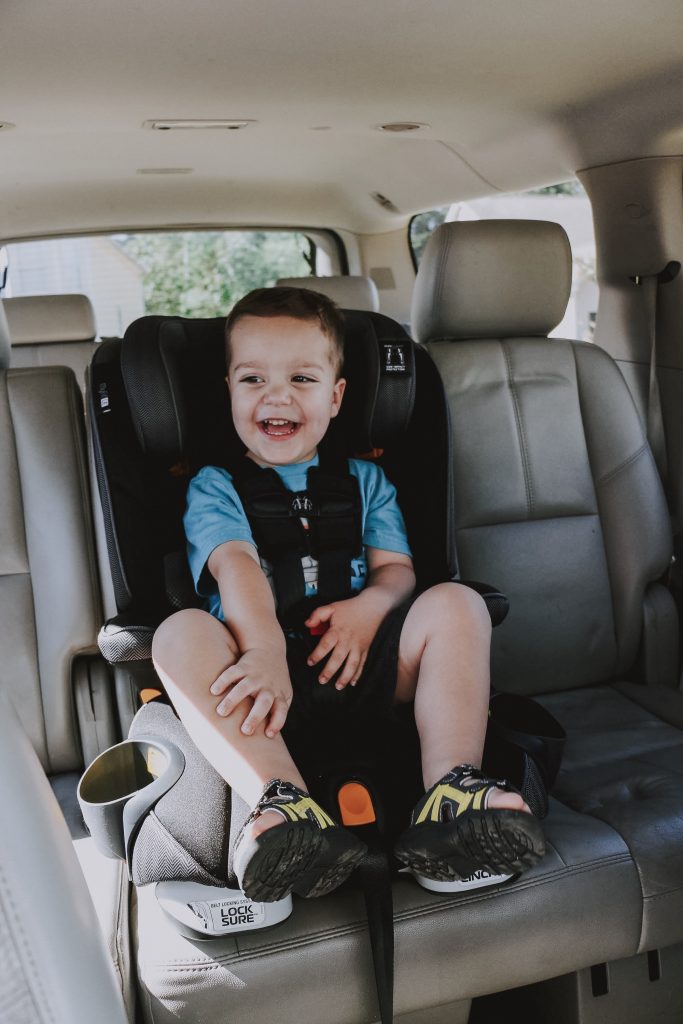 Source link