The other day I was really in the mood to bake cookies!
I wanted to get creative and into the Christmas spirit!
It always feels like the season has arrived when we make our sugar cookies!
We make a version of them for almost every holiday since I
was a child and they've been a family favorite for YEARS!
We typically just sprinkle them with colored sugar to decorate…
but I was feeling creative and wanted to try my hand at cookie icing!
Kind of in love with how they turned out! I'm no pro baker…
but the store-bought cookie icing makes you feel like one!
This is the perfect soft sugar cookie with the right amount of sweetness…
I hope you try making them for your people!
You'll feel like a BOSS MAMA ELF.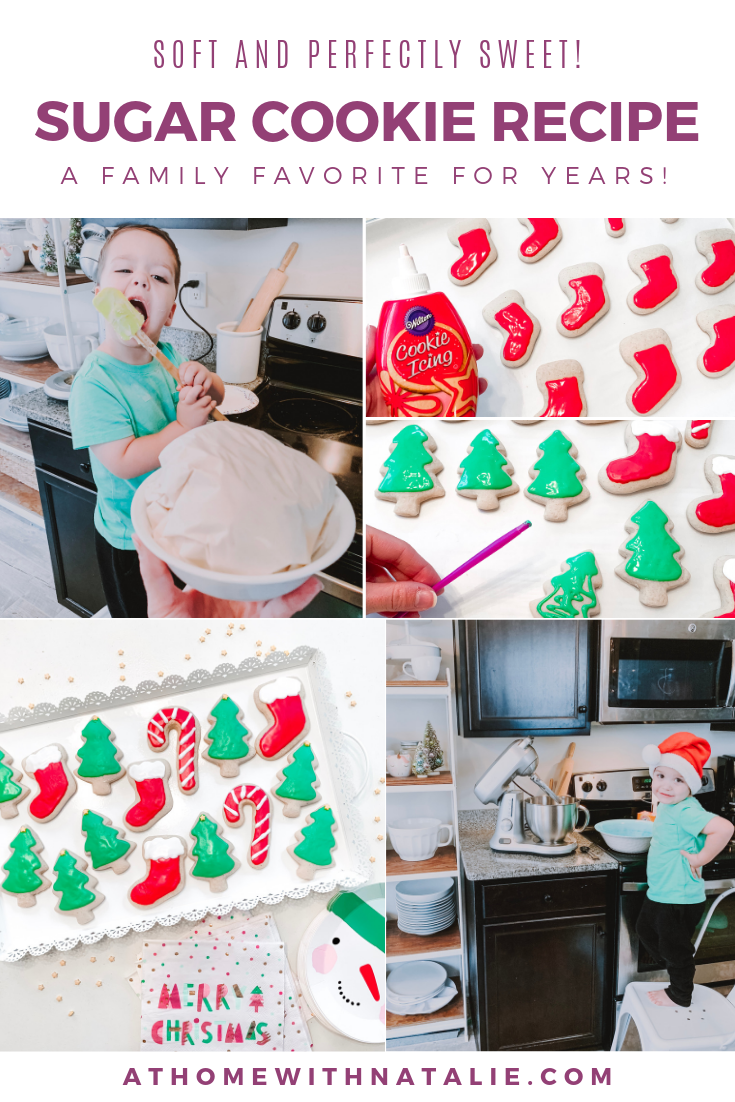 Break is around the corner for my kids and we are READY!
A pretty plate of Christmas cookies to ring in the festive fun!
We are going to be baking more cookies this weekend to box up in
cute tins I got at Hobby Lobby and mail to family far away.
We aren't doing Christmas cards this year… (saying no to things so I can say YES to other things!)
but I really wanted to make sure we sent a little box of goodies a long with some books we are gifting.
Love love mailing treats to family we can't be near and I hope they enjoy them and smile!
To go along with these…we are going to be making our go to recipes:
Peanut Blossom Cookies and Peanut butter Cup Cookies!
(the best part is…it's the same dough!)
Asher was my helper when it came to making the dough. He was ALL about it.
I put the baby down for a nap and we had some special time together.
This pose was his idea and it's everything. haha.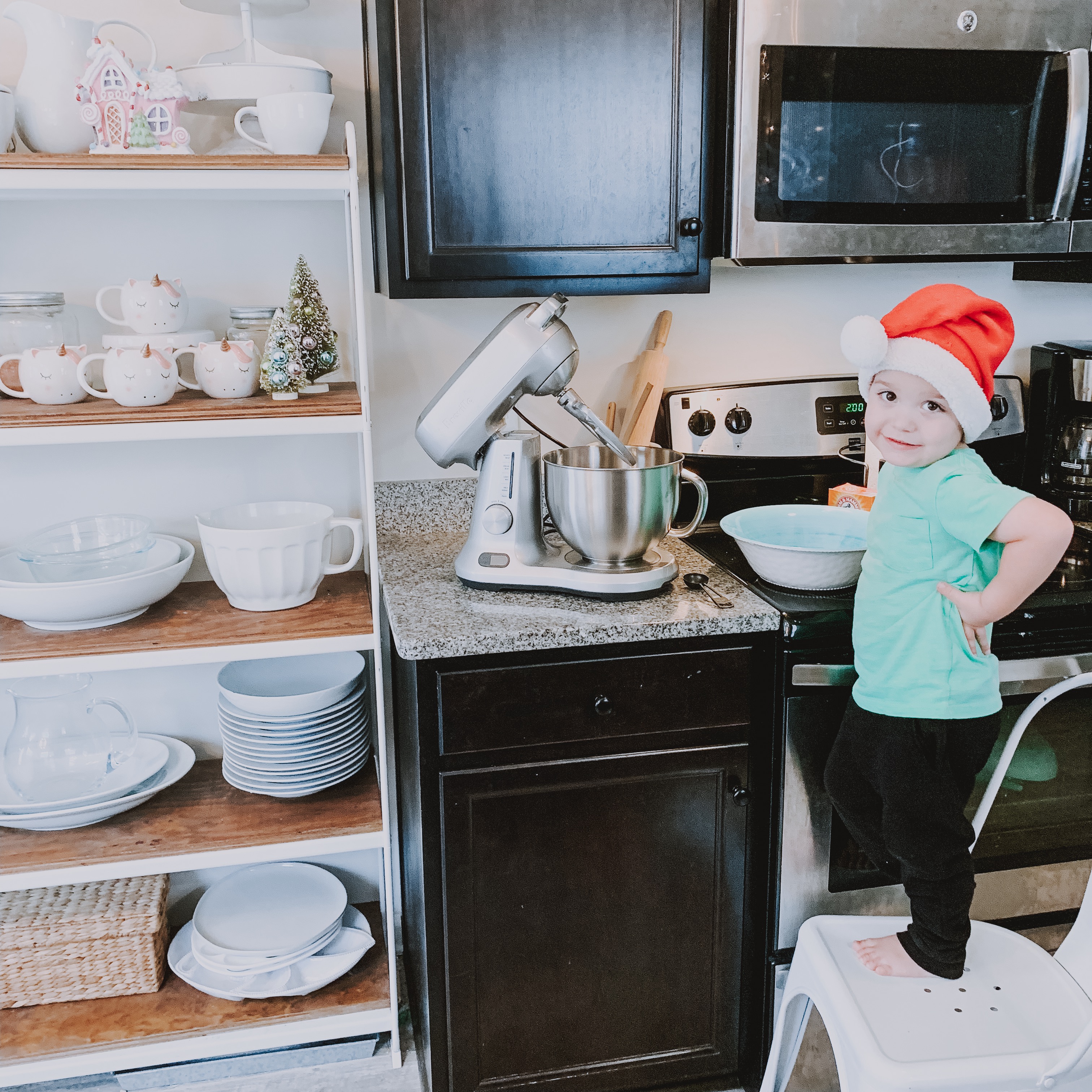 I kept trying to get him to give me thumbs up…
and he always does his pointer finger.
He was focusing so hard on his thumb and naturally did
this cool dude pose when he finally got his thumbs up right. haha.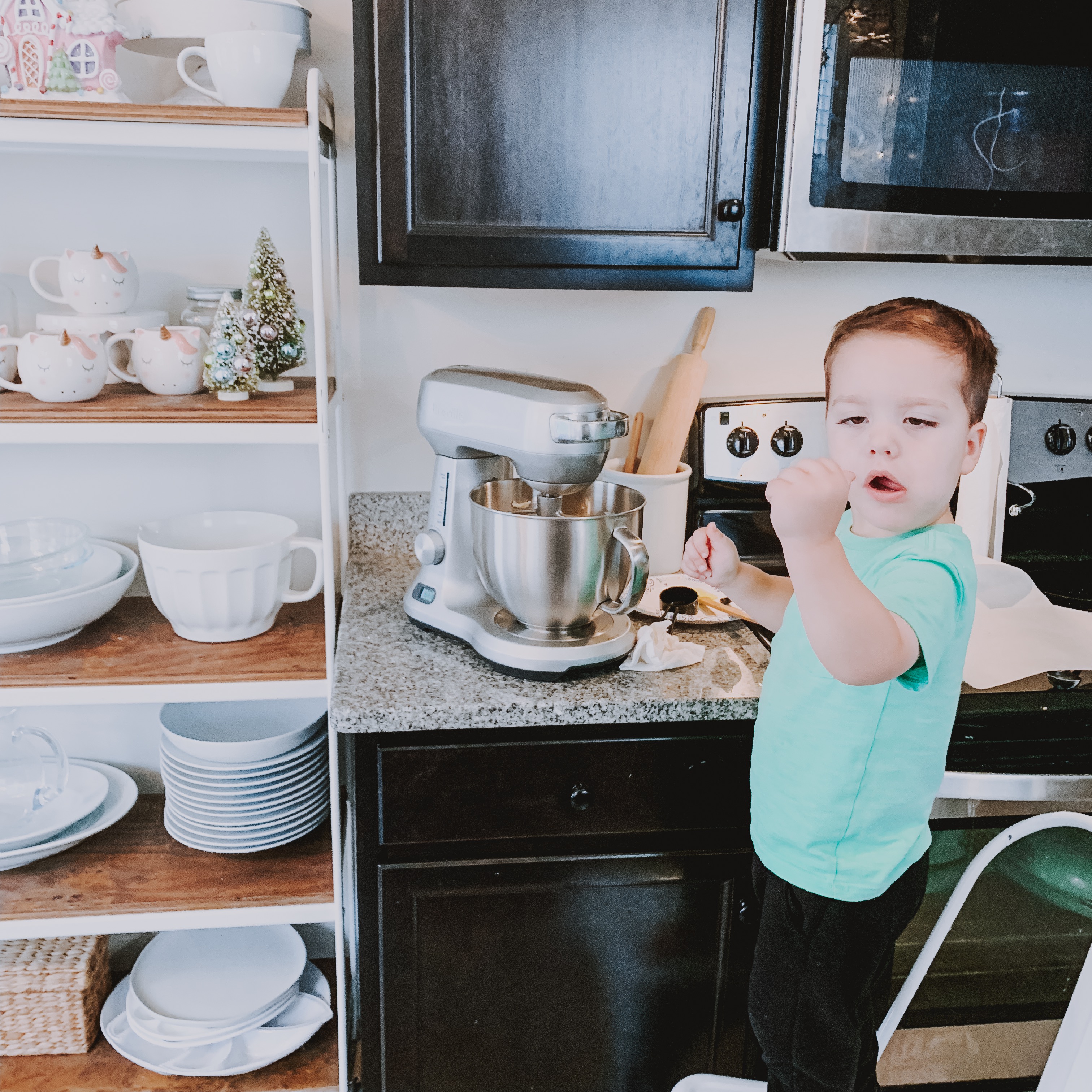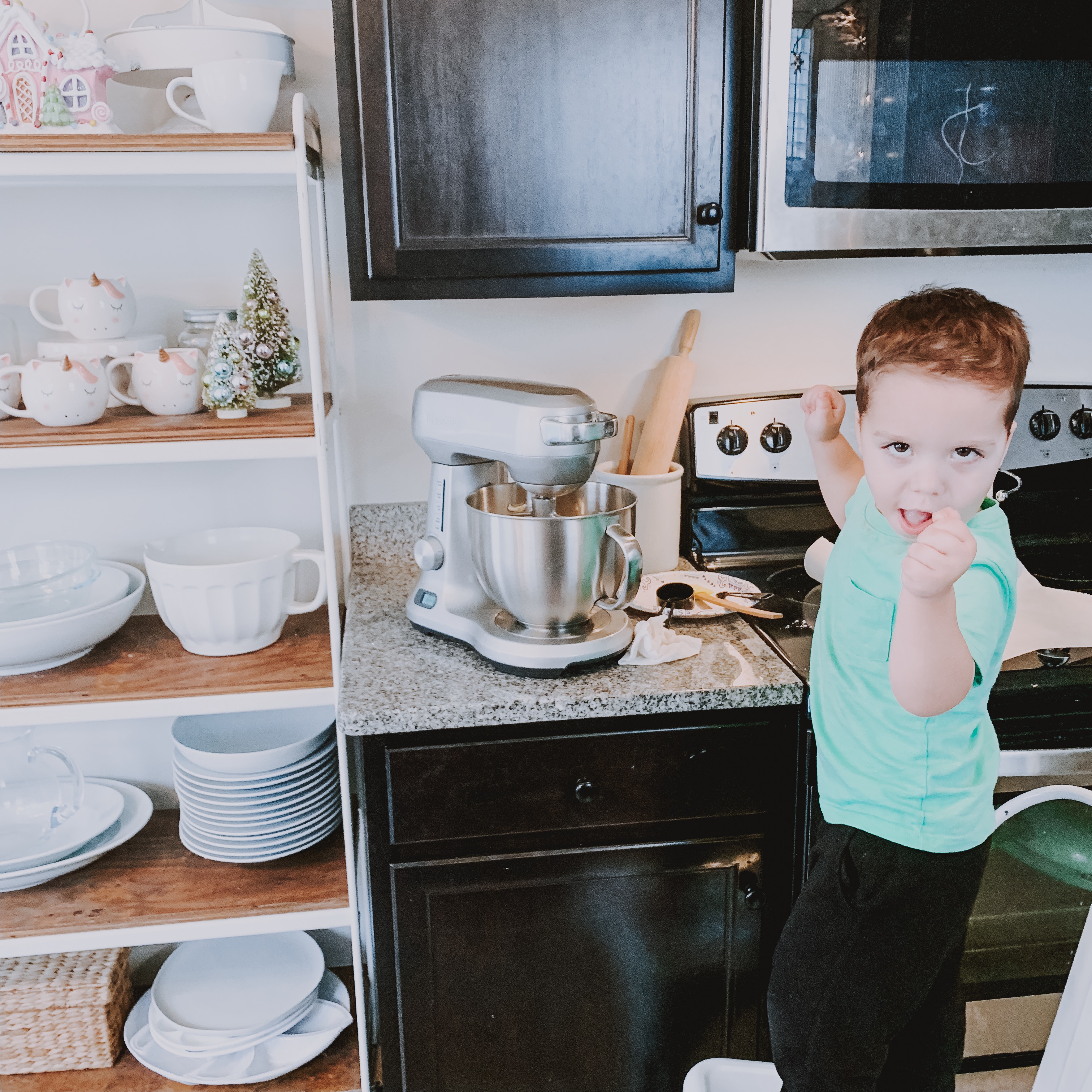 INGREDIENTS
2 1/2 cups flour
1 teaspoon baking powder
1/2 teaspoon baking soda
1/2 teaspoon salt
1/4 teaspoon nutmeg (optional but how can you resist nutmeg)
3/4 cup butter or margarine
3/4 cup sugar
1 egg
1 teaspoon vanilla
1/4 cup milk
Decorations: Wilton's Cookie Icing bottles OR Granulated or colored sugar
DIRECTIONS:
Sift together dry ingredients into bowl and set aside
Cream butter until light and fluffy. add sugar, egg, and vanilla and cream well.
Add dry ingredients and milk, stirring until thoroughly blended.
Wrap with foil, waxed paper, or plastic film, and chill in refrigerator for 2 or 3 hours.But you can't forget to put it into a corelle dish just like how my mom did growing up!! haha..It just is PART of the whole nostalgia of these cookies for me.
Roll out half of the dough at a time and cut out shapes with lightly floured cutters.
Arrange cookies on a parchment paper lined cookie sheet.
Bake in hot oven (400 F) for 6 to 7 minutes.
Makes 3 1/2 to 4 dozen. (depending on size of cookie cutter shapes.)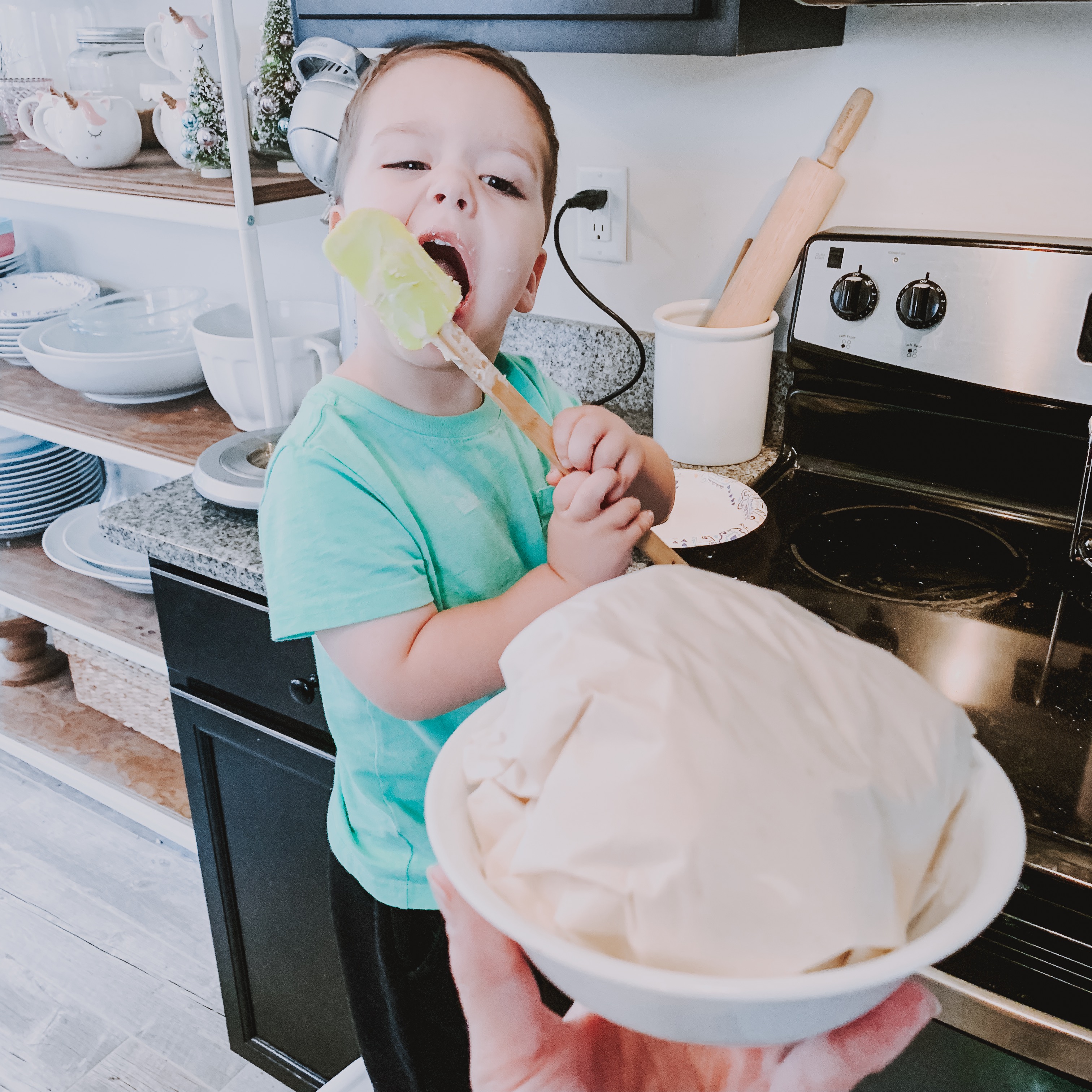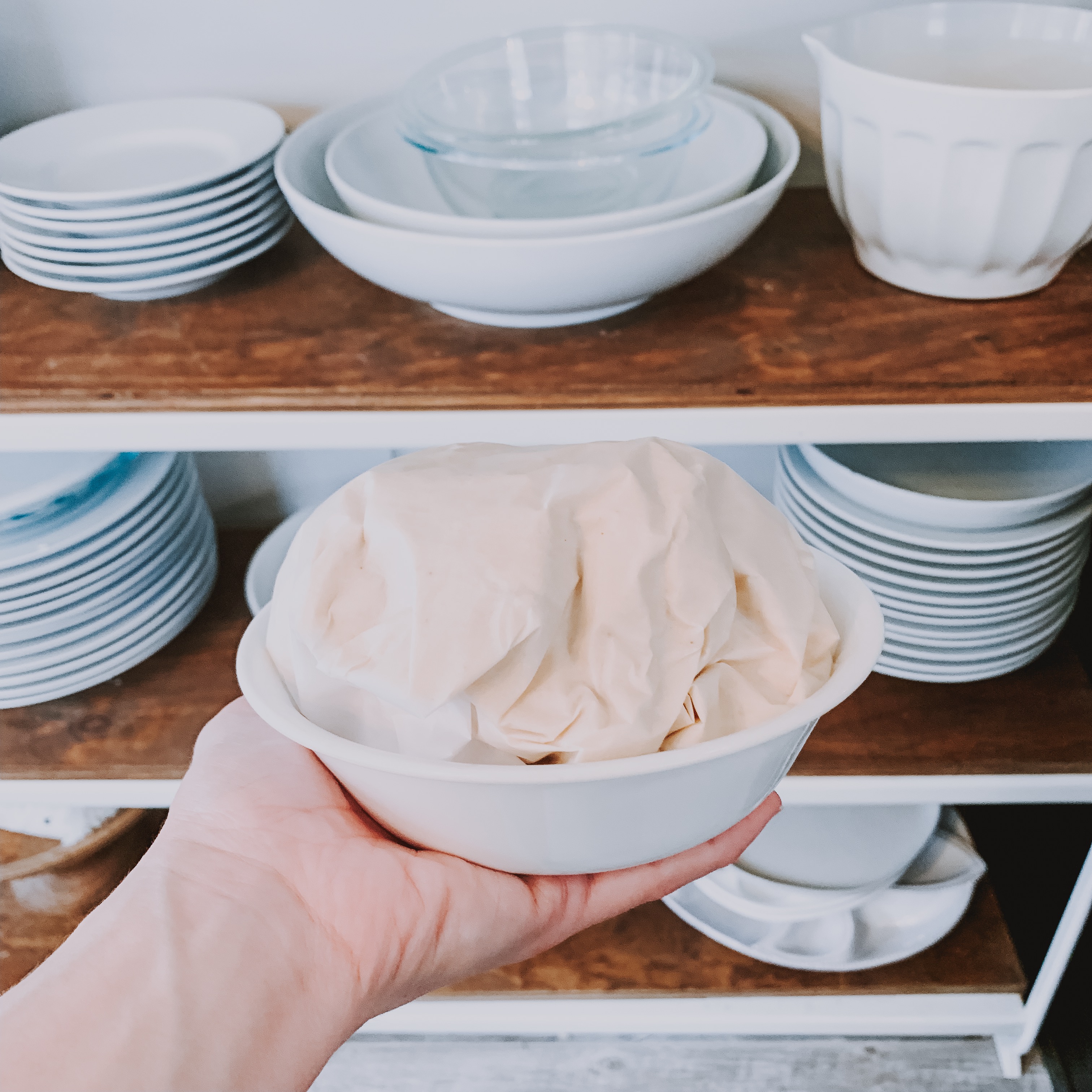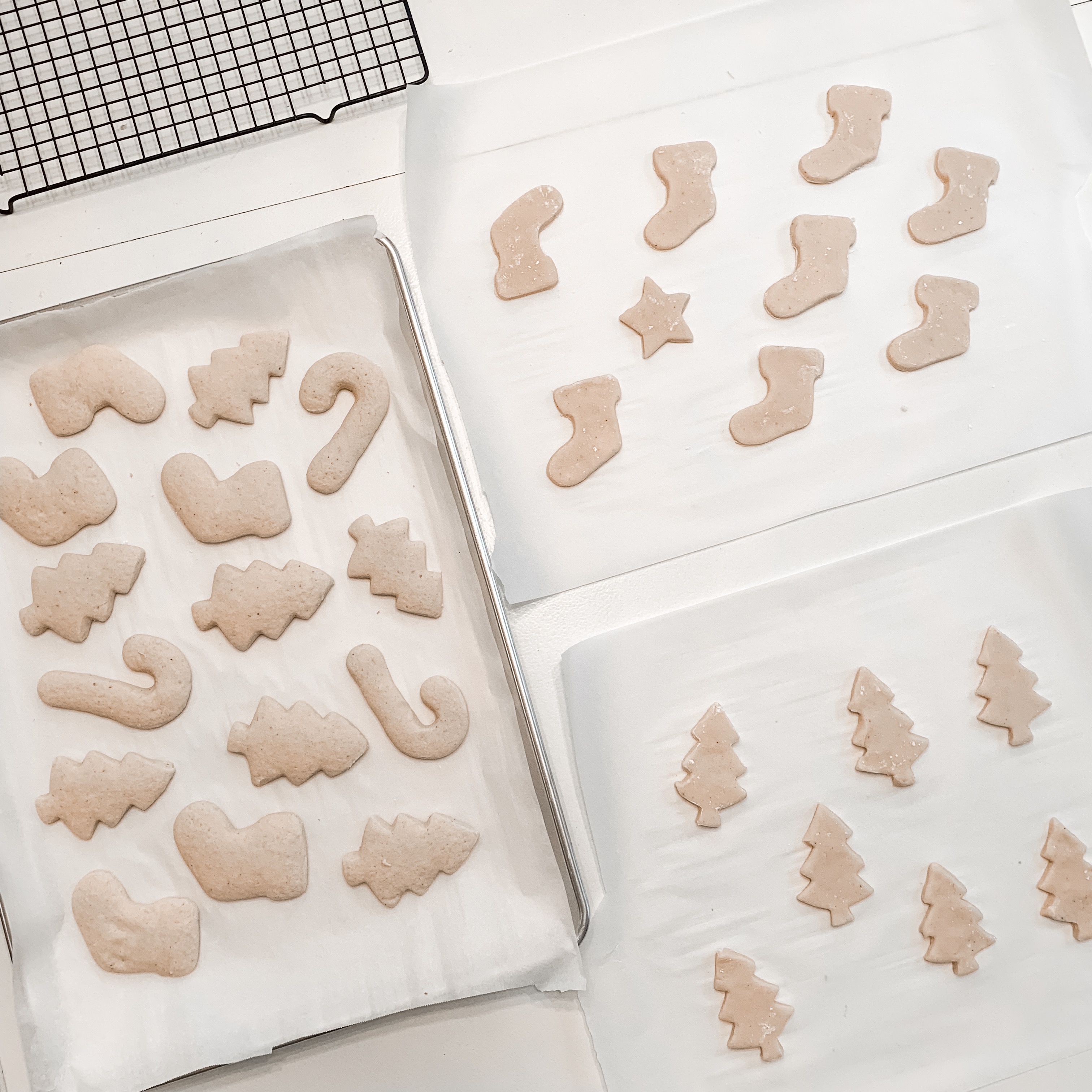 It's always a little slower when you have the kids helping, but I needed this moment with Asher.
A moment where the to-do's were set aside, and we did something
totally for fun and with Christmas time in mind!
He was so excited to press down on the cookie cutters
and help me get all the shapes cut out!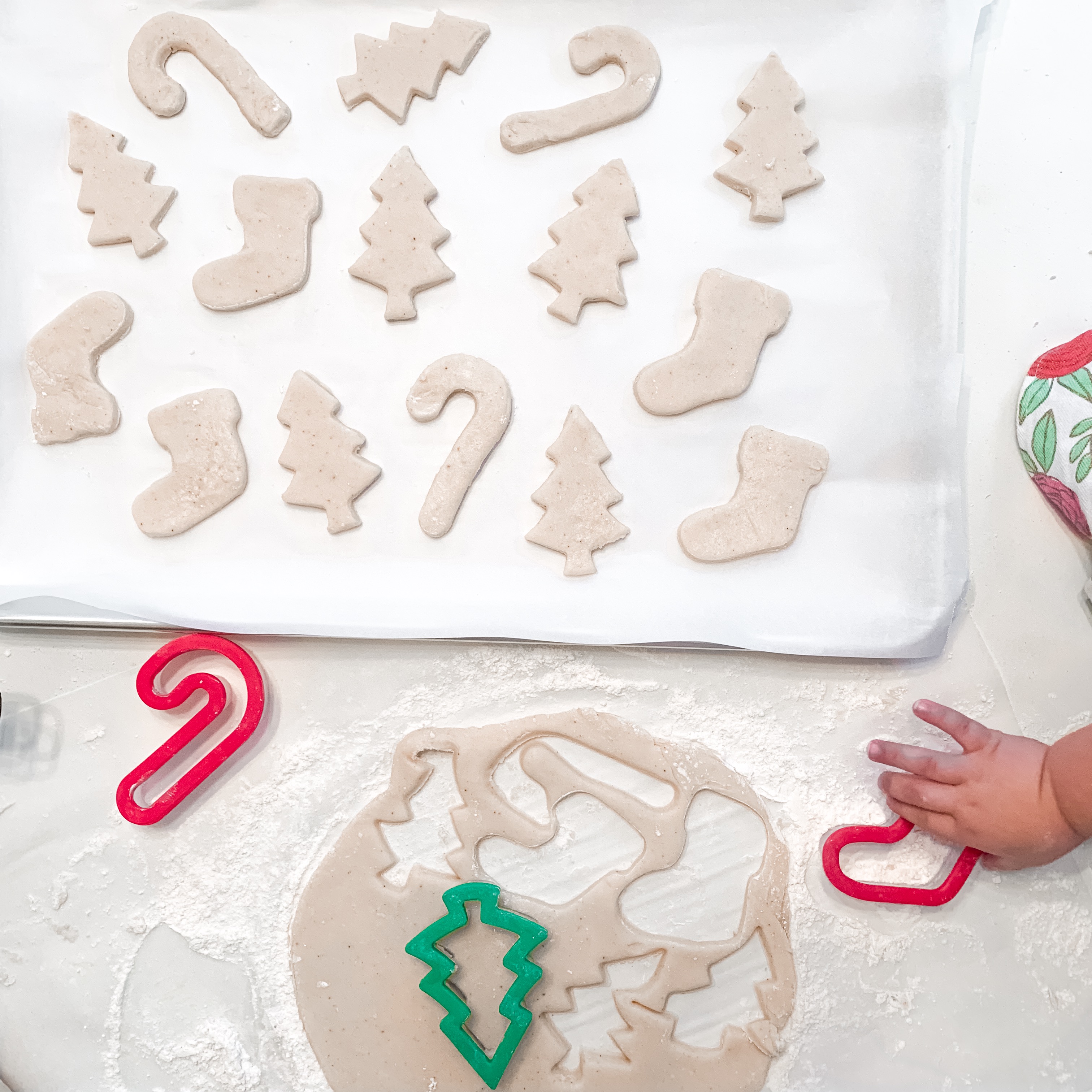 For the icing…I wanted to do this on my own.
(Psst… we can do that sometimes as moms!
I probably should do more of it actually! haha.)
I SO enjoyed icing these bad boys and I just used
the store-bought wilton's cookie icing bottles!
(Let one layer dry before you add anything else.)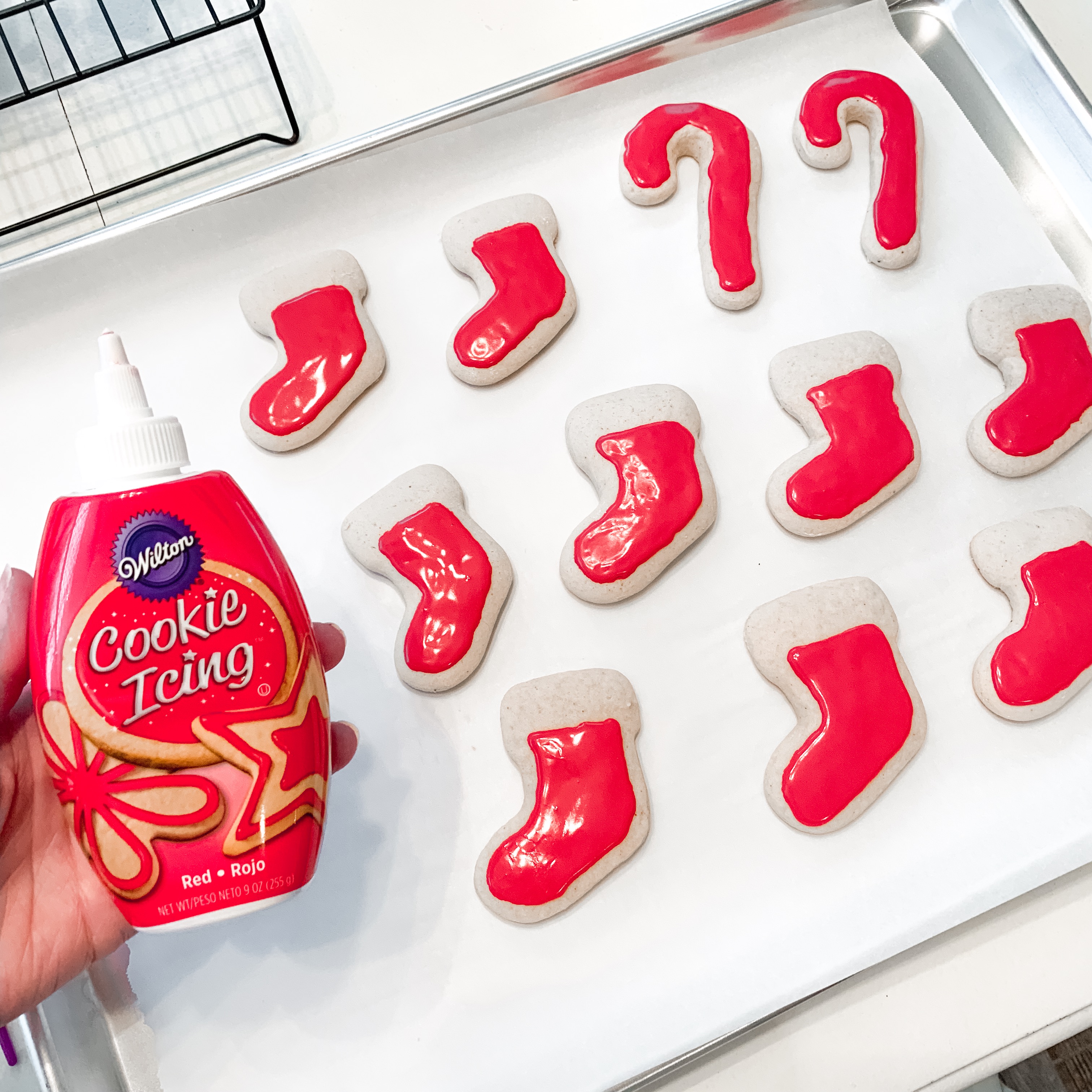 I piped around the edges and then filled in with icing.
I used a little stick/paintbrush to spread out some of the icing.
Didn't take much to make it all covered!
I'm sure the pros can have it perfectly softened and pipe the right
amount where they don't need to do that…
but that's where I am for now with my decorating skills and it worked!
I could smooth it all out and take care of any bubbles.






I had little star sprinkles from Micah's Mario themed
birthday party and added them to my trees.
I was so happy with how they turned out!
Honestly, I would love to make a homemade icing one day, but I knew I would put
this off if I added that to the to-do's and I REALLY wanted to make it happen!
SO glad I just went the store bought route and had some festive fun.
We always have just sprinkled these cookies with sugar but this was EXTRA special feeling.
I can't wait to try snowflakes and stars and snowmen!
I told the kids that when their break starts we are going to make
them again and all get in on the decorating part. 🙂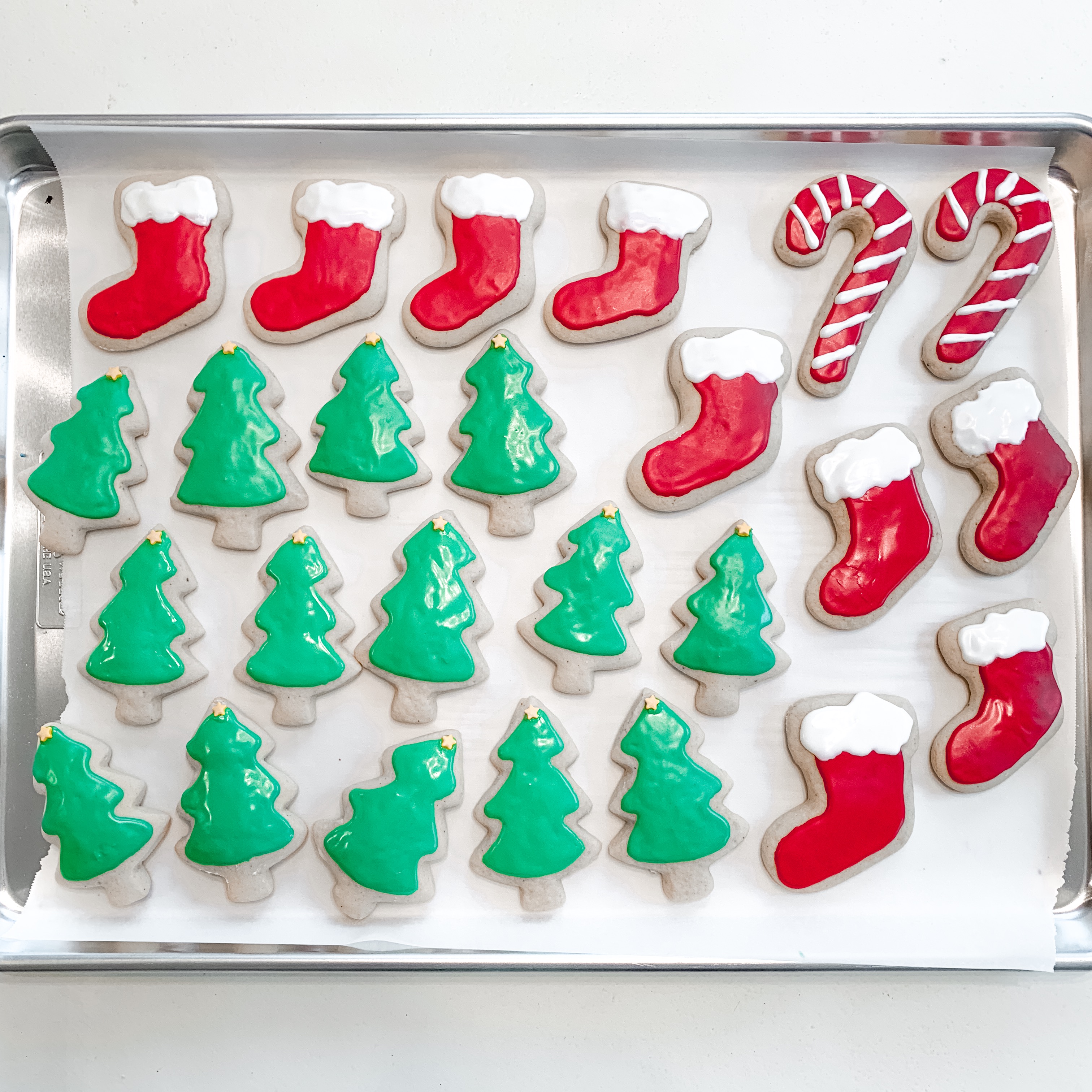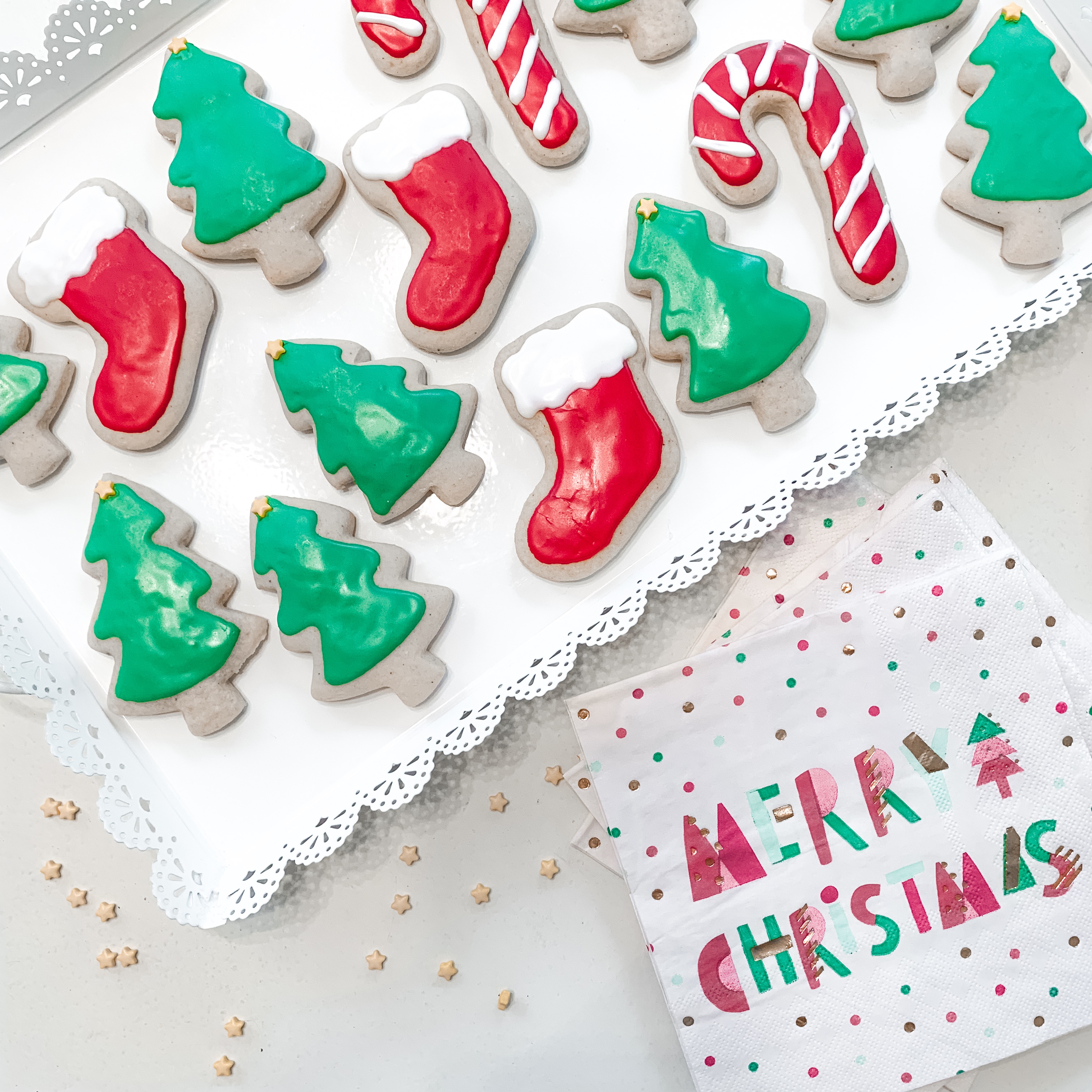 Source link