Welcome to our playroom!
Come on in!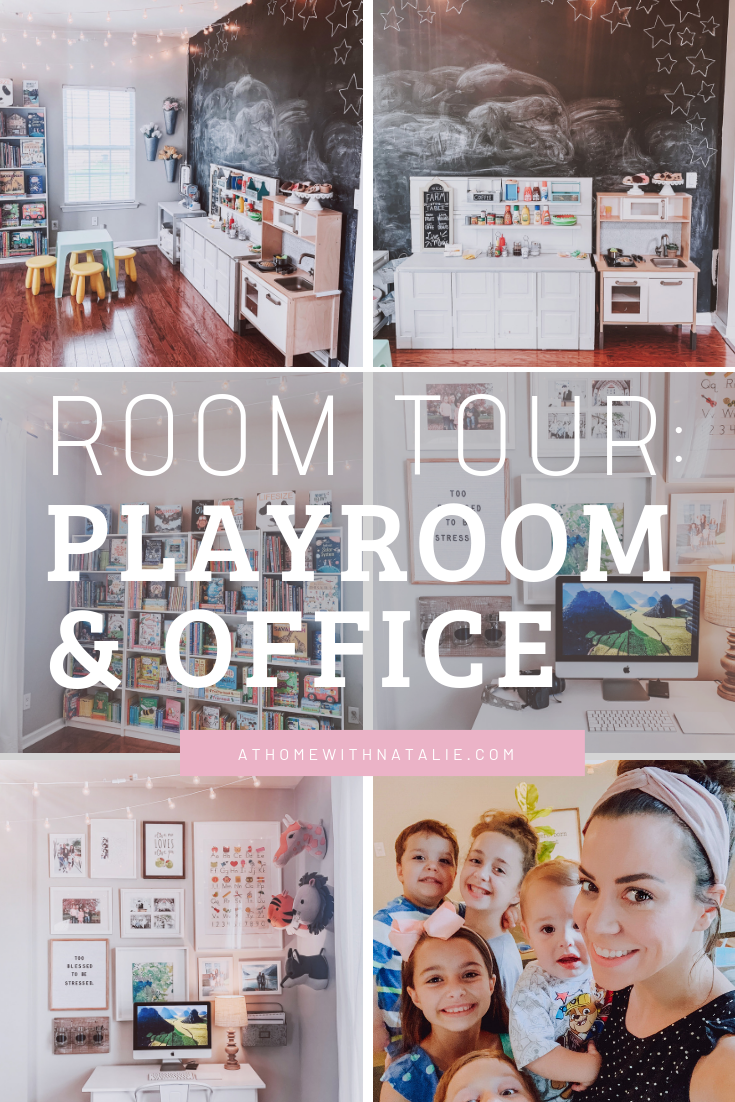 Today we are sharing a look inside our playroom and my corner office area!
This is one of the most used spaces in the house so it made sense
to have it be the first room in the new house…set up and fully functioning.
I love having this whimsical space for the kids to all play TOGETHER.
Being a work at home mama I also have my desk set up in the playroom…
it's just the most practical in this season!
I love how this space came together. I only bought the lights, curtains and fresh bookcases…
everything else we had already! I typically shop our house and use frames, decor from past spaces in a new one.
PAINT COLOR: Revere Pewter
The chalk wall was already there and we love it!
Below I will source the different items so you can check
them out and get inspired for your own playroom + office spaces!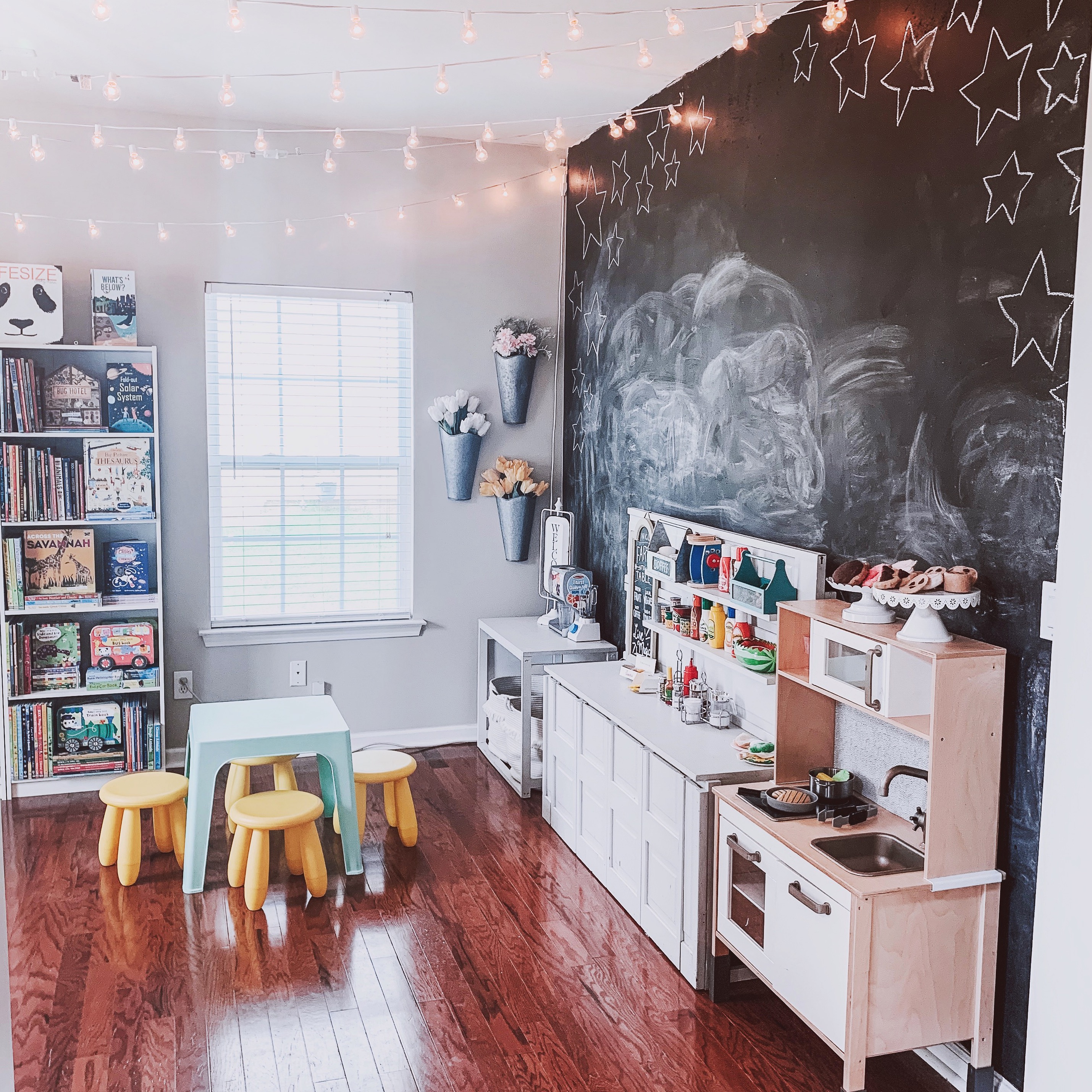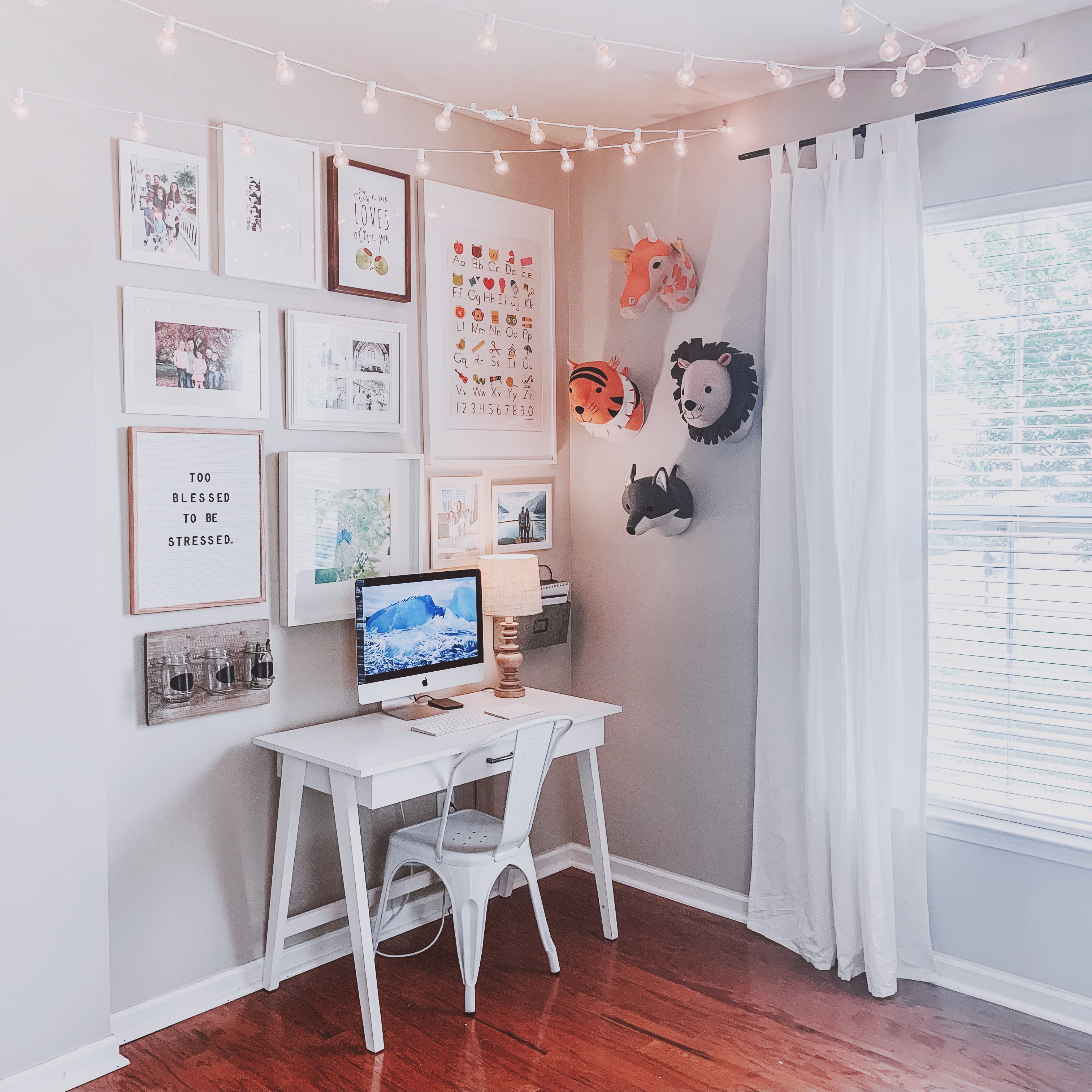 Here's a video I created to share with you guys!
PLAY KITCHEN AREA
First up.. the play kitchen! Whenever we share this over on
Instagram I get asked how we made the big white piece…
We have an old tutorial so you can for sure whip one up yourself!
DIY Play Kitchen Tutorial.
I also gave our little IKEA Kitchen a makeover.
The white rope baskets with fringe under the side cabinet are from Target.
We use these two baskets to hold all the play food not in use.
The wall hangers for the flowers are from Hobby Lobby.
(check the end caps at your store or here's a similar metal style on Amazon.)
The kid table is from Target (clearanced summer item-$10) and
then I got the MAMMUT stools from IKEA for $7.99
Every Christmas each child gets a play food themed present!
Discover all the fun play food we've purchased over the years!
OUR PLAY KITCHEN GIFT GUIDE
I'm also always adding new felt food!
I've blogged about our newest felt food batch here.
I get metal cake stands from Hobby Lobby for the kids.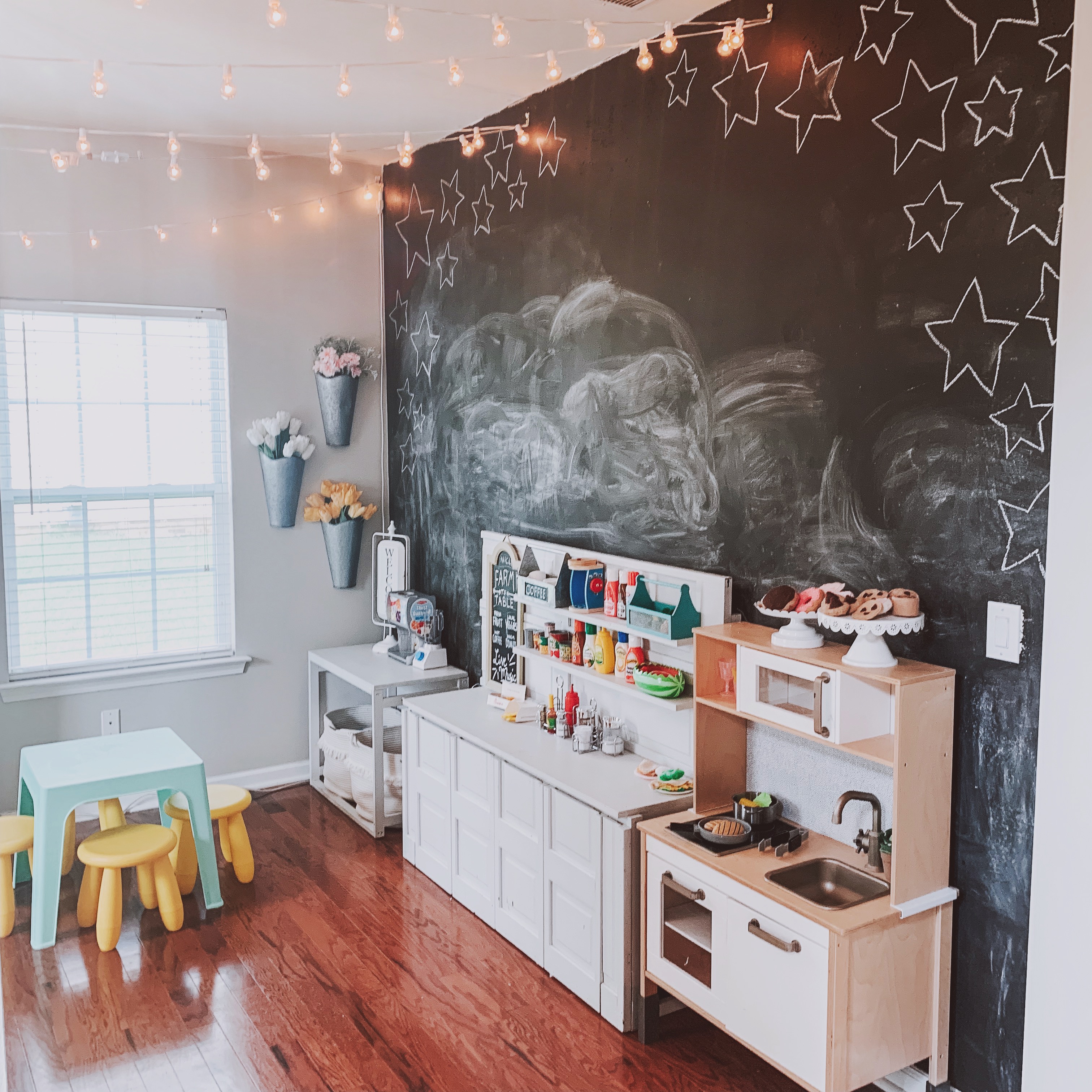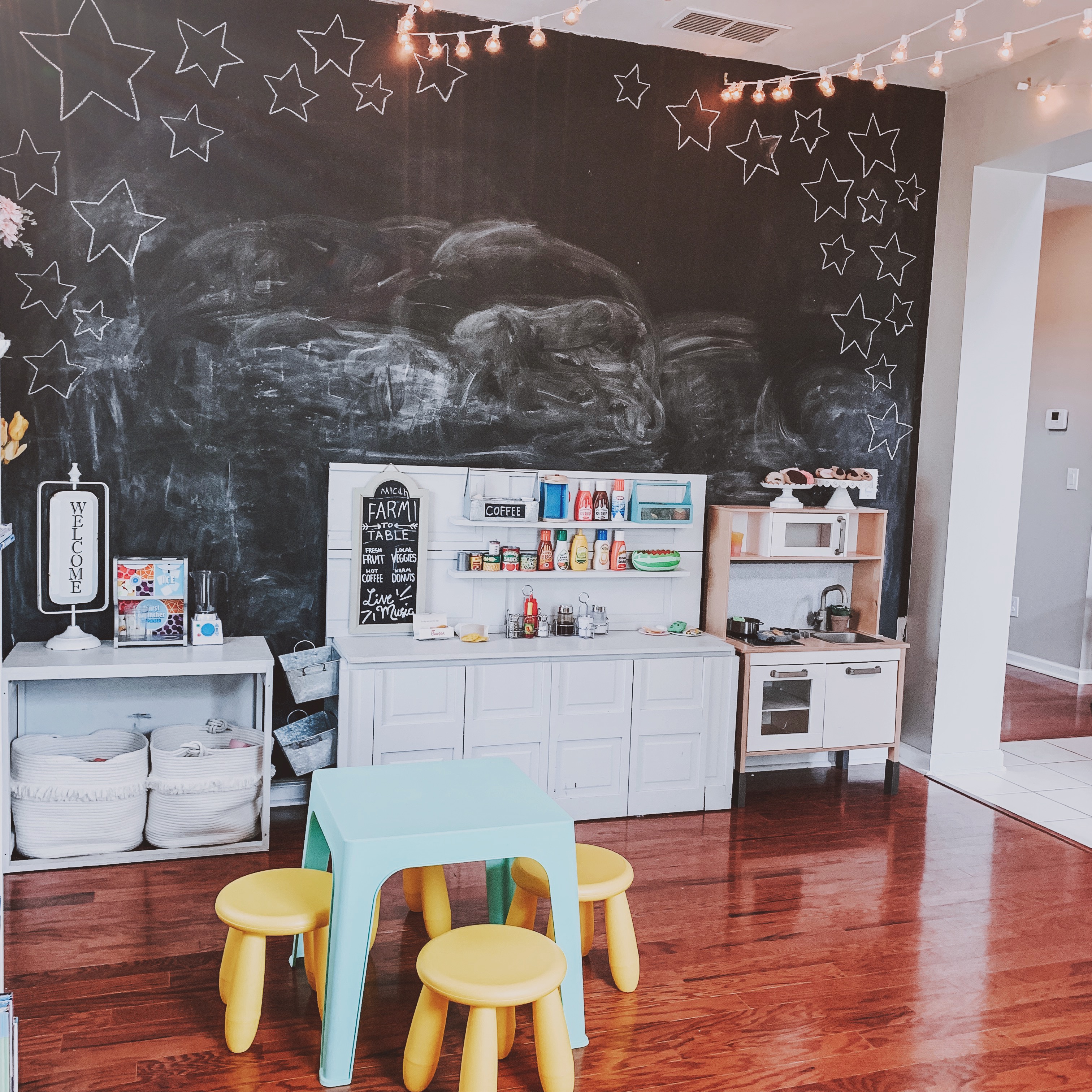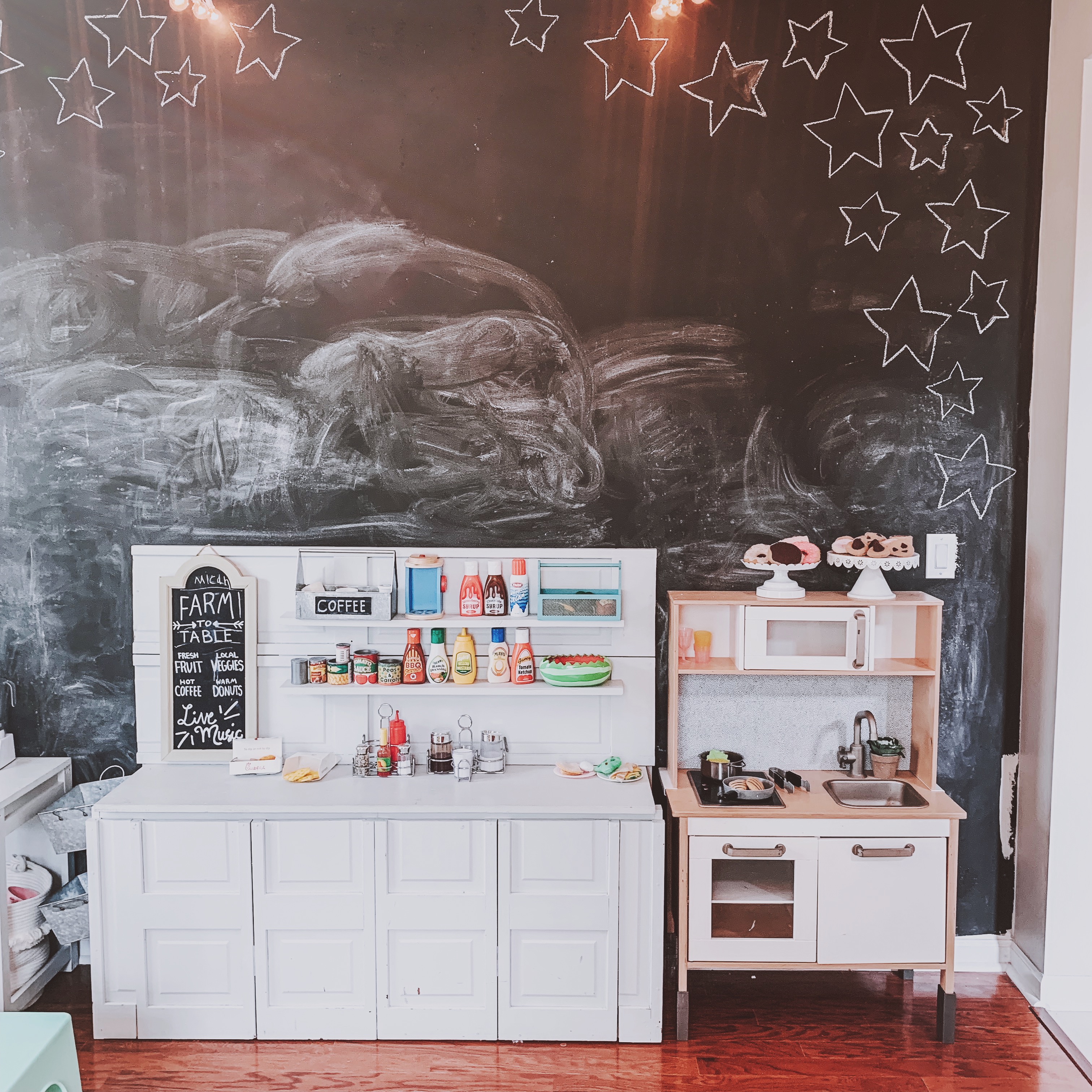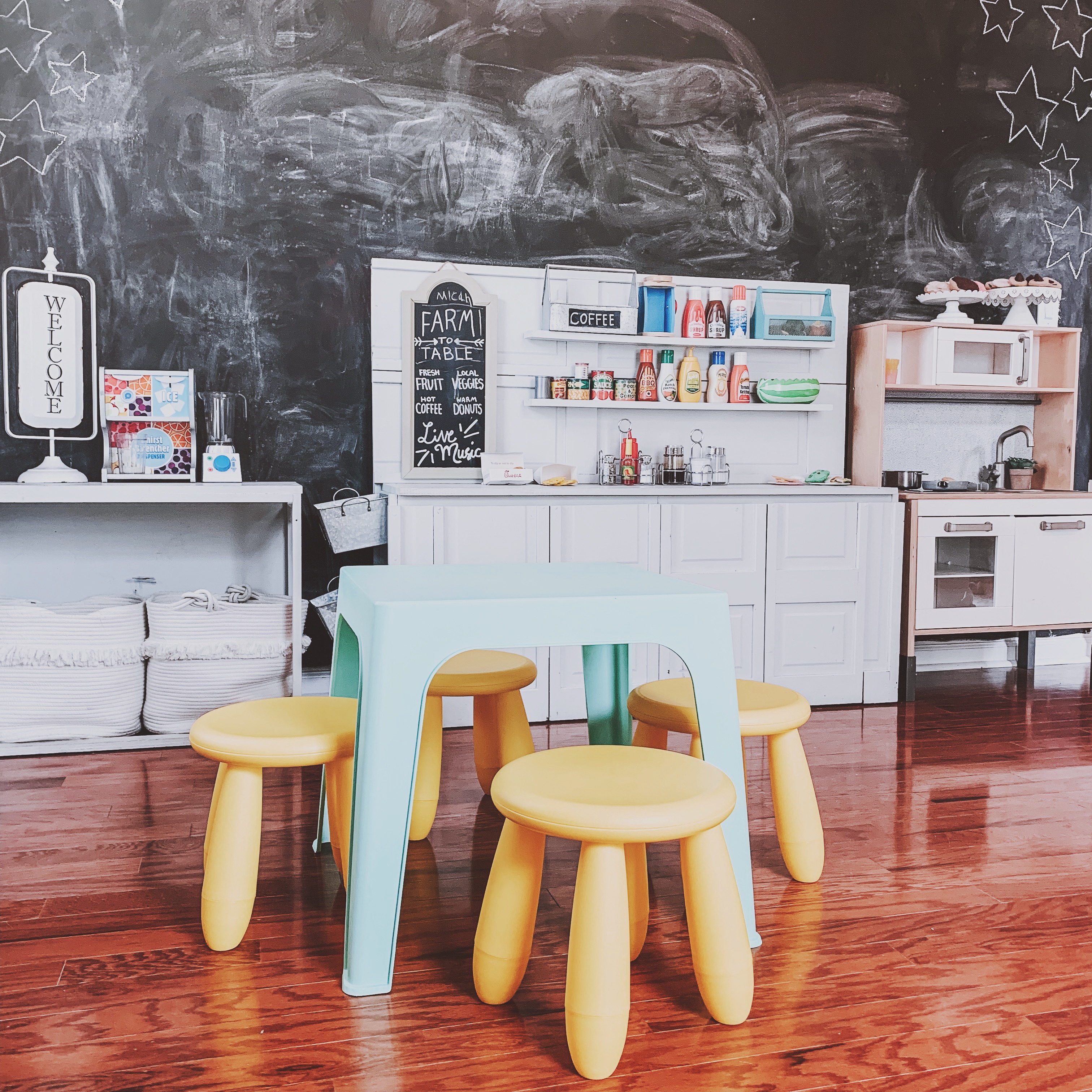 HOME LIBRARY AREA
Bookshelves are GERSBY from IKEA
We love our  Usborne Books & More titles!
Curtains are LENDA and curtain rod are from IKEA.
The lights are from Target – I got most of them when they are on sale this summer for $7.
We used 5 sets to cover the room.
This room doesn't have a middle light set up in the ceiling… so this was our alternative!
and I LOVE IT! We had picture hanging hooks on hand so we used those to hang the lights up.
Just strung the line on the hook and hammered the hook part up. It worked great!
I still need to get a thinner/longer extension cord but just haven't run that errand yet.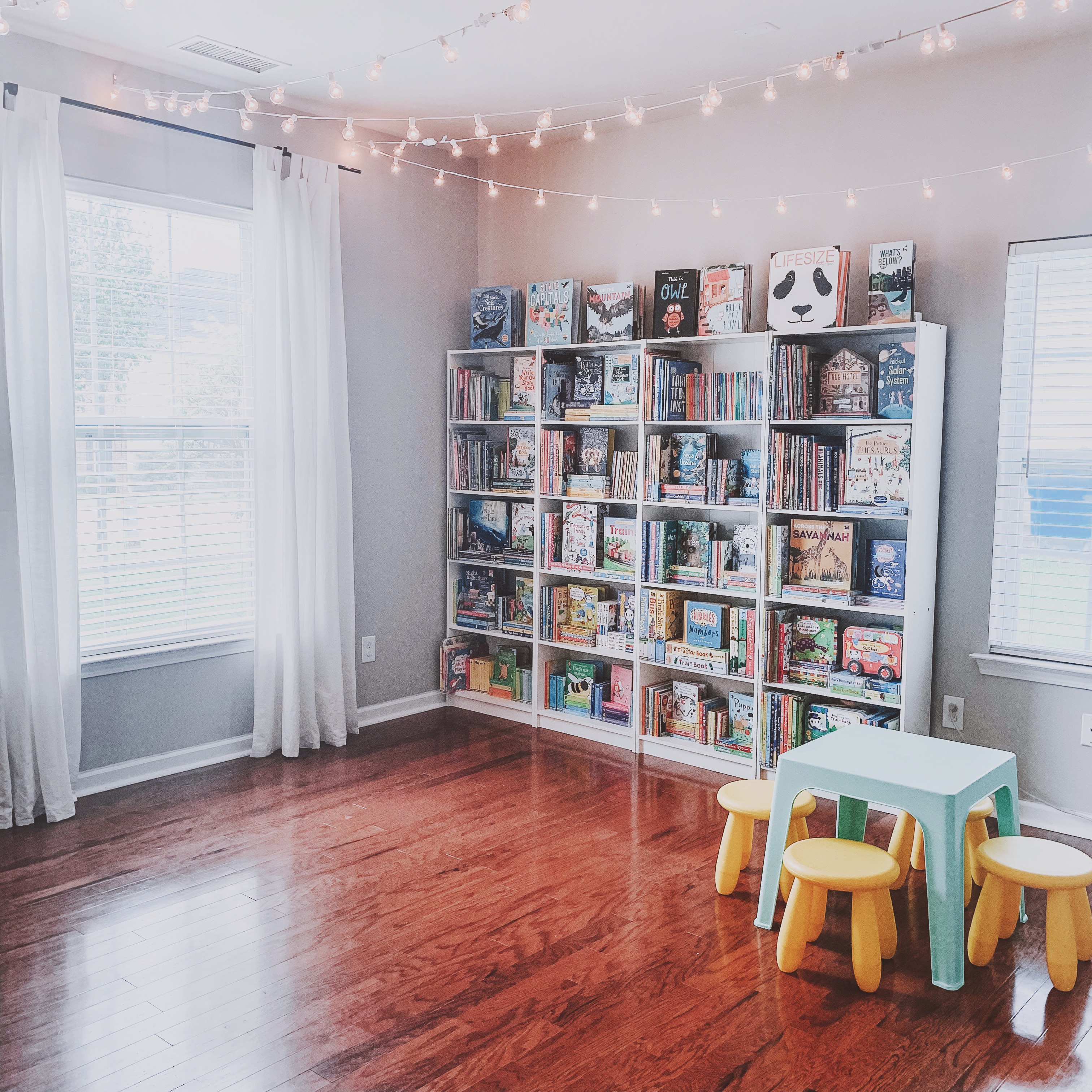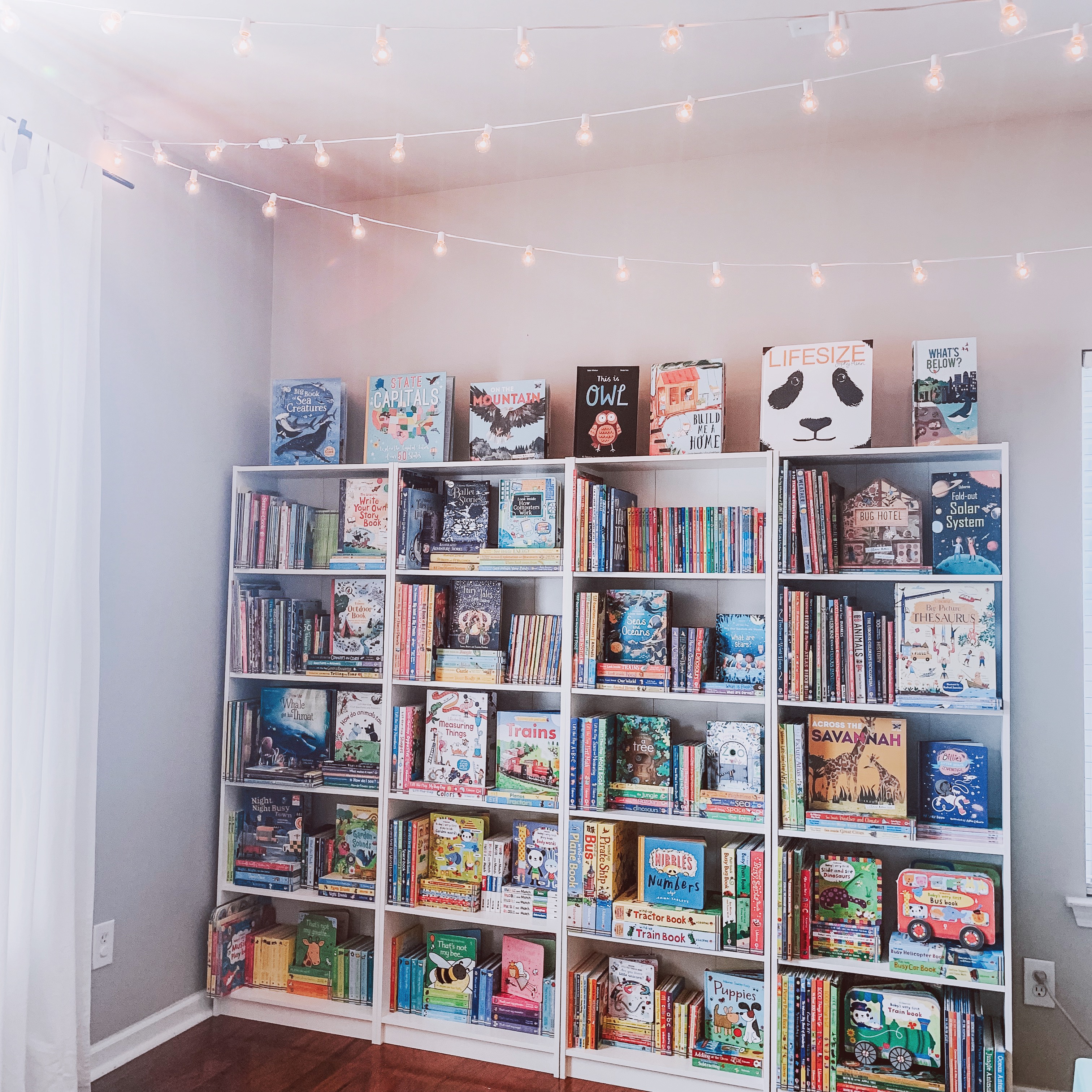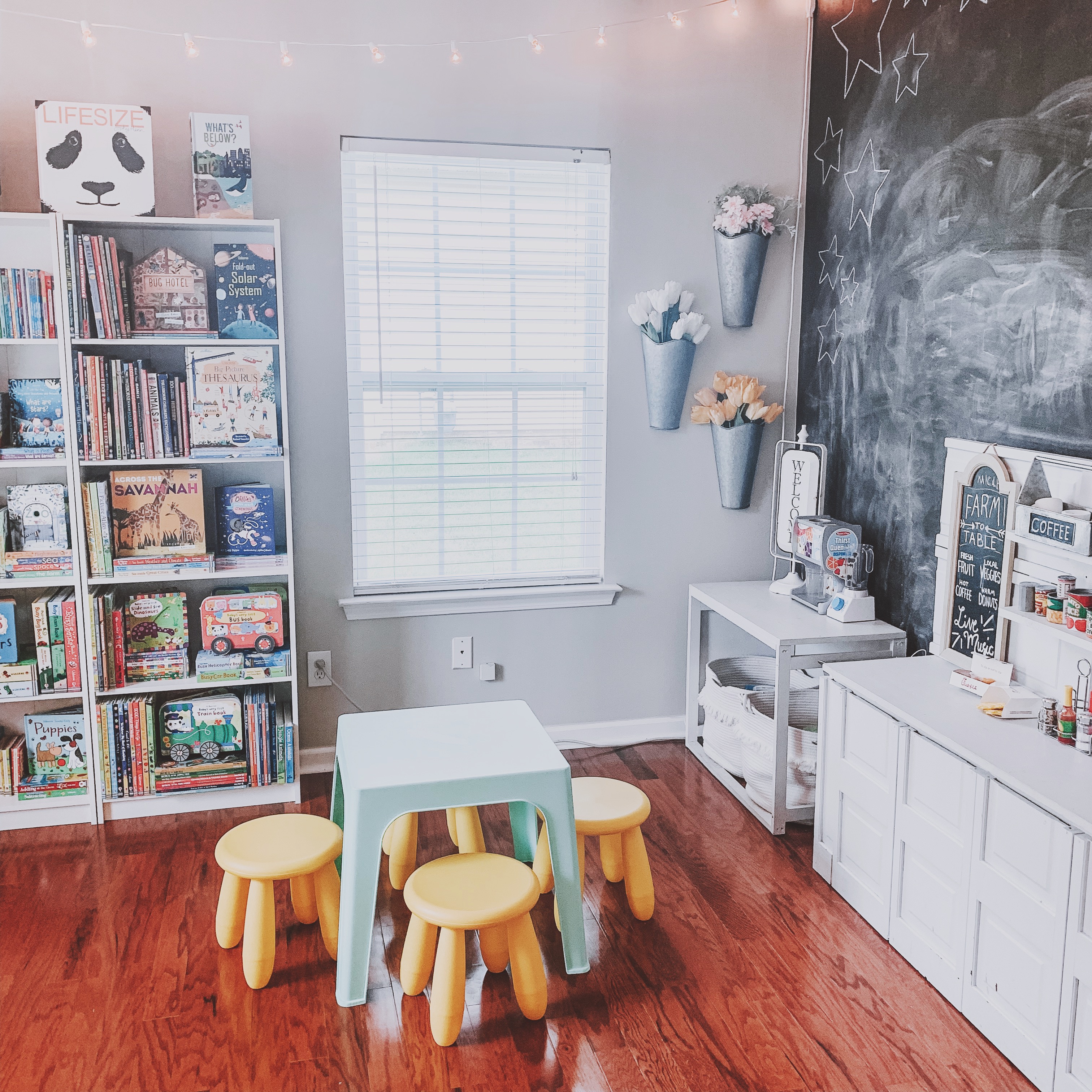 OFFICE AREA
Animal heads are Pillowfort from Target
Most of the frames are from IKEA, Walmart or Hobby Lobby.
The letter board is from Letter Lines
My office area desk is Threshold from Target
The lamp is Walmart.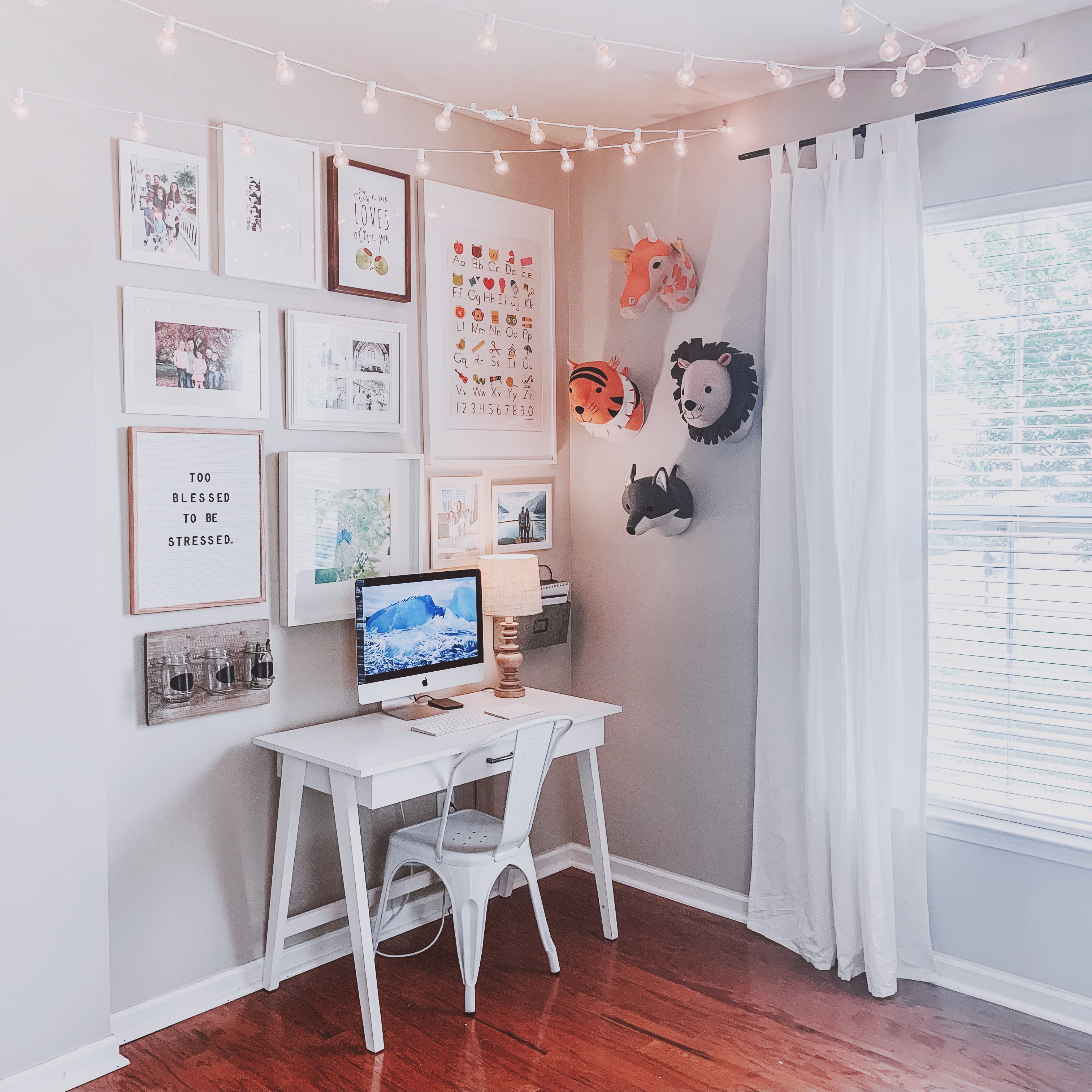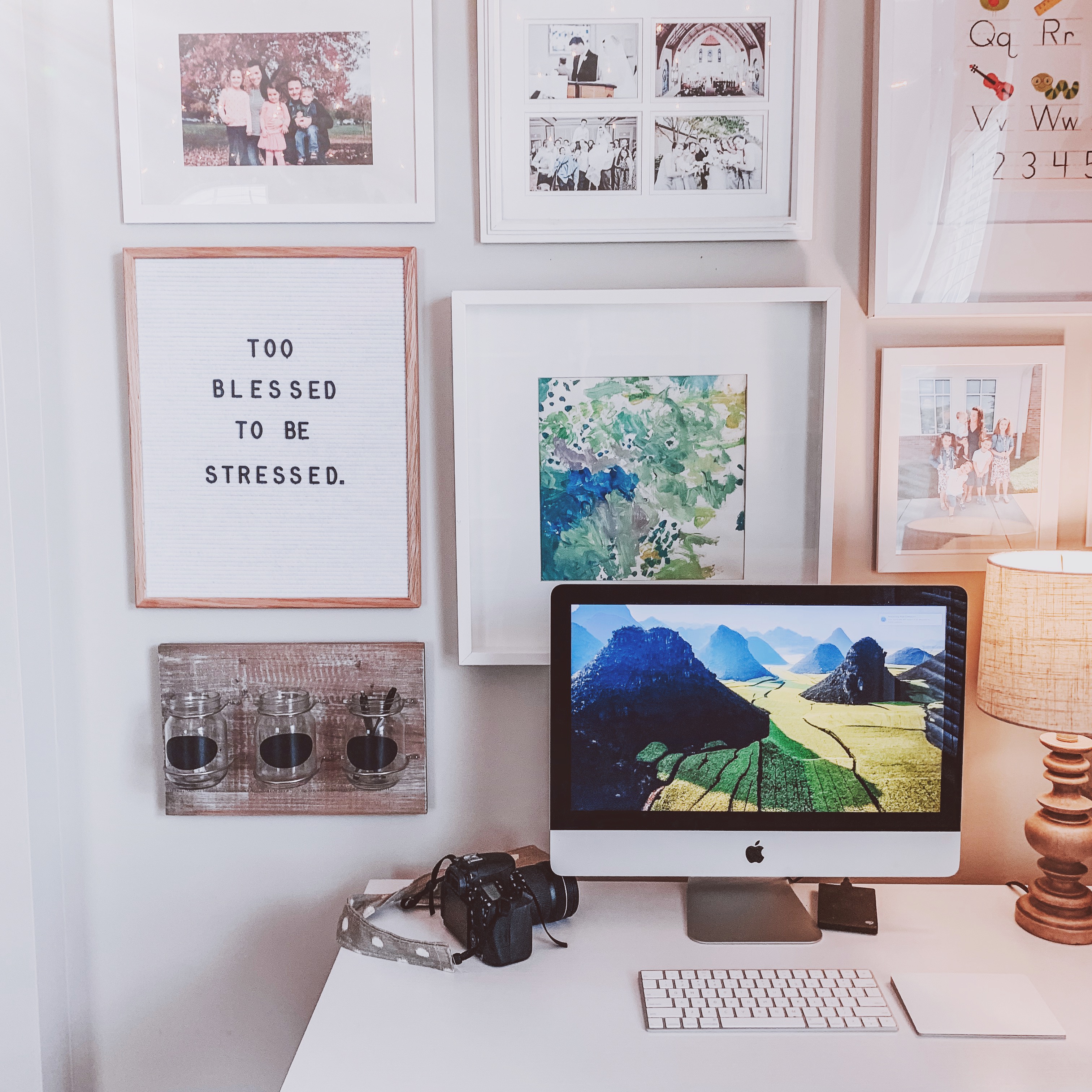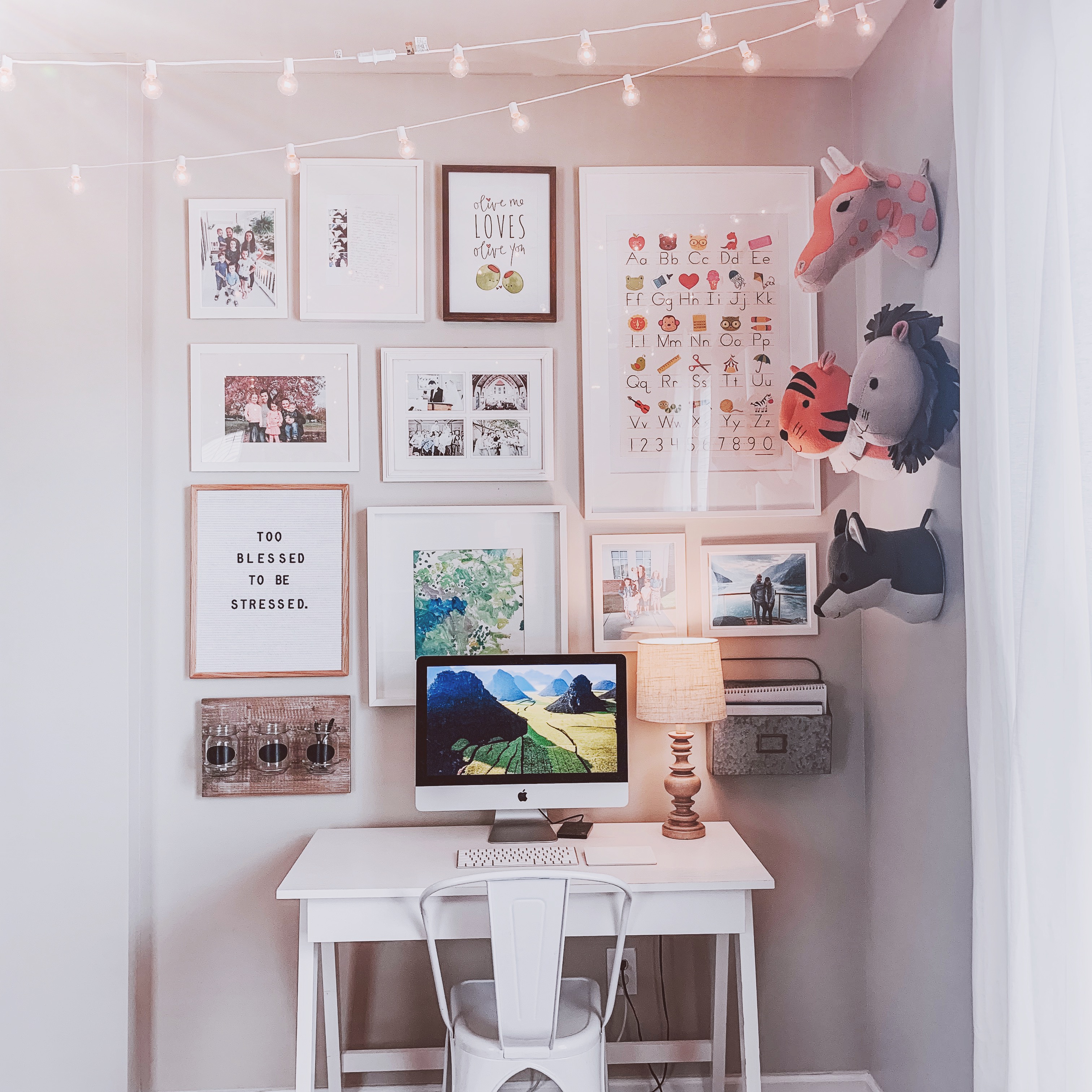 That top frame is a love letter from Ben years ago when we were in college.
I love that reminder of where we began.
The Olive me loves olive you is from hobby lobby.
The alphabet was from the Target Bargain bins
and they seem to have a similar print out every school year!
I was "fun mom" the other day and let the kids paint…
I loved the colors of Asher's so it made my office area. He was SO PROUD.
The metal tin holding my calendar is from Kohls a few years back.
Pen holder is from Target.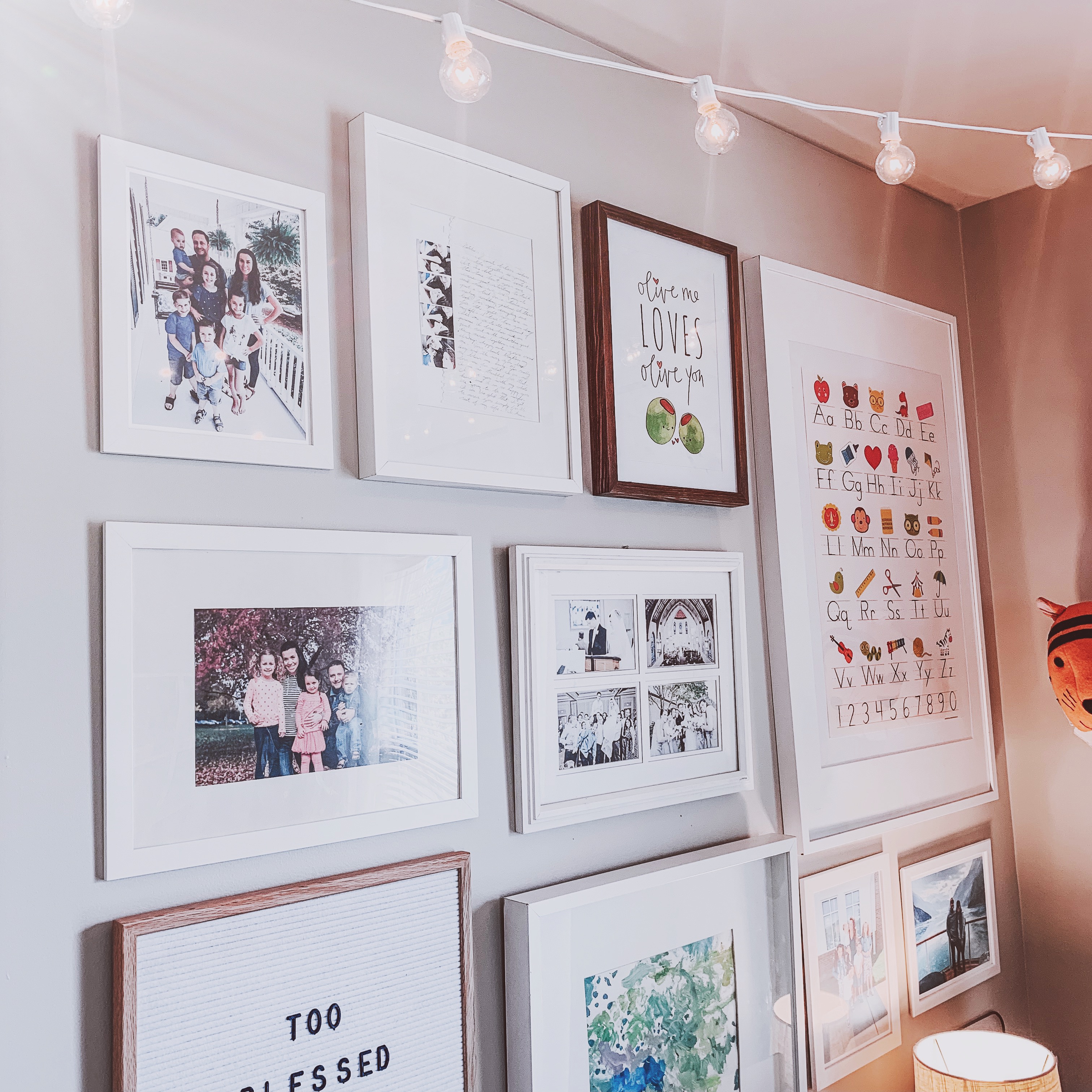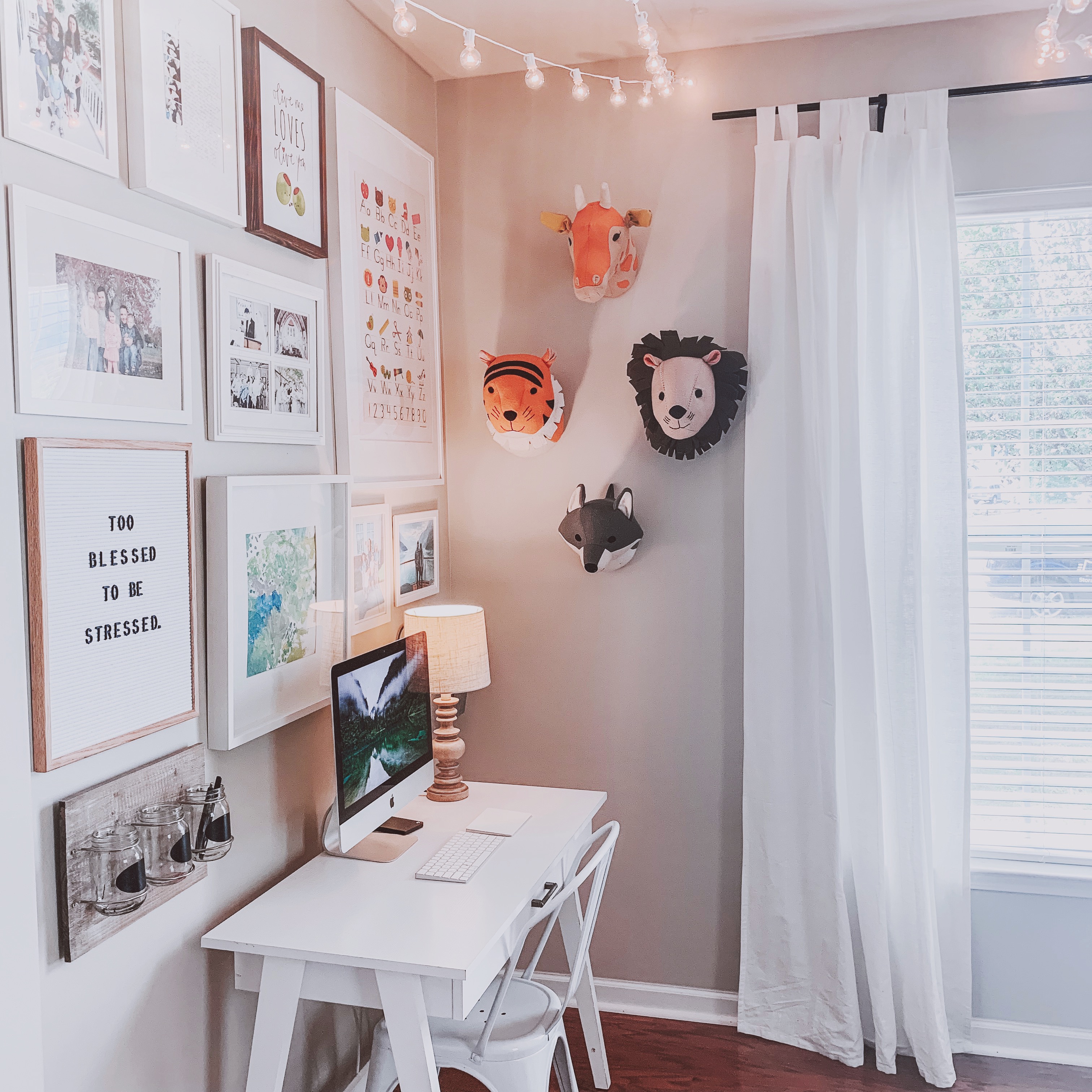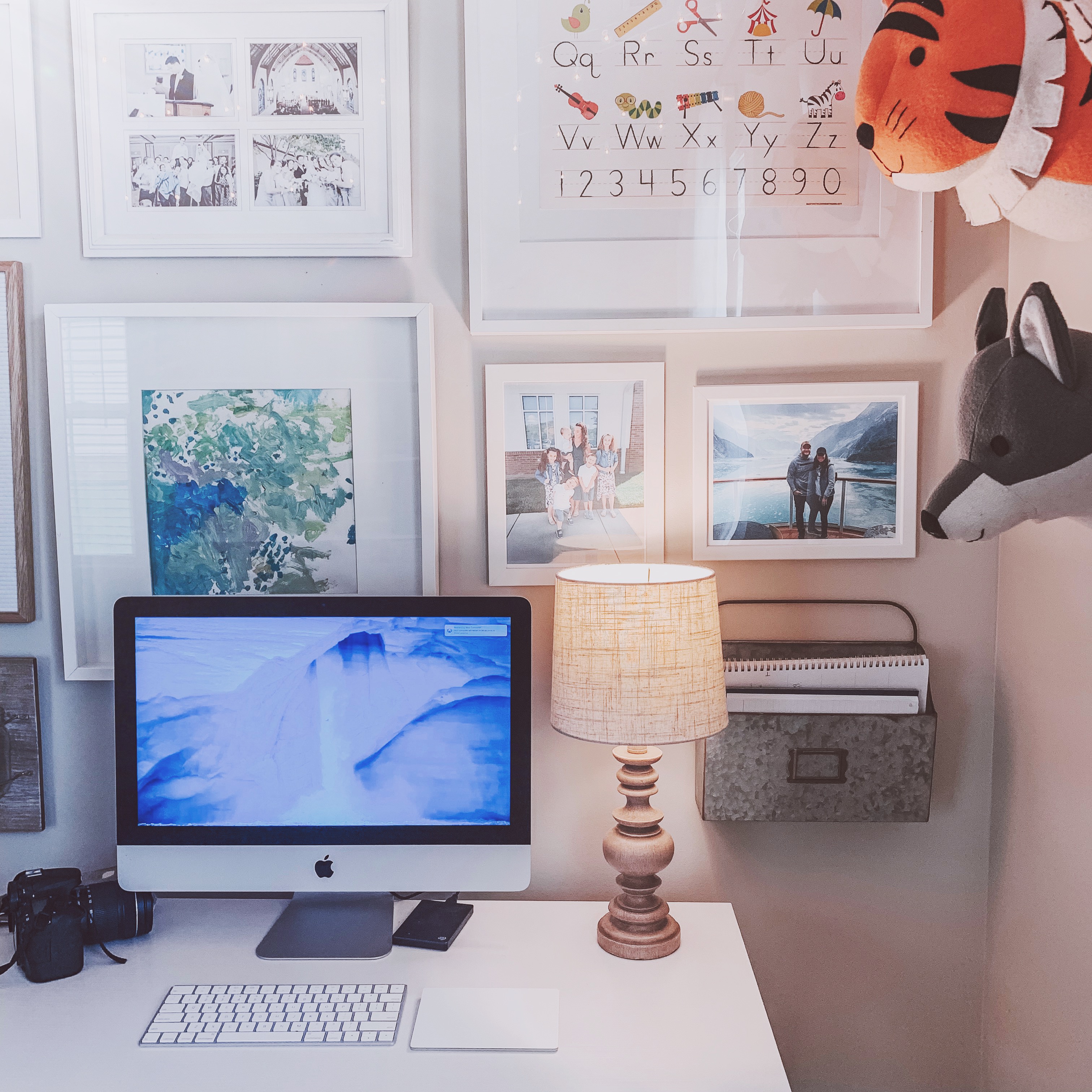 Thanks for checking out our playroom
You can see it in action over on my Instagram. They are always playing in there in my insta stories. 🙂
Comment or email with any questions about the space!
*This post contains affiliate links. I love sharing our favorite things! Hope you found this post helpful!*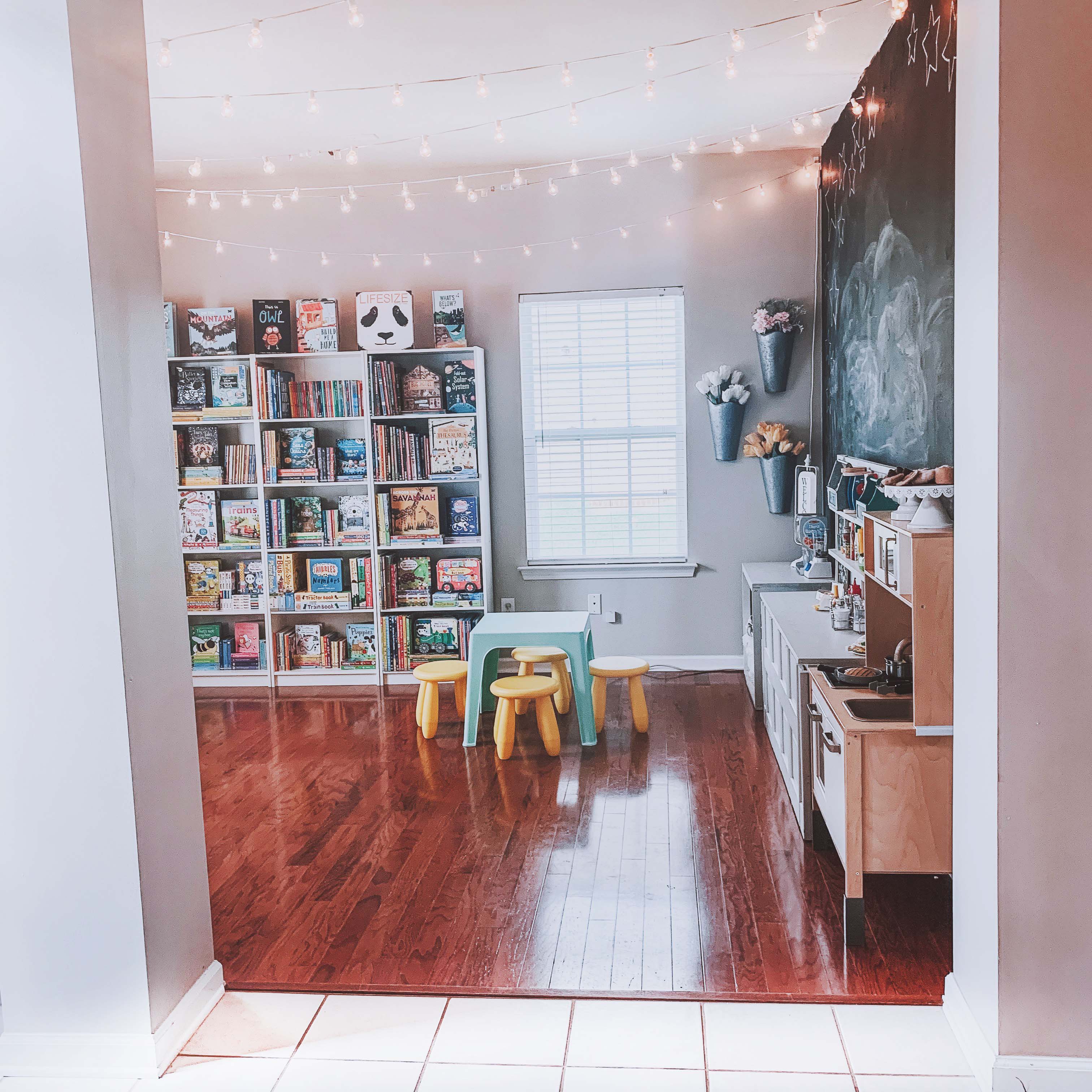 Source link