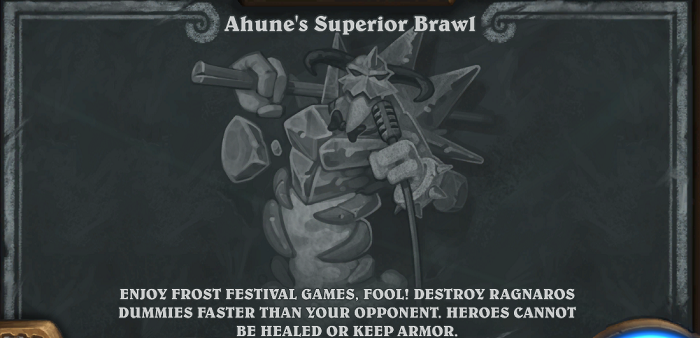 A new Tavern Brawl has been introduced this week by Ahune the Frost Lord himself.
In this Brawl, you will play as either Uther or Jaina. They both have premade decks and Uther is reportedly slightly better than Jaina, which is interesting since Mage usually dominates in Tavern Brawls.
Here is Uther's deck:
Jaina uses a Reno deck, minus the Reno:
Both heroes are immune to damage and they cannot be healed nor keep armor. The only way to damage them is by killing the Ragnaros? minions. These are 1/4 minions and there is one of them at each side of the board. They cannot attack and upon death they deal 4 damage to the opponent of the current player. This means that you can kill both minions (the one on your side and the one on your opponent's side) and your opponent will take all the damage. Moreover, once a Ragnaros? dies, a new one will appear thus making it possible to kill multiple of them in one turn.
Some tips you should know:
If the game reaches the fatigue stage, in the next round the enemy that has the least amount of health will automatically die and their opponent will be crowned as the winner.
At the moment, Ice Block and Eye for an Eye seem to be bugged and they are not working as intended. This will be fixed soon.
Bomb Squad and Ancient Curse deal no actual damage to you, so don't be afraid!
This is the 110th Brawl and it's part of the Frost Festival. If you want to find out more about the Frost Festival, check our main article on it.
Source link