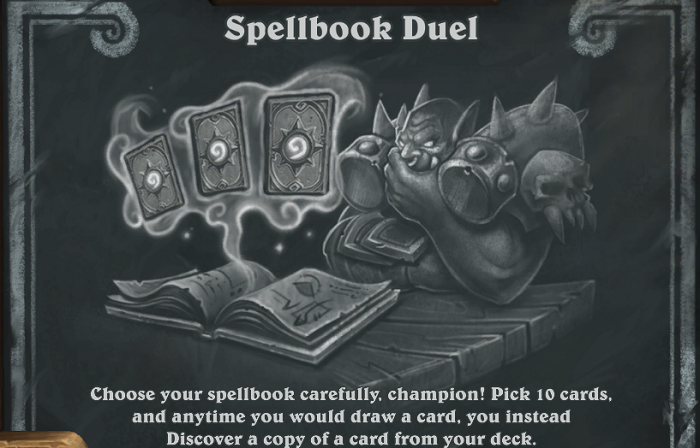 The cycle of repeat Tavern Brawls continues this week with Spellbook Duel.
This is the 122nd Tavern Brawl overall and it's the second time it appears. Pick a class and then make a deck of 10 different cards. Instead of drawing cards each turn, you will Discover a copy of a card from your deck. Card draw mechanics won't get you the cards in your deck; instead you will get a 1-mana spell called Peruse, which in turn allows you to Discover a copy of a card from your deck.
Remember that cards like Fel Reaverand Tracking or Mysterious Challenger and Mad Scientist will remove cards from your Discover pool.
Decks that were popular the previous time were: the usual suspect in Tavern Brawls, Mage with Flamewaker and spells; Jade Druid; decks with Reno Jackson and/or Kazakus; and various Aggro decks (Murlocs, Pirates) that try to kill the opponent as fast as possible.
The community has started noticing that the Tavern Brawl game mode is slowly losing its novelty. We've had 122 Brawls so far and more than 50% of them are repeats. This week is another example: it's the fourth week in a row (almost a month) that we've had a repeat. The team seems to have been more busy with the Fireside Brawls, but regular Tavern Brawls also require some love!
Feel free to share old or new decks for this Tavern Brawl and tell us our thoughts about the state of this fun and casual game mode!