Our comprehensive coverage of the TV network upfront presentations this week in New York concludes with a look at The CW's plans for the 2019-20 season. See more upfronts coverage…
Highlights and notes
The CW announced just three new shows for the 2019-20 season, all of them led by women. (All three are detailed at the bottom of this page.) That total matches the number of shows which ended this season.

Several shows will switch nights in the fall, including All American (to Mondays), Charmed (to Fridays), and Arrow (to Tuesdays). As previously reported, the latter series will wrap up next year with a 10-episode final season. Also ending next season is Supernatural.

Next season's "Arrowerse" crossover event will be based on the famed DC Comics storyline "Crisis on Infinite Earths" and will include all 5 DC shows, including the new Batwoman, in December.

The network also picked up a pair of new shows for its CW Seed digital platform: an animated take on the DC Comics hero Deathstroke, and horror series The Pledge, from the producers of the Saw movies.

The CW has ended its deal with Netflix. Streaming deals for each of this season's new shows will be negotiated individually, and while they could still wind up on Netflix if it is the highest bidder, one or more may go elsewhere.
Renewed and canceled
Scripted shows are in bold below.
Renewed

 

Canceled or Ended

 

Fate Uncertain




The 100

All American

Arrow

Black Lightning


Burden of Truth

Charmed


DC's Legends of Tomorrow

Dynasty

The Flash

In the Dark


Legacies


Riverdale

Roswell, New Mexico

Supergirl

Supernatural



 

Crazy Ex-Girlfriend

iZombie

Jane the Virgin


 

The Big Stage *
Bulletproof *
Hypnotize Me *

Masters of Illusion *

My Last Days *

Mysteries Decoded *
The Outpost *

Pandora *
Penn & Teller: Fool Us *

Red Bull Peaking *


Whose Line Is It Anyway *



The CW's 2019-20 primetime schedule
New programs are indicated in bold in the schedule below. All times are ET/PT unless otherwise indicated.

CW Fall 2019 Schedule


 

8:00

8:30

9:00

9:30




SUN

Batwoman

Supergirl




MON

All American *

Black Lightning




TUE

The Flash

Arrow *




WED

Riverdale

Nancy Drew




THU

Supernatural

Legacies




FRI

Charmed *

Dynasty



The CW's new shows at a glance
The three first-year series ordered for the CW's 2019-20 season are detailed below. Pilots rejected by the network this year include a Jane the Virgin spinoff titled Jane the Novela, a cosmetics industry dramedy called Glamorous (the sole original concept among the six CW pilots this year, which could still be picked up at a later date), and a series adaptation of The Lost Boys (which will be reworked for another opportunity in the future). In addition, the network has pushed potential remakes of The 4400, Good Christian Bitches, and The L.A. Complex to next pilot season.
Batwoman
DRAMA
Sundays at 8p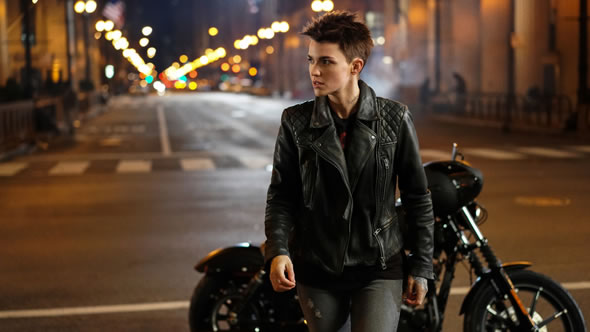 Perhaps to help compensate for the loss of iZombie, Jane the Virgin, and Crazy Ex-Girlfriend, all three of The CW's newcomers next season have female protagonists. And they are all (fairly) well-known characters, including DC Comics heroine Kate Kane, better known as Batwoman. Ruby Rose (Orange Is the New Black) stars as the titular character, who will be TV's first live-action lesbian superhero (as a lead character), after first playing her in the "Elseworlds" DC crossover event on The CW last year. It's yet another Greg Berlanti production, and the adaptation comes from Caroline Dries (The Vampire Diaries), who serves as showrunner. Dougray Scott, Rachel Skarsten, Meagan Tandy, and Nicole Kang also star.
Batwoman | First Look Trailer | The CW
Katy Keene
DRAMA
coming in midseason
The CW's other new Greg Berlanti series is a spinoff from Riverdale focusing on four twentysomethings pursing fame in New York City. Pretty Little Liars' Lucy Hale stars as the title character, an aspiring fashion designer who befriends Riverdale character and would-be singer-songwriter Josie McCoy (Ashleigh Murray, who is leaving Riverdale as a result). Jonny Beauchamp and Julia Chan play the other two young artists in their orbit. Expect Katy Keene to have a much lighter tone than its sister show—and, since Keene takes place about five years after Riverdale, don't expect any crossovers between the two shows (though producers aren't ruling out showing glimpses of one or more Riverdale characters as they would appear five years later). Berlanti will have a total of 18 different programs airing in 2019-20 across six different platforms, shattering the record of concurrent shows for a single producer (set last year by Berlanti) of 14.
Katy Keene | First Look Teaser | The CW
Nancy Drew
DRAMA
Wednesdays at 9p
Newcomer Kennedy McMann stars as young sleuth Nancy Drew in this adaptation of the classic book series that is set in the summer after Drew's high school graduation. The first season finds the new grad's college hopes put on hold when she becomes caught up in a family tragedy and a murder investigation. Riley Smith (Proven Innocent) and Leah Lewis also star. Freddie Prinze Jr. co-starred as Drew's estranged father in the pilot, but he was just replaced by Scott Wolf. Despite numerous attempts by multiple networks over the past decades, the character has never actually had her own television series before, though she did appear in the late 1970s as part of The Hardy Boys/Nancy Drew Mysteries on ABC. This adaptation comes from the team of Josh Schwartz and Stephanie Savage (The O.C., Gossip Girl, Marvel's Runaways) along with Noga Landau.
Nancy Drew | First Look Trailer | The CW
More coverage of the 2019-20 upfront presentations …
Source link