Today I'm sharing a little peek inside our playroom!
Going over some toys, books and decor details.
The boys play in this room majority of the day… and that means
I'm in there a lot too! When we first moved in, it was one
of the first rooms, besides the family room, that I got "set up"
and made feel pretty and like home.
I'll be sharing more of a home tour soon but for today I just thought I
would share some of the play food items that they love to play
with, some decor details and info on our newly styled shelves!
I added a little pink to our playroom!!
We have some IKEA shelves in our playroom that I like to shuffle through books on!
I love that they are adding a fun little pop of red and pink to our walls.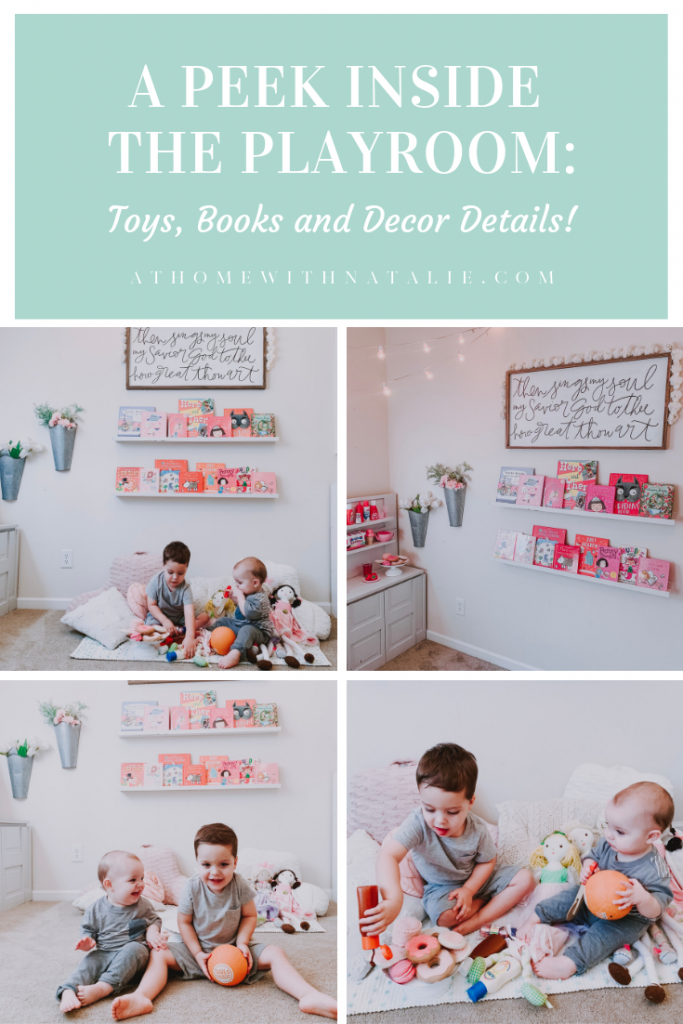 I got messages via DM over on Instagram asking about the toys and
books and set up here…. so I thought I would
do a little post and share the info with you all!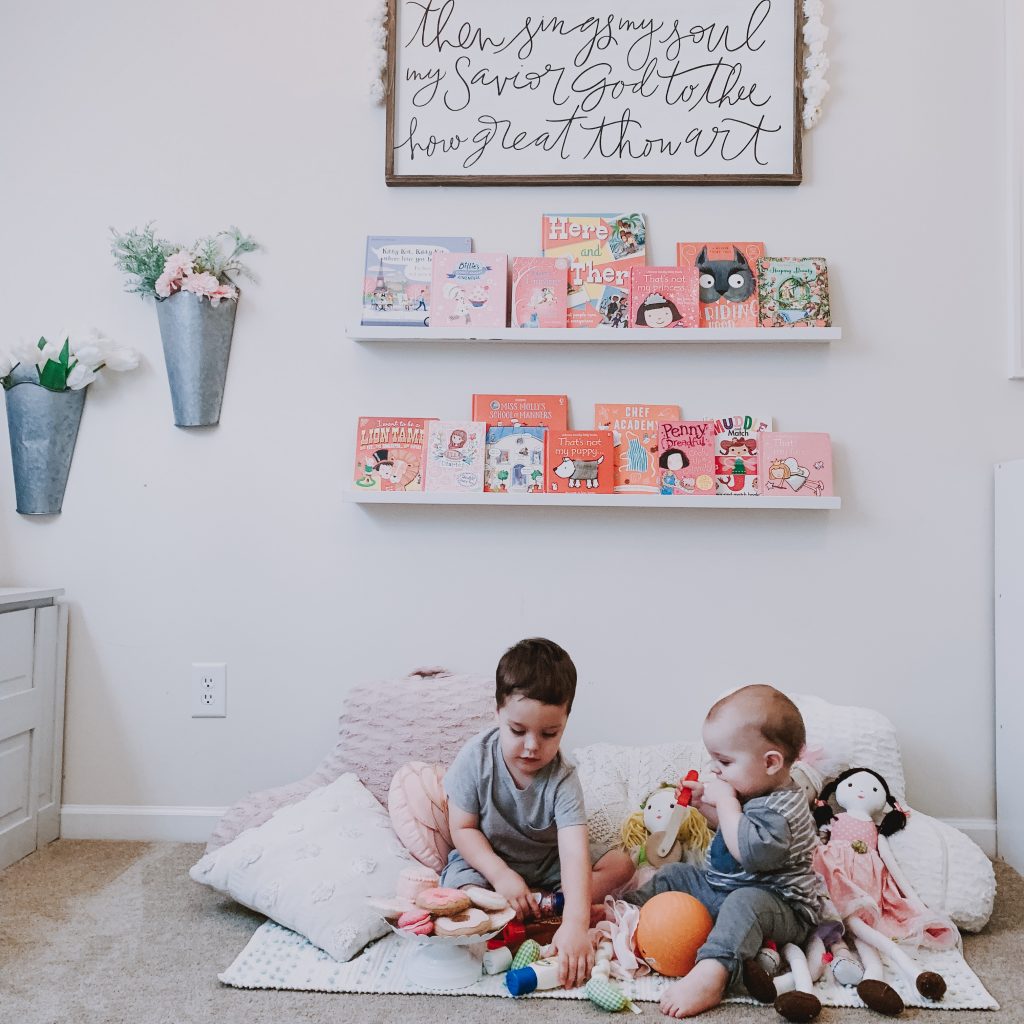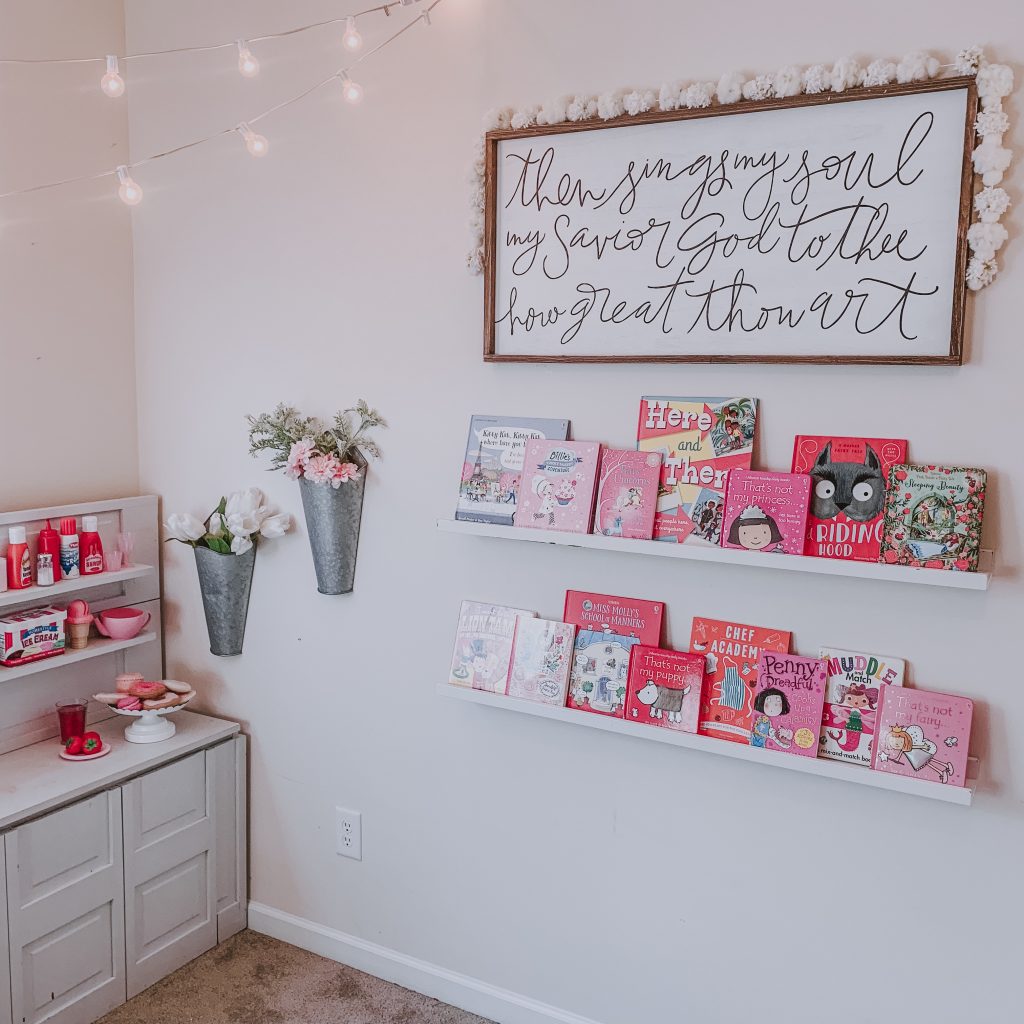 We LOVE Melissa & Doug toys!
The condiments and ice cream toppings are both different sets from them that are SO CUTE!
The kids can "pour" them out and really have fun making their yummy food!
Asher was really feeling the barbecue sauce on his cupcakes. delish.
We have the Melissa & Dough Condiment Set (hot sauce, ketchup and mustard.) 
and the Melissa & Doug Favorites Condiment set (Mayo, Ranch, Ketchup, Mustard and BBQ)
and the Melissa & Doug Sweet Toppings Set (hot fudge, caramel syrup, strawberry syrup, sprinkles and whip cream.)
and then the Melissa & Doug Breakfast Caddy Set (syrup, sugar, jelly packets and creamer.)
I made up a lot of felt food over the years and then we have a bunch
of great quality plastic play food from Learning Resources New Sprouts sets.
ALL PLAYED WITH DAILY.
The little rug is Target a long with most of the pillows!
The dolls were gifts from Grandma and Grandpa from Pottery Barn.
I think she snagged them at the Pottery Barn outlet different times!
Asher plays with them differently than the girls…..
but he means the same. He just feeds them a little rougher.
Sprinkles poured on their heads is more his style.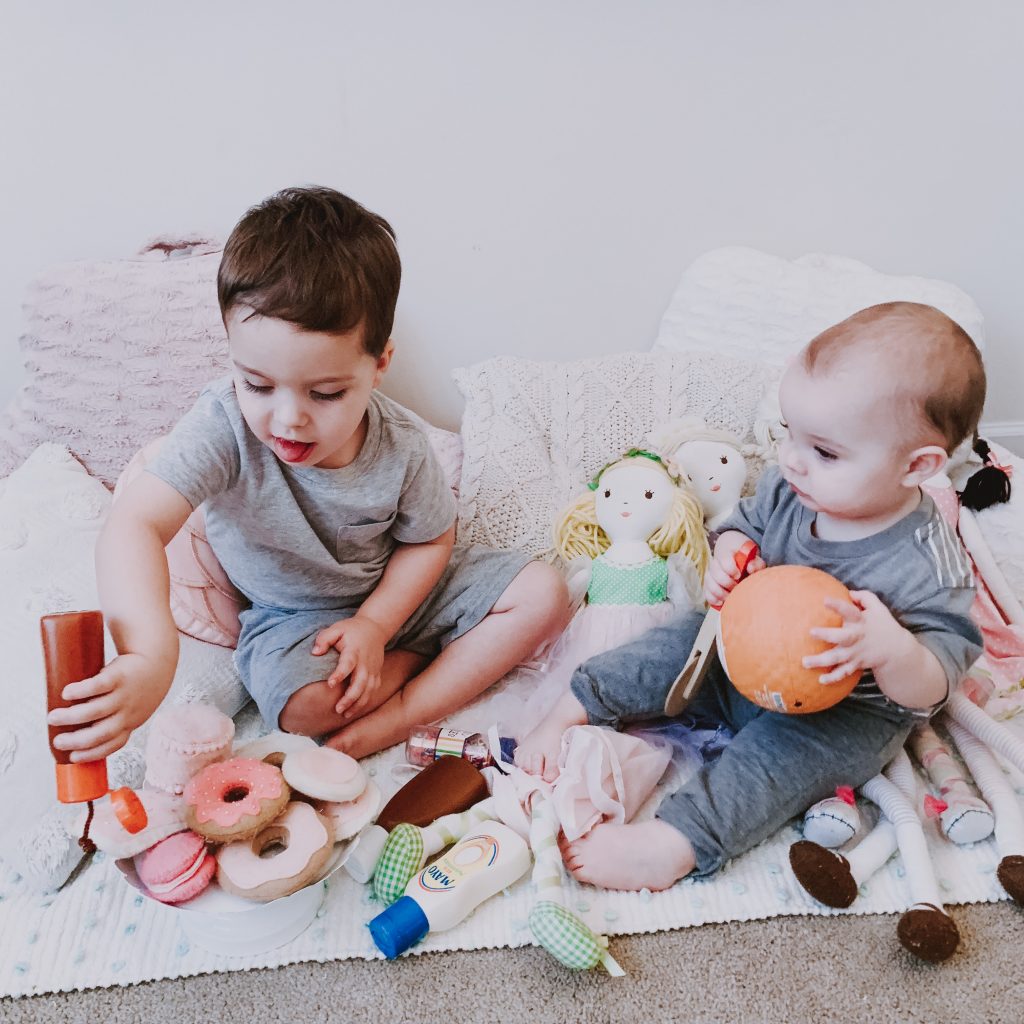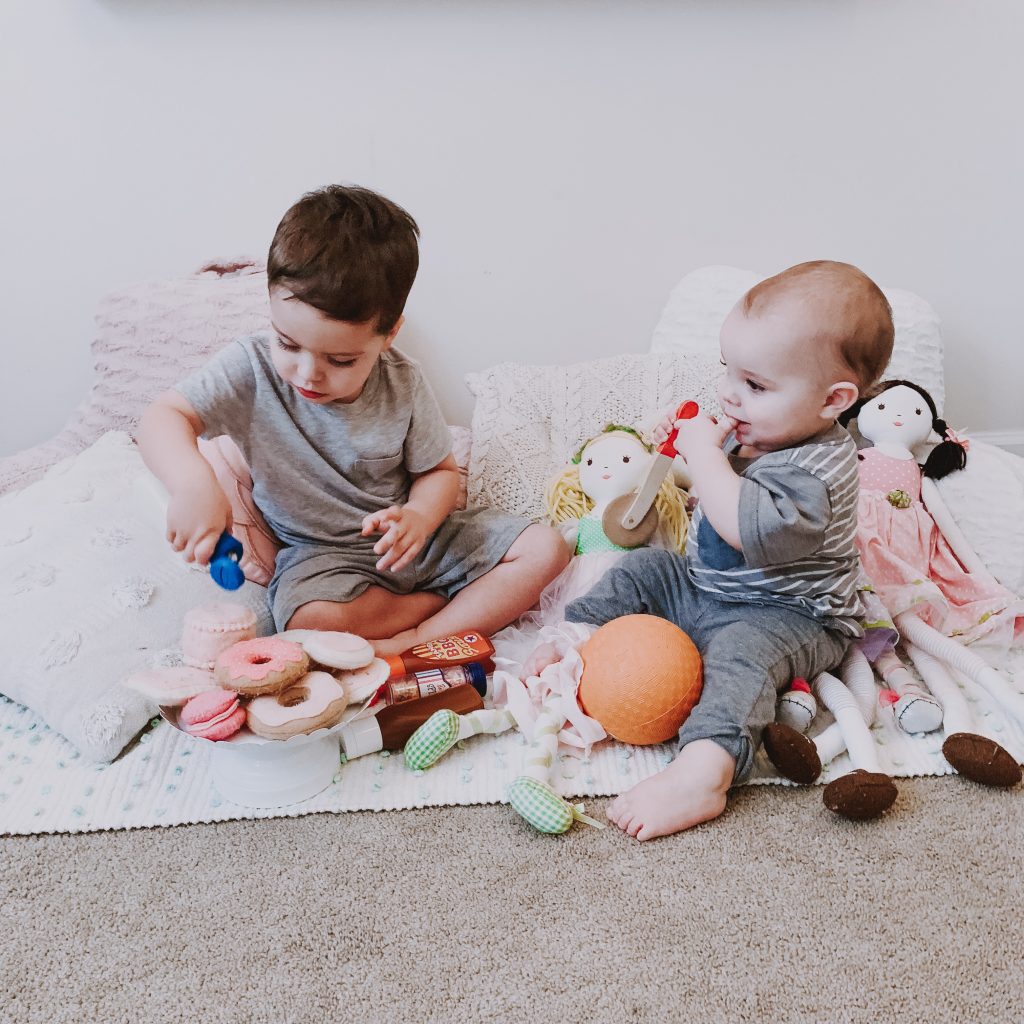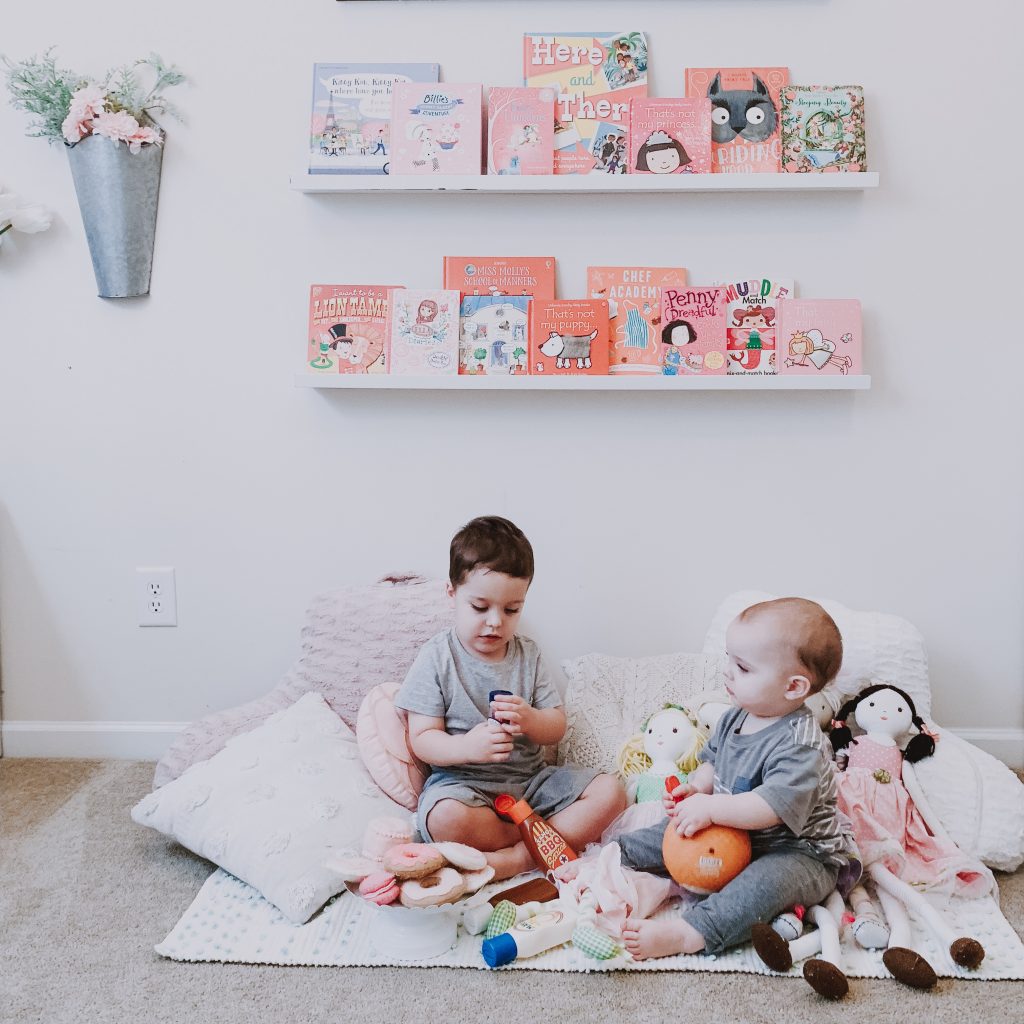 The Pink shelves were fun to style! We have a whole home library I've been
building up for our kids and I just went through and grabbed the pink and
red books that I though they would want to see and read! (variety of reading levels.)
The shelves themselves are IKEA and the artwork is from Hobby Lobby. The pom garland was from Michaels.
(I think. lol. It's achristmas garland!) I loved how it softened up the space at
Christmas time and it just kind of found a home there. 😉
They play kitchen in the corner has it's own diy play kitchen blog post tutorial you can check out!
The flower containers were from Hobby Lobby in their faux plant area!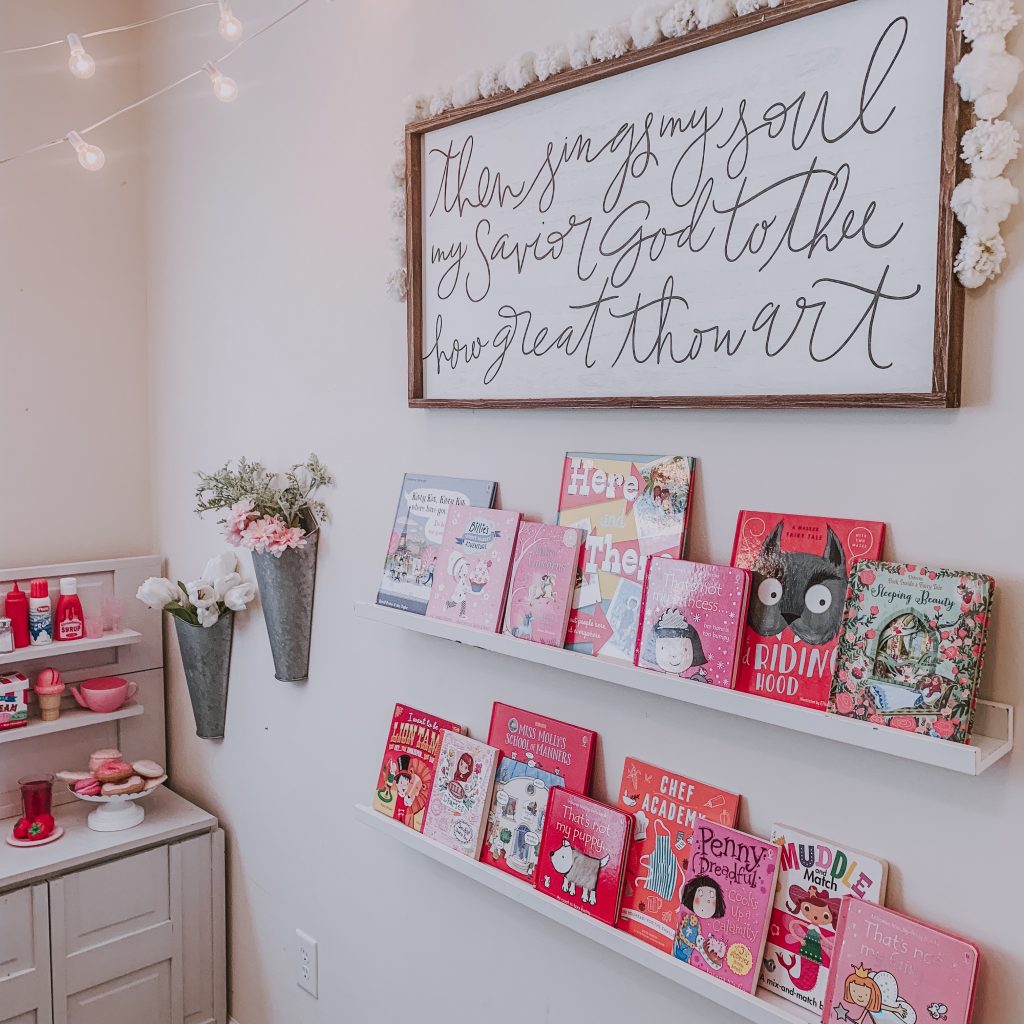 I love changing up our shelves like this because it keeps things fresh!
The kids can rediscover old favorites or discover a new one they haven't read yet!
Here are the books that I included in this round up:
Kitty Kat Kitty Kat, where have you been?
Billies' Adventure (this one isn't available anymore but there is a whole fun series!)
Fairy Unicorns (wind charm)
Here and There
That's not my princess
Little Red Riding Hood (it comes with masks!)
Peek Inside a Fairy Tale: Sleeping Beauty
I want to be a Lion Tamer
Ella Diaries (double dare you)
Miss Molly's School of Manners
That's not my puppy
Chef Academy
Penny Dreadful (cooks up a calamity)
Muddle and Match: Imagine
That's not my fairy
You can see more of the books we love
(videos and a look inside favorites) over HERE.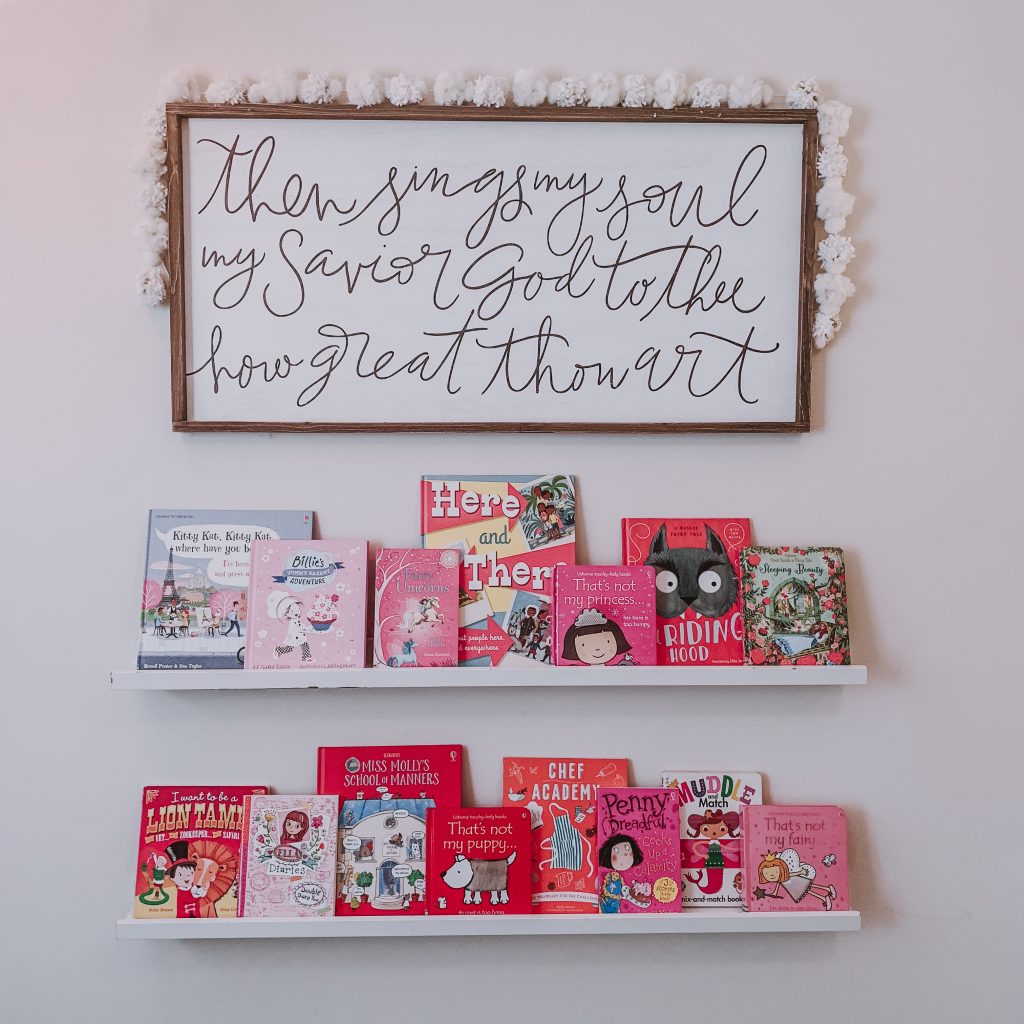 We have three IKEA bookshelves for our main home library set up!
We used the Gersby ones-anchored to wall- and I painted the back of them.
The dream big letters are from Michaels that I got on MAJOR SALE.
I was so excited and have actually had them for a while…
waiting to use them in the perfect space!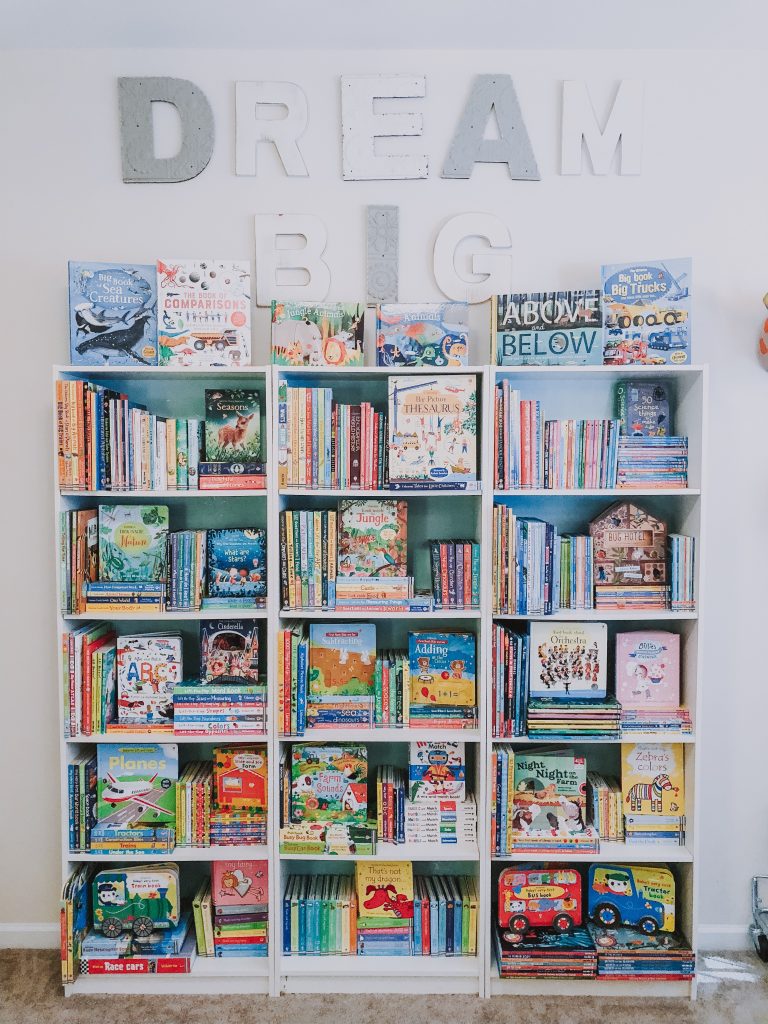 Here's a better shot of the play kitchen area!
We love love playing in this space every day.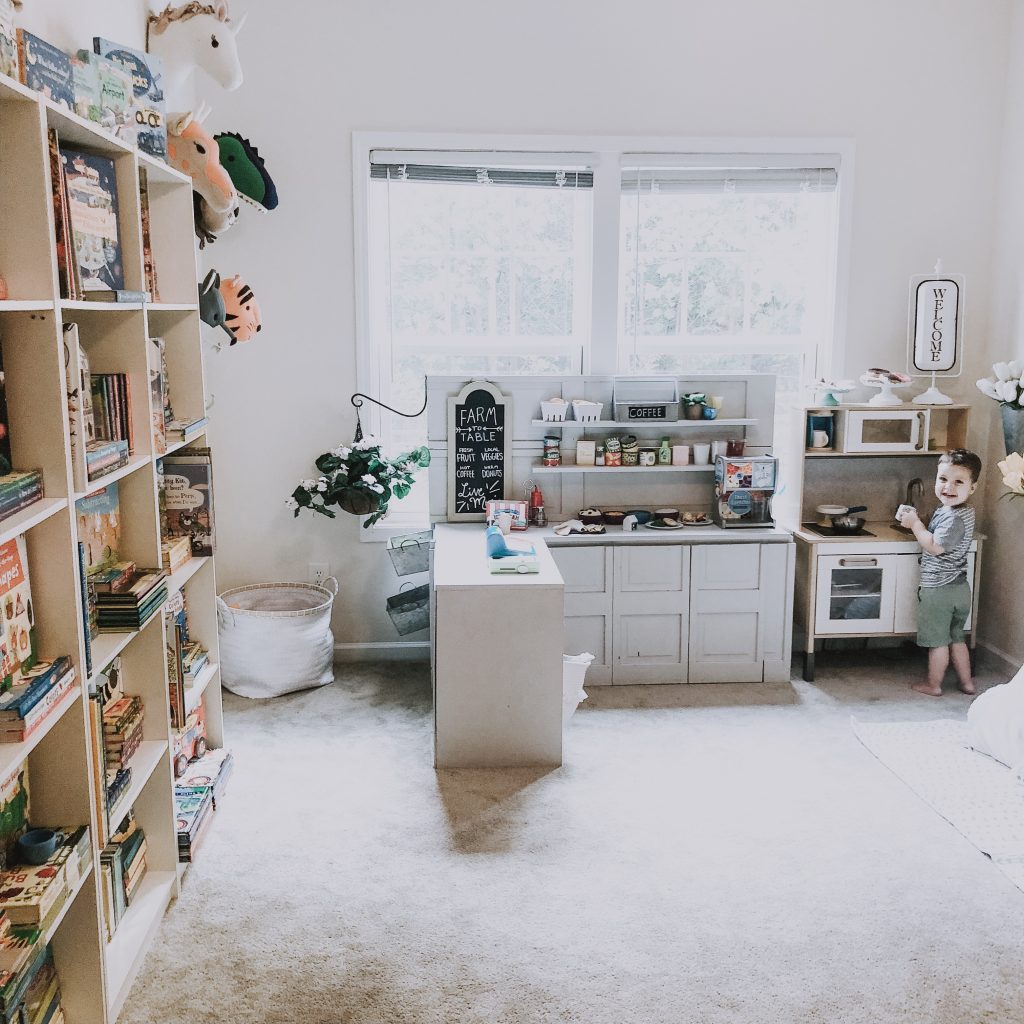 Asher has been holding onto this ball that Ben won at Dave & Busters like it was gold!
All day these two "throw/roll" it to each other and crack themselves up.
Somehow they ended up repeatedly chucking it my way and I got the best giggles out
of them by overreacting and going ahhhh!! haha.
It's plenty crazy around here… but those laughs and smiles and
how they are bonding make my heart so happy!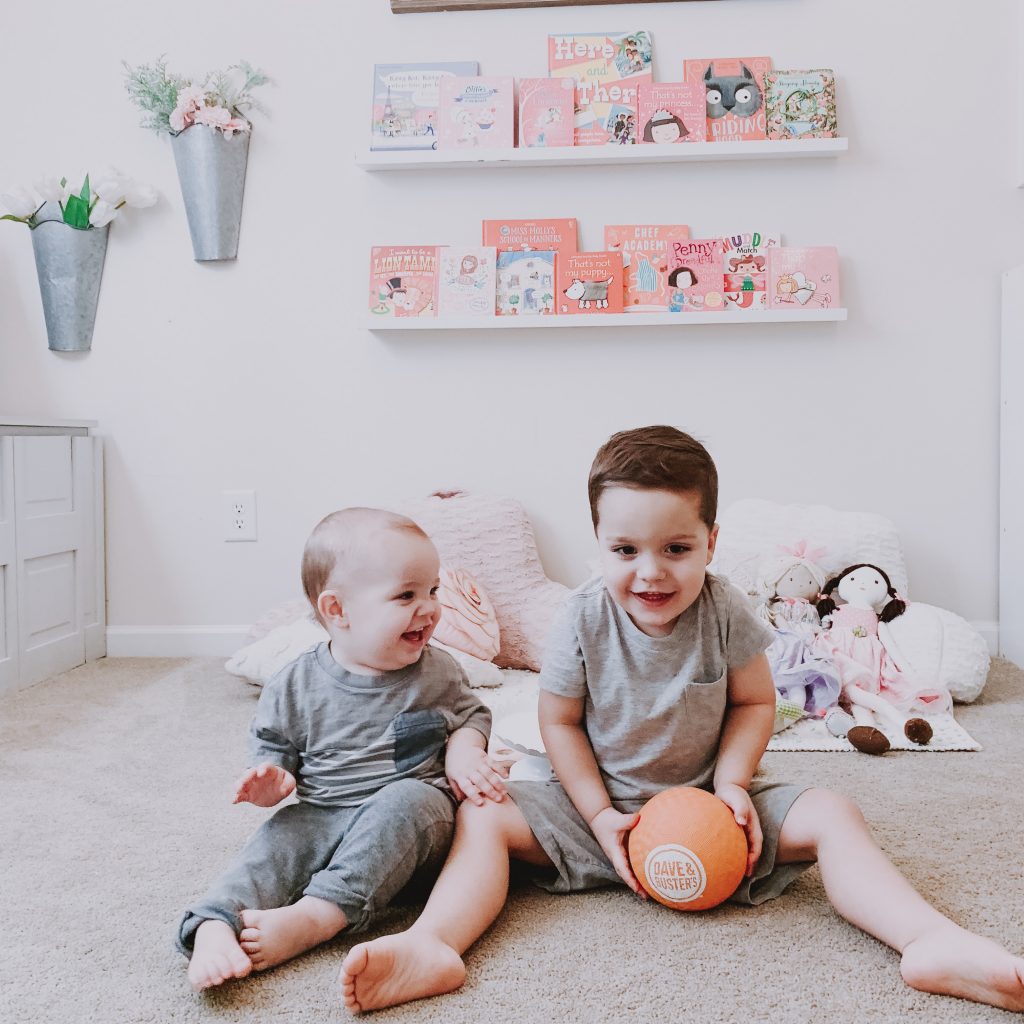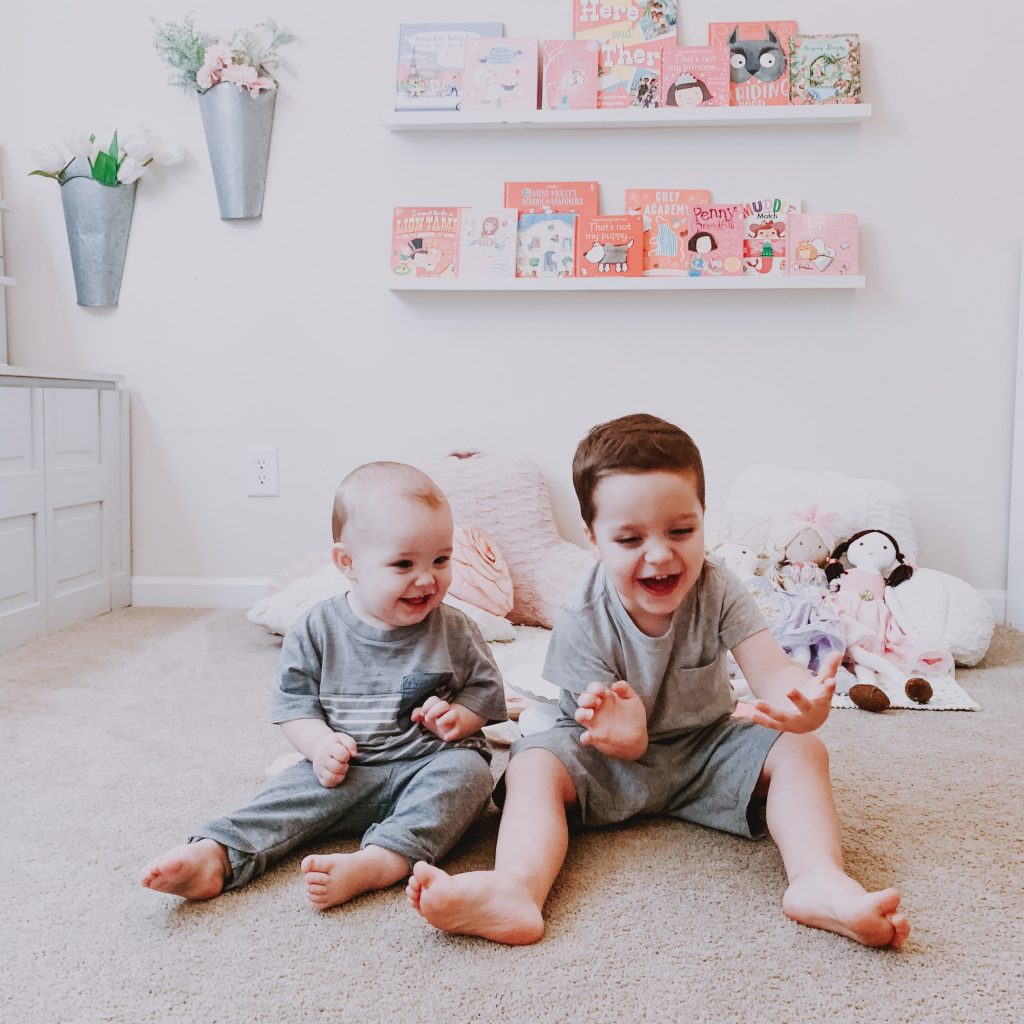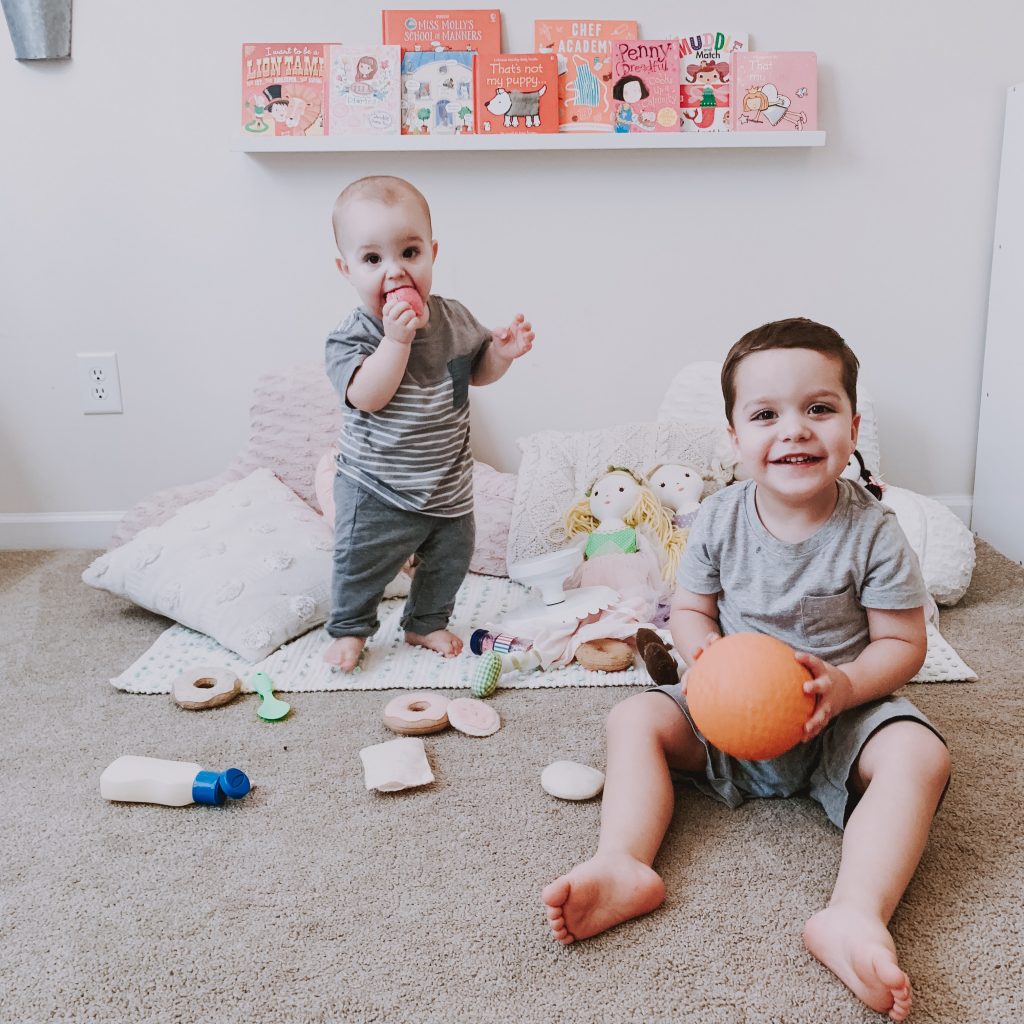 Source link