Below, we collect every year-end Top Ten list published by major TV critics and publications. This page will be updated throughout December and January whenever new lists are published; be sure to check back frequently.
Critics pick the best TV shows of 2018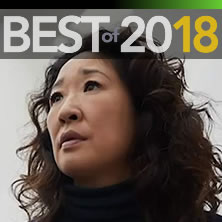 Below is our updated running tally of the TV shows most frequently mentioned by individual critics in their year-end Top Ten lists. Note that if a critic ranks more than the standard 10 shows, we will not include titles ranked 11th or worse. (We do include unranked lists of 11-20 titles, though each title gets just one-half of a point.) In case of a tie for first or second, each show will receive the full points for that position. Our points system works as follows:
3 points for each 1st place ranking

2 points for each 2nd place ranking

1 point for being ranked 3rd – 10th, or for being included on an unranked list

0.5 points for being included on an unranked list of 11-20 titles (rather than 10), or for each item on split comedy/drama lists of 10 titles apiece (regardless of ranking on those lists)
Individual critic top ten lists
Below are the 17 individual top ten lists used to calculate the standings above. Some critics may list shows without ranking them in order; such lists are displayed below, without numbers, in alphabetical order. If a critic published multiple lists, only the most general list is included (e.g., a list of all shows rather than a list of new shows only). More specific lists (such as new shows only) were included as a last resort if a critic did not provide a more general list.

American Film Institute

AFI Awards 2018 View full list
The Americans (FX)

The Assassination of Gianni Versace: American Crime Story (FX)

Atlanta (FX)

Barry (HBO)

Better Call Saul (AMC)

The Kominsky Method (Netflix)

The Marvelous Mrs. Maisel (Amazon)

Pose (FX)

Succession (HBO)

This Is Us (NBC)

Decider

Staff consensus View full list
GLOW (Netflix)

The Good Place (NBC)

Killing Eve (BBC America)

Barry (HBO)

The Assassination of Gianni Versace: American Crime Story (FX)

Cobra Kai (YouTube)

Queer Eye (Netflix)

Better Call Saul (AMC)

The Curious Creations of Christine McConnell (Netflix)

BoJack Horseman (Netflix)

Houston Chronicle

Therese Odell View full list
Atlanta (FX)

Killing Eve (BBC America)

Making It! (NBC)

Succession (HBO)

Homecoming (Amazon)

Pose (FX)

Wild Wild Country (Netflix)

Barry (HBO)

The Americans (FX)

The Haunting of Hill House (Netflix)

IndieWire

Staff consensus View full list
The Americans (FX)

Atlanta (FX)

BoJack Horseman (Netflix)

Homecoming (Amazon)

Dear White People (Netflix)

Sharp Objects (HBO)

The Terror (AMC)

Killing Eve (BBC America)

Barry (HBO)

Better Call Saul (AMC)
Mike Hale [international shows only] View full list
A Very English Scandal (Amazon)

The Bridge (Hulu)

The End of the F***ing World (Netflix)

Babylon Berlin (Netflix)

Detectorists (Acorn TV)

Money Heist (Netflix)

Unforgotten (PBS)

The Split (Sundance)

A Place Further Than the Universe (Crunchyroll)

Manon 5 Years On (Walter Presents)

Howards End (Starz)
Margaret Lyons [new shows only] View full list
Barry (HBO)

Killing Eve (BBC America)

Lodge 49 (AMC)

America to Me (Starz)

Queer Eye (Netflix)

You (Lifetime)

Sorry for Your Loss (Facebook)

Corporate (Comedy Central)

Cupcake and Dino: General Services (Netflix)

Pose (FX)

The New York Times

James Poniewozik View full list
The Americans (FX)

America to Me (Starz)

Atlanta (FX)

Barry (HBO)

BoJack Horseman (Netflix)

The Good Fight (CBS All Access)

Homecoming (Amazon)

Killing Eve (BBC America)

Lodge 49 (AMC)

Pose (FX)

Sharp Objects (HBO)

Paste

Staff consensus View full list
Atlanta (FX)

Killing Eve (BBC America)

GLOW (Netflix)

The Americans (FX)

The Good Place (NBC)

The Assassination of Gianni Versace: American Crime Story (FX)

The Good Fight (CBS All Access)

Barry (HBO)

Jane the Virgin (CW)

BoJack Horseman (Netflix)

The Ringer

Alison Herman and Chris Ryan View full list
Killing Eve (BBC America)

Succession (HBO)

Atlanta (FX)

The Little Drummer Girl (AMC)

The Good Fight (CBS All Access)

Barry (HBO)

Salt, Fat, Acid, Heat (Netflix)

Better Call Saul (AMC)

Howards End (Starz)

Queer Eye (Netflix)

Rolling Stone

Alan Sepinwall View full list
Atlanta (FX)

The Americans (FX)

BoJack Horseman (Netflix)

Killing Eve (BBC America)

My Brilliant Friend (HBO)

Better Call Saul (AMC)

Big Mouth (Netflix)

Barry (HBO)

Sharp Objects (HBO)

Pose (FX)

Time

Judy Berman View full list
Killing Eve (BBC America)

Sharp Objects (HBO)

Atlanta (FX)

Patrick Melrose (Showtime)

The Good Place (NBC)

Terrace House: Opening New Doors (Netflix)

Claws (TNT)

My Brilliant Friend (HBO)

Homecoming (Amazon)

Pose (FX)

TV Guide

Staff consensus View full list
Atlanta (FX)

The Haunting of Hill House (Netflix)

The Good Place (NBC)

Better Call Saul (AMC)

You (Lifetime)

American Vandal (Netflix)

Queer Eye (Netflix)

Killing Eve (BBC America)

Counterpart (Starz)

Kidding (Showtime)
Staff consensus – Comedies View full list
The Good Place (NBC)

The End of the F***ing World (Netflix)

Atlanta (FX)

Schitt's Creek (Pop)

Crazy Ex-Girlfriend (CW)

GLOW (Netflix)

Barry (HBO)

Brooklyn Nine-Nine (Fox)

Patriot (Amazon)

Younger (TV Land)

TV Line

Staff consensus – Dramas View full list
Killing Eve (BBC America)

The Americans (FX)

The Haunting of Hill House (Netflix)

Homecoming (Amazon)

This Is Us (NBC)

Pose (FX)

The Good Fight (CBS All Access)

Succession (HBO)

My Brilliant Friend (HBO)

Sorry for Your Loss (Facebook)

Vanity Fair

Sonia Saraiya View full list
The Good Place (NBC)

Killing Eve (BBC America)

Atlanta (FX)

BoJack Horseman (Netflix)

Patrick Melrose (Showtime)

Planet Earth: Blue Planet II (BBC America)

Pose (FX)

High Maintenance (HBO)

The Tale (HBO)

Succession (HBO)

Vulture

Matt Zoller Seitz View full list
Atlanta (FX)

Pose (FX)

Better Call Saul (AMC)

Homecoming (Amazon)

The Americans (FX)

Jesus Christ Superstar (NBC)

GLOW (Netflix)

Sorry for Your Loss (Facebook)

Succession (HBO)

Sharp Objects (HBO)

Washington Post

Hank Stuever View full list
Barry (HBO)

The Americans (FX)

Killing Eve (BBC America)

Escape at Dannemora (Showtime)

Kidding (Showtime)

Insecure (HBO)

The Fourth Estate (Showtime)

The Marvelous Mrs. Maisel (Amazon)

Atlanta (FX)

Forever (Amazon)
Source link