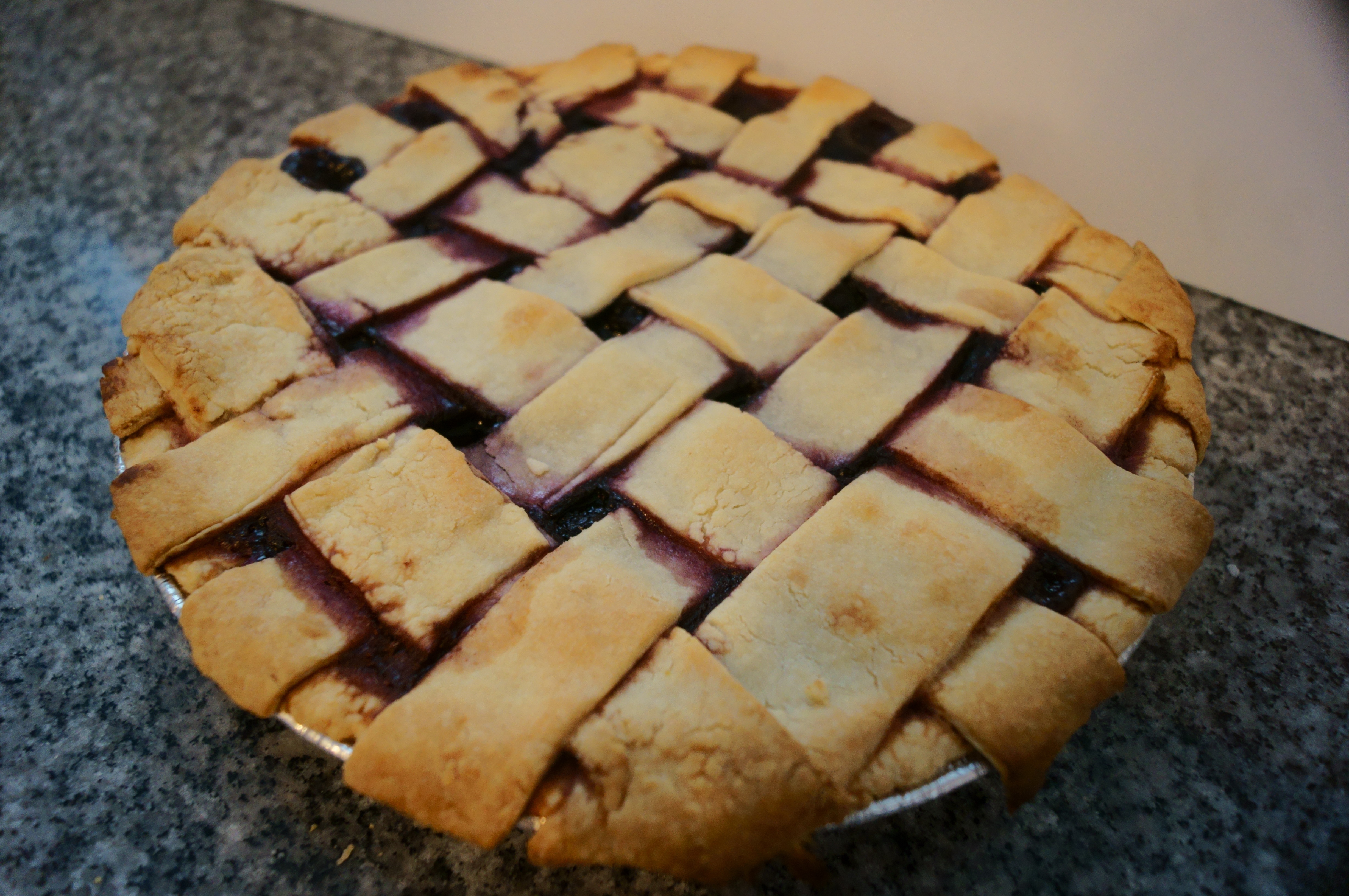 After a short break, we're back with the latest article in our cooking series! Every month or so
Lulaboo
will cook a different Warcraft Cookbook recipe for Wowhead and add her own chef's tips.
This month we are making Cheery Cherry Pie and Garr's Limeade.
Get your own cookbook on Amazon. Check out past Wowhead cooking shows at this link.
Disclaimer: Reprinted from World of Warcraft: The Official Cookbook written by Chelsea Monroe-Cassel and published by Insight Editions. © 2016 Blizzard Entertainment, Inc. All rights reserved.
Cooking Stream
Watch Sponsored by WOWHEAD WOW Cookbook stream! Cheery Cherry Pie, Plus Limeade from Lulaboo on www.twitch.tv
Flaky Pie Dough
Ingredients
2¼ cups flour
1 stick cold, salted butter cut into large chunks
¼ cup water
Directions
Divide the butter in half. In a medium-sized bowl, rub half the butter into the flour until you have small pieces of butter the size of peas. Using your palm, press the other half of the butter pieces into flat flakes, and add them to the bowl. Add the water, gently mixing until you have a mostly cohesive dough. Form into a flat round, wrap in plastic, and chill for 30 minutes.
Take out the chilled dough and set it on a lightly floured surface. Sprinkle a little extra flour on top and roll it out into a long rectangle. Fold the dough into thirds, then rotate, roll out into another long rectangle, and fold into thirds again; this will make your dough flaky and light. Roll out one last time to a smaller rectangle, cut into two equal pieces, wrap in plastic, and chill until ready to use.
COOKS NOTE: To achieve flaky layers, please take much care into making sure to fold the pastry dough.
Cheery Cherry Pie
Ingredients
1 batch Flaky Pie Dough (page 22)
20 ounces of frozen sweet dark cherries, thawed
1 cup cherry juice
¾ cup sugar
3 tablespoons cornstarch
2 teaspoons cinnamon
½ teaspoon ground cardamom
½ teaspoon ground ginger
1 egg, beaten with 1 teaspoon water, for egg wash
Directions
Preheat the oven to 400°F. Roll out half of the pie dough, and gently drape over a pie pan. Trim off any excess dough and set aside.
Strain the cherries, reserving any extra juice; if you don't get much juice from them, or if you are using fresh cherries, you may need to supplement with a little extra juice. In a medium bowl, mix together the sugar, cornstarch, and spices, then add the cherries and juice. Stir to make sure it is all evenly mixed, then pour into the prepared pie shell.
Roll out the other half of the dough and cut into strips for the lattice top crust. Working with one strip at a time, weave the lattice together. You can decorate the edge of the crust with any remaining dough scraps. Brush with the beaten egg, taking care not to spread too much of the filling onto the crust.
Bake the pie for about 40 minutes until the crust is a rich golden color. Allow to cool for at least 2 hours before slicing, to give the filling time to set.
COOK 'S NOTE: For an extra treat, replace half the cherry juice with red wine or port, which will give the pie an even more pronounced mulled-wine flavor, perfect for winter
Make sure to mix up corn starch with the cherry juice right before putting cherry filling in pan. The corn starch can settle of left unattended too long.
Sprinkle Turbinado sugar (also called sugar in the raw) on top of pie crust after egg wash before baking for added crunchy texture on top.
The chef who made the pie for Wowhead would like to point out that it has been quite some time since trying to lattice a pie. The pie result was kept the way it is to encourage beginner bakers to not pay too much attention to appearance.
Origins in WoW
Cheery Cherry Pie is sold by the pie vendor Chris Moller in Gilneas. He is also the only vendor that sells Mud Pie, Lots 'o Meat Pie, and Very Berry Pie.
Garr's Limeade
Ingredients
2 cups hot water
Juice and zest from 4 large limes
Juice and zest from 1 lemon
3 tablespoons confectioners' sugar
2 sprigs fresh basil or tarragon
1 to 2 cups cold water
Ice cubes and fresh herbs to garnish
Directions
In a medium bowl, combine the hot water, the lemon and lime juice and zest, and the sugar. Stir until the sugar has dissolved, then add the basil leaves. Blend either in the bowl with a submersible blender or transfer into a stand blender. Process until there are no large pieces of leaf left and the mixture has turned a nice green color. Strain into a clean pitcher, add the remaining water, and chill for at least 30 minutes.
When ready to serve, pour over glasses of ice and garnish with fresh herbs.
COOK'S NOTE: Depending on personal sweetness levels you may have to add a bit more sugar.
Origins in WoW
Garr's Limeade is a reward from the Stranglethorn Vale quest The Bane of Many A Pirate. This quest also rewards Garr's Key Lime Pie.
This is not named after the Molten Core boss, but instead the questgiver pirate Garr Salthoof.
Gum disease. It's a real problem, .
I know you're new and all, and probably haven't ever needed your gums cut, but the rest of us pirates have to deal with a little thing called SCURVY. It's why we keep so many limes around here.
Well… we used to keep limes around here. Someone made off with our last shipment, but they can't have gone far – maybe to the nearby islands? Bring them back, and maybe I'll see what I can do to get you promoted from swabbie.
Cookbook Giveaway
On each cooking stream we are giving away one World of Warcraft Official Cookbook. We are also giving away one World of Warcraft Official Cookbook right here in this post!
To enter, leave a reply as to what WoW food or drink you'd like to see turned into an IRL recipe! This will help us plan our next WoW Cooking stream.
Entry period will end on Saturday, March 18th at 11:59 PM Pacific.
The winners will be chosen at random from valid entries and contacted via their registered email address (make sure it's current!).
Winners will have up to 14 days to reply to the email received to claim their prize or it will be forfeited. We're not responsible for any email issues you may encounter. A winner list will be posted here: if you're a winner and don't receive the email, please reach out to within 14 days of the giveaway end date.
Additional questions? Contact .
Note: there are Amazon Affiliate links in this post. For every purchase made using the Amazon links in the post, Wowhead receives a small percentage of the profits which in turn helps support site operations.
Source link