Deck ratings, card art, and a shiny new widget. It's all extremely exciting.
These are exciting times for Hearthstone on Icy Veins. We're working tirelessly behind the scenes to perfect the way we deliver new decks and content, and so we've recently made some improvements to the homepage and deck listings.
I can sit here and share brilliant theorycrafts in the news section all day long, but we know what you're really here for: decks, decks, and more decks. I'm sure you already noticed the shiny new widget on our Hearthstone homepage if you navigated to this post from there. If you haven't, go and check it out! This widget replaces the drop-down menus you would previously see when mousing over the name of a class at the top of the page.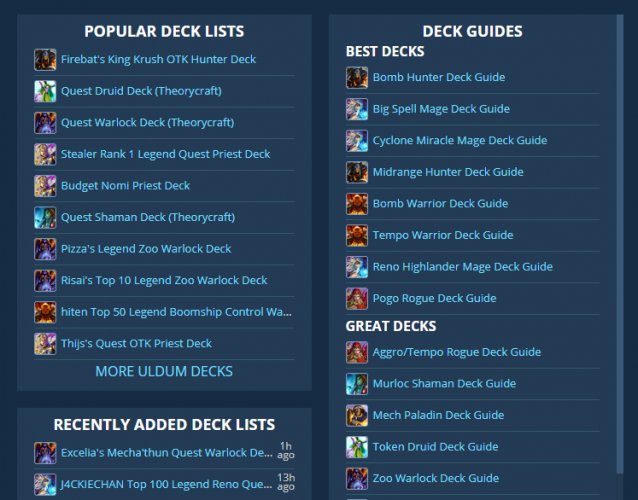 It's great for seeing what the top decks are at a glance. On the left, we have Popular Deck Lists – decks we've posted on the site which have been up-voted the most by the community. Below that is a feed of the most recent additions to the deck listings. And to the right, your one-stop shop for dominating the ladder: guides and recommended builds for just about every deck in the game, grouped into tiers by Kat and I based on their power level. We'll be constantly reviewing these rankings to ensure that they're accurate for the current meta, so you can feel confident with whatever you choose to climb with.
We've also updated the pages for decks themselves. No more are lists displayed as dry lumps of coloured text; we now have card art for a bit of visual distinction.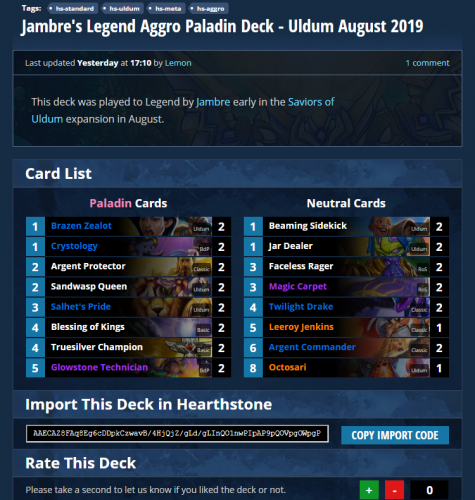 More importantly, you can now rate decks by voting them up or down! It's going to be great to see what kind of decks the community love and hate, and particularly popular decks will appear in the widget on the homepage. If you want to try it out, why not go and give Jambre's Aggro Paladin a +1 to show Octosari some love?
We're still thinking about the best ways to make all of this content accessible and easy to find. Your feedback is hugely important to us, so please do share your thoughts on the new layout in the comments below. In particular, we'd love to know how you're finding life without the drop-down menus at the top of the page, so let us know if you have any suggestions on that front.
We have plenty more Hearthstone content planned for the next few weeks, and you can expect to see full guides for all of the most popular archetypes in Saviors of Uldum pretty soon. We also have a full meta report coming out this weekend, so stay tuned to the homepage to find out exactly what to play in the new expansion.
If you're looking for something to climb with until then, be sure to try some of the decks we highlighted on Uldum Day 3!
Source link