We've assembled some of our favorite picks for your Holiday Shopping for the girls! So many fun products, it'll be hard to choose which ones make it under your tree this holiday season.
We received a variety of samples in exchange for inclusion in this post. All opinions are our own. 
Wishlist Faves: Top Christmas Gifts for Girls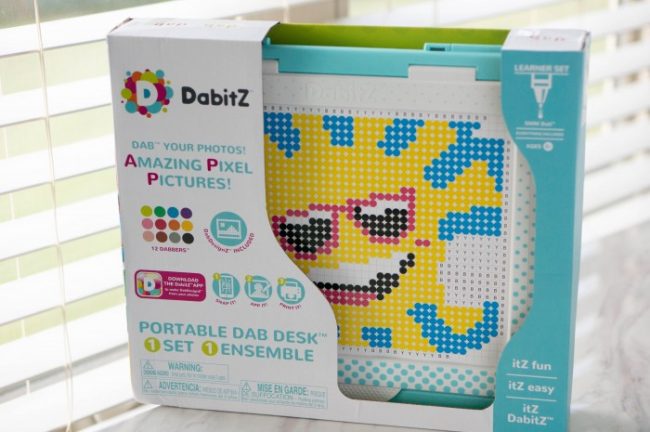 Create amazing pixel art pictures with this fun new approach to coloring. With a DabitZ Learner Dab Desk Set you'll be able to follow templates, or create your own templates, to get started creating masterpieces. The kit includes 5 designs to get you started and 12 Dabbers. It has a smart storage compartment to hold your finished art work and supplies so it's easy to keep everything you need together in one place. You can use the DabitZ free app to turn any of your own pictures into a template. Then, just print and you're ready to start Dabbing!
Get the kids ready for any holiday travel with their own kid-sized luggage that's loaded with features! Obersee Kids Luggage was designed to meet the unique needs of kids like including an interior pocket perfect for stashing books, drink pockets on the outside of the suitcase, even an insulated front pocket to stash their snacks during travel! With quality wheels and a sturdy pull bar, the Obersee Suitcase is easy for kids to pull along, taking one thing off your list of things to manage during travels. Let the kids help you pack up their own items for your next trip, it's even perfect for a day trip around town. @oberseeusa
Find the hottest toys that will top their wishlist from Spin Master! Hatchimals are still topping wishlist with the new Glittering Garden collection and the mini Hatchimals CollEGGtibles joining the line. The classic Etch A Sketch got an update with the new Etch A Sketch Freestyle that lets you  have more control – and more colors! The hilarious new game Soggy, Doggy will make a splash as player anticipate when the bathed puppy will shake himself dry. Horse lovers will adore the new Zoomer Show Pony. This fun and interactive pony can be feed, groomed, and even trained to perform stunts! Let her get creative by designing her own pottery projects with the Cool Maker Pottery Studio that's turned the pottery wheel upside down making it easier for kids to style their designs. They can become a fashion artist with the Cool Maker Airbrush Styling Studio to try out a variety of styles, then wash it off with warm water and start over again! @spinmaster
Bikes make the BEST Christmas gifts! This year, I can't wait to see the look on my little girl's face when we surprise her with Pure Cycles Kids Balance Bike. Available in four stylish designs, the Pure Cycles Kids Balance Bike is the perfect bike for teaching your little ones (ages 2-5) how to ride a bike. Not having any peddles allows little ones to learn how to balance while scooting with their feet. The best part about this bike, is that it is made with a durable steel frame (which has a lifetime warranty). Pure Cycles Kids Balance Bikes are by far the cutest bikes I've ever seen – the vegan comfort grips are just the icing on the cake.
For the artistic girls, they'll love all the great gift ideas from Yoobi! Start with that amazing Gold & Black Dotty Tote Bag to carry around her current project or art supplies. Then, fill the tote with her favorite arts and crafts supplies, like a cute Stamp Set, Yoobi has several sets to choose from. A Melty Bead kit will provide hours of fun creating designs to gift her friends after Christmas break or she can create keychains to personalize her backpack. Scratch art is another fun project that girls will love. Or take it old school with Pin Designs! Yoobi gives back to a classroom in need for every item purchased! So stock up on twister crayons, journals, and other art supplies this holiday season.
Learning math and STEM concepts can be a blast with Numeracy Legends board game trilogy! The games are designed for children ages 4-10 and each game is built around a different theme and tackles different skills. In Numeracy Legends and The Zerda Fox they'll work on logical thinking and group confrontation while having to think about probability. Then, in Numeracy Legends and the Gluttony Dragon they'll test their logic and game theory with a memory challenge. Finally, Numeracy Legends and the Rainbow Unicorn they'll plan their route, manage resources, and work on understanding graphs. The games are perfect for family night or adding to your home school curriculum.
Make learning a new instrument fun and easier with the
smart ukulele
,
Populele
! Now, learning music is aided with the help of technology making the learning experience easier and letting you learn your favorite songs. It starts as a real Ukulele and has LED lighted frets that help you learn chords easily. There's even a game mode to make it interactive and fun. Plus the built-in tuner helps keep the sound in-tune and ready to play.
Populele
connects with a smartphone to bridge learning an instrument with technology in a way that really works!
Every girl will love getting RoseArt's CharMini's Deluxe Jewelry Studio this season. She gets to create her own adorable charms, fusing them together with water, that then can be added to the included bracelets or necklaces and wear them wherever she goes! She also can share them or trade them with friends. There are different add-on themed kits like "sweet treats" (cakes, pies and ice cream cones) or "fashion icons" (hearts, stars and bows). There are hundreds of options to make the cutest, most colorful, sparkly, tiny charms. A Glitterizer Globe can be used to add sparkle and gloss. My girls are definitely hoping this ends up under the tree this year. RoseArt has all sorts of amazing crafting gifts like the Ultimate Artist's Coloring Book or Color Blanks that would top anyone's wish list this holiday season.
Need more gift ideas and inspiration?
See our Holiday Gift Guide landing page for more great gifts for everyone on your list!
What's at the top of your daughter's Christmas wish list?