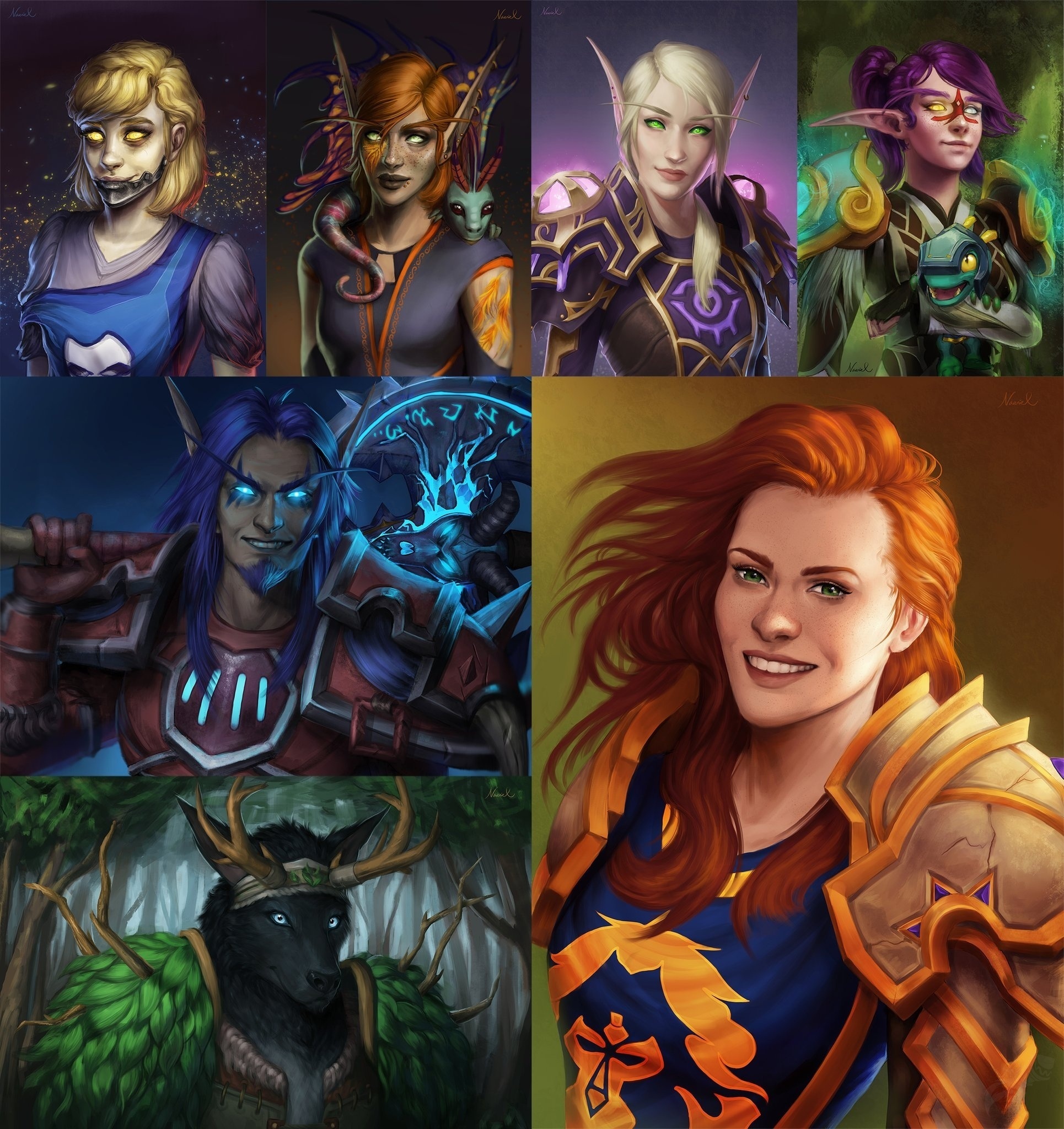 Comment by bluesolei
on 2018-04-15T16:48:45-05:00
love worgen and ginger human female drawings. Latter reminds me that actress from earlier seasons of game of thrones
Comment by unoshi
on 2018-04-15T16:49:37-05:00
I like how the picture have such detail like, battleworn, cracks and stains, piece of cloth wrinkled up and not to neat and tidy. love the emotions on the characters faces, but my favorite picture has to be the Deathknight with Shadowmourne, i mean look at that beauty, the details… come here SHADOWMOURNE!
Comment by Tulkor
on 2018-04-15T16:50:04-05:00
Im following her for a quite while on twitter because i absolutely fell in love with the picture of the Heterochromatic Nightelf girl a while back 🙂
Comment by Kendrubbin
on 2018-04-15T16:50:15-05:00
I've followed Naariel for a few months so I'm really glad that they're getting a spotlight now, as her portrait work is spectacular. She really nails the expressions and has a solid knowledge of colour to boot, so it's well deserved to have a wowhead piece.
Comment by Eylsmear
on 2018-04-15T16:50:57-05:00
All of it! Gosh, Naariel's style is so clean and lovely! Good luck to all who enter! Maybe one day I can be lucky enough to be on an "Artist's Corner" post <3
Comment by RageZero
on 2018-04-15T16:50:58-05:00
The faces in the artwork are so very natural. You rarely see that in fan-art.
I really like the smiles on these! They have so much personality!
Comment by Gokaicant
on 2018-04-15T16:52:28-05:00
These portraits do a wonderful job of marrying that toonish style WoW has with a more realistic look. Usually when I see Warcraft art with more realism it ends up coming across a bit off-model from the game's art style, so it's really cool to see someone able to toe that line so well!
Comment by Charredskye
on 2018-04-15T16:53:04-05:00
I love how she draws her expressions especially the first picture it's so soft!
Comment by Mammon7
on 2018-04-15T16:54:13-05:00
Cool style! I also like the emphasis on the pets in many of the portraits.
Comment by Keshi1
on 2018-04-15T16:54:17-05:00
Is everything a valid answer? :> I just love her style so much, the attention to detail in every single piece is amazing!
… the header is my favorite though. x)
Comment by ccox
on 2018-04-15T16:56:10-05:00
Nice work.
Is it just me, or does that orange hair alliance lady look a LOT like a portrait of Suzanne Helmigh (another digital artist)?
Comment by AtrophyAnnie
on 2018-04-15T16:56:59-05:00
Wow, gorgeous artwork. I especially love seeing the undead, because I feel like you rarely see WoW artists do them (at least from what I've seen).
Comment by Phazius
on 2018-04-15T16:57:28-05:00
Man that Draenei Paladin looks pretty epic 😀
Comment by TitansCurse
on 2018-04-15T16:57:31-05:00
everything just looks so realistic, i honestly wish i was able to paint like her lmao. all the colors flow so well together and everything is so soft
Comment by FullElven
on 2018-04-15T16:58:53-05:00
Um, her commission she did of (I'm almost 100% sure that DK is Tevruden…not my character, but I followed their player for awhile) is amazing! Like holy crap! Absolutely 100% goals! I'd love to get her to paint my OC Raineigh.
Comment by Tinkerer
on 2018-04-15T16:59:38-05:00
Damn, these are great. I like how distinct they look, very personal.
Comment by Feltongue
on 2018-04-15T16:59:57-05:00
The Chining.
Comment by Itkuinen
on 2018-04-15T17:01:38-05:00
I love Naariels art and the way she makes everything look so realistic yet fantasy-like. Her portraits have so much expression and make me swoon. <3
Comment by Tonez211
on 2018-04-15T17:01:41-05:00
maybe im biased cuz i play mage but i really like the dalaran mage one the most. they are so good. I do love the realistic look.
Comment by Menelvagor
on 2018-04-15T17:03:29-05:00
I enjoyed the fine details – especially the star style freckles on the elf at the end. Great reference for those lunar lovers!