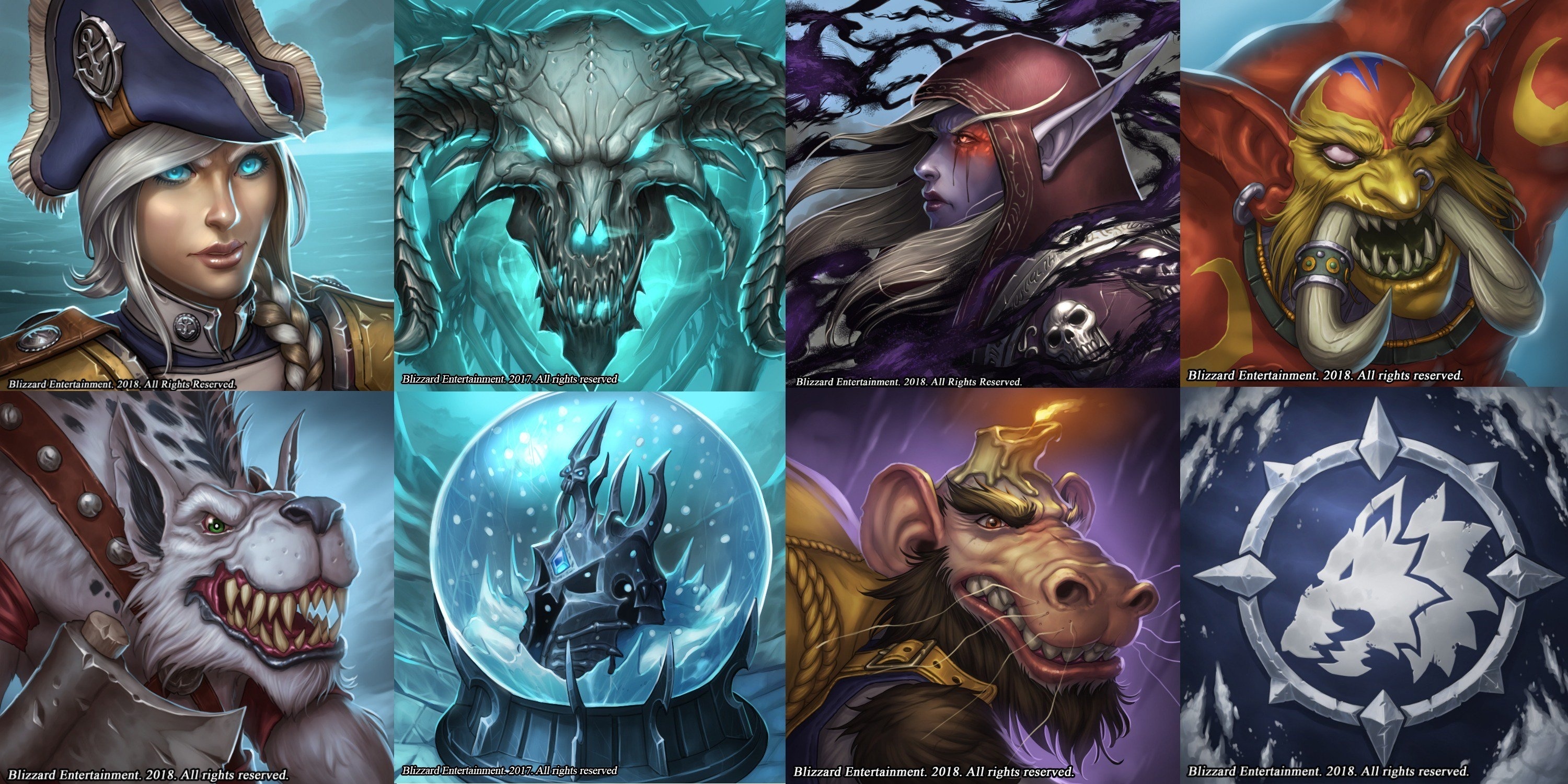 Comment by CrossAlbeo
on 2019-05-12T15:58:25-05:00
Frostwolf emblem, my favorite portrait from Heroes of the storm 😀
Comment by lizymoon
on 2019-05-12T16:00:38-05:00
A lot of good stuff here, I'll go with the Sylvanas avatar! love it. Great stuff by the Artist.
Comment by Ataxus
on 2019-05-12T16:01:30-05:00
I love his use of color and lighting. It makes everything look so alive and vibrant!
Comment by ZNasty
on 2019-05-12T16:02:09-05:00
Definitely love the art style and the rich colors!
Comment by iressiwi
on 2019-05-12T16:02:43-05:00
It is hard to pick only one thing I like o.o, my favourite is by far the one featuring the night elf warden… Although Whitemane is juicy too!r
r
Love the style overall
Comment by Lirees
on 2019-05-12T16:04:48-05:00
Jesus I love the Sylvanas Avatar drawing! Great Artstyle
Comment by Marlankai
on 2019-05-12T16:10:15-05:00
The details on some of those drawings are insane 😮
Comment by nimby13
on 2019-05-12T16:10:46-05:00
That cosplay design is absolutely amazing. Love all of his stuff!
Comment by Wield
on 2019-05-12T16:14:42-05:00
Artstyle is awesome, especially Sindragosa!
Comment by alinaya
on 2019-05-12T16:15:09-05:00
I love Project Ebon Blade! I saw some of the cosplayers last year at Blizzcon, and I think it's amazing that it's such an all-inclusive community <3
Comment by Ifelixl
on 2019-05-12T16:18:56-05:00
Whitemane Death Knight with original design much better that in the Legion Version: Blizzard and your censorship and hatred of "no pants" stinks when it does not make sense.r
r
give applause to this artist.
Comment by DainnGreywall
on 2019-05-12T16:21:31-05:00
Absolutely adore the use of lighting and the cool, dimmed colors in the background contrasting with the colorful characters and designr
r
God damn this artist is amazing : D
Comment by Eluvia
on 2019-05-12T16:22:22-05:00
It was great to see all the cosplayers who were a part of project ebon blade at Blizzcon last year. I especially love the Deathwing design. <3
Comment by mybelovedchaos
on 2019-05-12T16:23:39-05:00
I've been following him for a while! I love seeing his cosplay stuff come to life on the very talented cosplayers that work with him. Amazing art and vision, this guy.
Comment by Lokann
on 2019-05-12T16:24:10-05:00
I've been using Fischer's Sgt Doomhammer icon for HotS from the moment I unlocked it. My absolute fave!
Source link